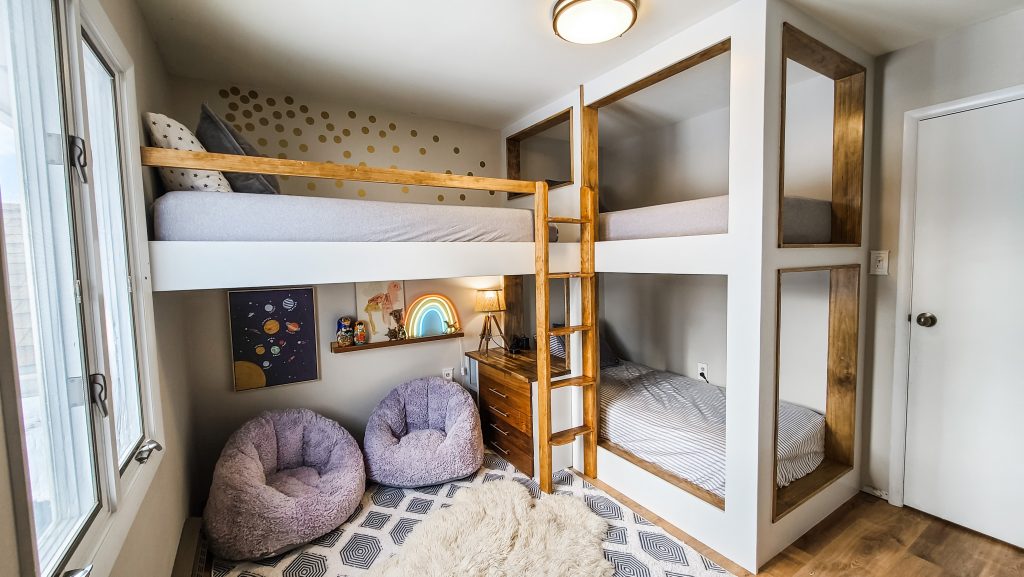 While bunk beds seem to be a staple in many homes these days as a solution to save on space while maximizing sleep areas; the possibilities certainly have improved over the years! Gone are the days of simple wooden structures that created some of the first bunk beds. Gone as well are the metal bunk beds that were so popular amongst families in the 80's and 90's. Instead, now there are countless DIY built-in bunk bed options perfect for any style and need!
Whether you are looking to squeeze multiple kids into one room, create extra sleeping space for your Airbnb, or simply fulfill your child's plea for a bunk bed; building your own built-in bunk bed is the perfect option to achieve the look you want, while simultaneously maintaining optimal functionality.
Why bunk beds?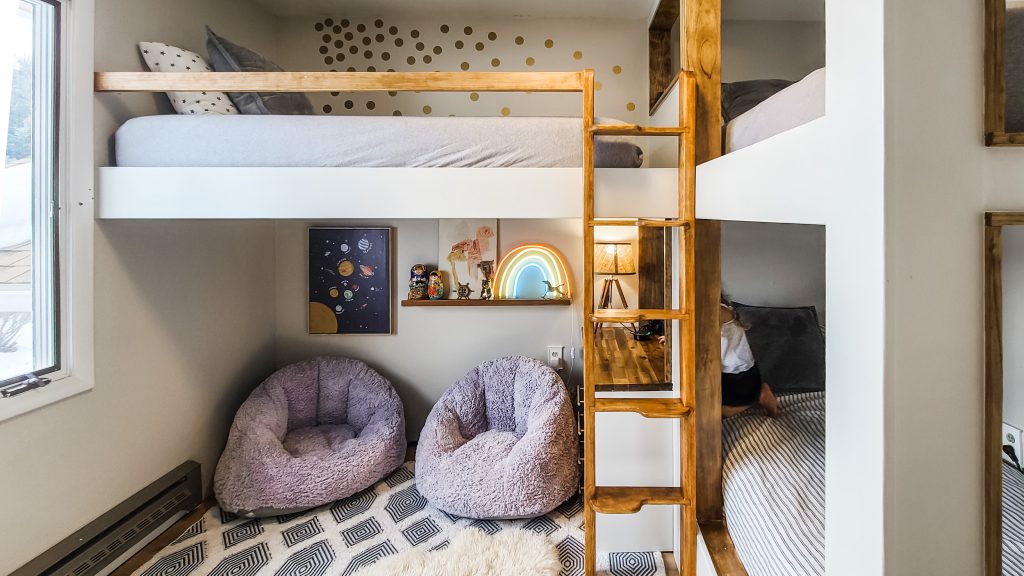 Versatility
Over the last 9 years, we have built our fair share of bunk beds for our kids. These have ranged from the bunk beds we designed for our school bus conversion, to a loft above two cribs, to our most recent bunk bed project; triple bunks for our girls bedroom.
The best part about utilizing bunks in a room is the versatility in the use of the bunks. In a standard fashion, bunk beds can be used to create extra sleeping space. However, customizing them allows for the bunk beds themselves to be used for simply sleeping, to create a loft space like we did in our son's room, or to create a hang out reading nook underneath like we did in this room.
Maximize space
At the end of each project, the vast improvement built-in bunk beds make amaze me. Whether or not you are in need of the extra space; bunk beds utilize vertical space allowing for optimal use in a room. The possibilities for that extra space gained are endless. So regardless of your needs, I would argue that a DIY built-in bunk is your solution in any bedroom!
Customability
Bunk beds alone help to maximize space in a room and allow for versatile use of the room. However it is the DIY built-in bunk bed option that will allow you to check off all the boxes on your wish list. Built-in vs. store bought, allows you to build the beds to exact specifications for your room and ceiling height. This in turn allows you to optimize every inch of the room to your needs and how the room will be used.
For example, that might mean that instead of just the bunk bed, you add extra length to your build so that you can incorporate built in book shelves at the head of the bed. Or if you need extra storage, instead of simply building the frame, you could add in drawer storage to the structure.
The DIY option means that the customizable options are endless. This will leave you with a room that fits your needs perfectly as well as be easier to maintain and keep organized! Win win!
Making your own triple bunk beds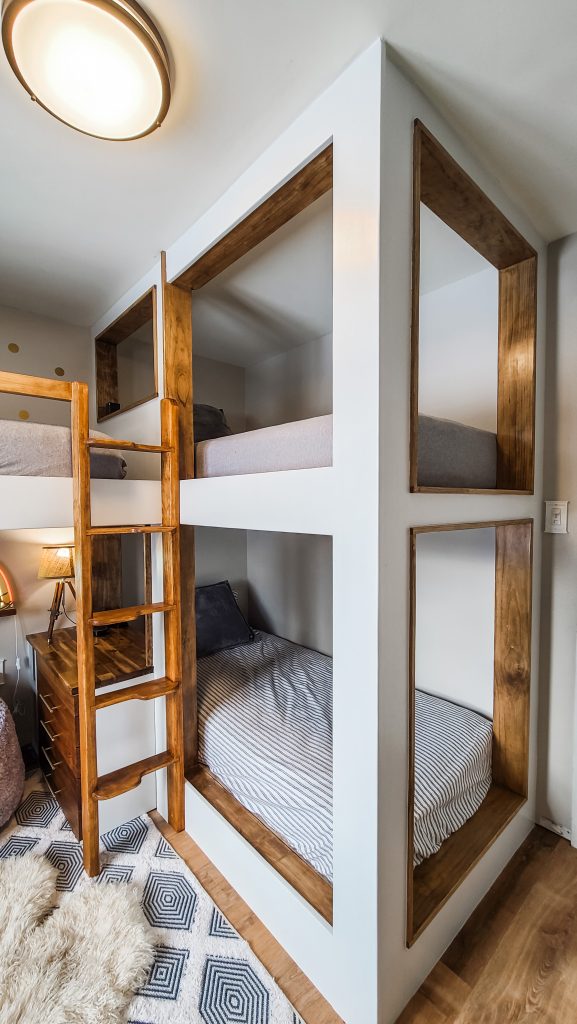 Like any good project, there is always a story behind a new DIY. This DIY built-in triple bunk bed is no exception. We bought our current home as a 3 bedroom when we had two kids. Here we are 5 years later, with two extra kids and still the same number of bedrooms. Knowing that we were going to have to do some room re-arranging to account for our four kids, we decided to look into options for maximizing small rooms for multiple kids.
After living in our school bus conversion for most of last year and seeing how well the bunk beds we designed for that worked; we decided to implement a similar concept at home as well. Since we have three girls and one teenage boy; we decided upon the oldest having one of the bedrooms and the three girls sharing the second.



The design
This triple bunk bed was designed to make the best use of the space and fit three kids. Our ultimate goal for this design was that each child had their own bed and a space that felt like theirs. Therefore, while they share a bedroom, we still wanted to give them a bit of their own space.
We had several requirements that this project called for. Each bed needed to provide an individual space for each girl. Visually it needed to be timeless and have the ability to grow with the girls. We didn't want a design that they would grow out of in a few years. Finally, and most importantly, the design called for making the best use of their small bedroom, but at the same time not resulting in the room feeling crammed.
I have included these affiliate links for your shopping convenience. I understand that you have lots of options when you shop. When you choose to shop using these links, it doesn't cost you anything, helps support our blog and I appreciate it!
What you need:
drill
chop saw
level
skill saw/table saw
brad nail gun
tape measure
orbital sander
sand paper
wood filler
putty
caulk gun/caulk
Gripper primer
paint color of your choice- semi gloss
How to make a triple bunk bed
Step 1: Frame the structure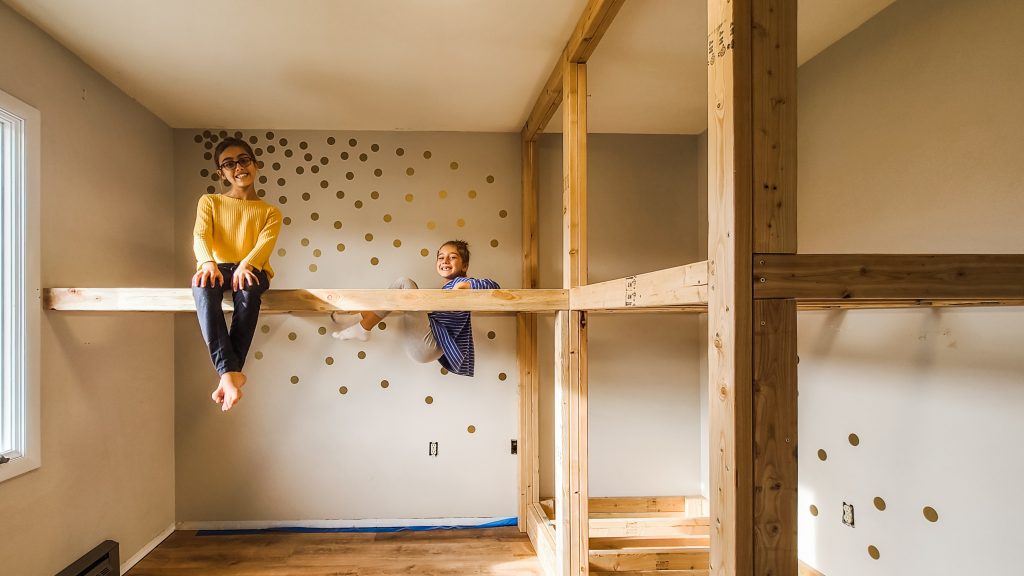 Using 2×4's, you are going to frame out your structure. Begin with framing your bunk and finish with framing in the 3rd bed; the loft.
With some trial and error, what ultimately ended up working best for us was building the 4 sided mattress frame first. Attaching those to the studs in the wall using bolts, we built from the bottom up. Constantly checking our measurements and levelness helped us to avoid timely mistakes.
Step 4: Trim out the bunkbed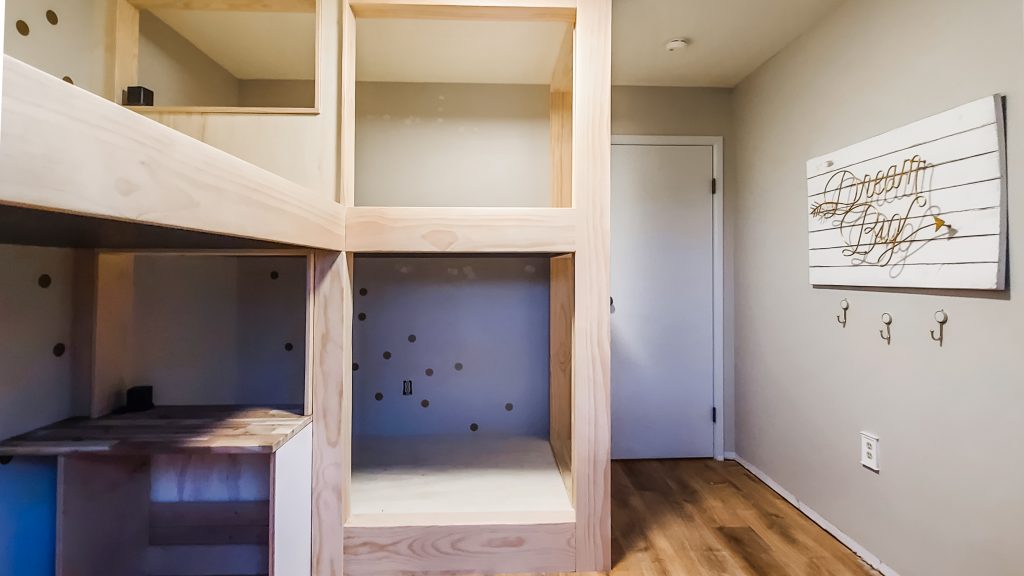 With the structure framed, its time to trim out the bunk bed. For the inside walls, beds and ceiling, we used plywood. Then for the remaining surfaces we used select pine. We chose to use this over plywood on these other surfaces because we figured these would be the areas that would endure the most wear and tear, and the pine would hold up better.
Plus dings, scratches, etc. are easier to remove with a light sanding and resealing than breaking plywood.
Step 3: Finish work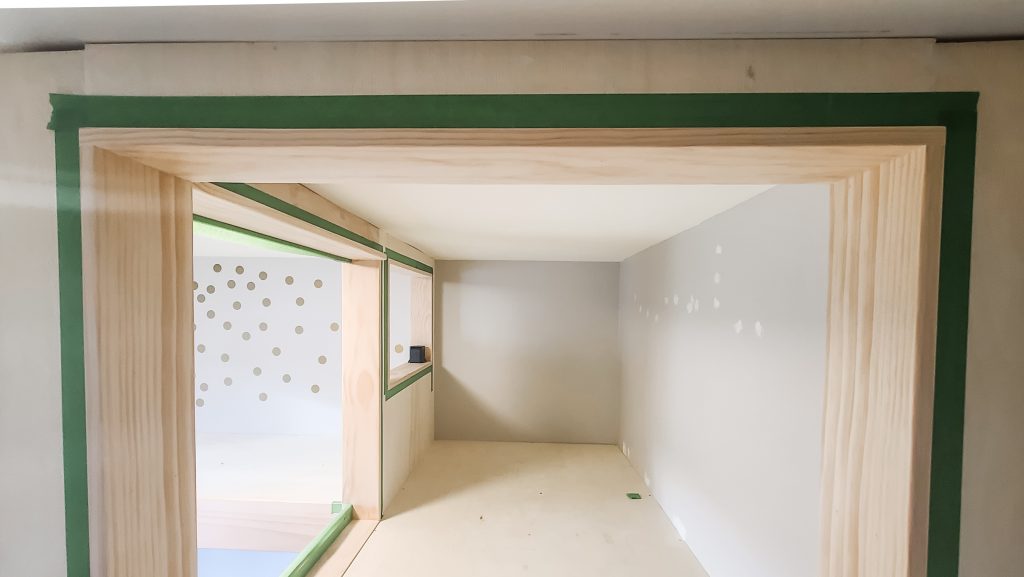 Any imperfections we use corrected using wood filler, paint putty or caulk. We used wood filler in areas that would be stained putty for areas to be painted, and finished by caulking any cracks that we wanted to disappear.
Step 4: Paint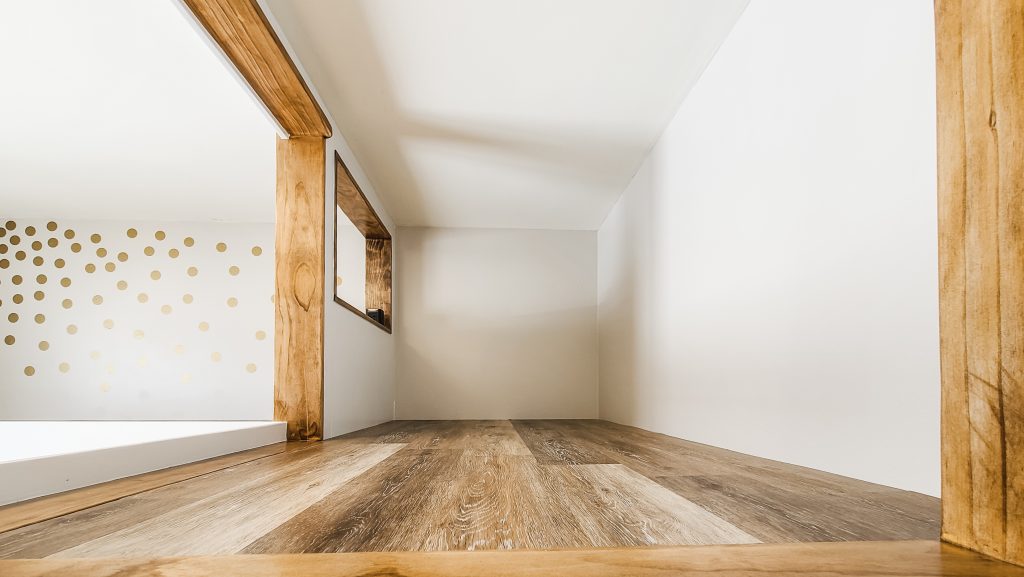 After going through the process of painting our school bus conversion and seeing how the interior paint held up over the year to the intense abuse brought on by a large family and animals; I'm thuroughly conviced that these are the best prodcuts to use when painting!
I love using this primer. It was recomended to us by a professional painter that helped us spray the interior of the the bus.
We have always used the Sherwin Williams line for all our paint projects. We've never had any complaint about their products and they seem to hold up well to intense wear and tear and clean up easily as well.
Step 5: Ladder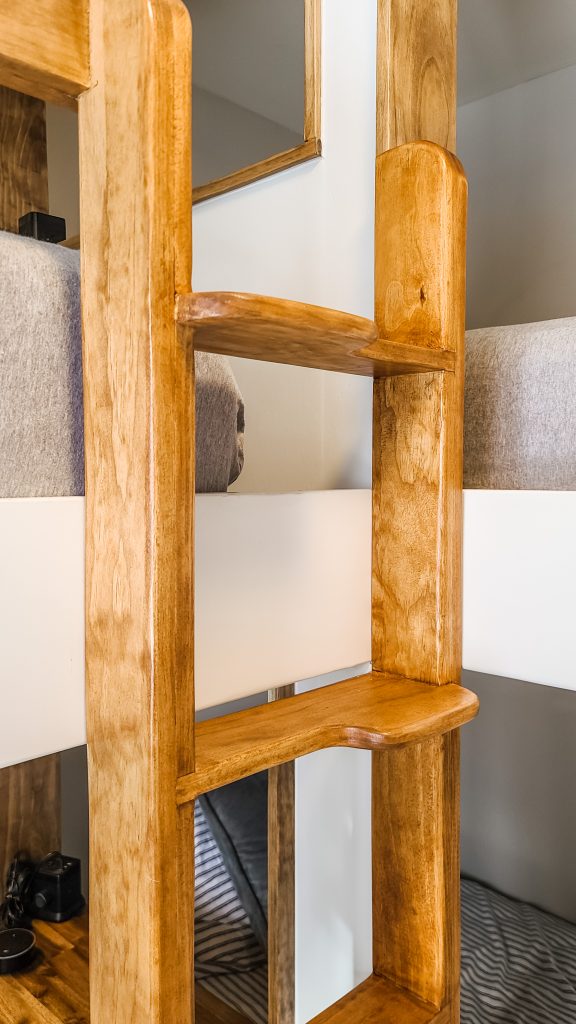 With the triple bunk bed made and painted, we moved on to the final touches; the ladder.
Again using select pine, we designed, and built this ladder to provide access to both the top two bunks. Strong enough to hold the weight of an adult, we felt it provided a safe and fun way for the older two kids to access their beds.
Fun fact, following a Brazilian old superstition; we designed the steps to end with your right foot hitting the floor first every morning. This is said to start your day off right and bring good luck.







Before & After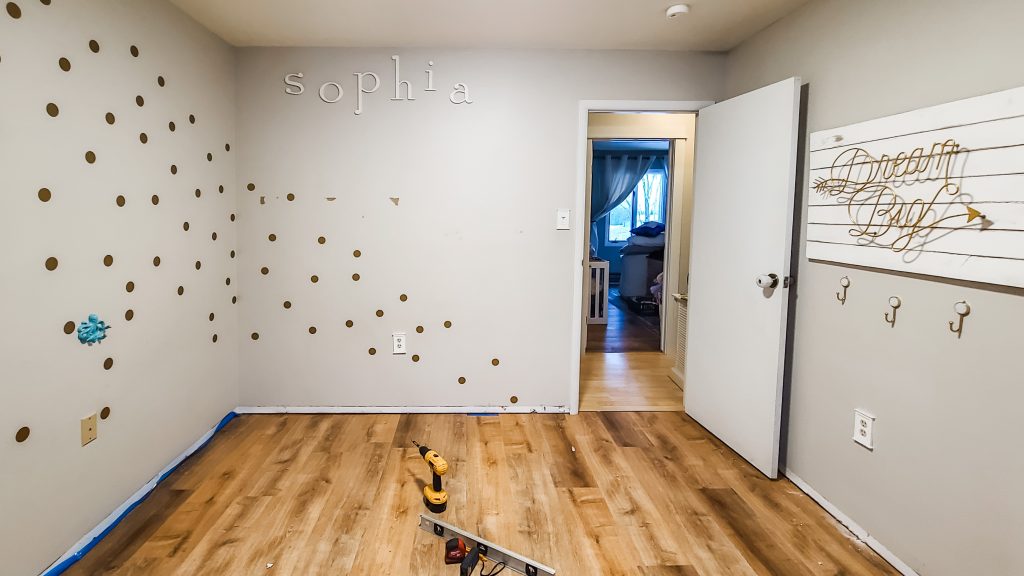 Here is a peek at what the bedroom looked like before we started. As you can see, it is not a big room:)
Finishing touches
Here are the links for some of the things I used in this bedroom renovation that we are loving!
I hope this helps to give you a few ideas on how you can incorporate bunk beds into your room and transform the space!
Looking for more inspiration? Make sure to check out more DIY projects below!
Built-in double bunk bed (Coming Soon)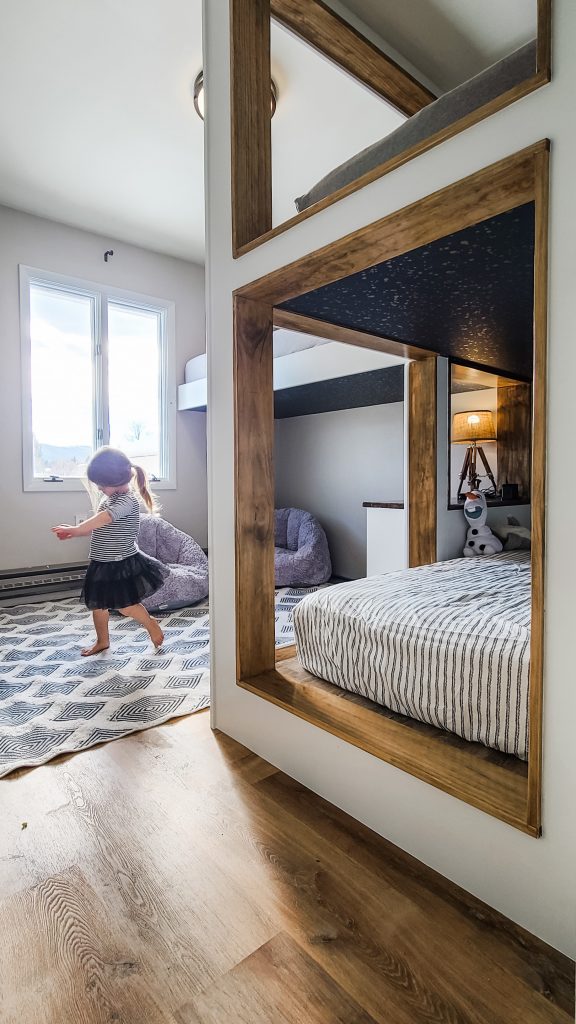 XO,
Morgan