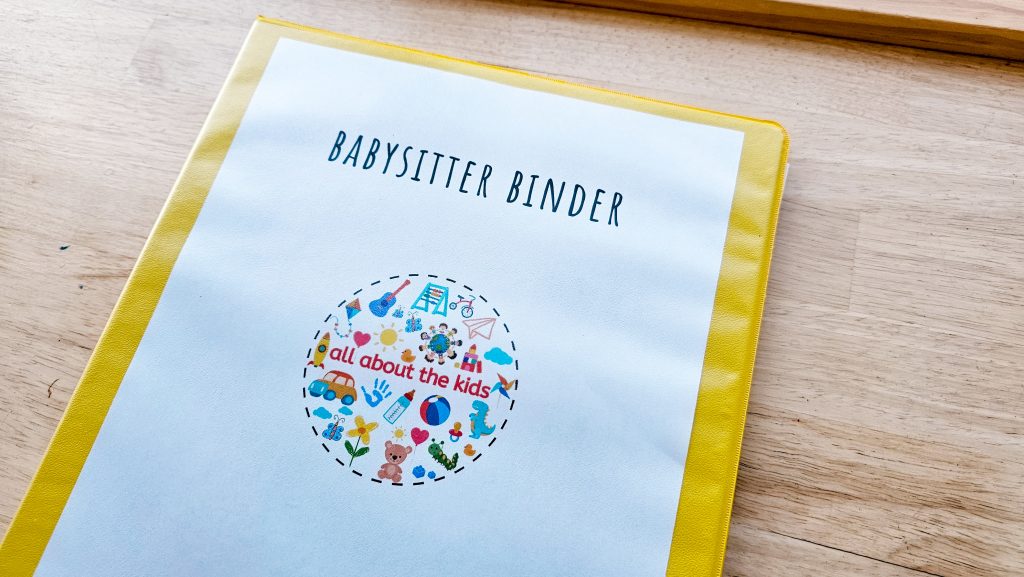 In the fast-paced world of parenting, finding reliable and trustworthy caregivers for our little ones is an essential task. Whether it's a dedicated babysitter, a loving grandparent, or a skilled nanny, the reassurance that our children are in capable hands brings immeasurable peace of mind. And that's where the power of organization comes into play. Allow me to introduce the ultimate DIY Babysitter Binder. This guide was meticulously crafted to streamline communication and create a seamlessly coordinated caregiving experience.
This comprehensive resource isn't exclusively for parents. It is a transformative game-changer for babysitters, nannies, grandparents, and all caregivers involved in your child's life. Bid farewell to confusion and uncertainty when you leave the house. Instead, embrace effortless organization as I reveal the secrets to constructing a DIY Babysitter Binder that will benefit everyone involved. Join me on this journey towards efficiency and harmony because, when it comes to our children, no detail is too small to overlook.
Why You Need a Babysitter Binder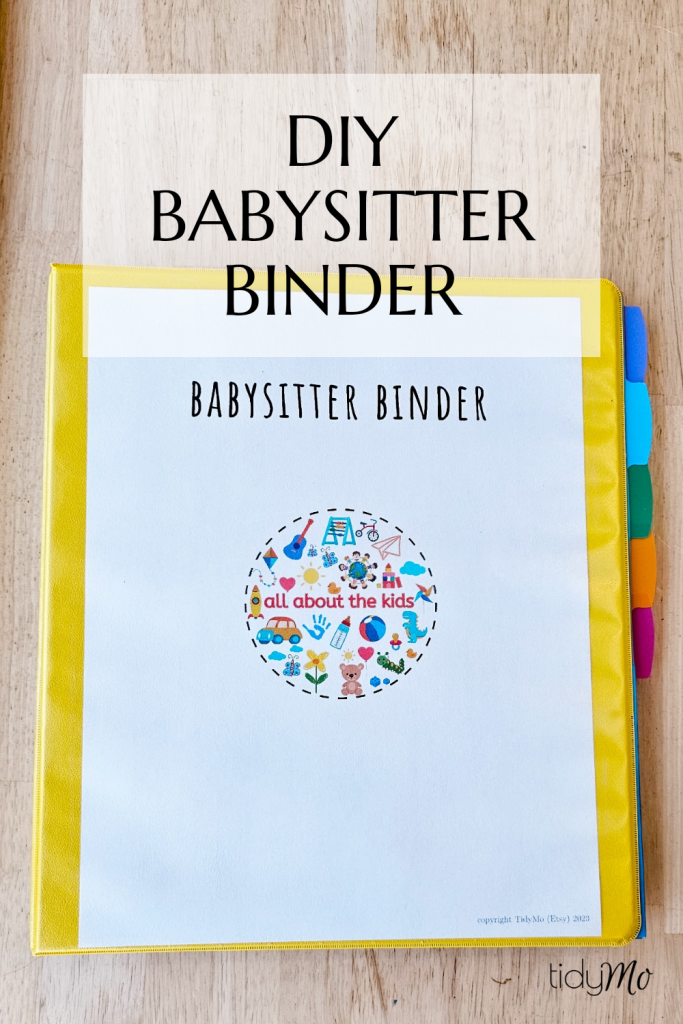 In the ever-mounting demands of our busy lives and parenting, having a reliable and comprehensive babysitter binder becomes a lifeline. So whether you are headed out on a date night, rely on regular help with your child, or especially when parents yearn for a much-needed getaway without their children; this binder is a necessity. With the babysitter binder in hand, parents can rest easy knowing that all the essential information in regards to caring for their children is readily accessible.
This organized compilation of information ensures that the caregivers have a seamless understanding of the child's routines and needs. As a result, this allows for consistent and personalized care even in the parent's absence. Moreover, the binder serves as a reliable communication channel. It helps parents to effortlessly share vital updates, notes, and instructions with the caregivers, therefore, fostering open and efficient dialogue.
From daily care to emergencies, this binder ensures your child receives the same care, love, and security as if you were there. So bid farewell to stress, and welcome the tranquility of a well-organized babysitter binder. Enjoy your time away while maintaining peace of mind and confidence in your child's well-being.
Simplify Leaving the House with a Babysitter Binder
As a responsible parent or guardian, prioritizing the well-being and safety of your children is of utmost importance. That's where a babysitter binder comes in as a valuable tool. It will help you organize essential information and instructions for your caregiver. By creating a comprehensive and easily accessible binder, you can equip your babysitter with all the necessary details to efficiently care for your children.
Moreover, this binder serves an additional purpose of simplifying your departures from the house. It won't matter if you're stepping out for a much-needed date night, heading to work, or embarking on a vacation. Now, this meticulously crafted binder will always be at your fingertips. A tool ready to provide your caregivers with all the information they need. With everything neatly compiled, it significantly reduces the stress and uncertainty involved in leaving your kids with a caregiver.
From emergency contacts and medical details to daily routines and household guidelines, this binder contains it all. And therefore ensures that you can confidently and seamlessly transition out of the house, knowing that your children are in capable hands. Discover the benefits of creating a babysitter binder and unlock the freedom to enjoy your time away. While simultaneously knowing that everything is organized and accessible to your caregiver when you need it the most.
DIY Babysitter Binder Design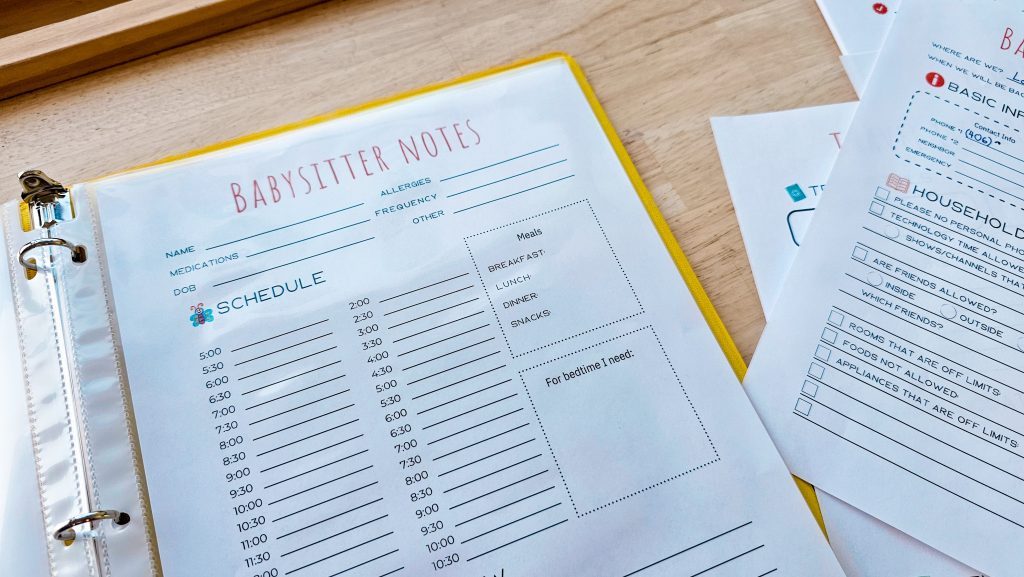 The design of this Babysitter Binder is carefully crafted to cater to the diverse needs of parents and caregivers alike. With over 50 pages and 8 different sections, it offers comprehensive organization and easy access to essential information. The binder includes specifically tailored pages for various scenarios, ensuring that it accommodates the requirements of different caregivers.
For babysitters staying for several hours, there are dedicated pages that cover important child information. This includes information such as emergency contacts, daily routines, and the location of frequently used items by your child.
When it comes to regular caregivers, the binder provides a more detailed overview. This includes household rules, safety guidelines, weekly schedules, and preferred activities/memberships.
For longer absences such as trips, the binder goes above and beyond. It incorporates additional sections for house information, medical release forms, and even travel itineraries.
By encompassing all aspects of childcare, house management, and travel plans, this DIY Babysitter Binder serves as a comprehensive resource that empowers parents and caregivers alike. It offers peace of mind and effortless organization in every situation.
What you need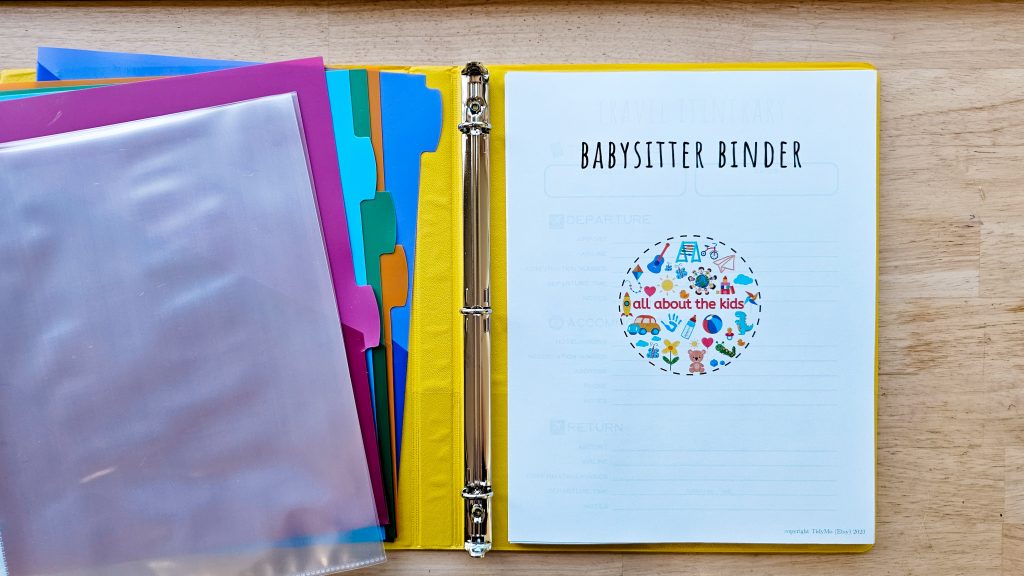 A printed copy of this DIY Babysitter Binder
heavyweight sheet protector pages
plastic binder dividers with pockets
one- 1/2″-1″ yellow binder (the size depends on how many pages you print)
How to make a DIY Babysitter Binder
The DIY Babysitter Binder is a game-changing resource that ensures preparedness for unexpected events while being simple to assemble. While it may require some time to gather all the essential information and documents, the end result is invaluable.
No more frantic messages relaying forgotten instructions or answering basic questions. This organization project puts all your important information and documents regarding caring for your child within reach of caregivers. Imagine the peace of mind that comes with having everything readily accessible in one place. Or not spending time writing down instructions, or responding to texts/calls while you are away. Especially when they could be answered by simply opening up this DIY Babysitter Binder. It's an opportunity to seize control of your life and proactively prepare for any situation. Don't delay any further—start creating your own Babysitter Binder today and embrace the confidence and preparedness it brings.
Step 1: Print out PDF Files of the Babysitter Binder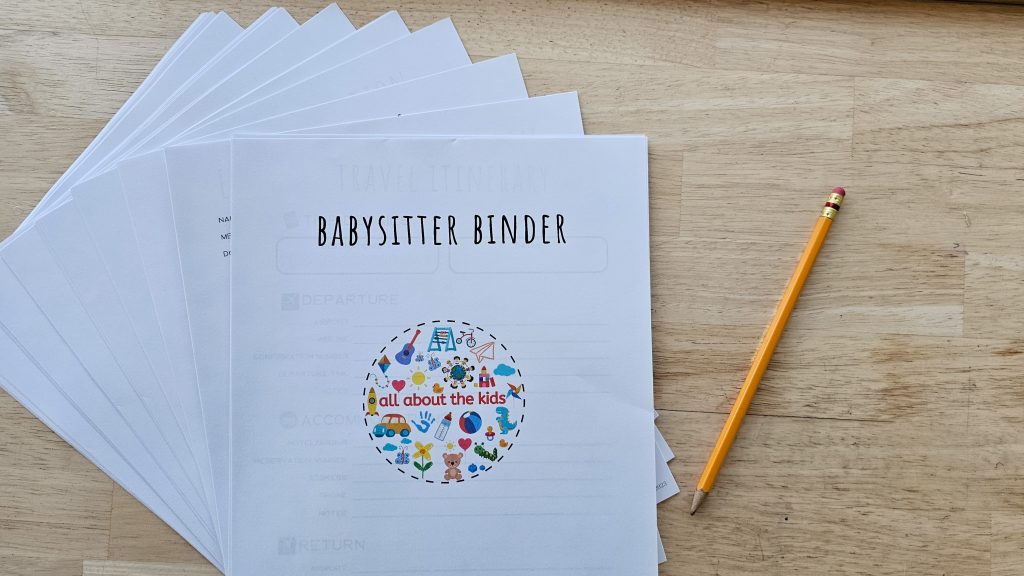 To access and print your DIY Babysitter Binder, please click on the provided link. The digital download includes over 50+ pages of templates to help you organize and assemble your own DIY Babysitter Binder.
Be sure to have a printer ready to print out all the pages and assemble them. Alternatively, you can take it to your local print shop. In the end, you'll have a complete and thorough binder that will help everyone regarding caring for your children.
This PDF will contain 8 different color-coded sections:
Babysitter Notes
Family Information
Medical Information
Financial Information
Household Information
Online Information
Schedule Information
Important Contacts
Step 2: Print out additional pages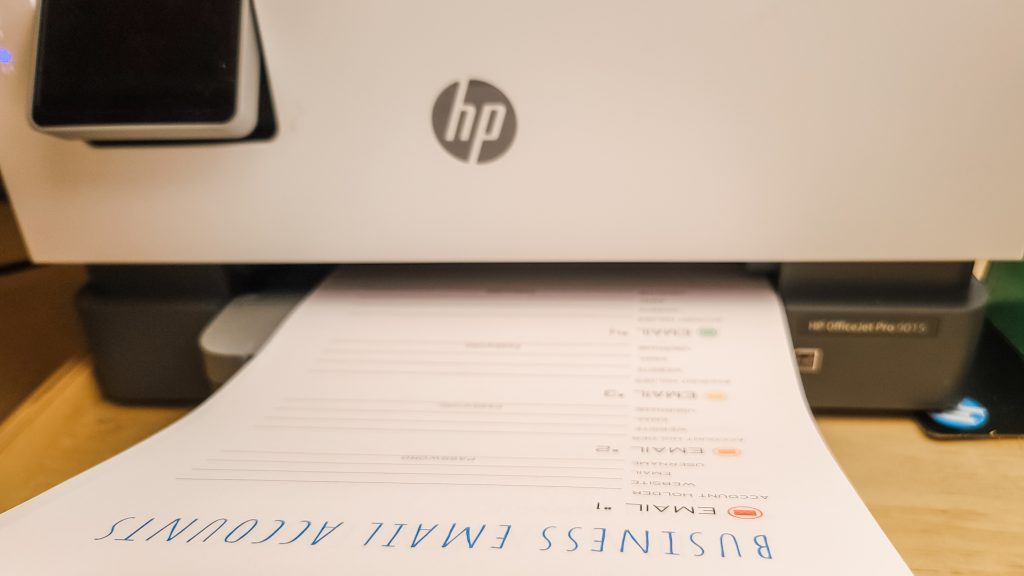 After printing the PDF file, make sure you have a copy of each page or page set. If you require additional pages to include more important information, forms, or instructions, you can easily go back to the download and print out extra copies as needed. This allows you to personalize the binder to suit your specific needs and the needs of your child.

It's crucial to regularly review and update the babysitter binder to ensure that it remains complete and accurate. Therefore, consider dedicating time each year to go through the binder and make any necessary updates or additions. By keeping your binder up-to-date, you empower all caregivers with the necessary resources to provide the best care for your children in any situation.
Step 3: Purchase sheet protectors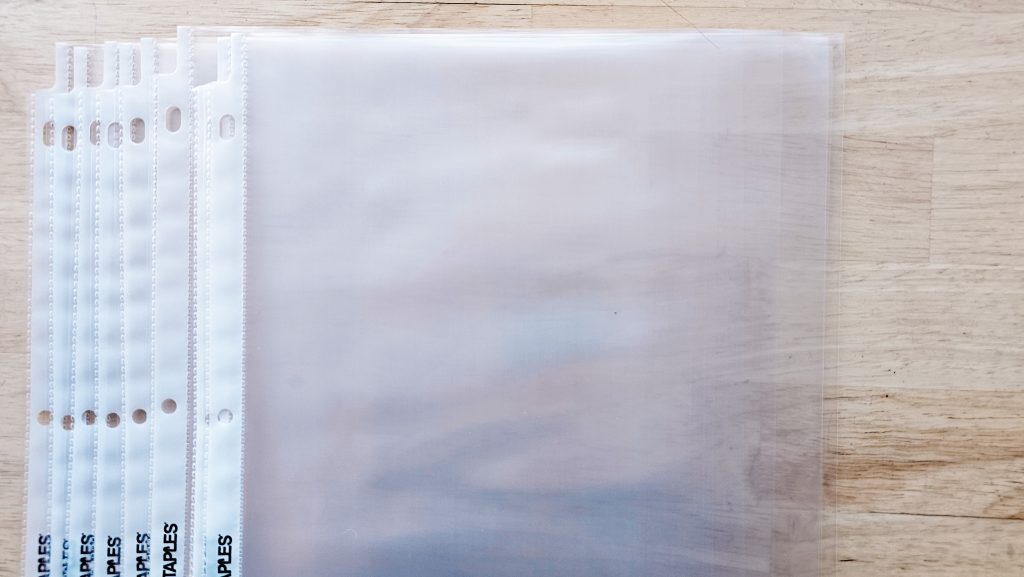 STEP 4: FILL OUT THE PAGES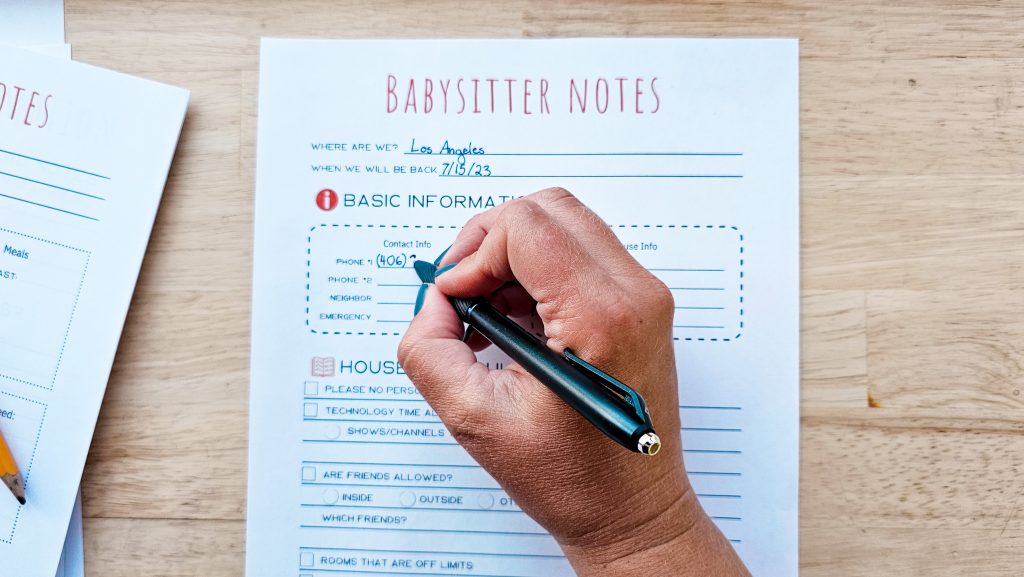 It's important to be thorough when filling out the pages of your Babysitter Binder, as this will help ensure that you have all of the important information your child's caregivers need in one place. Make sure to write legibly. This will make it easier for others to read and understand the information if necessary. You can fill out the pages at your own pace, whether that means doing it all at once or in smaller increments. However, just be sure to follow through and finish filling out the binder, as having an incomplete binder may not be as useful to effectively take care of your children in your absence or in an emergency situation.
STEP 5: DISCARD EXCESS PAGES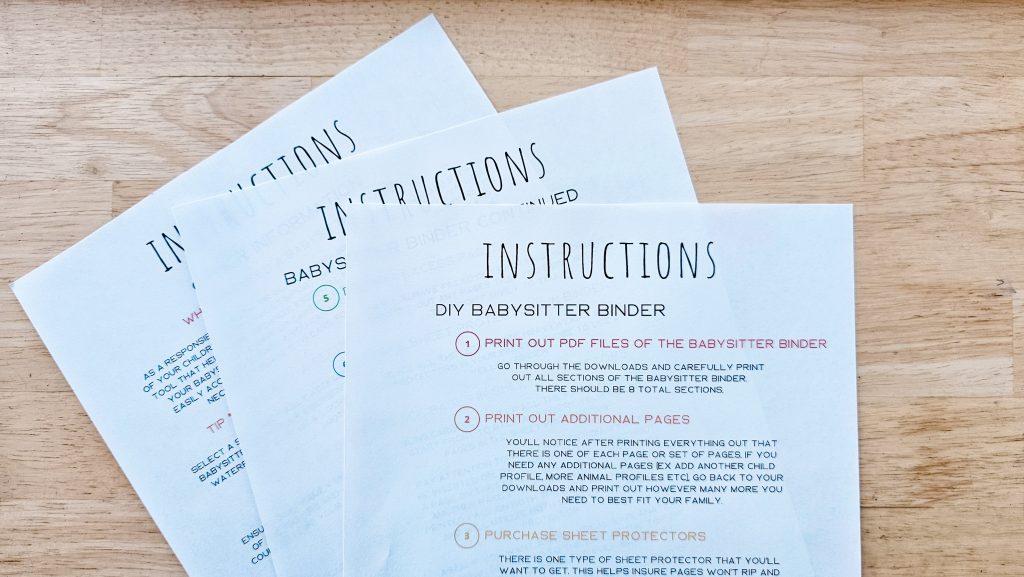 Once you have filled out the pages of your Babysitter Binder, it's a good idea to go through and remove any pages that are unnecessary or don't apply to your family. This can help you create a more streamlined and organized binder. This in turn can be easier for caregivers to use and reference in any situation; including an emergency. As a result of going through and decluttering your Babysitter Binder, you can create a more efficient and effective resource for those who are caring for your child/ren.
STEP 6: PLACE SHEET PROTECTORS IN THE BINDER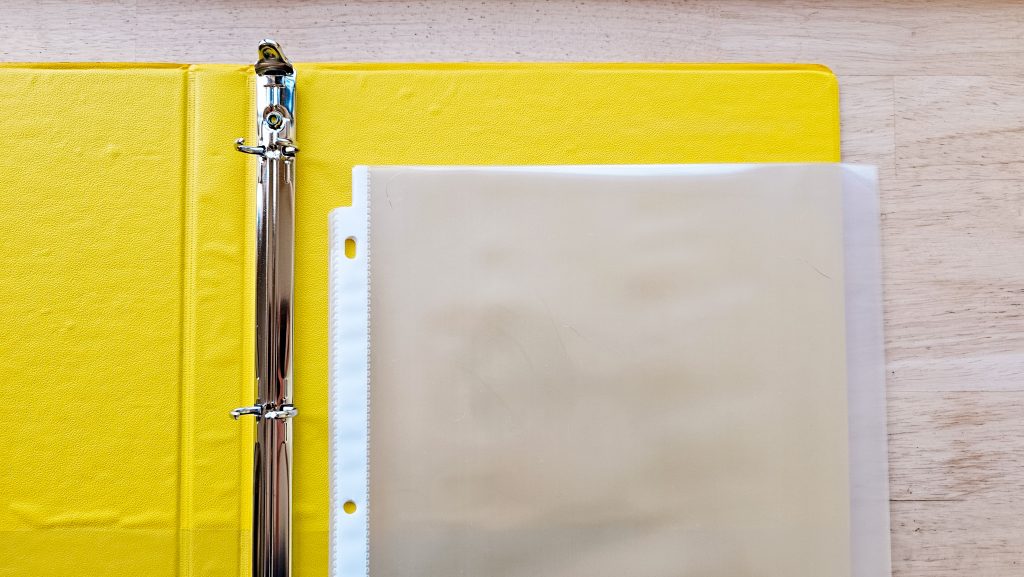 To create a Babysitter Binder, start by placing heavyweight sheet protectors into the yellow binder. The number of sheet protectors you will need will depend on the size of your family and the number of extra pages you have added or removed. You may want to start with 100 sheet protectors to ensure that you have enough to hold all of your important documents and information. I like using clear, heavyweight sheet protectors.
STEP 7: PLACE PAGES IN SHEET PROTECTORS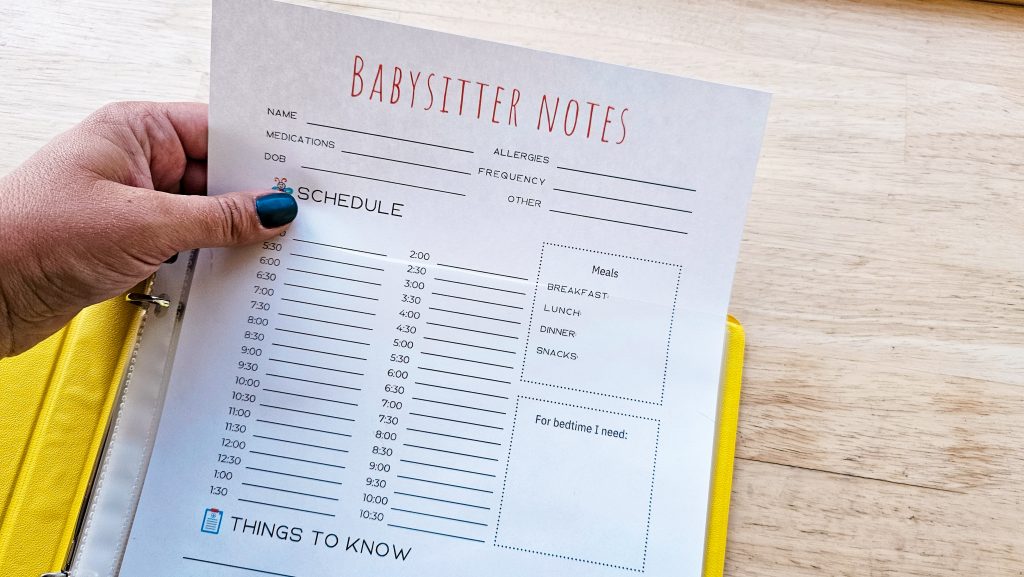 To organize your binder, it's important to keep all of the pages in order and carefully insert them into the sheet protectors. You may want to start with the front of the binder and work your way to the back, paying close attention to how you want the pages to read. You may need to adjust the order of the pages or insert them into the sheet protectors in a specific way to ensure that the pages read smoothly when you flip through the binder.

Next, notice that the binder uses a ROY-G-BIV color-coded system to help you easily associate sections of the binder with a specific color. This can make it easier to quickly find the section or page you are looking for, saving you time and frustration.
A color-coded system, such as using the colors of the rainbow, can help your child's caregivers easily find sections and pages in your Babysitter Binder, allowing them to give the best care possible to your family.
STEP 8: INSERT PLASTIC DIVIDERS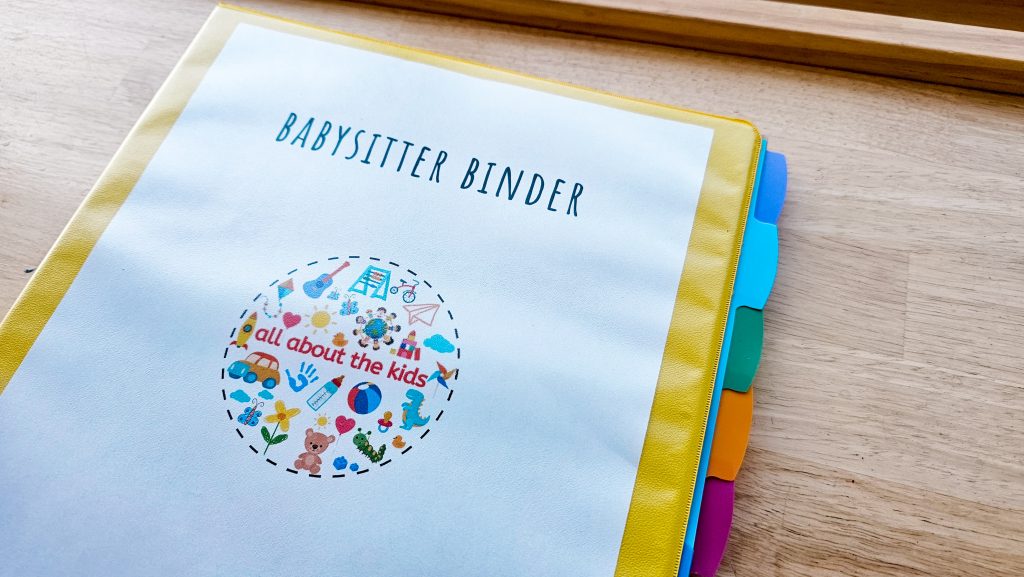 The next step is to insert plastic dividers into your binder. Coordinating the divider color with the color of the section of information can be a helpful way to quickly find what you need.
Using plastic dividers with pockets can be especially useful, as the pockets provide a convenient place to store any important supporting documents that pertain to the information in the binder. This can help you to keep everything organized and easily accessible when you need it.
STEP 9: GATHER ALL YOUR IMPORTANT DOCUMENTS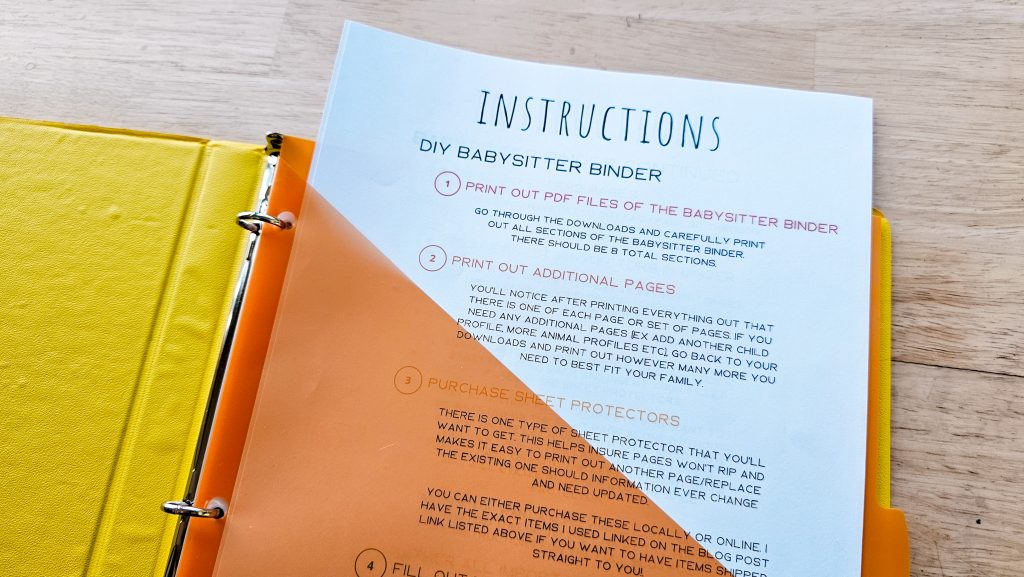 Then, you will want to gather all of your important documents in one place. This can include copies of insurance cards, immunization records, and any other papers that are important to your family.

Once you've gathered all of your documents, you can start organizing them. Place any supporting documents in the divider pocket that corresponds to the section of the binder that the document is associated with. This will help you to easily find the documents that go with the information you've recorded in each section.
The final results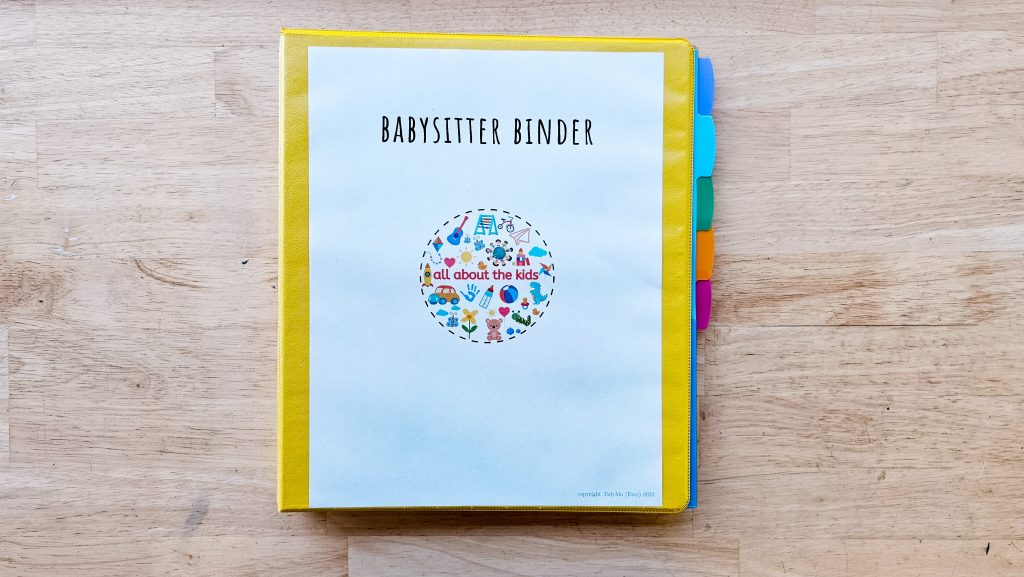 In conclusion, investing in and creating your own DIY Babysitter Binder can provide invaluable peace of mind. In addition, it will provide numerous benefits for both parents and caregivers alike. By having important information and instructions in one organized place, you can ensure that every caregiver is well-prepared to handle any situation that may arise while taking care of your children. This binder serves as a great comprehensive resource. It helps with facilitating seamless communication, promoting consistency in care, and allowing for customization to suit your specific needs.
With the DIY Babysitter Binder, you can confidently entrust the well-being of your children to caregivers. Knowing that they have everything necessary at their fingertips will simplify your life and provide peace of mind. Don't wait any longer; take the step to create this invaluable resource and experience the peace of mind it brings. Your children's safety and care deserve nothing less than the best.
Want help organizing other important documents?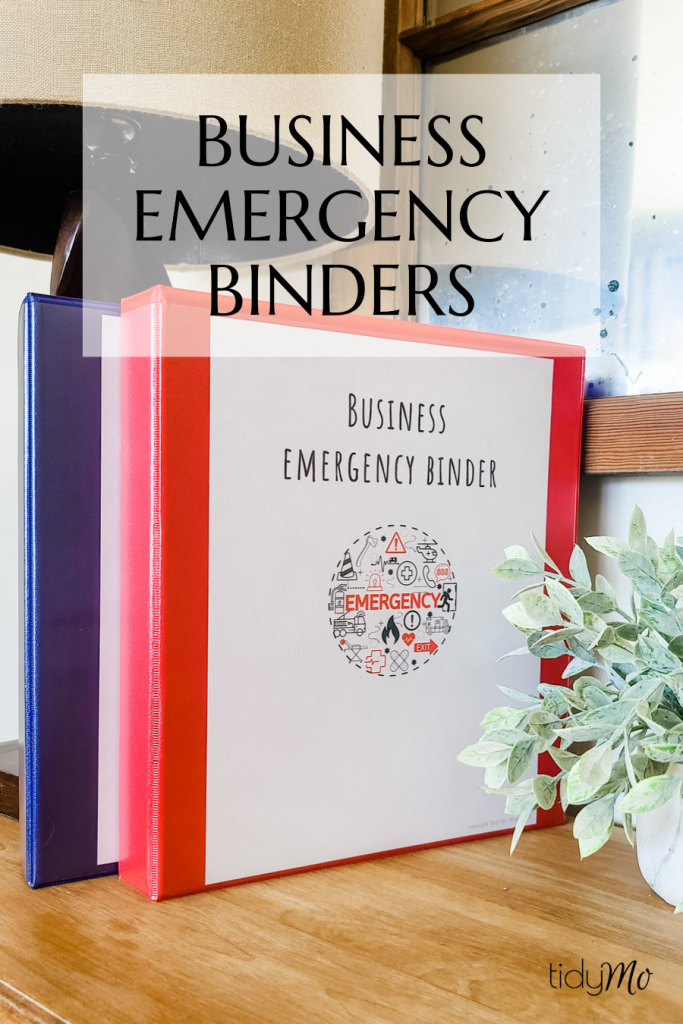 If you're seeking an effective method to streamline the organization of your personal life and essential documents, I highly recommend exploring my Ultimate DIY Emergency Binder. Similarly, if you own a small business, you'll find tremendous value in the DIY Business Binder. This Business Binder is designed to centralize all your critical business information. Regardless of whether you're organizing your personal affairs or your business matters, the advantages of consolidating everything in a single, well-organized location are truly priceless.
Looking for more inspiration? Make sure to check out more organizational projects below!
The Ultimate DIY Personal Emergency Binder
Organize your important Business Documents
How to quickly organize your tea boxes with just one thing!
5 simple steps to keep your skoolie organized
How to organize the playroom toys
XO,
Morgan