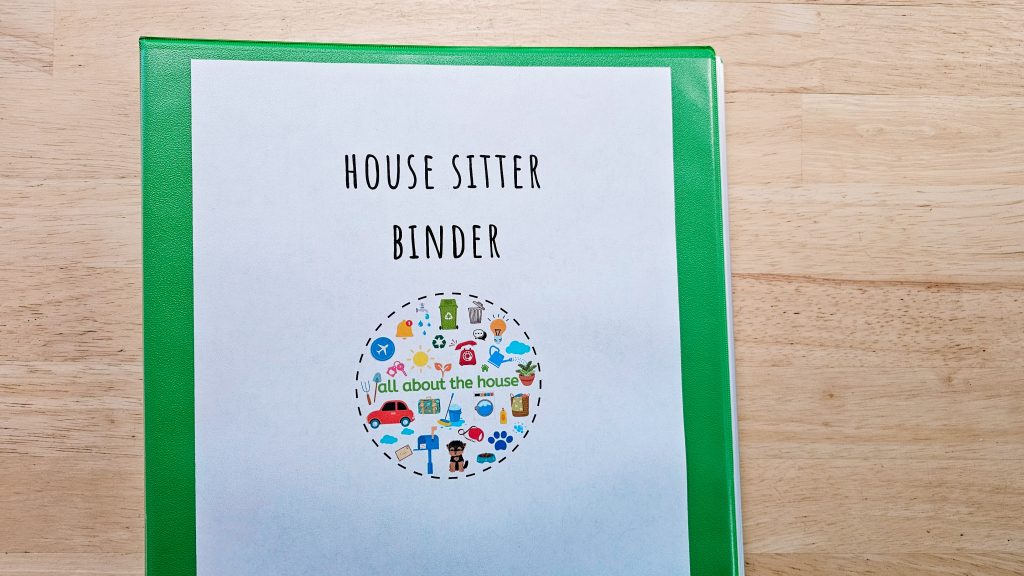 Are you planning to jet off on a well-deserved vacation or business trip but feeling overwhelmed by the thought of leaving your home in someone else's care? Fret not, for I've got your back! Welcome to the ultimate DIY House Sitter Binder Guide, your trusty companion for organizing the perfect house-sitter experience. Whether you're a seasoned traveler or a first-time house-sitter employer, this comprehensive guide will walk you through the steps to ensure your home remains secure, your pets are well-taken care of, and your peace of mind is maintained. So join me on a voyage towards worry-free travels and a joyful homecoming! The invaluable assistance of the complete DIY House Sitter Binder will improve your house sitter experience to ensure your home's safety and your pets' well-being.
Why You Need a House Sitter Binder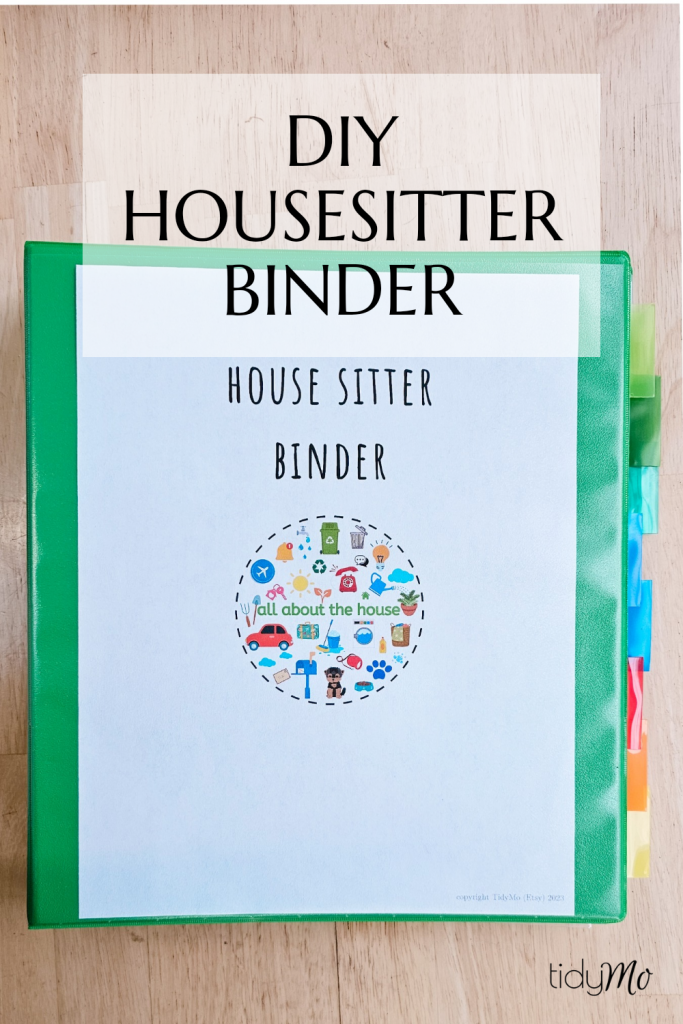 Amidst the hustle and bustle of our increasingly busy lives and household management, a dependable and comprehensive house sitter binder emerges as an essential lifeline. So whether you're embarking on a weekend getaway or relying on regular house-sitting assistance; this binder proves indispensable. With this binder at your fingertips, you can be assured that all crucial information related to your home is conveniently at hand.
This meticulously organized compilation of details guarantees that house sitters possess a seamless grasp of your home's routines and requirements. Consequently, this enables consistent and personalized care even when you're not present. Furthermore, the binder acts as a trustworthy communication method. It enables homeowners to effortlessly convey important updates, notes, and instructions to the house sitters.
From day-to-day maintenance to unforeseen emergencies, this binder ensures that your home receives the same level of attention, care, and security as if you were there yourself. So say farewell to stress and welcome the serenity of a thoughtfully structured house sitter binder. Embrace your time away while maintaining tranquility and confidence in the well-being of your cherished abode.
Simplify Leaving the House with a house sitter Binder

As a responsible homeowner, ensuring the security and well-being of your property is of utmost importance. This is where a DIY House Sitter binder becomes an invaluable asset. It is a crucial tool to help you efficiently organize essential information and instructions for your house sitter. As a result of having a comprehensive and easily accessible binder, you can empower your house sitter with all the necessary details to oversee your home efficiently.
Furthermore, this binder also simplifies your departure process. Whether you're stepping out for a well-deserved vacation, heading to work, or any other reason, this binder is always at your disposal. It stands ready to provide your house sitter with all the information they need. As a result, it significantly reduces the stress and uncertainty associated with leaving your home in someone else's care.
From emergency contacts and maintenance instructions to daily routines and household guidelines, this binder covers it all. Therefore, it ensures a confident and seamless transition out of your home, knowing that your property is in capable hands. So discover the benefits of creating a DIY House Sitter binder and gain the freedom to enjoy your time away while simultaneously ensuring that everything remains well-organized and easily accessible to your house sitter when needed the most.
DIY house sitter binder design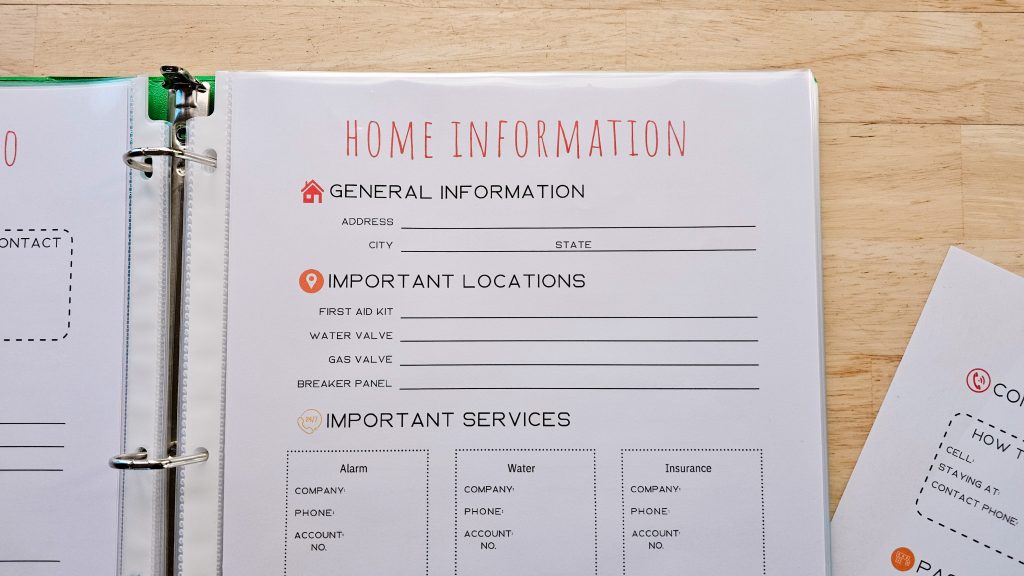 The design of this binder is thoughtfully created to meet the diverse needs of homeowners and house sitters alike. With over 40 pages and 6 distinct sections, it provides comprehensive organization and easy access to crucial information. In addition, the binder includes specially tailored pages for various scenarios. As a result, ensuring it caters to the unique requirements of different house-sitting situations.
For house sitters overseeing your home for a few days, there are dedicated pages covering essential home details. These include but are not limited to; contacts, daily routines, the location of frequently used items, and basic household information.
Next, for long-term house sitters or those caring for your property regularly, the binder offers a more comprehensive overview. This encompasses household rules and guidelines, weekly household schedules, and preferred tasks or maintenance routines.
Finally, for extended absences, the binder goes the extra mile. It features sections for property information, maintenance schedules, and even travel itineraries. These details ensure your house sitter has all the necessary information at their fingertips.
By encompassing all aspects of home management and house-sitting arrangements, this DIY House Sitter Binder serves as a comprehensive resource that empowers homeowners and house sitters alike. It provides peace of mind and effortless organization in every house-sitting situation.
What you need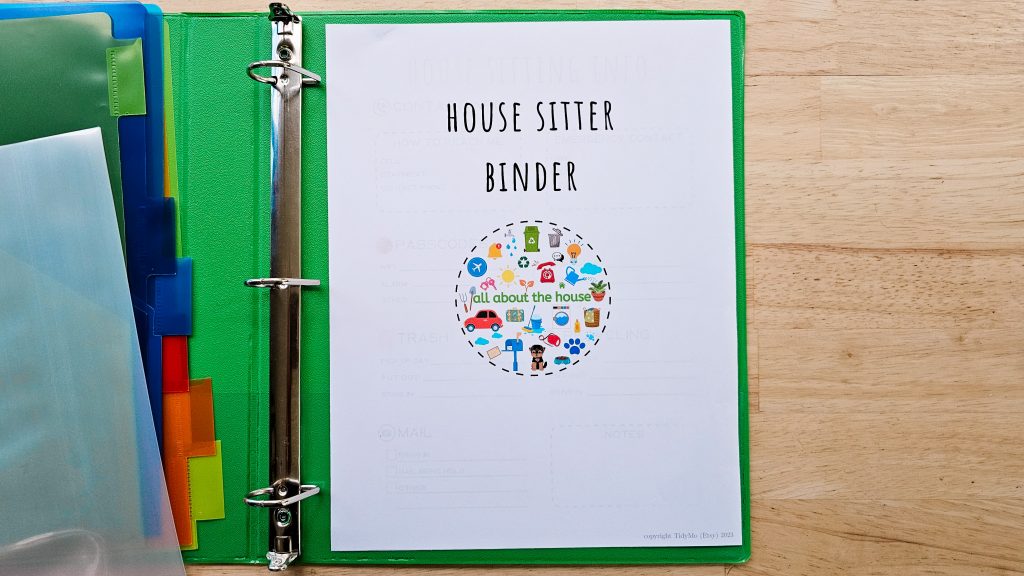 A printed copy of this DIY House Sitter Binder
Heavyweight sheet protector pages
Plastic binder dividers with pockets
One- 1″ green binder (the size you choose depends on how many pages you print)
How to make a DIY House sitter binder
The DIY House Sitter Binder is a game-changing tool meticulously crafted to guarantee preparedness for unforeseen circumstances. Despite its incredible effectiveness, it's astonishingly easy to put together. While it might demand a bit of effort to compile crucial information and documents, the ultimate payoff is immeasurable. As time unfolds, the investment you make in organizing this information will far outweigh the initial setup efforts.
So say goodbye to frantic messages conveying forgotten instructions or addressing basic queries. This organizational binder places all your crucial information related to house sitting at the fingertips of your house sitter.
Picture the peace of mind that accompanies having everything conveniently accessible in one place. And then imagine eliminating the need to write down instructions or respond to messages while you're away. Many inquiries can be swiftly answered by simply opening up this DIY House Sitter Binder. It's an opportunity to take charge of your household management and proactively prepare for any situation. Don't procrastinate any longer—begin crafting your own House Sitter Binder today and embrace the confidence and readiness it offers.
Step 1: Print out PDF Files of the House sitter Binder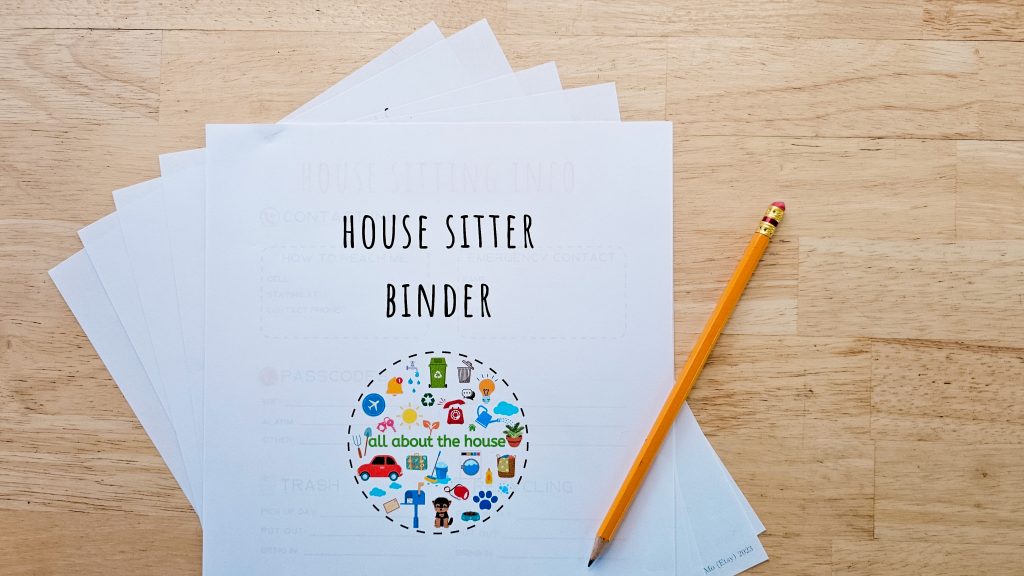 To access and print your DIY Babysitter Binder, please click on the provided link. This digital download includes over 40+ pages of templates to help you organize and assemble your own DIY House Sitter Binder.
Be sure to have a printer ready to print out all the pages and assemble them. Alternatively, you can take it to your local print shop. In the end, you'll have a complete and thorough binder that will help everyone regarding caring for your children.
This PDF will contain 6 different color-coded sections:
Travel Itinerary
House Sitting Information
Plant Information
Before You Leave Information
Household Information
Pet Information
Step 2: Print out additional pages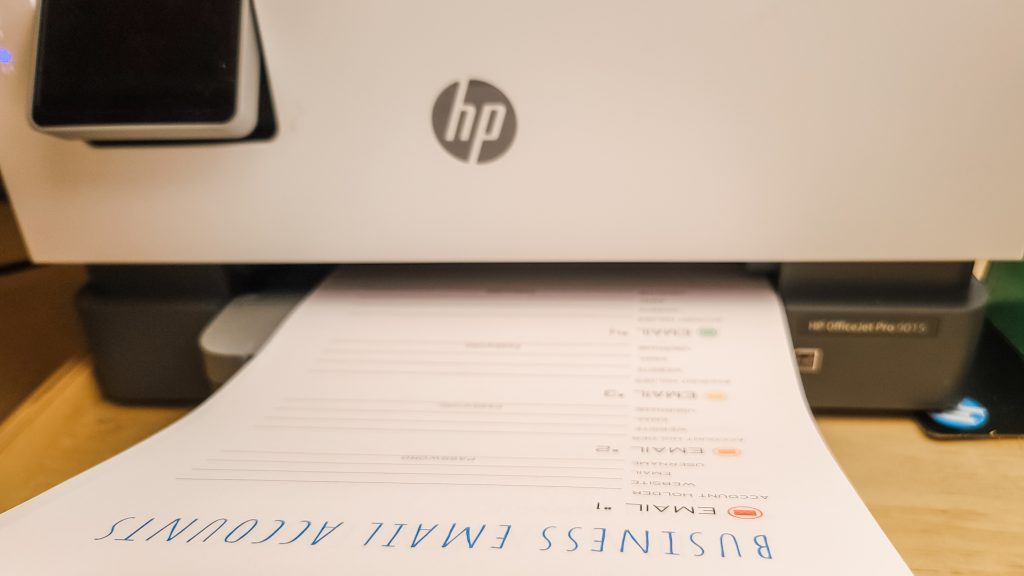 After printing the PDF file, make sure you have a copy of each page or page set. Then if you require additional pages, you can easily go back to the download and print out extra copies as needed. This allows you to personalize the binder to suit your specific needs and the needs of your house.

It's crucial to regularly review and update the house sitter binder to ensure that it remains complete and accurate. Therefore, consider dedicating time each year to go through the binder and make any necessary updates or additions. By keeping your binder up-to-date, you empower all house sitters with the necessary resources to provide the best care for your home in any situation.
Step 3: Purchase sheet protectors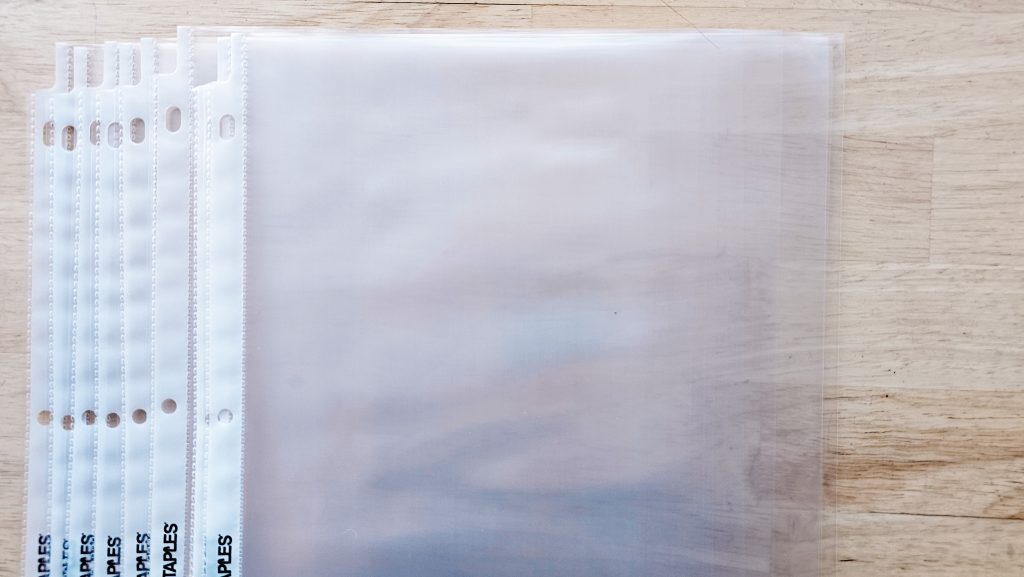 Using sheet protectors in your DIY House Sitter Binder can be a helpful way to keep your documents organized and protected. Sheet protectors are great to help prevent pages from tearing. In addition, they also make it easier to make adjustments to your binder, such as adding or rearranging pages. Plus, they also allow you to use both sides of the page which can help you save space in the binder. It's a good idea to regularly review and update your house sitter binder. By adding or removing pages as needed to keep it complete and accurate you ensure your binder remains a valuable resource. Overall, using sheet protectors can help you create a more functional and organized House Sitter Binder.
STEP 4: FILL OUT THE PAGES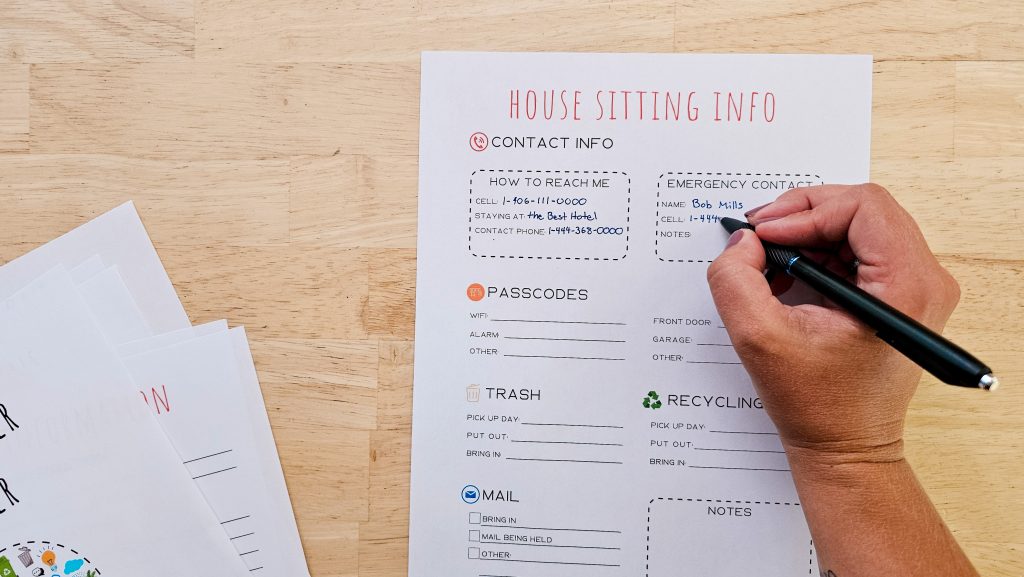 It's important to be thorough when filling out the pages of your House Sitter Binder. This will help ensure that you have all of the important information your child's caregivers need in one place. Make sure to write legibly. This will make it easier for others to read and understand the information if necessary. Feel free to fill out the pages at your own pace. That may mean doing it all at once or in smaller increments. However, just be sure to follow through and finish filling out the binder. This is because having an incomplete binder may not be as useful to effectively take care of your home in your absence or in an emergency situation.
STEP 5: DISCARD EXCESS PAGES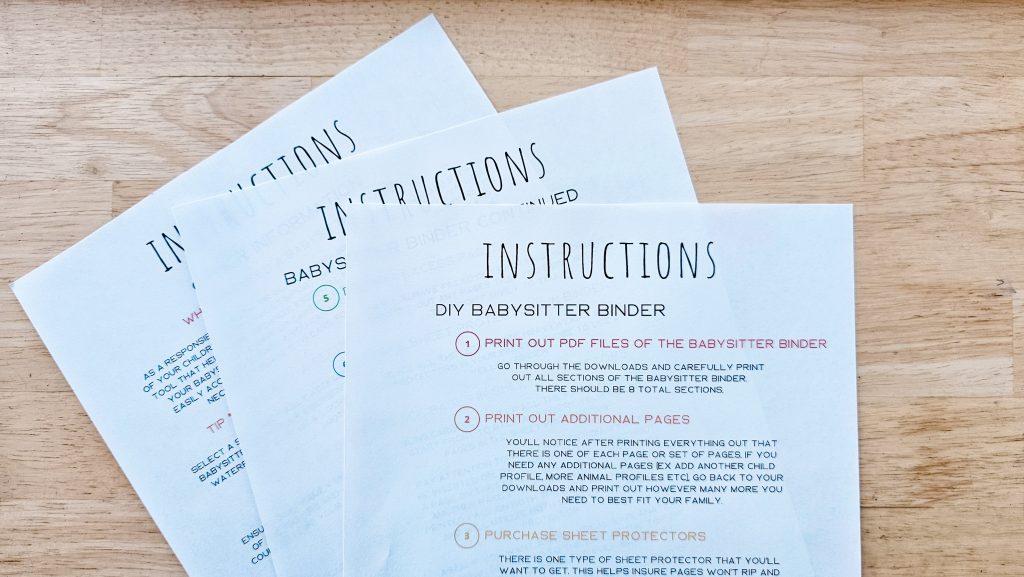 Once you have filled out the pages of your House Sitter Binder, it's a good idea to go through and remove any pages that are unnecessary. This can help you create a more streamlined and organized binder. This in turn can be easier for house sitters to use and reference in any situation; including an emergency. By decluttering your House Sitter Binder, you can create a more efficient and effective resource for those who are caring for your home.
STEP 6: PLACE SHEET PROTECTORS IN THE BINDER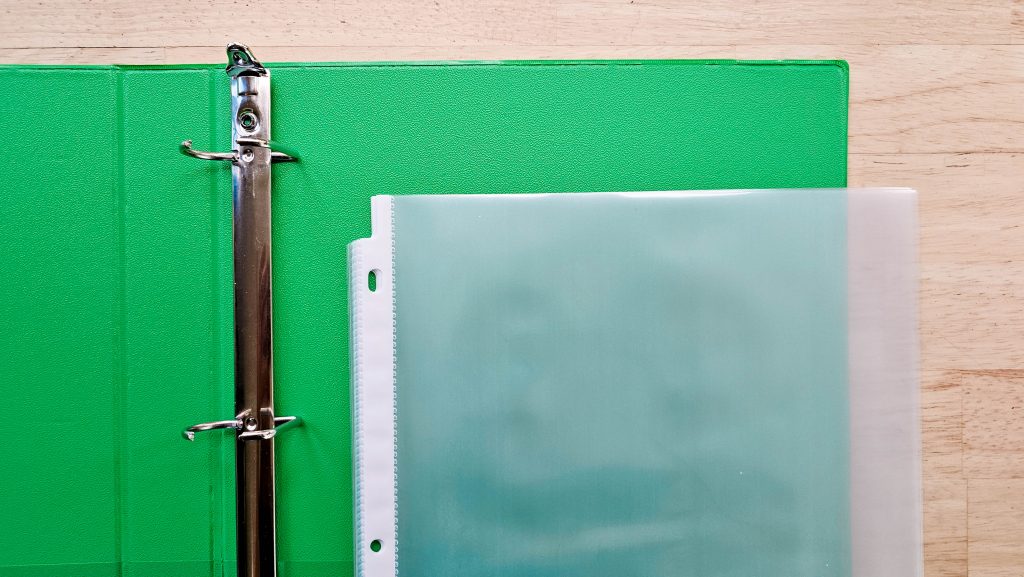 To create a House Sitter Binder, start by placing heavyweight sheet protectors into the green binder. The number of sheet protectors you will need will depend on the number of extra pages you have added or removed. You may want to start with 100 sheet protectors to ensure that you have enough to hold all of your important documents and information. I like using clear, heavyweight sheet protectors.
STEP 7: PLACE PAGES IN SHEET PROTECTORS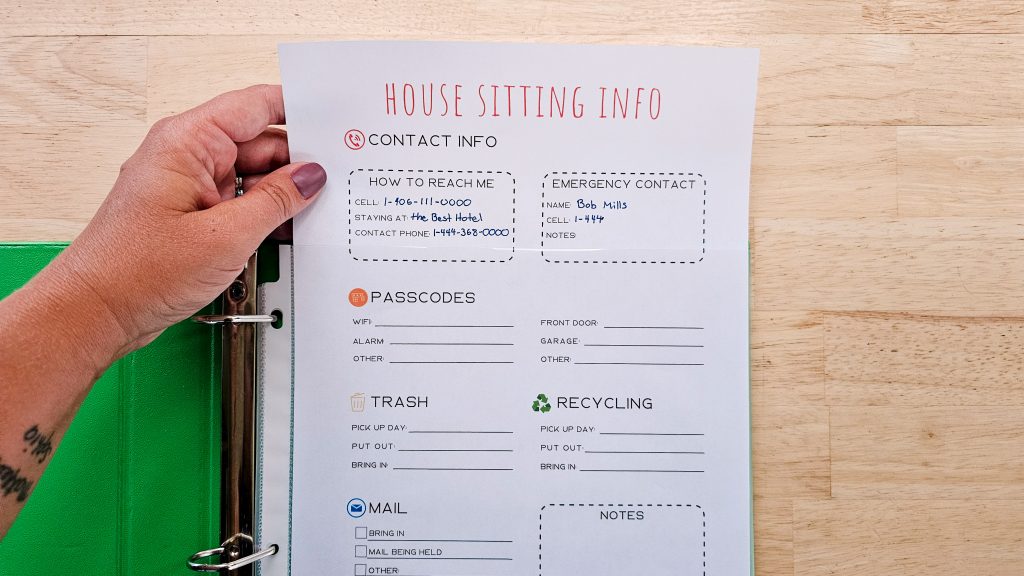 To organize your binder, it's important to keep all of the pages in order and carefully insert them into the sheet protectors. You may want to start with the front of the binder and work your way to the back. However, pay close attention to how you want the pages to read. You may need to adjust the order of the pages or insert them into the sheet protectors in a specific way to ensure that the pages read smoothly when you flip through the binder.
Next, notice that the binder uses a ROY-G-BIV color-coded system. This helps you easily associate sections of the binder with a specific color. This can make it easier to quickly find the section or page you are looking for. As a result, it saves you time and frustration.
A color-coded system, such as using the colors of the rainbow, can help your house sitter easily find sections and pages in your House Sitter Binder. This will allow them to give the best care possible to your home.
STEP 8: INSERT PLASTIC DIVIDERS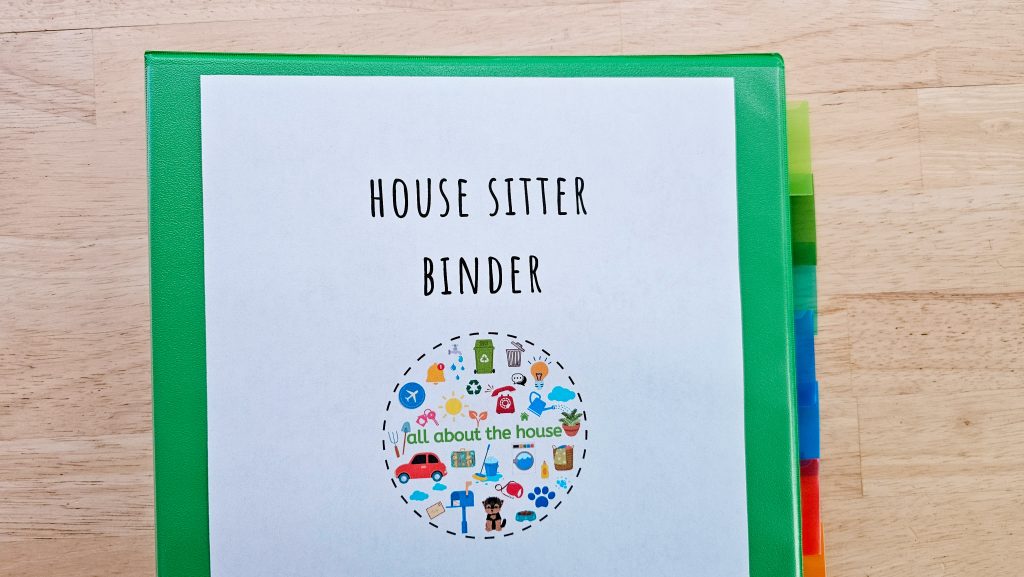 The next step is to insert plastic dividers into your binder. Coordinating the divider color with the color of the section of information is a helpful way to quickly find what you need.
In addition, using plastic dividers with pockets can also be especially useful. The pockets provide a convenient place to store any important supporting documents that pertain to the information in the binder. This can help you to keep everything organized and easily accessible when you need it.
STEP 9: GATHER ALL YOUR IMPORTANT DOCUMENTS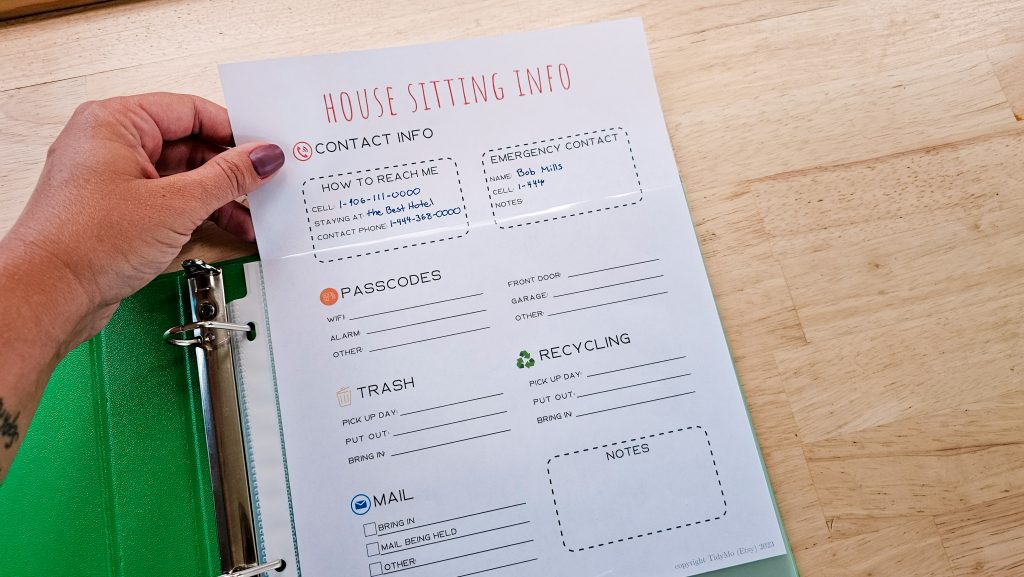 Then, you will want to gather all of your important documents in one place. This can include copies of any pet's medical history or other items that are important to your home.

Once you've gathered all of your documents, you can start organizing them. Begin by placing any supporting documents in the divider pocket that corresponds to the section of the binder that the document is associated with. This will help you to quickly find the documents that go with the information you've recorded in each section.
The final results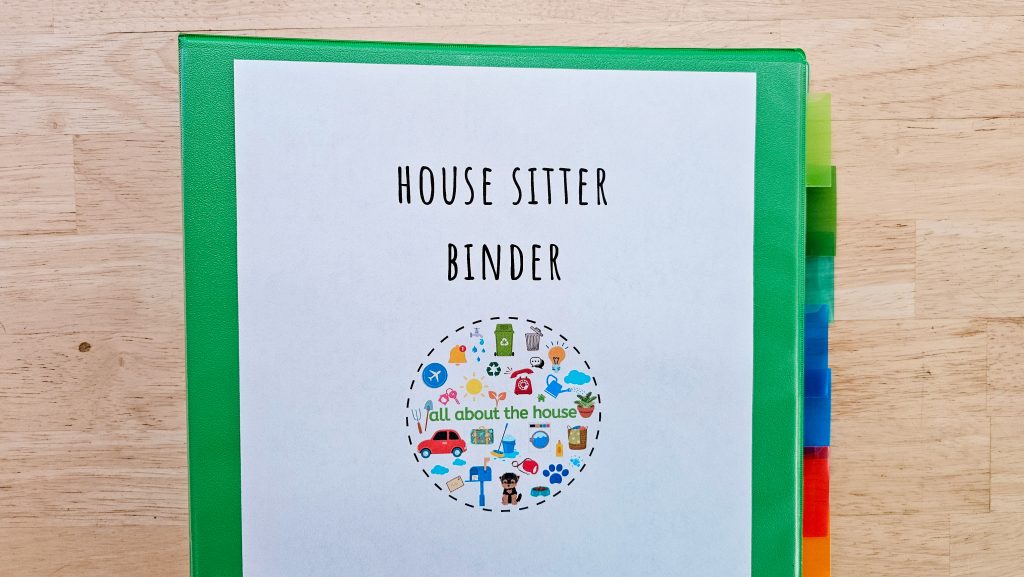 Investing in and creating your own DIY House Sitter Binder can provide invaluable peace of mind. First of all, it will provide numerous benefits for both homeowners and house sitters alike. By having important information and instructions in one organized place, you can ensure that every house sitter is well-prepared to handle any situation that may arise while taking care of your home. This binder serves as a great comprehensive resource. In addition, it helps with facilitating seamless communication. This in turn promotes consistency in care and allows for customization to suit your specific needs.
With the DIY House Sitter Binder, you can confidently entrust the well-being of your home to caregivers. Knowing that they have everything necessary at their fingertips will simplify your life and provide peace of mind. Don't wait any longer; take the step to create this invaluable resource and experience the peace of mind it brings. Your home's safety and care deserve nothing less than the best.
Want help organizing other important documents?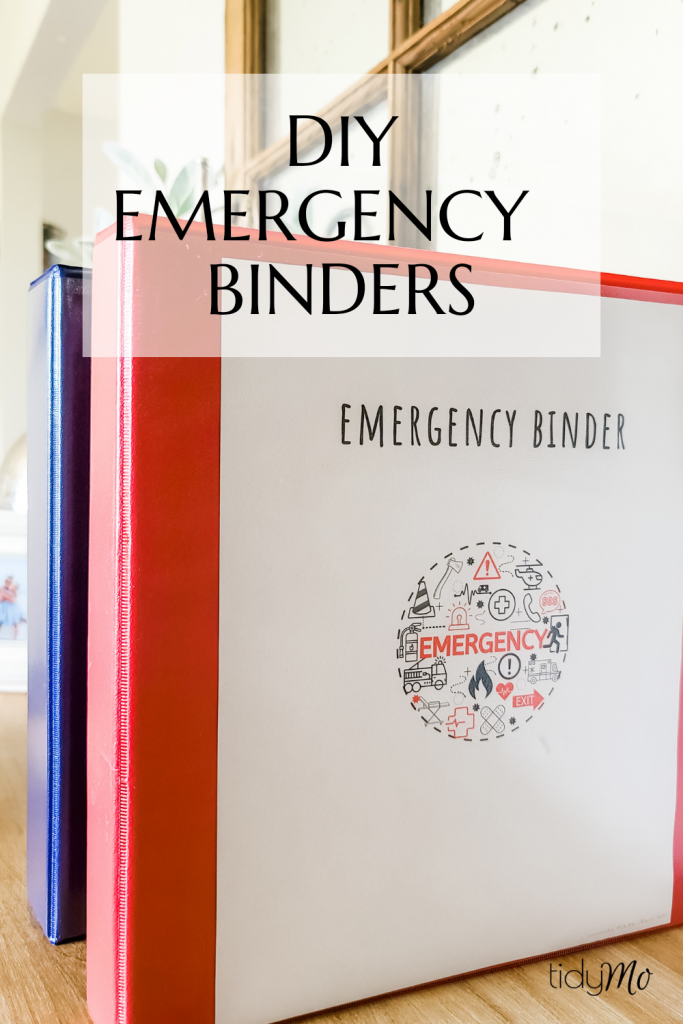 If you're seeking an effective method to streamline the organization of your personal life and essential documents, I highly recommend exploring my Ultimate DIY Emergency Binder. Similarly, if you own a small business, you'll find tremendous value in the DIY Business Binder. This Business Binder is designed to centralize all your critical business information. Furthermore, if you're a parent, enhancing your date nights or planning adult-only trips becomes remarkably simpler with the DIY Babysitter Binder. Whether you need help organizing your personal matters or tending to business affairs, the benefits of consolidating all within a singular, meticulously organized location are absolutely invaluable.
Looking for more inspiration? Make sure to check out more organizational projects below!
The Ultimate Babysitter Binder
The Ultimate DIY Personal Emergency Binder
Organize your important Business Documents
How to quickly organize your tea boxes with just one thing!
5 simple steps to keep your skoolie organized
How to organize the playroom toys
XO,
Morgan