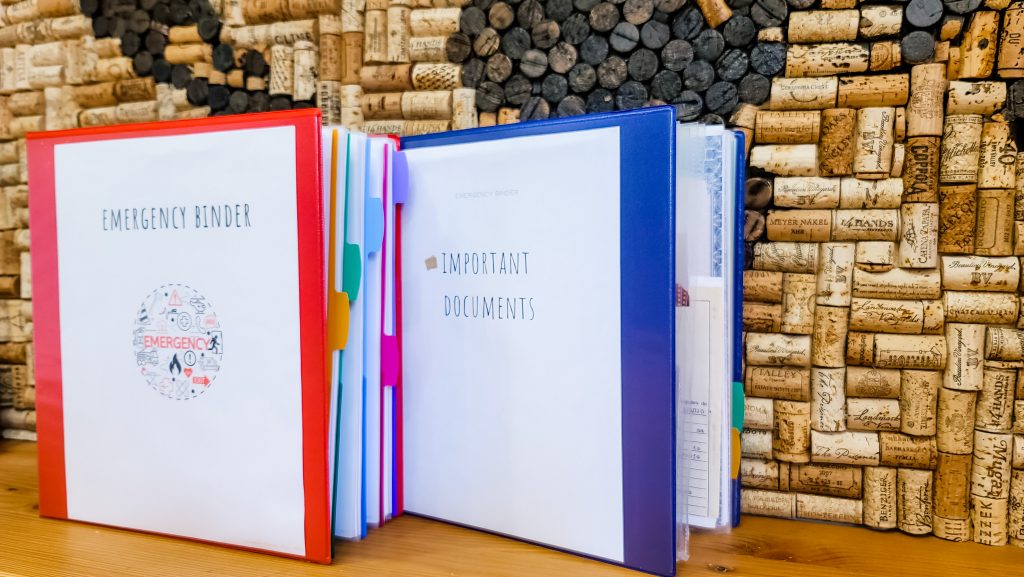 If the unthinkable were to happen right now, at this moment, would you be prepared? Are all your important documents and papers in one place that you could grab them quickly? Do you even know where they all are in order to get to every vital record needed to rebuild your life in time? I'd venture to guess the answer to that is no. And unfortunately, that lack of planning can worsen an unimaginable situation. Therefore, if you want to ensure you are ready for anything, then you need to make an emergency binder. Lucky for you, I did all the work and made this easier for you by creating the ultimate Emergency Binder and Important Document Binder; and I'm going to show you exactly how to make your own!
Why do you need an Emergency binder?
Organization is something I've always enjoyed doing and I've been good at. But I tended to venture towards organizing my spice cabinet, kitchen cupboards, playroom, and household things along those lines. The one area I always found an excuse not to tackle, was the paper mess that was in our office.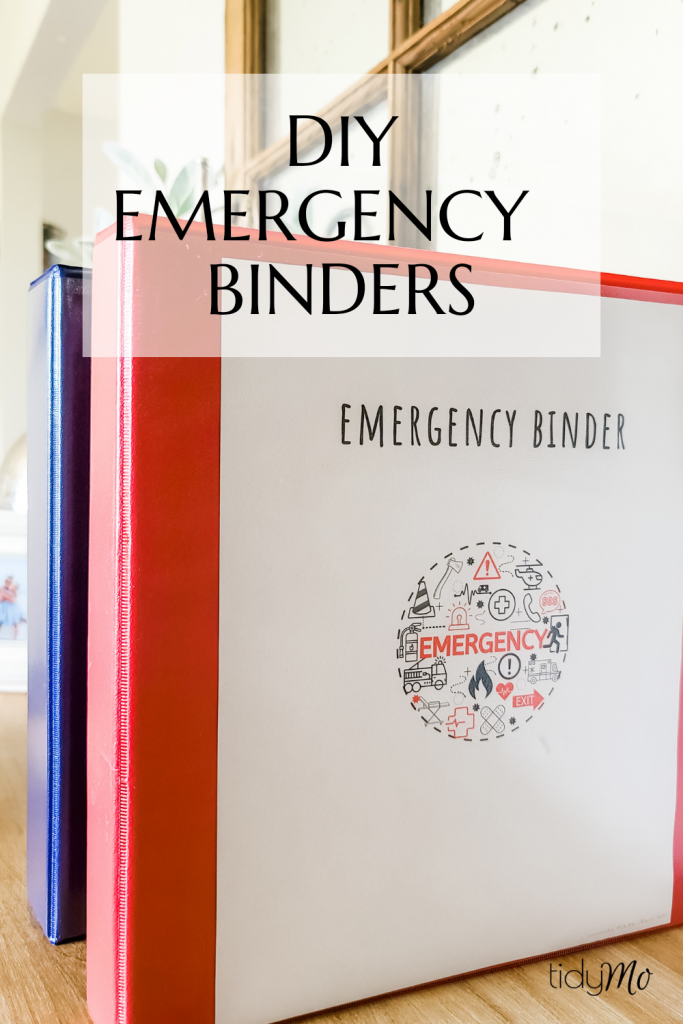 Nine months ago, my mother-in-law passed away fairly unexpectedly. No one in our family was prepared for what came next. Not only did we have to endure the pain that comes with the loss of a loved one, but we've had to try and figure out her assets in Brazil and organize her entire life while simultaneously processing her passing. Along with my brother-in-law, we have had to scramble to find account information, passwords, bills, credit cards, tax information, and more. It has been the hardest year of our lives. And I can't help but think, how much easier this would have been on everyone, if all that important information was all in one place, easily accessible. It would have meant we would have had the chance to grieve her death rather than constantly be chasing behind information and working with lawyers and judges to gain access.
While situations such as this are not the sole reason to create an emergency binder; the unexpectedness of life is. Unfortunately, it took a very personal wake-up call with losing my mother-in-law to realize that I needed to stop putting this off and take care of our own life organization. So while you may think "I'll get to this someday" or "I won't ever need this," I have to ask you this. Would you prefer to be prepared and not need it? Or to live your life with the idea that nothing will ever happen and a situation occurs that you wish you had simply taken the time to get your important life information and documents organized with this DIY Emergency Binder?
Will you choose to be prepared for the unexpected?
While unfortunately, we can't control what happens around us; whether that be the death of a loved one, a fire, a natural disaster or simply needing access to all your important documents to apply for a new passport or a loan; you do maintain control over whether you are prepared for whatever life throws your direction.
So while I continue to live my life with positive intentions, I also choose to have everything organized. Even if it's solely to provide an easier transition for my kids once I've passed many many many years from now:) This emergency binder makes it easy for you to plug in the important information and will show you exactly how to create your own Emergency Binders so everything you could ever need is in a single place. Take the time to organize your important documents and information now and know you are prepared for anything.
The design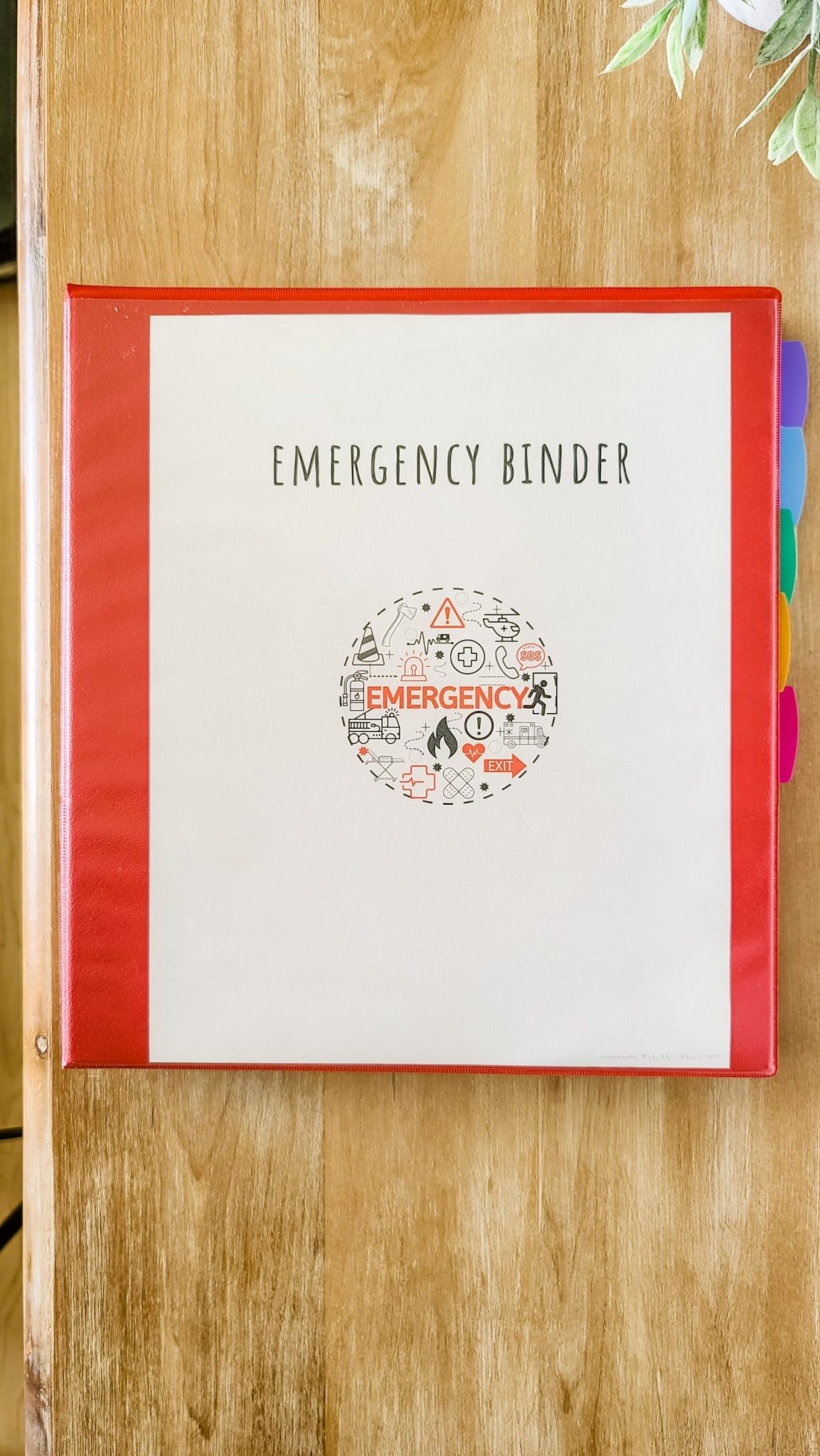 The design itself is fairly simple; you will create two binders. One will be for you to fill out important information pertaining to your life, and the second is to hold all your important documents.
The primary binder is your Emergency Binder. This binder contains over 100+ pages that will guide you to fill out the information vital to you and your life. Divided into eight total sections, each section covers an important area of your life. Combined, this binder figuratively speaking is your lifeline; it contains everything. Being that it contains such personal information, you would want to store it in a secure location such as a fireproof safe. It's the type of information that you might only need to access should an emergency occur such as a death, fire, natural disaster, etc.
The second binder is your Important Information binder. It is a single place to store all important documents. Varying styles of sheet protectors provide the perfect solution to store your passports, social security cards, copies of your driver's licenses, birth certificates, car titles, deeds, and more.
This is a binder system that I have been using for years and it has come in handy more times than I can count. Any time we need to apply for something, whether it's been my husband's green card (did you know he's Brazilian and we met during Carnival in Brazil when I was 20 yrs old:), passports, or a loan; this binder contains everything we need. As a result, any time we've needed a document or copy for an application, we grab the binder and go. Then after we finish, the binder is stored alongside the Emergency Binder in a safe.
I've created a system that is easy to set up, and even easier to use. Take a look!
I have included these affiliate links for your shopping convenience.  I understand that you have lots of options when you shop.  When you choose to shop using these links, it doesn't cost you anything, helps support our blog and I appreciate it!
What you need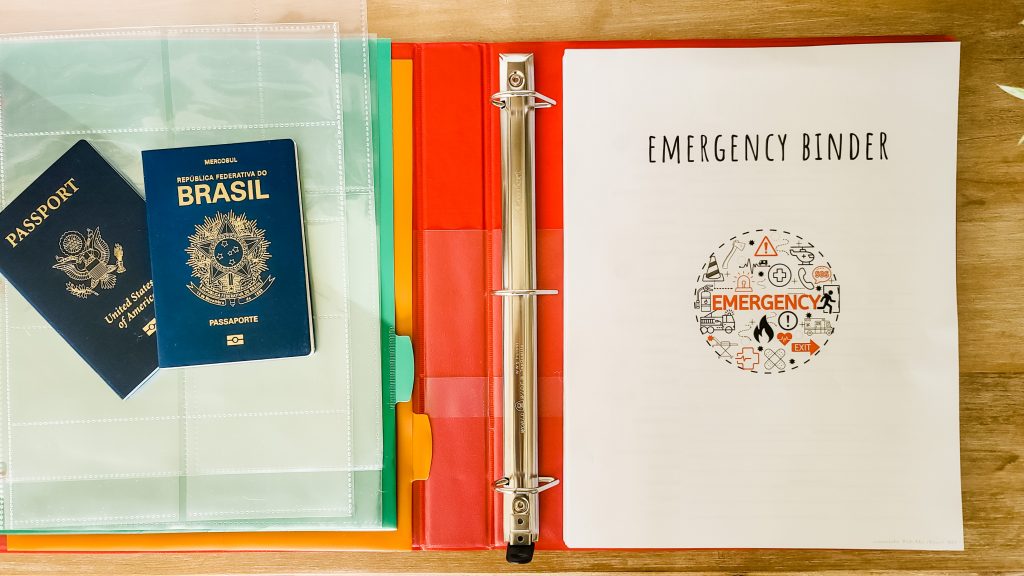 A printed copy of this DIY Emergency Binder
4×6 mixed format heavyweight photo protector pages
business card sheet protector pages
heavyweight sheet protector pages
plastic binder dividers with pockets
two- 1-2″ binders (size needed depends on the number of pages you print/number of documents you have
How to make an Emergency Binder (Binder #1)
The best part about this organization project is it is simple; just a little tedious 🙂 However, it will be worth it in the end when you no longer have to scour the file cabinet for that single paper you need! So get ready to get organized and create your own Emergency Binders!
Step 1: Print out PDF Files of the Emergency Binder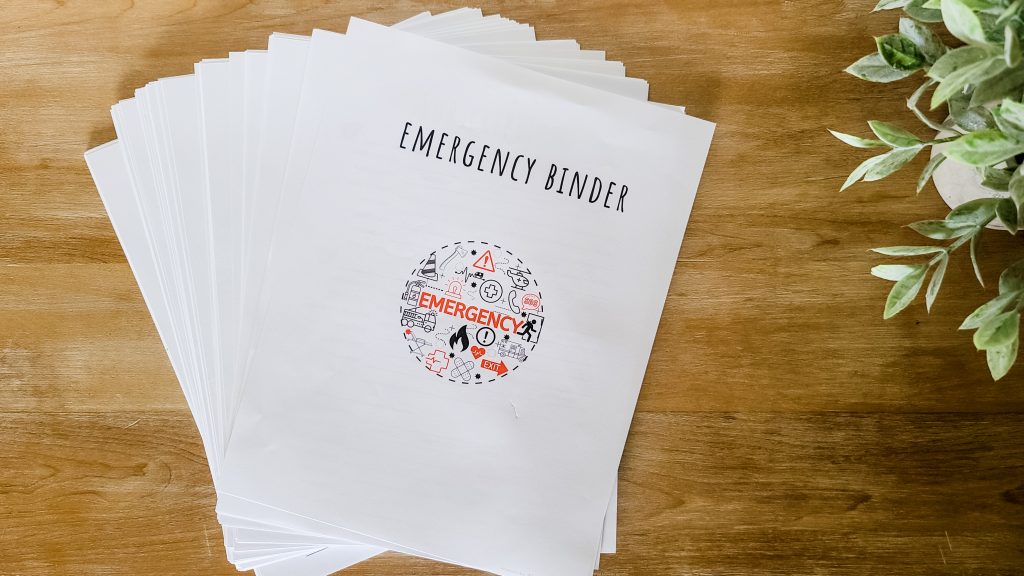 Click on the link above and print out the PDF files for the Emergency Binder. The file contains over 100+ pages and includes any important and pertinent information you might need. This will leave you with a complete and thorough binder.
This PDF will contain 8 different color-coded sections:
Family Information
Medical Information
Financial Information
Household Information
Online Information
Assets Information
Final Preparations
Important Documents

Step 2: Print out additional pages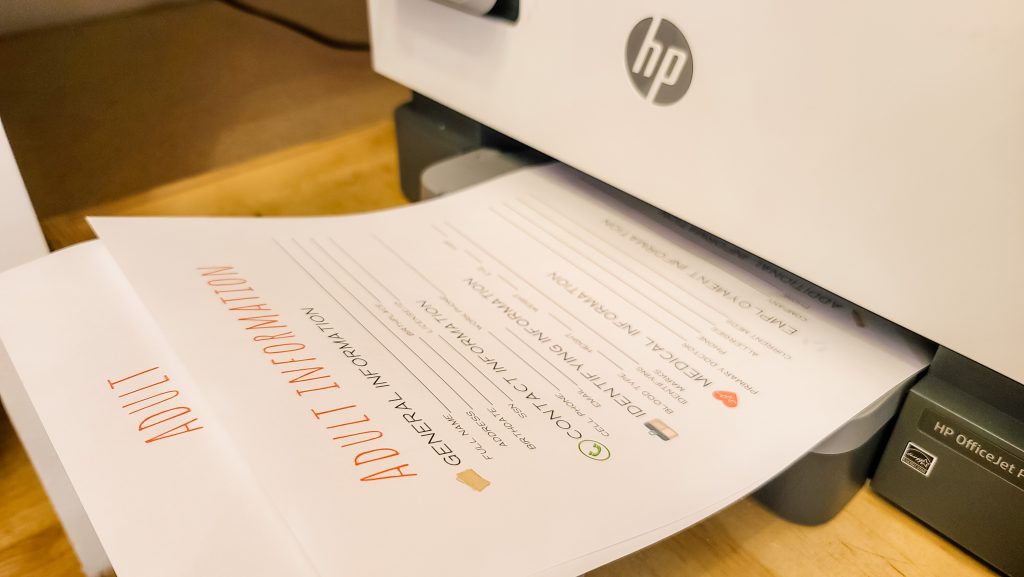 You'll notice that after printing the PDF file out, there is one of each page or set of pages. Then, if you need any additional pages (ex: add another adult profile, more child profiles, etc.), go back to the download and print out however many more you need to best fit the size of your family.
Step 3: Purchase sheet protectors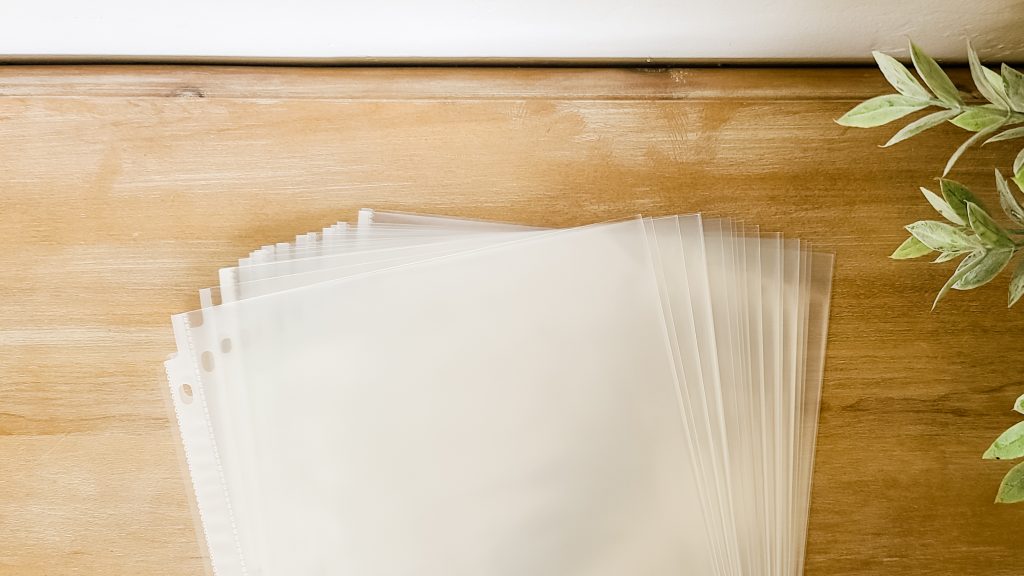 The PDF document has the correct margins to hole punch if you want. However, I strongly suggest using these sheet protectors instead. The sheet protectors not only protect the papers to make sure no pages rip out, but the protectors also make it easy to make adjustments to your binder. Should you need to print out additional pages or rearrange the order, it is easy to do so. In addition, sheet protectors allow you to have a front and back instead of only using one side. As a result, the final binder is easier to use and find what you are looking for.
You can either purchase these locally or online. I have the exact Items I used linked above if you want to achieve the same look 🙂
Step 4: Fill out the pages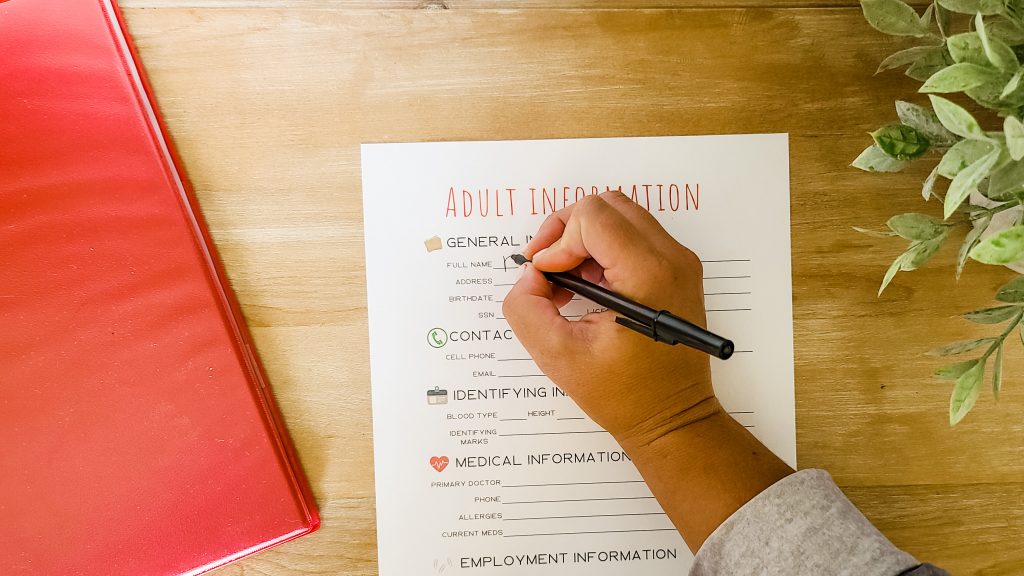 With all the correct number of pages now printed out, go ahead and start filling out the blank information on each page. Try to be as thorough as possible and write legibly 🙂
There are quite a few pages to fill out. So go at whatever pace works for you. You can do it little by little or all at once. However, just don't start and then forget to go back and finish!
Step 5: Discard excess pages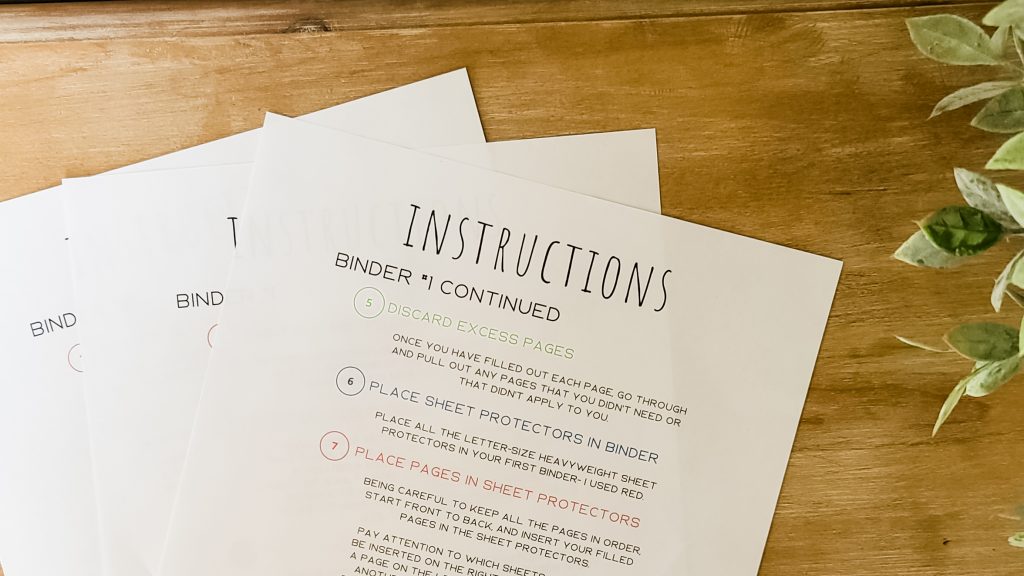 Once you have filled out each page that pertains to you and your life, go through and pull out any pages that you didn't need or that didn't apply to you and recycle them. FYI, these excess pages are great for coloring pages to keep your kiddos busy while you get life organized:)
Step 6: Place sheet protectors in the binder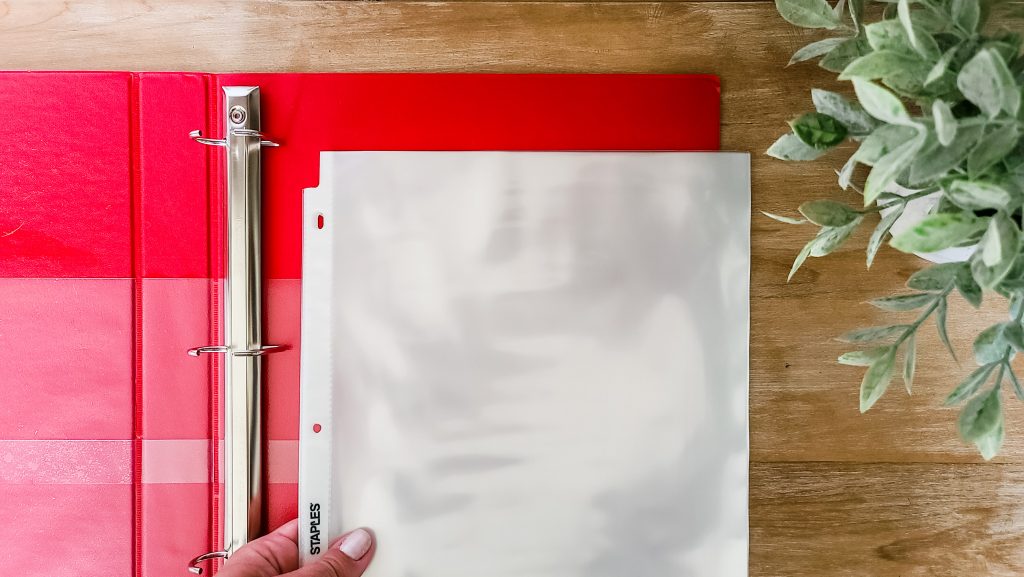 The Emergency Binder will be the red binder. First, start off by placing the heavyweight sheet protectors into the binder. The number you will need will depend on how many extra pages you added/removed. I would suggest starting with 125 for this binder.
Step 7: Place pages in sheet protectors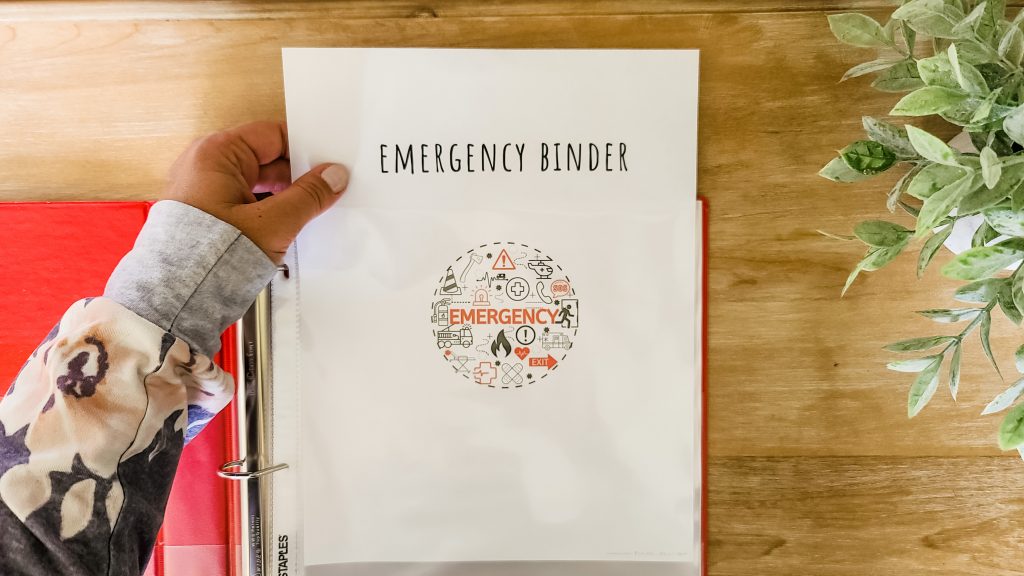 Next, be careful to keep all the pages in order and insert completed pages into the sheet protectors. Start front to back and pay close attention to how you want the pages to read.
For example, in order to have pages that read the best side by side, you may need to adjust how you insert the page directly before. As a result, you will notice that not every sheet protector will have pages inserted on the front and back.
Every section is easily distinguishable from the color of the title at the top of the page. The sections should read in order of ROYGBIV- the colors of the rainbow. This color-coded method not only is fun to look at, but it also helps you associate a section with a color. This in turn makes it easy to quickly find a section or page that you are looking for.
Step 8: Gather all your important documents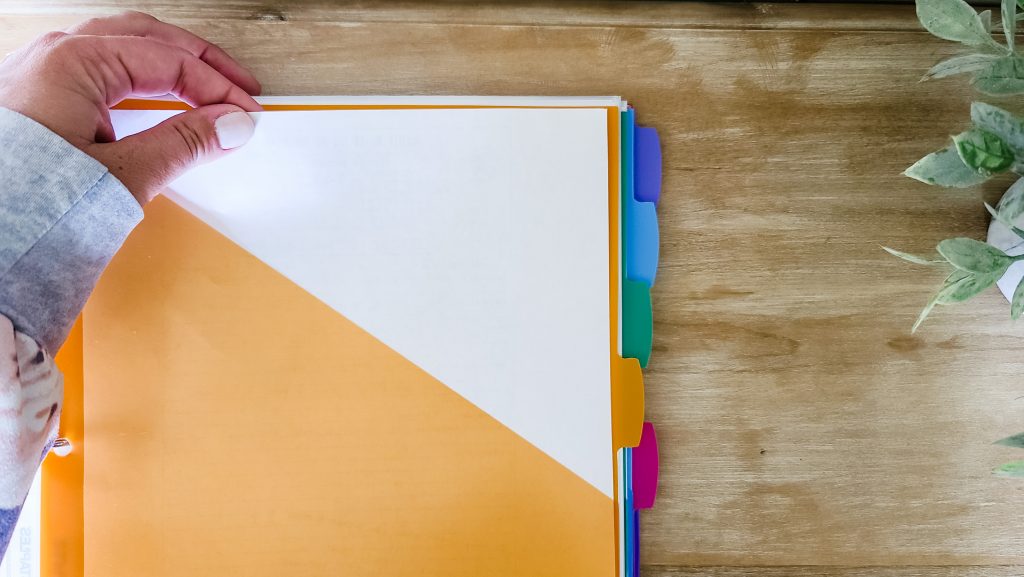 Now is the time to gather all your important documents. If there are any supporting documents such as vaccination records, medication lists, etc. that you want to include with these pages, you'll want to gather those now.
Place whatever supporting documents in the divider pocket that matches the section that the document is associated with. This will allow you to easily find the document that goes with the information you recorded in that section.
Then, the remaining important documents such as passports, social security cards, titles, etc are set aside to use in the second binder.
Step 8: Insert Plastic Dividers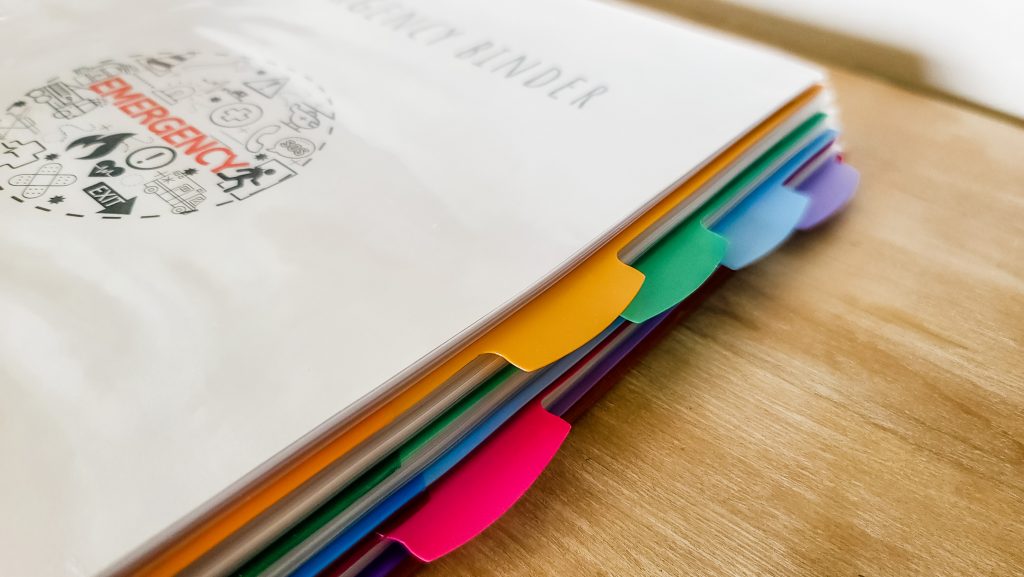 Now that your binder contains all the completed pages in the right order, it is time to insert the plastic dividers. I like to coordinate the colors of the dividers with the color of the section of information. This allows for ease of access and quickly finding of what you need.
While you can use any plastic divider, I love that these have pockets and are plastic. The pockets provide the perfect place to place any of the important supporting documents that pertain to the information in this emergency binder.
Step 9: Move on to Binder #2
Now that you have your DIY Emergency Binder complete, it is time to move on to the second part of this two-binder system; the Important Document Binder.
How to make an Important Document Binder- Binder #2
Step 1: Gather all your important documents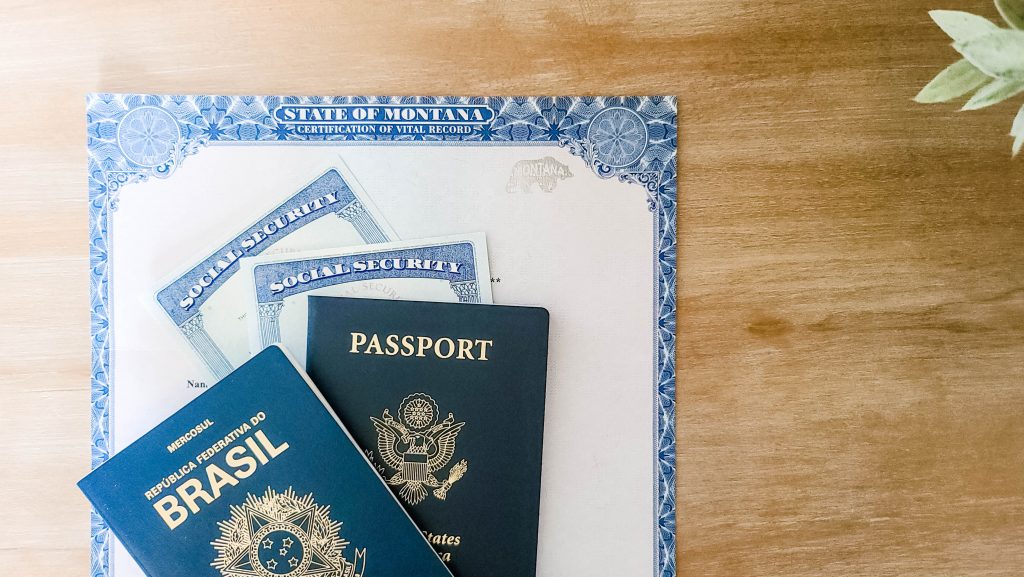 Using the contents of Binder #1 as a guide, gather any/all important documents you want to include.
These documents include but are not limited to:
Passports (both current and expired)
Current passport photo ( I retake these every year and leave them stored in this binder ready for when I need them)
Original Social Security Cards
Original Green Cards
Drivers Liscense copy
School ID copy
Business cards of important contacts (accountants, lawyers, etc)
Original Birth Certificates
Original Marriage Certificates
Divorce Papers
Adoption papers
Death Certificates
Deeds
Vehicle Titles
RV Titles
Boat Titles
Will
Power of Attorney
Military Records
Step 2: Make photocopies of important documents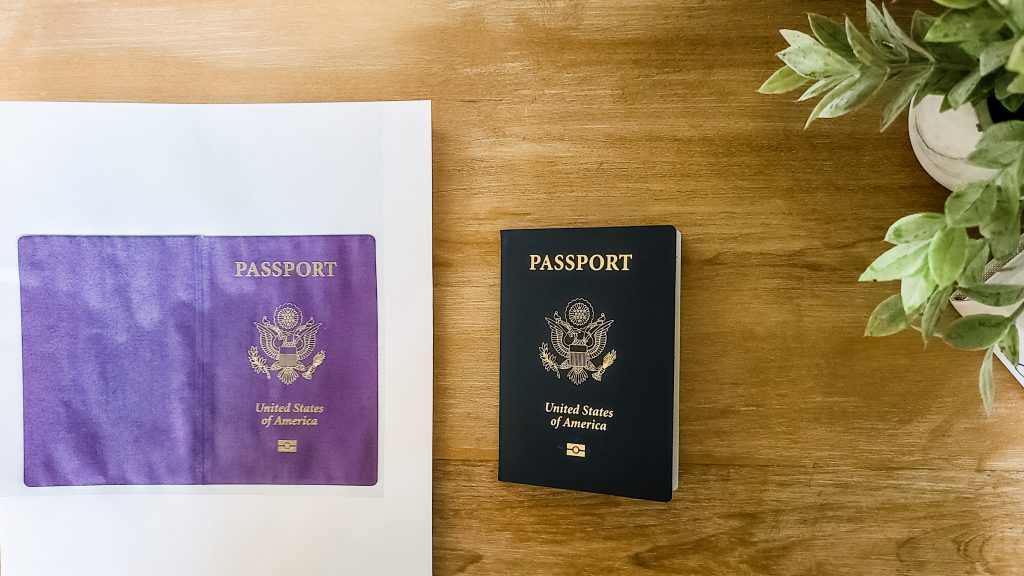 The majority of this binder will contain original documents. However, several of these are documents that you would want photocopies of. This is because many applications, whether applying for a new passport or something else, will require you to submit your application with copies of these important documents. Therefore, save yourself time and simplify your life by always keeping 1-3 photocopies of those documents that many applications require in this document binder.
It makes it easy to simply pull out a copy and attach it to your application whenever needed. Then, once you run out of copies of a document, simply make three more photocopies to replace. This way you are saving time and energy by making multiple copies at a time instead of every time you need one.
Step 3:Place sheet protectors in Binder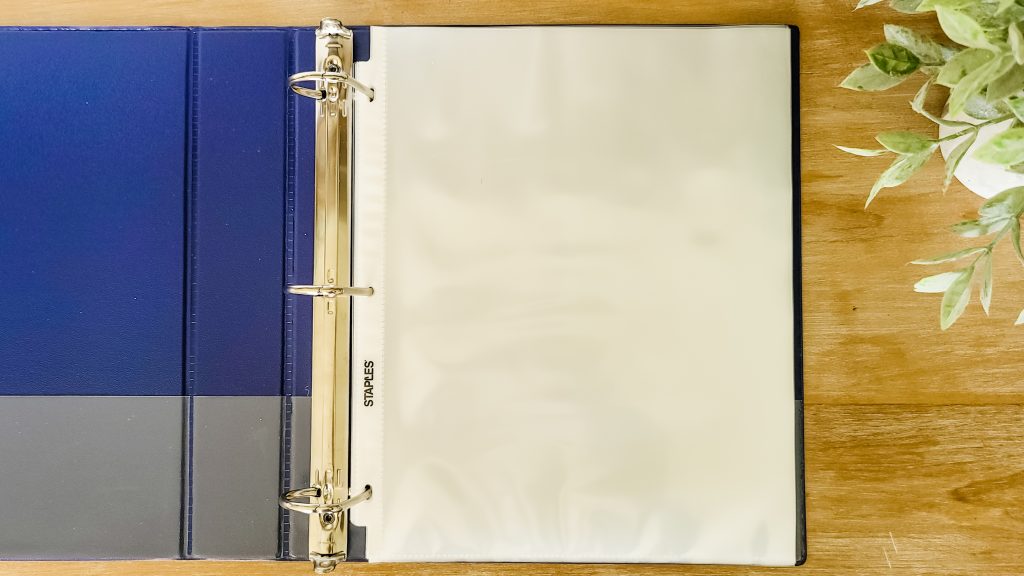 Now that you have all your important documents together, you're ready to place the sheet protectors in your binder.
Keep in mind, you should have three different kinds of sheet protectors for this binder; business card sheet protectors, 4×6 mixed format sheet protectors, and heavyweight sheet protectors.
The order of placement will be this (front to back):
Business card sheet protector
4×6 mixed photo sheet protector
Heavyweight sheet protectors
Step 4: Place documents in sheet protectors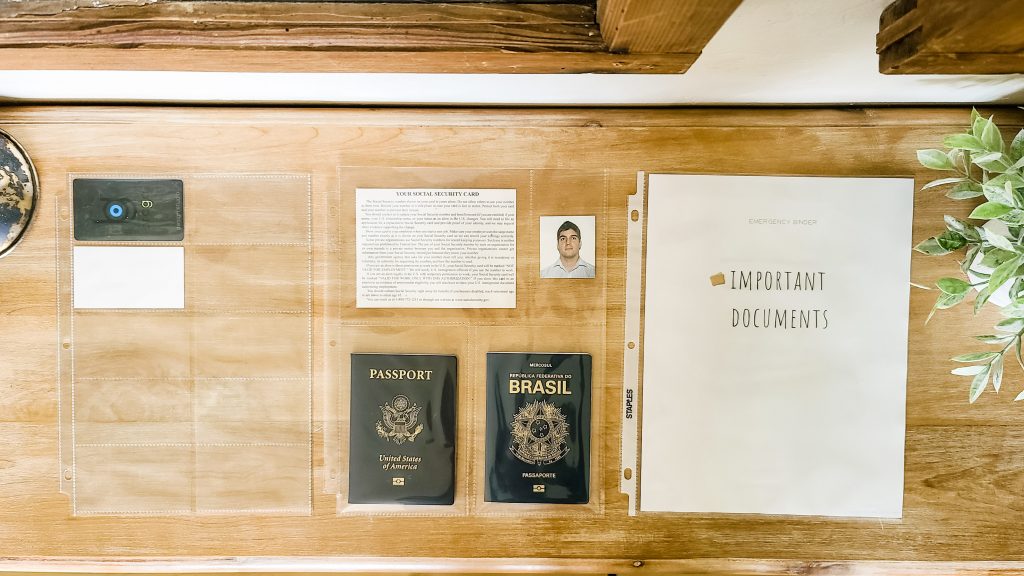 With your sheet protectors placed in the blue binder, now you're ready to start placing your important documents in the sheet protectors.
Here is how I organize these different sheet protectors:
Business card sheet protector:
Pg.1 Place all the original Social Security Cards for your family (if anyone has a green card, place that here as well)
Pg. 2. Place photocopies (cut out) of the driver's license of anyone who drives in your family
Pg. 3. Place photocopies (cut out) of credit cards and debit cards
Pg. 4. Place photocopies (cut out) of any business cards of people that help you with any important aspect of your life
Mixed Photo Sheet Protector:
Pg. 5. -X. You will want to use one of these per person in your family. Each page will contain a recent set of passport pictures (renew each year), and passports. I also store the other part that comes attached to the social security card (it has printed on it to save) as a way of identifying which page belongs to whom.
Heavyweight sheet protector:
Pg. X-X The rest of the binder will consist of documents stored in heavyweight sheet protectors. In general, one document per sleeve works best. I like to store the original on the front, and the photocopies facing outward on the back.
Organize these in order of importance front to back. Personally, I put it in the same order as listed above:
Original Birth Certificates
Original Marriage Certificates
Divorce Papers
Adoption papers
Death Certificates
Deeds
Vehicle Titles
RV Titles
Boat Titles
Will
Power of Attorney
Military Records
Step 5: Insert Plastic Dividers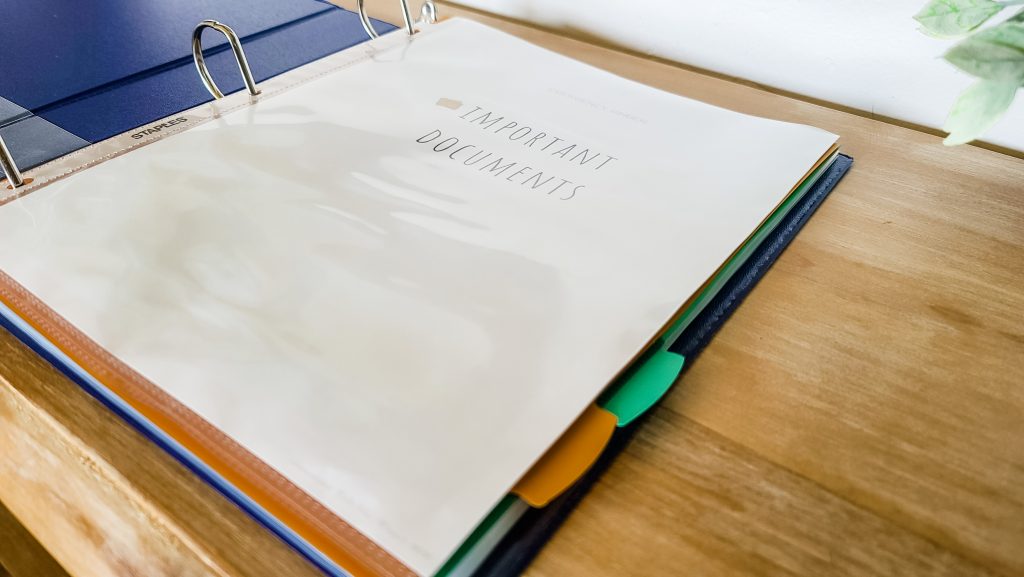 Finally, you are ready to insert the color-coded plastic dividers. Use these dividers to separate each major change in document type such as:
After the business card sheet protector section
After the mixed photo sheet protector section
Throughout the heavyweight sheet protector section based on changes in the document type
This will make it easy to find and access any important document quickly!
The final results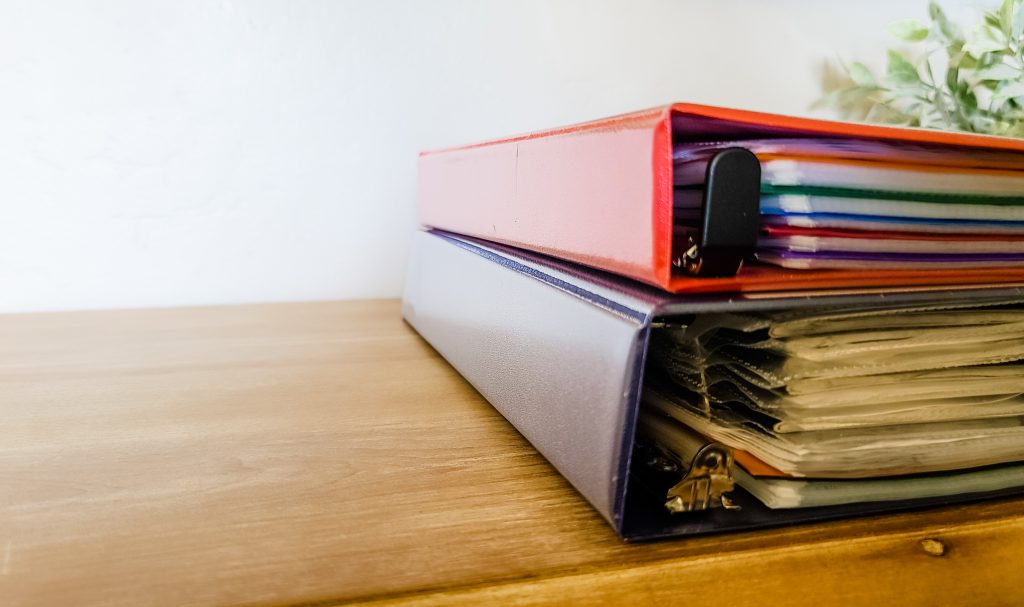 Similar to most organizational projects, this is a project that will require time and effort. However exactly like any project you tackle, the feeling of accomplishment when you finish is huge!
While my goal in helping you create your own Emergency Binder is that you won't need to use it, I hope it brings you peace of mind knowing that it is there just in case. But this Important Document Binder…now this one I can't wait to see you experience how easy it makes any application process! And for you to feel how simple any process can be now that you have all your important documents organized and in one place!
P.S…. If you are looking for a unique but useful gift, this is my new go-to for graduation presents, or for parents! I don't know about you, but my parents have so many important documents and information and yet it's all over the place! This is the perfect gift to help them get organized and give everyone peace of mind 🙂
Looking for more inspiration? Make sure to check out more organizational projects below!
How to quickly organize your tea boxes with just one thing!
5 simple steps to keep your skoolie organized
How to organize the playroom toys
XO,
Morgan