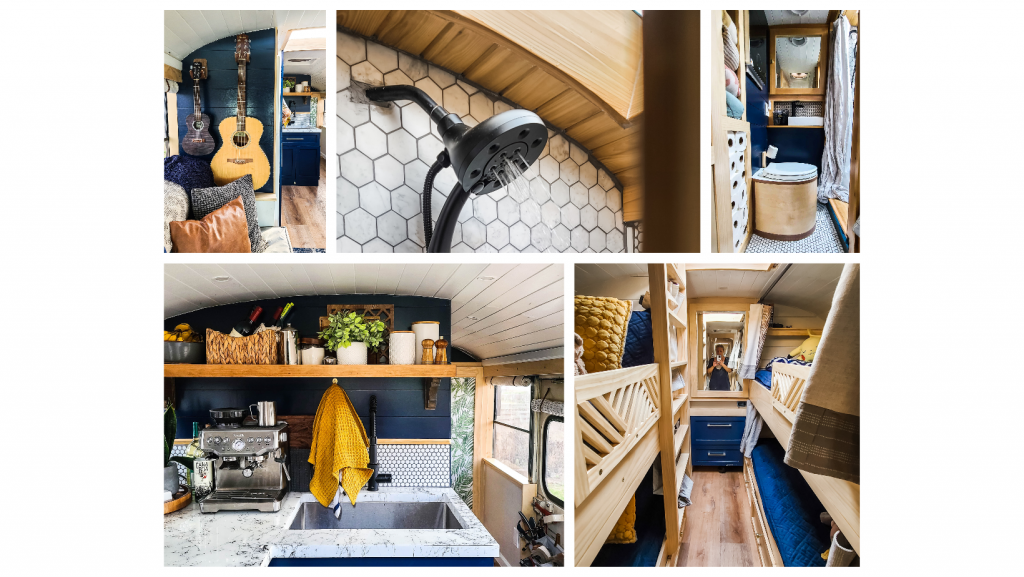 Converting a van or school bus into a livable space can be a daunting task, with countless decisions to make and options to consider. To ease the process and help you navigate the design choices, we've decided to share our own design choices for the Flying Circus Bus conversion. From flooring to appliances, we'll be sharing what products we used, where we sourced them, and our reasons for choosing them. While some decisions will always be personal preferences, we hope that our Flying Circus Bus Design Guide helps to simplify the decision-making process and inspire your own skoolie conversion.
As a blogger, I may earn a small commission for any purchases made through the affiliate links on this site. I want to make it clear that your support means a lot to me and helps keep this blog running. Please note that using these links will not add any extra cost to your purchase. I have included them for your convenience, and I appreciate your support in using them.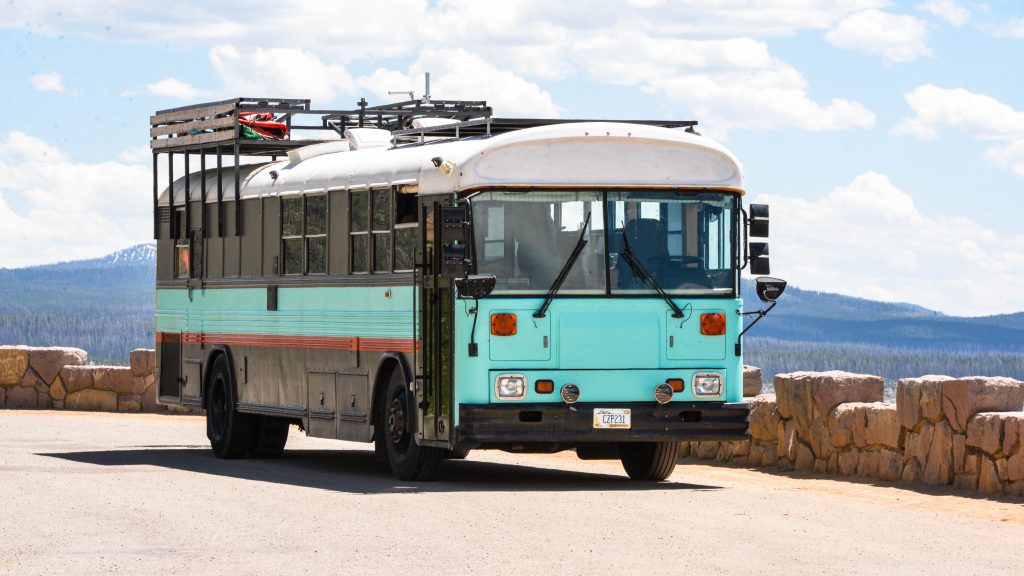 Exterior Paint: colors are Tantalizing Teal, Urbane Bronze & raucous orange from Sherwin Williams
Interior Primer: PPG Seal Grip Gripper- interior/exterior
Interior Paint: Sherwin Williams Emerald semi-gloss
Accent wall and kitchen cabinets: Naval
Wall color: Modern Grey
Wood stain color: Varathane Special Walnut
Polyurethane: Home Depot
Recessed lights: Amazon
Flooring: Home Depot
Skoolie Front Door Design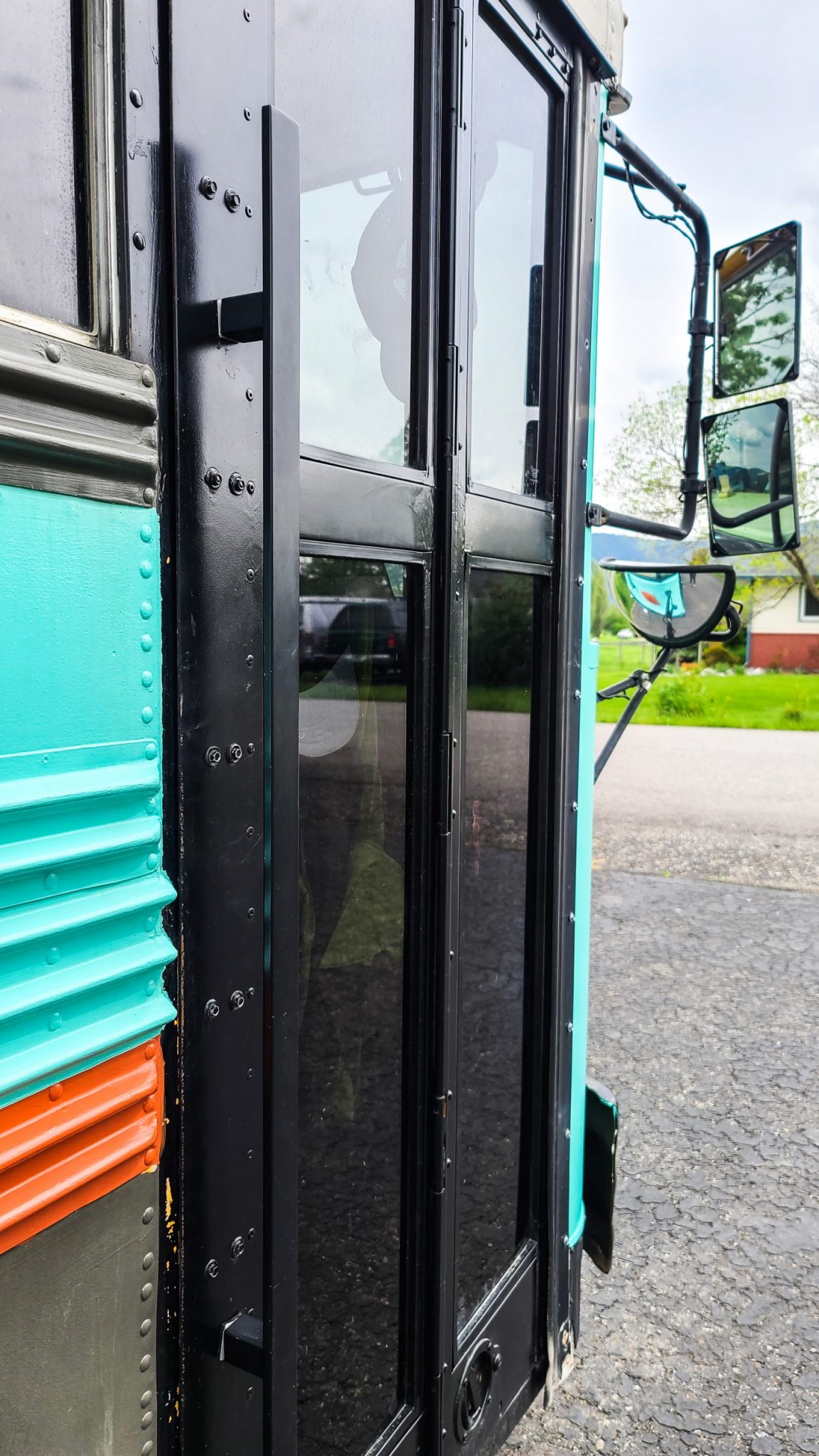 In order to maintain the iconic look of a traditional school bus while incorporating more functionality, we chose to retain the original school bus door and upgrade it. By installing steel panels on the exterior and cedar wood on the interior, we were able to create a stunning front door that we are proud of. The addition of an oversized door handle not only adds an elegant touch but also serves a practical purpose. The small hooks screwed into the cedar interior provide a convenient mudroom storage solution, keeping items organized and off the floor.
Skoolie Entryway Design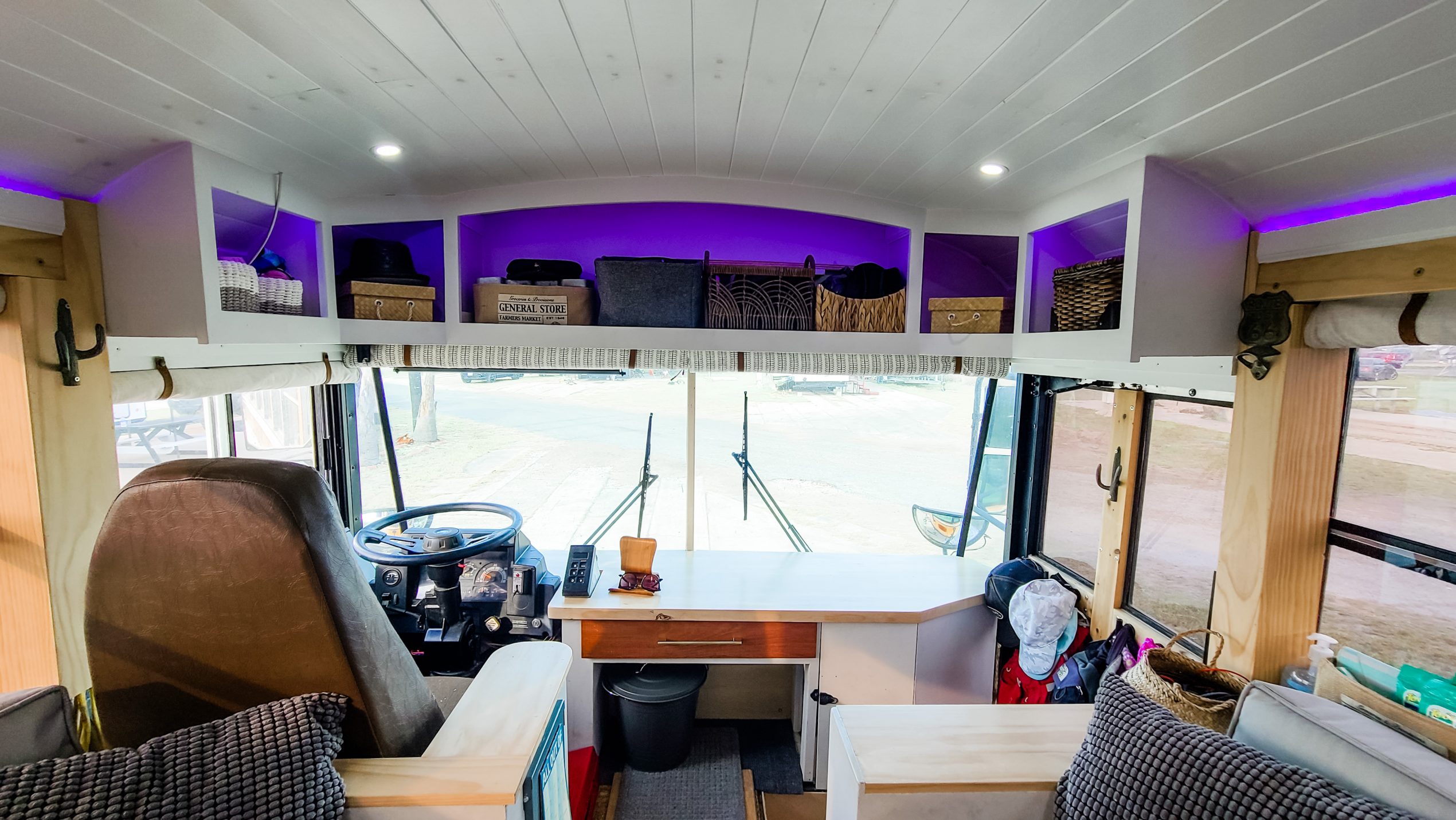 The entryway of our bus is a true multi-purpose space, designed to meet the various needs of everyday life. It serves as a mudroom with storage for shoes, coats, and backpacks, a cleverly concealed litter box, a driving area, a versatile table surface, and additional storage overhead. This area of the bus is one of the most frequently used and provides efficient solutions for everyday needs in a compact and stylish manner.
Curtains: Joanns Fabric (The exact pattern is no longer available)
Countertop: Home Depot
Metal trash bin: Ikea
Baskets: Hobby Lobby
Phone/Ipad stand: The exact one we purchased was a walnut stand from Etsy and is unfortunately not available anymore. However, I've linked a similar one below from a maker that we've purchased a headphone holder and a laptop stand from: and we love the look and quality!
Skoolie Living Room Design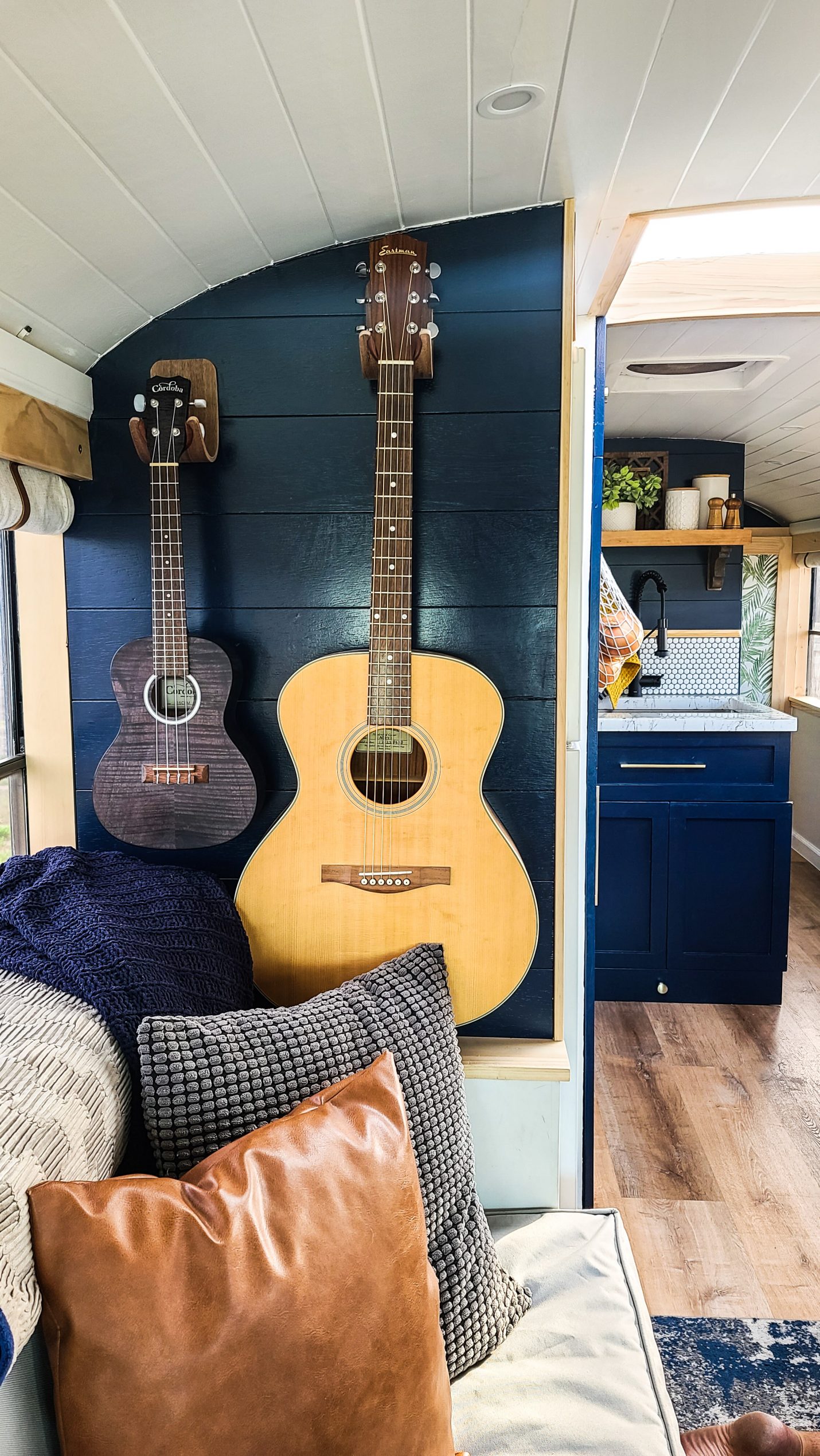 The living room of our bus is designed to strike a balance between functionality and comfort. The pine-faced drawers not only provide ample storage but also make efficient use of the space beneath the couch. A walnut wood stripping serves both as a means to conceal any imperfections in the wood and as a stylish accent that can be easily changed with iron-on strips. We also customized our couch cushions with removable covers for easy cleaning and added plush throw pillows from Amazon for added comfort. It's the small details throughout the space, such as these, that make it feel like home.
Cushions
We custom-made our cushions using high-quality foam for ultimate comfort and durability. The cushions were crafted with a foam of a high enough quality that it would hold its shape, last a long time, and stand up to heavy use during long drive days or as a sleeping surface. We worked with UCSolutions to purchase the foam because of their great customer service and ease of use. They offered a chat feature that made it easy to communicate directly with a representative and they were able to recommend the perfect foam for our needs based on the final couch dimensions and usage.
Choosing the right fabric for the cushion covers was also a decision that took some time. We were looking for a fabric that would be easy to clean, conceal dirt, be comfortable to lay on, and stand up to frequent washing. We ultimately chose a durable, yet comfortable fabric that has held up well to heavy use, frequent washing, and looks great even after prolonged usage. Although it may not be as soft as suede, comfort is added by the use of soft throw pillows and blankets. This way we get the best of both worlds, a couch that can withstand heavy usage and still be comfortable to relax on.
Foam: UCSolutions
Cushion covers: DIY project
Curtains
Our roll-up curtains are also custom-made to our specifications. We wanted a fabric that was light and airy to prevent the space from feeling cramped with all the curtains closed, yet wouldn't show every speck of dirt. We found a fabric that has proven to be durable, easy to clean and has stood the test of time through frequent use and washing.
Front fabric: Joanns Fabric
Back fabric: Home Depot
Faux Plants: Lowes
Rug: Costco
Skoolie Kitchen Design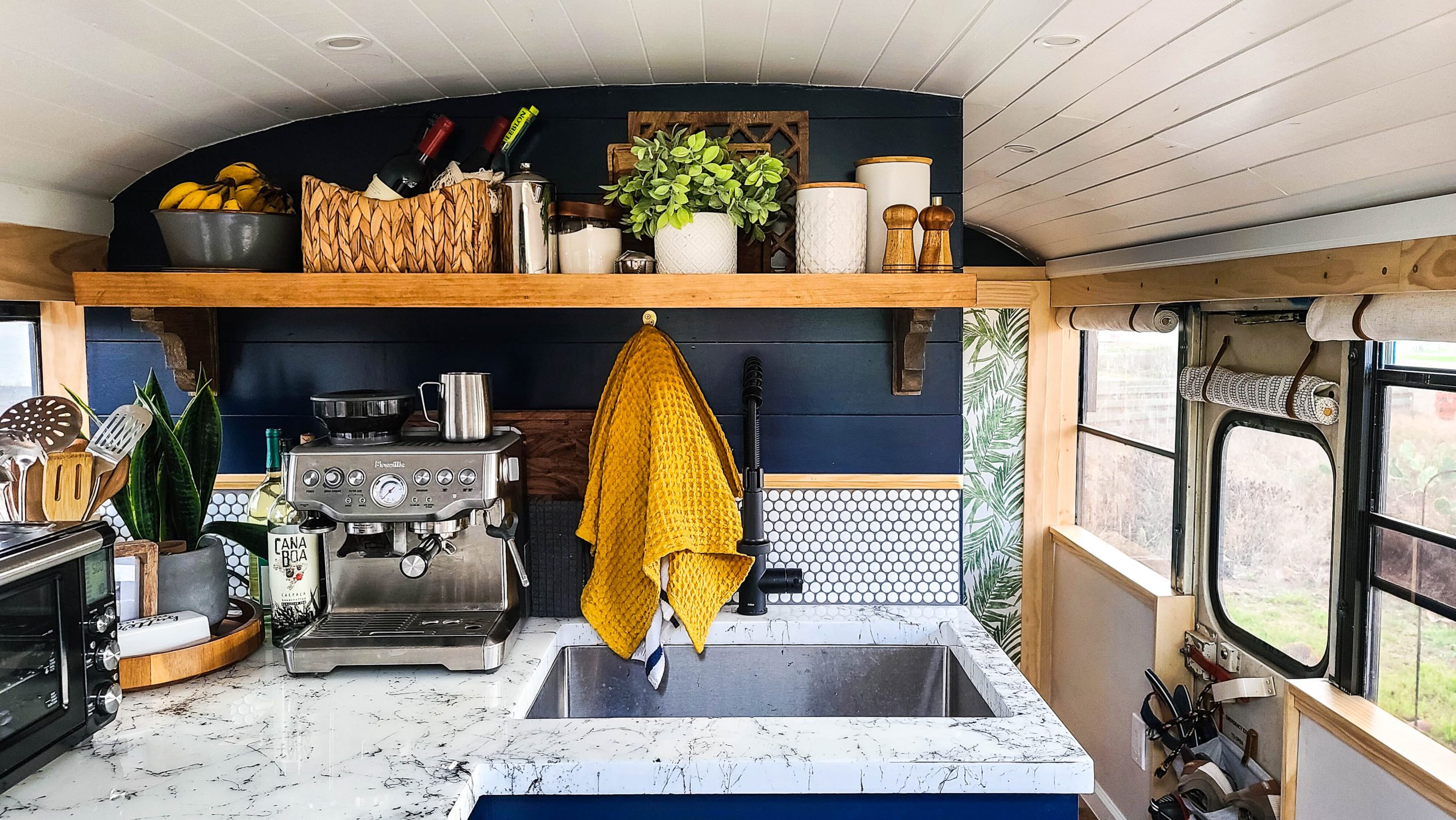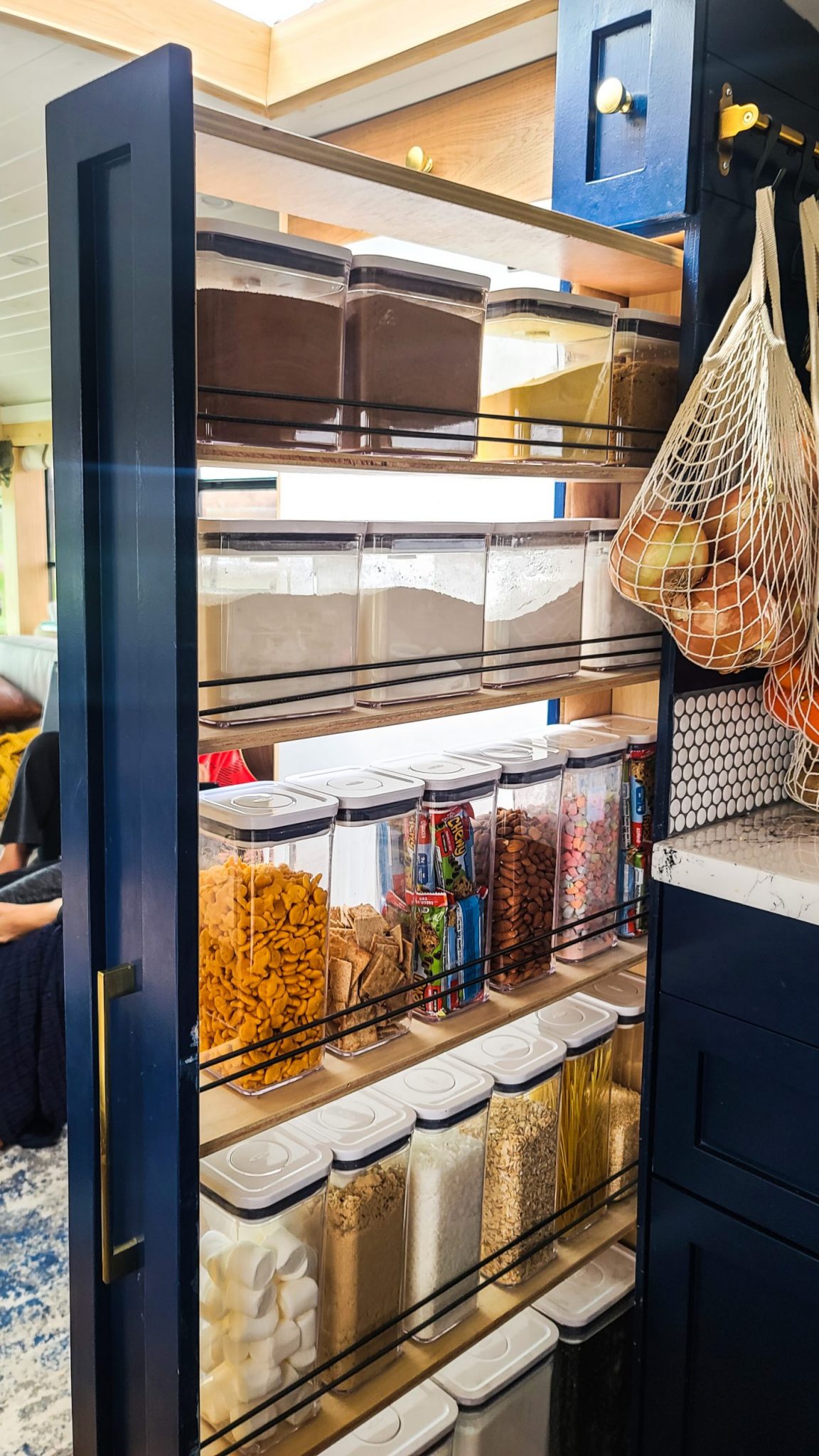 The kitchen is the heart of our skoolie home and we've designed it to be small yet extremely functional. We've installed multiple DIY drawers and a large pull-out pantry to provide ample storage for our family of six. We chose a DIY epoxy countertop as it is durable, easy to clean, and cost-effective while providing a beautiful finish. To finish off the space, we've added various functional and aesthetically pleasing details such as functional storage and organization solutions to make it a warm and welcoming space.
Dish towels: Target
Espresso machine: Amazon
Decorative tray: Target
Faux plants: Lowes + TJMaxx
White ceramic canisters: World Market
Salt + Pepper shakers: Target (The exact model I purchased is no longer available but this one is very similar)
Basket: Hobby Lobby
Floating shelf: DIY project using special walnut stain
Floating shelf brackets: Hobby Lobby
Backsplash: Home Depot
Countertop: DIY epoxy project from Stonecoat Epoxy
Oven: Amazon
Fridge: Home Depot
Wall organizational storage: Ikea
Small black mesh container: Ikea
Large black mesh container: Ikea
Skoolie Office Design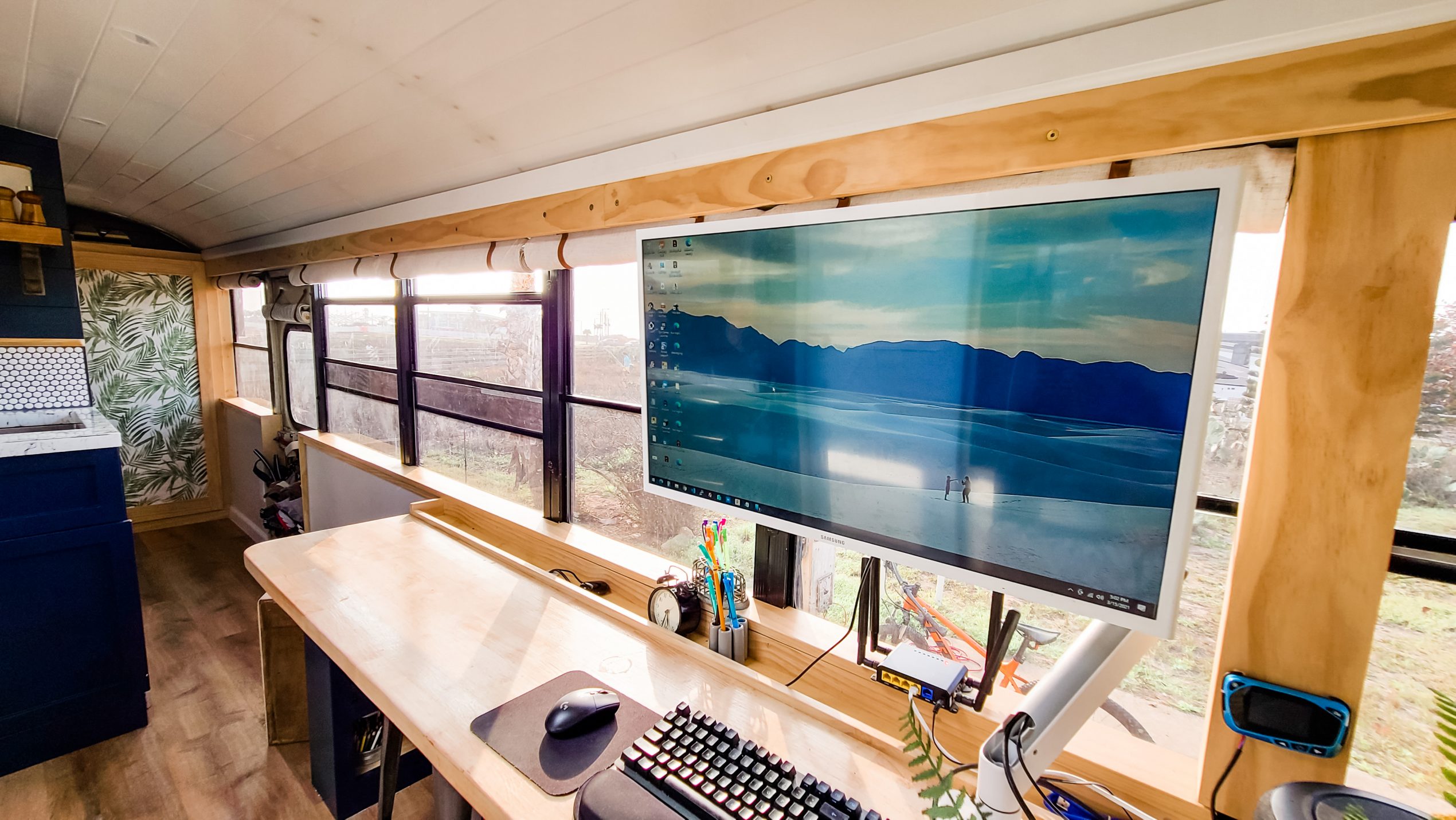 Our office space seamlessly integrates with our living room and kitchen area. The computer fits perfectly under the butcher block table, while a monitor mounted on an adjustable arm allows for easy positioning to adjust for lighting or use. The arm also makes it easy to use the monitor as a TV for movie nights without the need to always pull out the projector.
Tabletop: Home Depot
Skoolie Cleaning Closet Design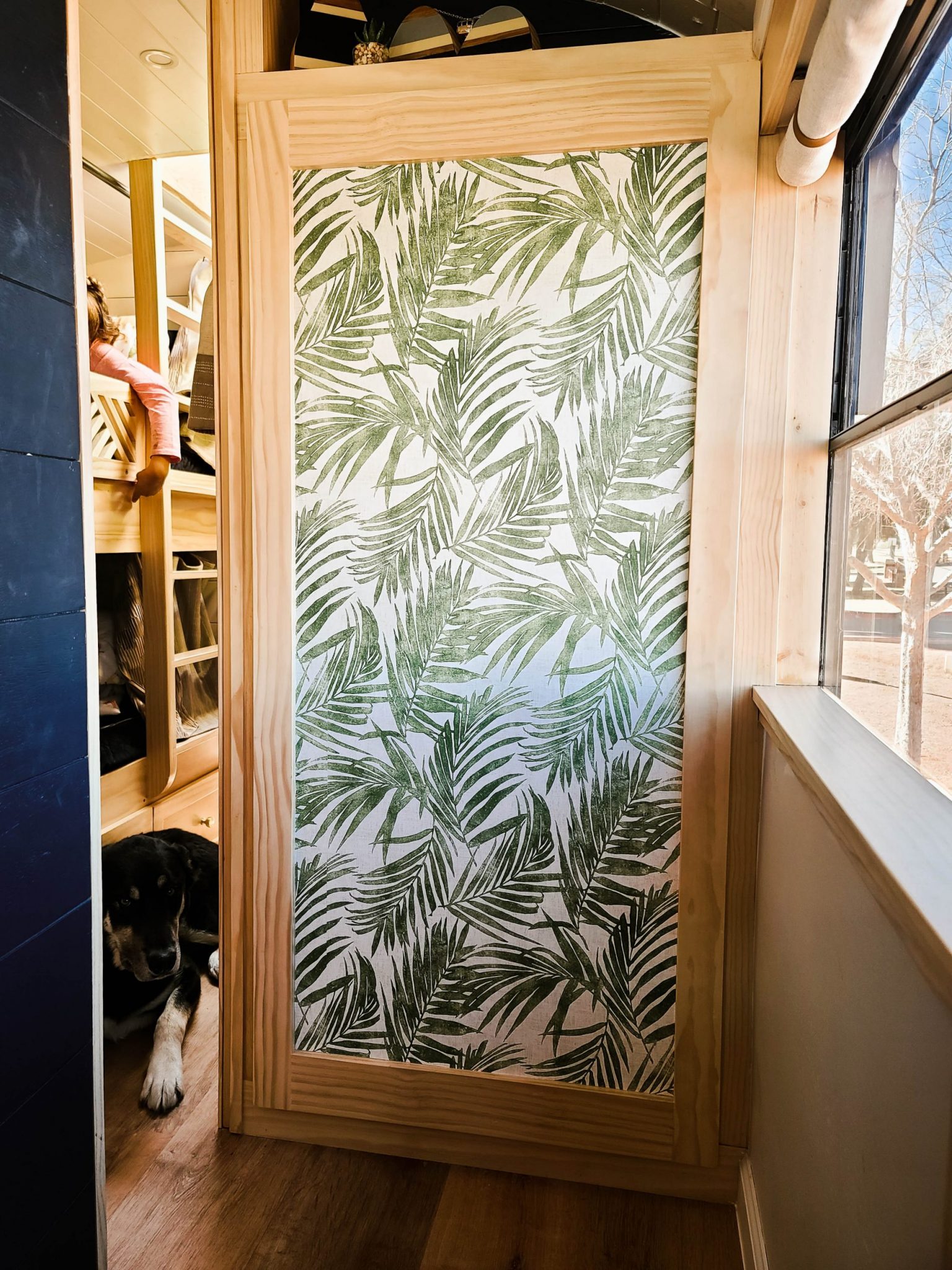 The small but organized area is packed with functionality. The addition of a green wallpaper adds a lively touch of color to the bus while providing ample storage for cleaning and school supplies. A cordless vacuum is mounted on the wall for easy access, and small metal baskets hold the vacuum attachments and Swiffer dusters. On the opposite wall, a 3M mount is used to hold a Swiffer, and additional baskets below provide storage for notebooks and other school supplies. The bottom lip of the area serves as the perfect place to store a foldable broom for quick cleanups.
Wallpaper: Lowes
Skoolie Bathroom Design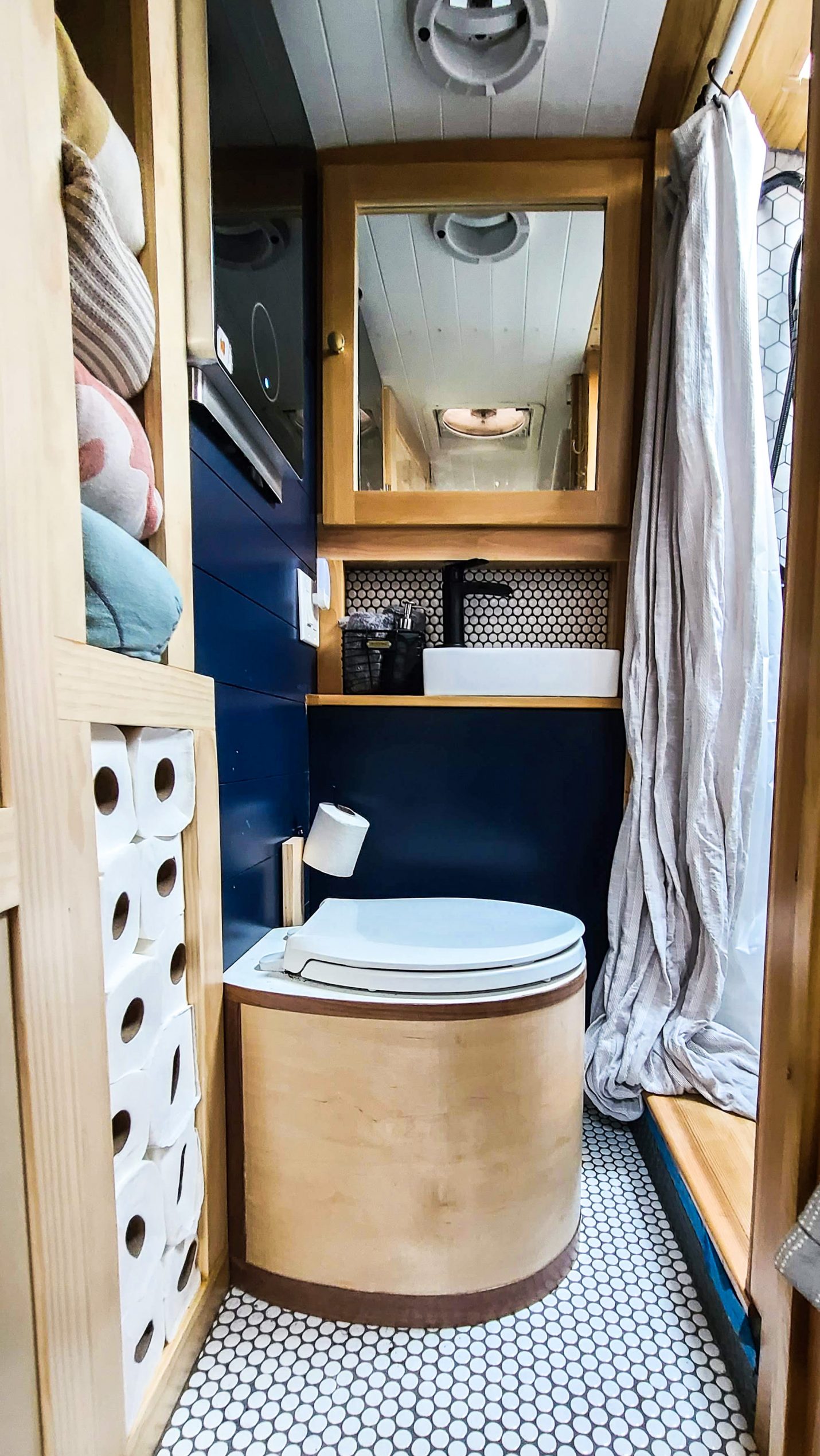 This bathroom may be small but it is designed to maximize functionality. The lighter-colored tile and overhead cedar and plexiglass skylight make the space feel bigger than it is. Wall cavity storage provides ample space for storing toilet paper, quick-drying towels and a medicine cabinet. A tankless water heater allows for unlimited hot showers while a light/fan combo helps to eliminate moisture during showers. Our wall-mounted shampoo, conditioner, and body wash dispensers mean there is no more mess caused by flying bottles when the bus is in motion. Our DIY composting toilet not only saved us over $1k but also saved a lot of space while looking better than the other options available. A compact sink rounds off the functional touches in this small but functional bathroom.
Composting toilet: DIY project
Towels: Sand Cloud
Shower curtain: Target
Medicine cabinet/mirror: DIY project
We built the wooden frame for the mirror door, and took it to a local glass shop for them to customize a mirror to size! An inexpensive option that is functional and looks great!
Floor tile: Home Depot
Shower tile: Home Depot
Peat moss bucket: Ikea
Shower ceiling: Home Depot
Skoolie Bunk beds Design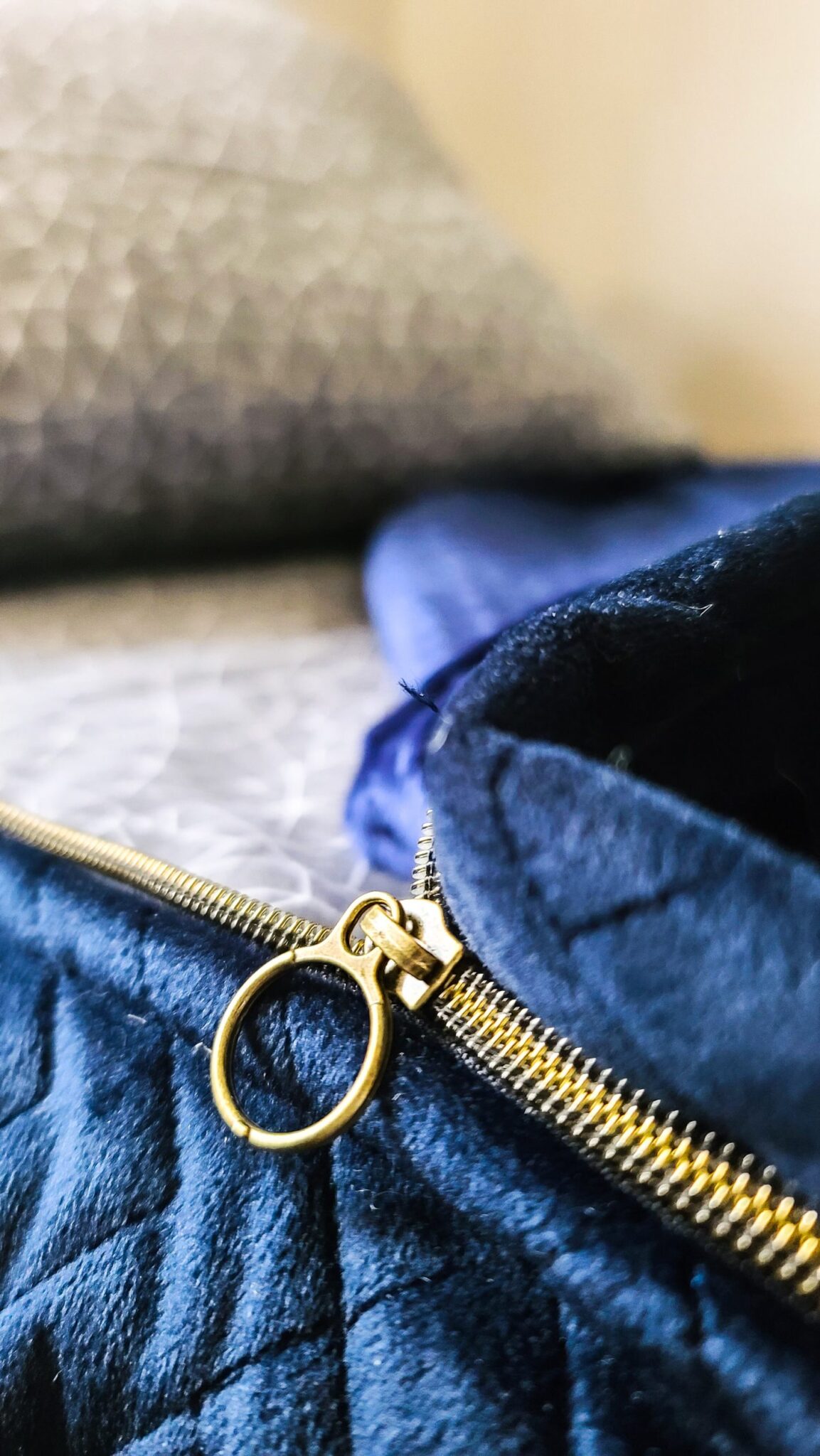 Our four full-length bunk beds provide comfortable sleeping quarters for all four of our kids. Individual bunk curtains offer privacy, while zippered bedding makes it easy to make the beds in the morning, minimizing arguments and hassle.
Zippered bedding: DIY Project
Outer fabric: Wayfair
The back fabric of top blanket: Joanns
Kids sheets: Target
(The exact sheets I got from Target for the kid's bedding are no longer available. However, these are very similar)
Decorative pillows: DIY Project
Front yellow fabric: Joanns
Back gray fabric: Online
Bunk bed curtain rods: Home Depot-DIY
Bunk bed curtains:
Front: Joanns
Skoolie Medicine Cabinet Design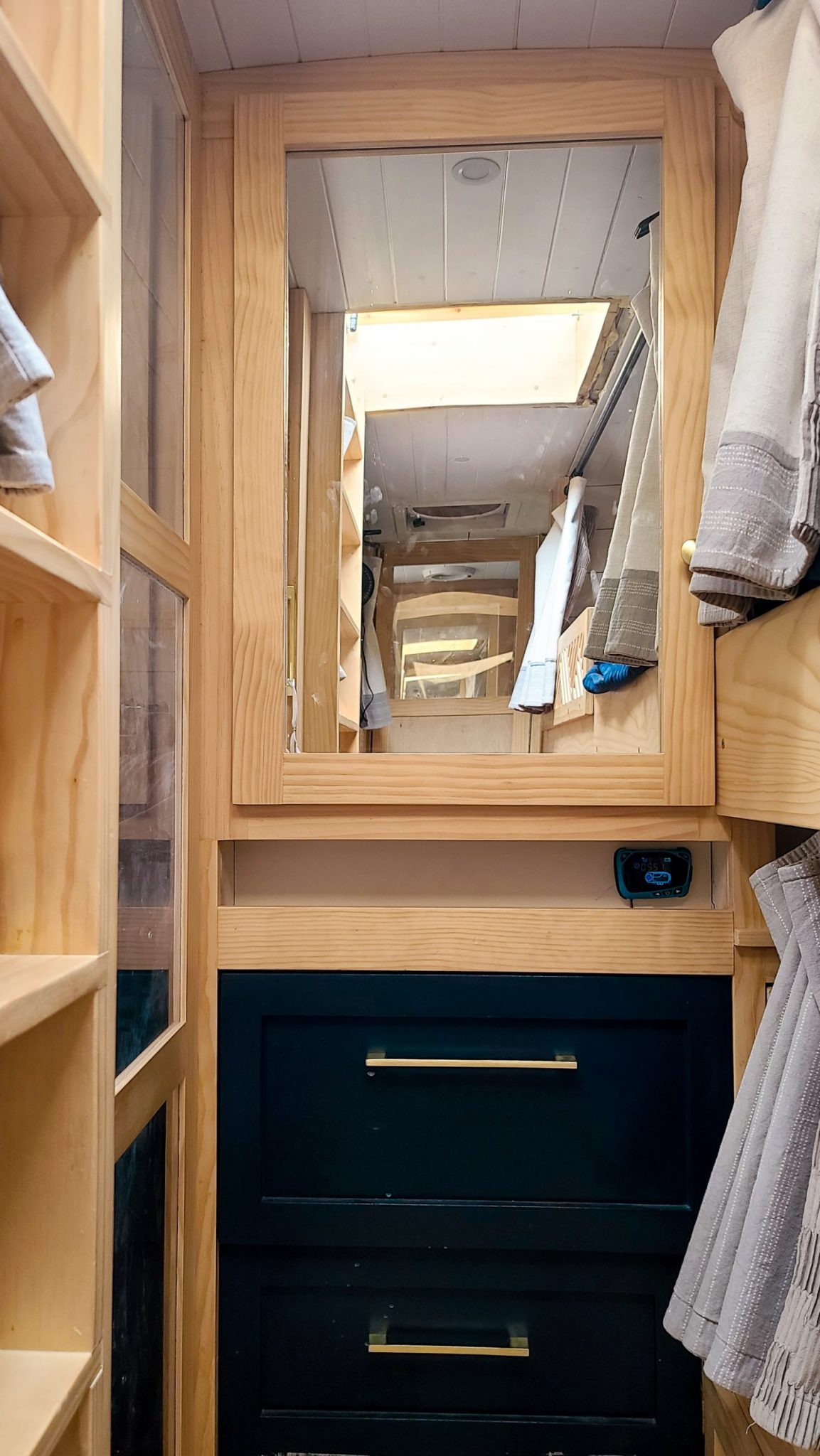 In addition to the medicine cabinet in the bathroom, we have a second cabinet providing additional storage for toiletries and other items. A door magnet prevents the cabinet from opening during movement, and plastic bins within keep everything organized and in place.
Cabinet door magnets: Target
Skoolie Master Bedroom Design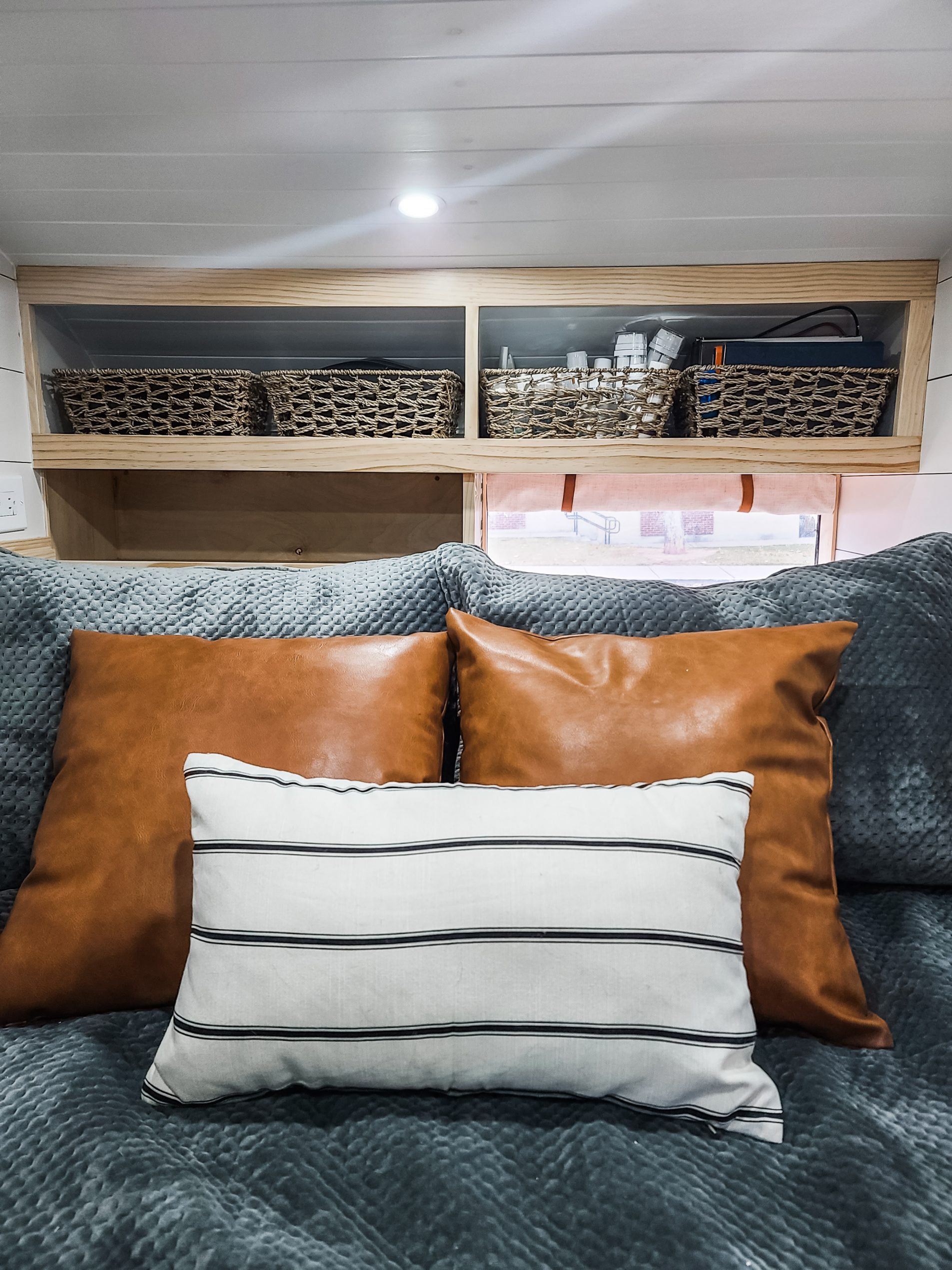 Functionality is key in a small space like our master bedroom. Zippered bedding makes it easy to make the bed quickly in the morning. Throw pillows add comfort and a welcoming feel while also providing additional seating when we want to watch movies or use it as a secondary workspace. Small baskets keep our personal items organized and in place during travel.
A heavy-duty slide set was used to create a multifunctional step leading to the bed and also serves as a seat for our secondary workspace. In front of the seat, a wall-mounted monitor with an adjustable arm can be used as a TV for movie nights or as a second screen for working. With the help of Google Chrome, we can easily cast shows, movies and other media from our phone or computer to this monitor or the living room monitor.
Bedding: DIY zippered bedding
Outer fabric: Wayfair
The back fabric of the top blanket: Online
Inner fabric: Wayfair
Baskets: Hobby Lobby
Skoolie Drawer Organization Design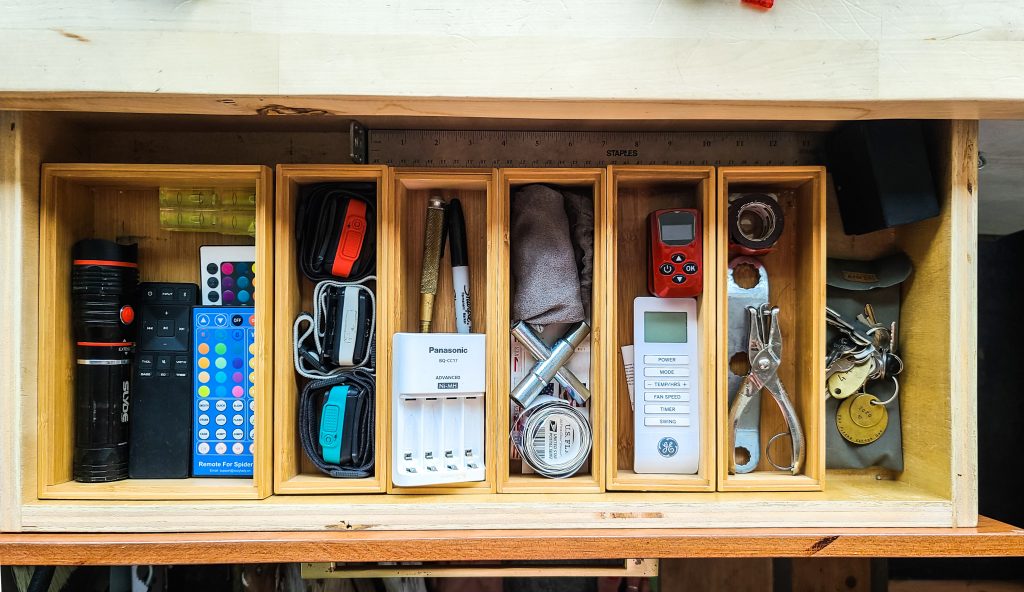 With a total of 26 drawers throughout the bus, we have ample storage space. To keep things organized, we've implemented systems of storage that are especially useful when the bus is in motion. These are some of our favorites for keeping things organized!
Skoolie Cleaning Items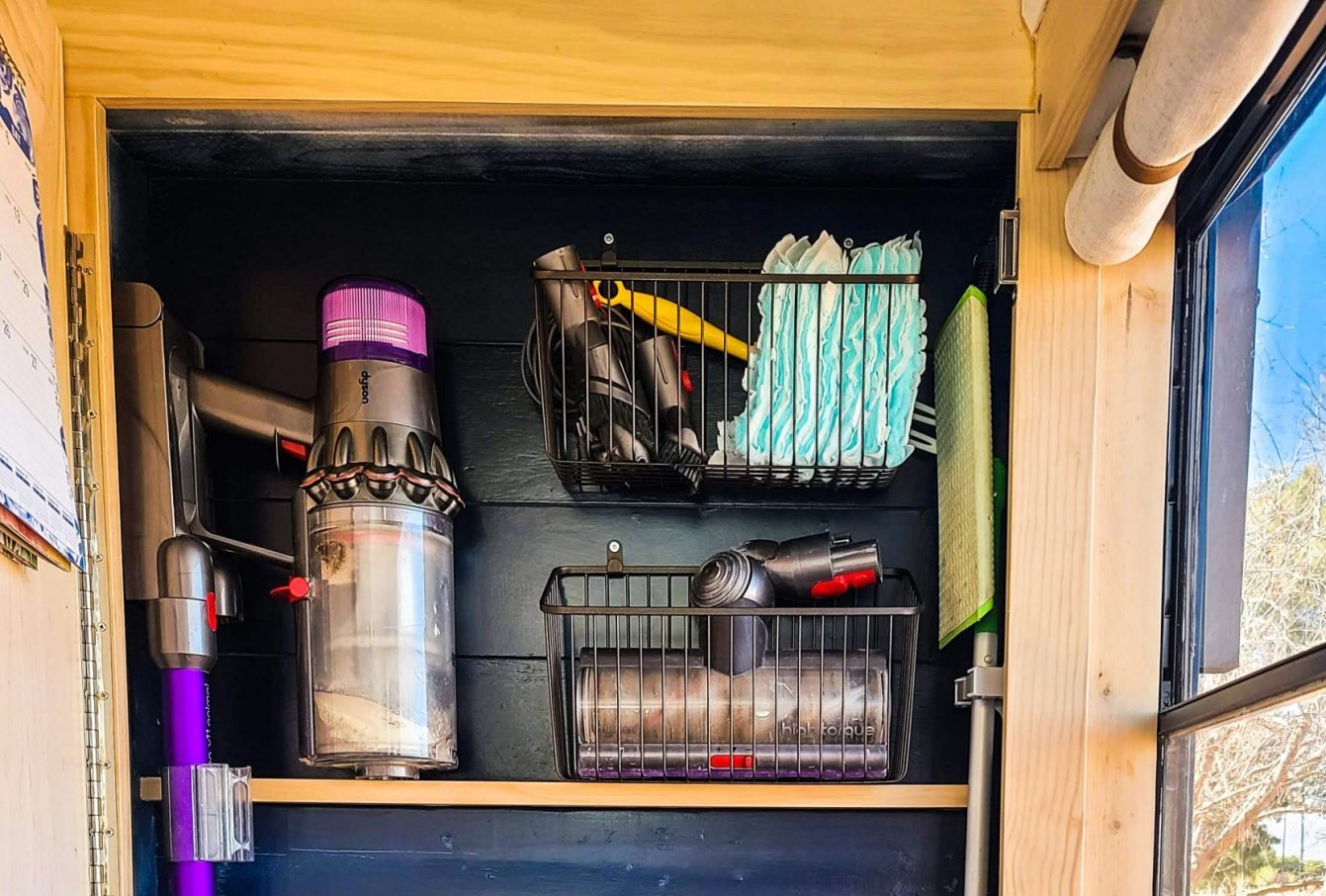 We have ample storage space in our bus with 26 drawers located throughout. To ensure that everything stays organized, especially during travel, we have implemented different storage systems. These systems have proven to be especially useful and efficient for keeping things in order, and are some of our go-to solutions for organization.
Skoolie Outdoor Living
In addition to a practical, comfortable and functional interior, we also prioritize outdoor experiences during our travels. The stunning views, destinations and simply taking a moment to enjoy nature are some of the reasons why we love bus life. To enhance these outdoor moments, we've gathered some essential items that make our time outside even more enjoyable and memorable.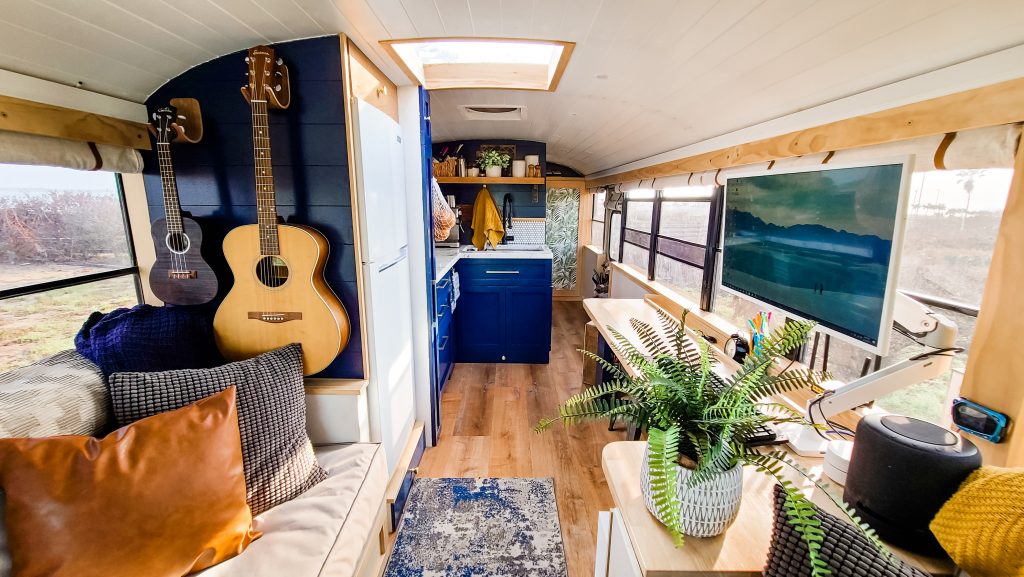 I hope this Flying Circus Bus Design Guide helps you in your school bus conversion journey by providing inspiration and a starting point for your design decisions. While we did invest in some high-quality products, we also kept affordability in mind throughout our build process. Our aim was to find products that were good quality and long-lasting, so we wouldn't have to constantly replace items. Research and trial and error led us to the items featured on this list.
Good luck with your conversion and check out the links below to learn more about how to simplify and make the most of your skoolie life or to get a glimpse of our skoolie lifestyle.
XO,
Morgan
DIY zippered bedding
5 simple steps to keep your skoolie organized
How to keep your clothes organized in a skoolie (Coming Soon)
The top 10 essentials you need for your skoolie kitchen (Coming Soon)