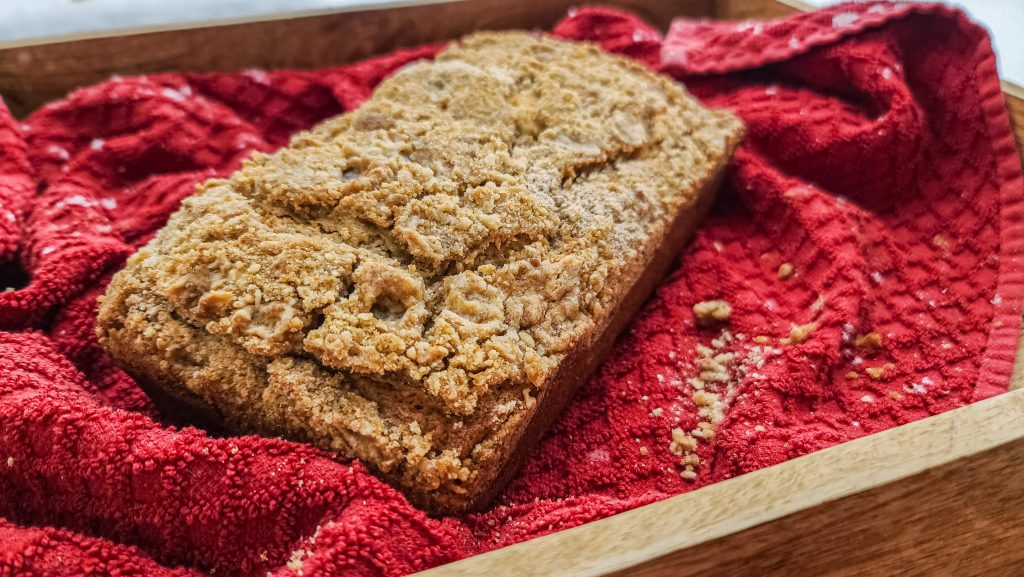 Coffee cake banana bread is the perfect combination of moist banana bread mixed with the sweet, crumbly topping of coffee cake. Whether as a spur-of-the-moment way to use up those bananas getting overripe on your counter, or you're looking for a crowd-pleaser recipe, this coffee cake banana bread is sure to be a hit!
Ask anyone who knows me, I'm the ultimate killer of bananas. Our family seems to go through phases where we eat a ton of bananas and kids down them like no one's business. Then the next thing I know, they are saying they don't like bananas because "their taste buds have changed", and I'm left with bunches of bananas that I need to use up asap.
Therefore, I've found several great recipes to use bananas up 🙂 My three favorites are to throw them in a blender with other fruit for a yummy fruit smoothie, make a traditional Brazilian acai smoothie bowl topped with the best homemade granola, or make this amazing coffee cake banana bread.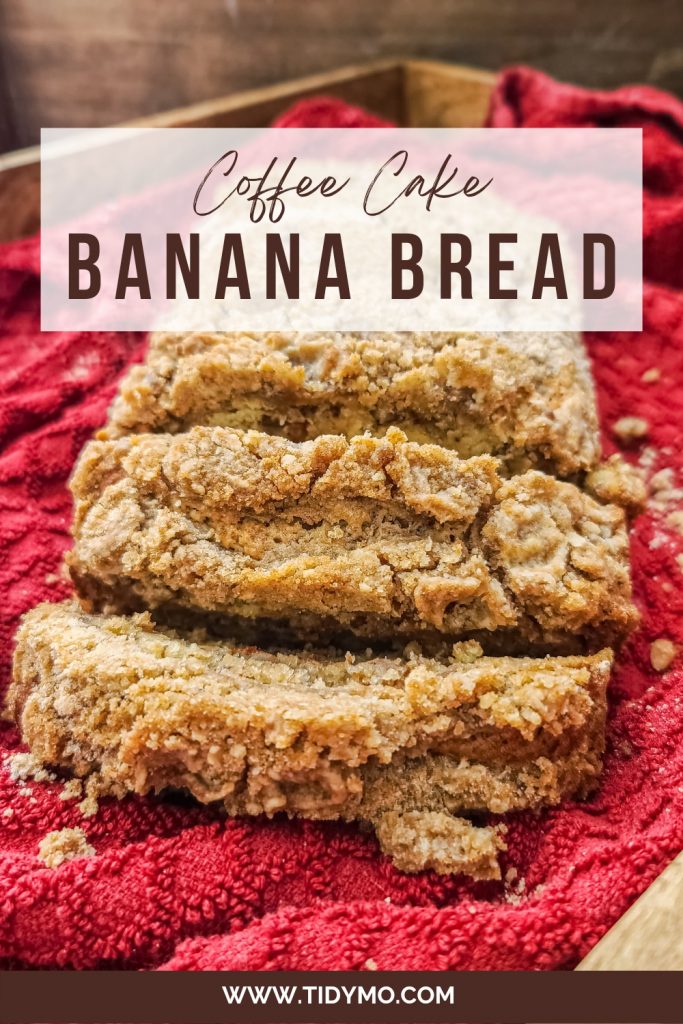 This coffee cake banana bread is honestly the best I (or anyone in my family) have ever tasted. I've gone through so many recipes, and someone is always saying "it's too dry, or too sweet, or not enough flavor." Well, not this time!!!
Thanks to this incredible coffee cake banana bread recipe by Michelle from A Latte Food, I have now found the absolute best coffee cake banana bread recipe and now, the only banana bread recipe that I will ever use!
My family can down an entire loaf of this bread in one sitting! Each time I make this, the entire loaf is gone within 15 minutes of coming out of the oven. Needless to say, I always double this recipe because of how fast we seem to go through these loaves 🙂
Another reason this banana bread is amazing is that you can freeze it! This recipe will yield two loaves of banana bread. But if you double the recipe, you'll end up with extra loaves to freeze for quick morning meals!

I have included these affiliate links for your shopping convenience.  I understand that you have lots of options when you shop.  When you choose to shop using these links, it doesn't cost you anything, helps support our blog and I appreciate it!
Ingredients for this recipe: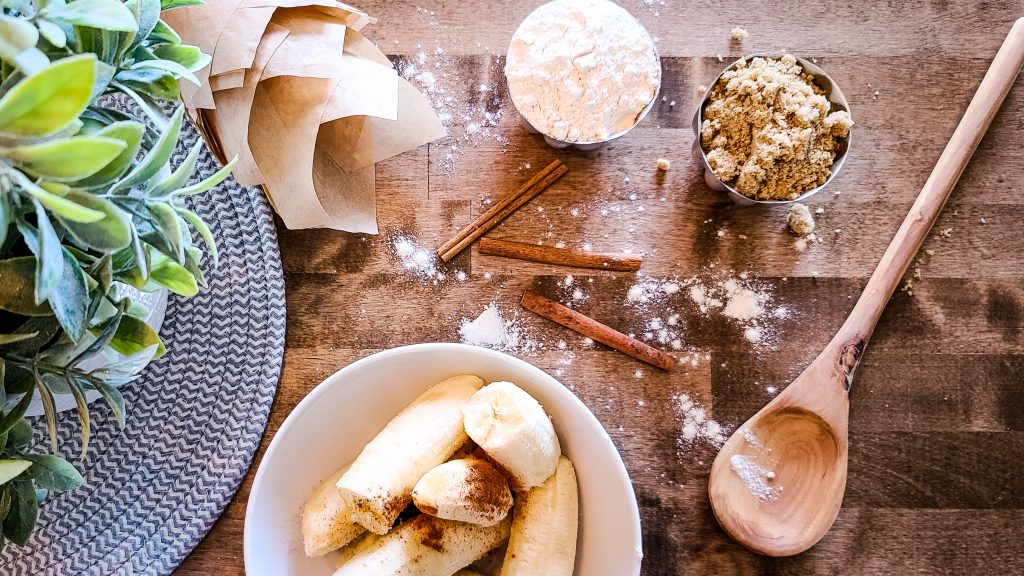 Coffee Cake Banana bread
bananas (the riper the better)
brown sugar
vanilla extract
ground cinnamon
butter softened to room temperature
sugar
eggs
all-purpose flour
baking soda
salt
sour cream or greek yogurt
sliced almonds
Crumb topping
ground cinnamon
flour
brown sugar
butter (cold)
What you need for this recipe
How to make the best coffee cake banana bread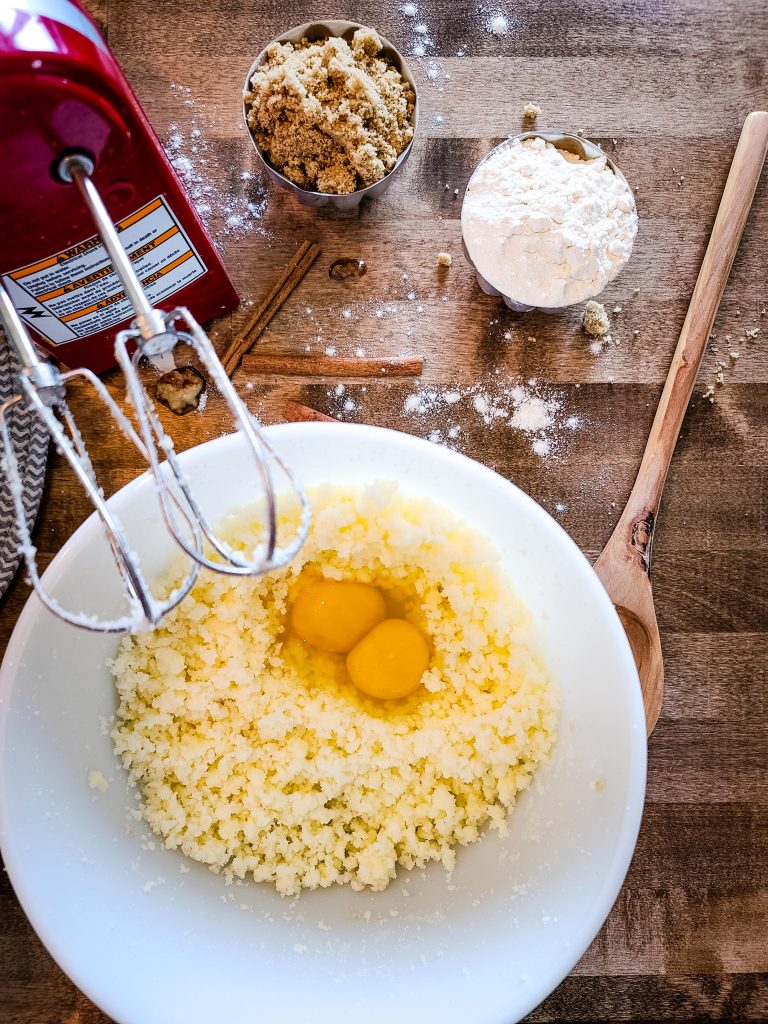 Step 1: Preheat oven to 350
Get your oven started preheating, and then move on to the next steps while you are waiting for it to reach temperature.
Step 2: Grease bread pans
Remember, you are using two 8×4 bread pans. First, grease up the bottom and sides of both pans using your preferred method; either butter or spray.
Step 3: Mash bananas
Second, in a small bowl mash the bananas, brown sugar, ground cinnamon, and vanilla extract together and set aside.
Step 4: Cream butter and sugar
Next, in a large bowl cream your butter and sugar together until it is fluffy. I prefer to use a large KitchenAid Stand Mixer as it makes this so much easier. However, you can use a hand mixer as well!
Step 5: Add in eggs
Then, gradually add in the eggs and continue to mix.
Step 6: Add in dry ingredients
Once all previous ingredients are mixed well; using a hand sifter (if you have one) add in the flour, baking soda, and salt. Then continue to mix until the dry ingredients are mixed well.
Step 7: Add in almonds and sour cream
Then, add in the sliced almonds and sour cream or greek yogurt. Mix until combined and stop before the almonds get too small. (You also can use other nuts such as chopped walnuts or pecans).
Step 8: Add in the mashed banana mixture
Finally, add the mashed banana mixture to the large bowl and mix one last time.
Step 9: Divide into 2 bread pans
Divide your banana bread batter evenly into your two pre-buttered pans.
Step 10: Set aside
Set aside your bread pans while you make the top crumb topping.
Crumb topping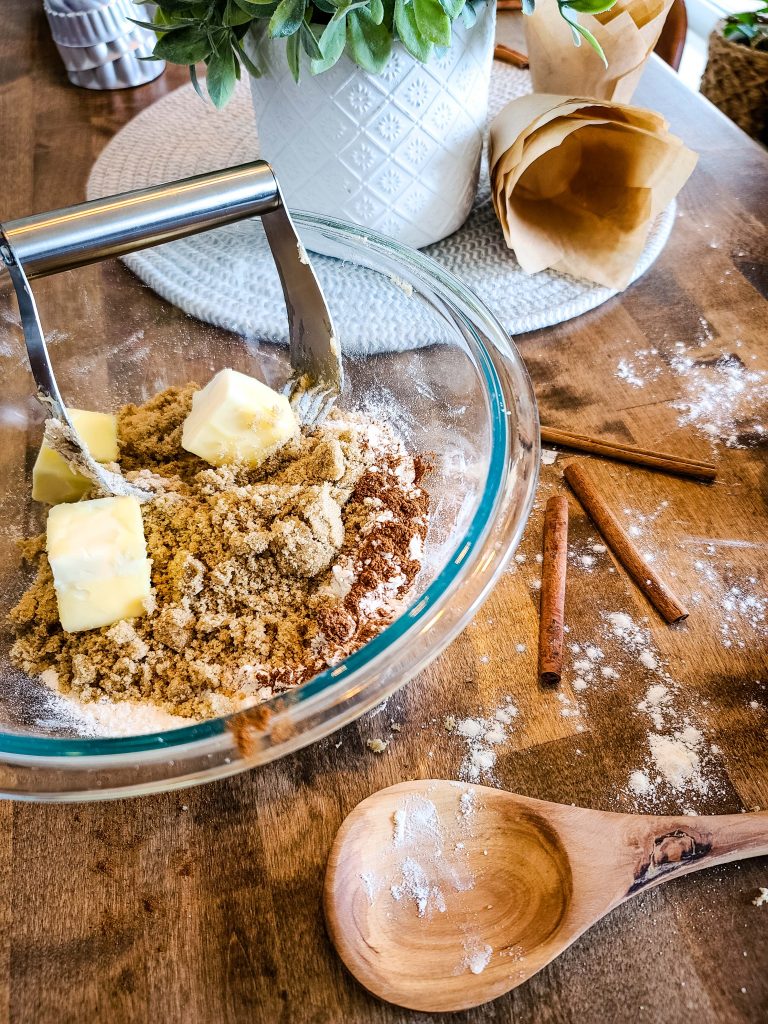 Step 1: Combine dry ingredients
First, in a separate bowl, combine the flour, brown sugar, and ground cinnamon and mix.
Step 2. Add in cold butter
Next, add a cube of cold butter to the mixture.
Step 3: Mix with a pastry cutter
Then, using a pastry cutter, mix/ break up the butter. You are looking to get the butter into small, crumb-like size pieces.
Step 4: Evenly top each bread mixture
Finally, pour half of the crumb topping onto the top of each banana bread pan.
Step 5: Bake
Placing both pans on the center rack of the oven, bake for around 40-45 minutes depending on your oven. Your loaves of bread will be done when a toothpick or cake tester comes out clean WITH a few crumbs attached.
DO NOT wait for the toothpick to come out completely clean because the bread will become too dry and lose the moistness that makes it so so good!
The other part I love about making loaves of bread and muffins, is that while they taste amazing fresh out of the oven, they also are perfect for freezing! My freezer is full of muffins and slices of bread ready for a quick breakfast! Simply let the bread cool after coming out of the oven, slice it, and place the slices in a freezer-safe bag! When you are ready to eat, simply place it in the microwave for 20 seconds or in a toaster oven for a crunchier banana bread slice!
Hope you enjoy this coffee cake banana bread as much as we do!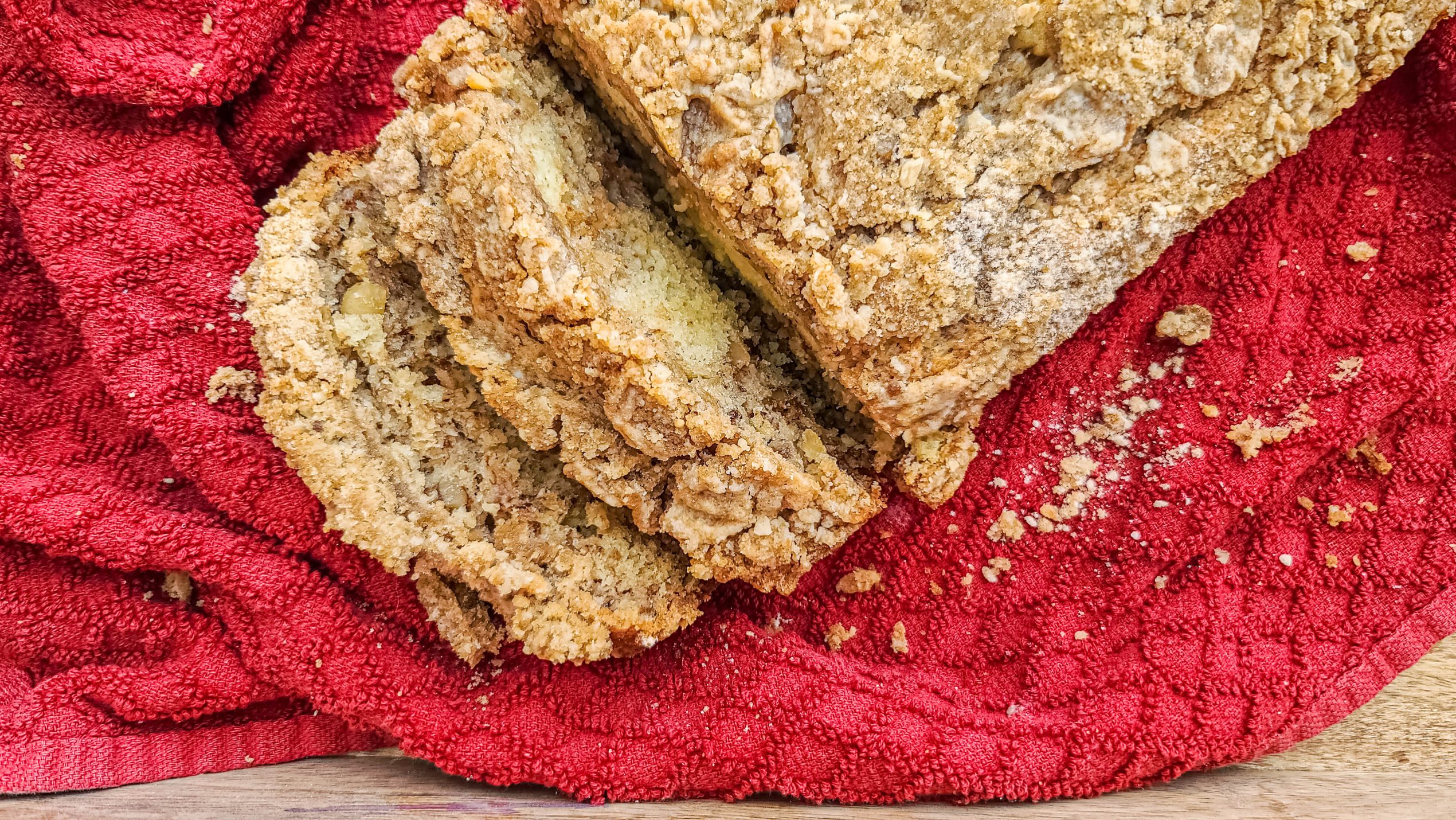 Ingredients
Banana bread
4

large bananas

(the riper the better)

2

Tablespoons

brown sugar

1 1/2

teaspoons

vanilla extract

3/4

teaspoon

ground cinnamon

1/2

cup

butter

softened to room temperature

1

cup

sugar

2

eggs

2

cups

all purpose flour

1

teaspoon

baking soda

1/4

teaspoons

salt

2 1/2

Tablespoons

sour cream

or greek yogurt

1/2

cup

sliced almonds
Crumb topping
1

teaspoon

cinnamon

1

cup

flour

1

cup

brown sugar

8

Tablespoons

butter

cold
Instructions
Grease two 8 X 4 baking pans using butter or your favorite spray.

In a small bowl, mash bananas, brown sugar, vanilla extract, and ground cinnamon.

In a large bowl, cream butter and sugar together until light and fluffy using a hand blender.

Add in eggs and beat until mixed.

To the wet ingredients; sift in the flour, baking soda, and salt.

Mix until just combined. Add in sour cream and sliced almonds and mix again.

Pour in mashed bananas, and mix until combined.
Crumb topping
Combine cinnamon, flour, and brown sugar. Cut in butter with a pastry cutter, and mix until the topping looks like coarse crumbs. Sprinkle coating evenly over the batter in both pans.

Bake for about 40-45 minutes or until a cake tester comes out clean with just a few moist crumbs stuck to it.

Allow the loaves of bread to cool for 10 minutes. Move to a wire cooling rack.
Tried this recipe?
Mention @tidymo and let me know what you think!
Looking for more recipe ideas? Make sure to check out a few of my favorite recipes below!
Instant Pot Loaded Baked Potato Soup (Coming Soon)
Make sure to subscribe to get more simple yet tasty recipes delivered straight to your inbox!
XO,
Morgan