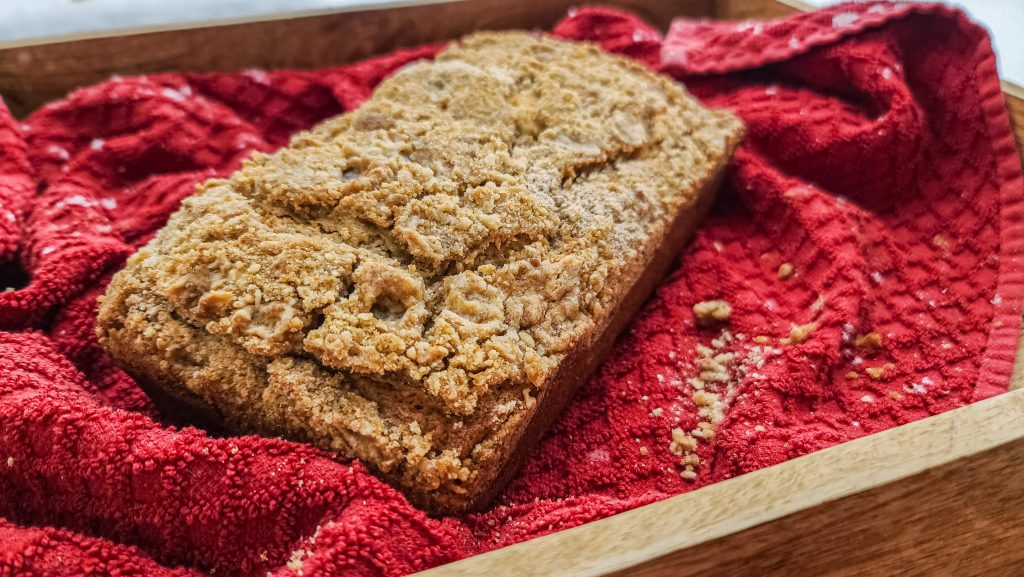 If you love the flavors of banana bread and coffee cake, then this recipe is a must-try. The moist, flavorful banana bread serves as the base, while the sweet, crumbly streusel topping adds an extra layer of indulgence. So whether you're looking for a quick breakfast treat or a dessert to share with friends and family, this coffee cake banana bread is sure to be a hit.
One of the best things about this recipe is how easy it is to make. You can have everything mixed and ready to go in just a few minutes, and then let the oven do the rest of the work. Plus, the combination of banana and cinnamon streusel flavors is a winning combination that everyone is sure to love.
So next time you have a bunch of overripe bananas sitting on your counter, don't let them go to waste. Instead, throw them in a blender with other fruit for a yummy fruit smoothie to make a traditional Brazilian acai smoothie bowl topped with the best homemade granola, or whip up a batch of this delicious coffee cake banana bread. Your taste buds (and your family) will thank you!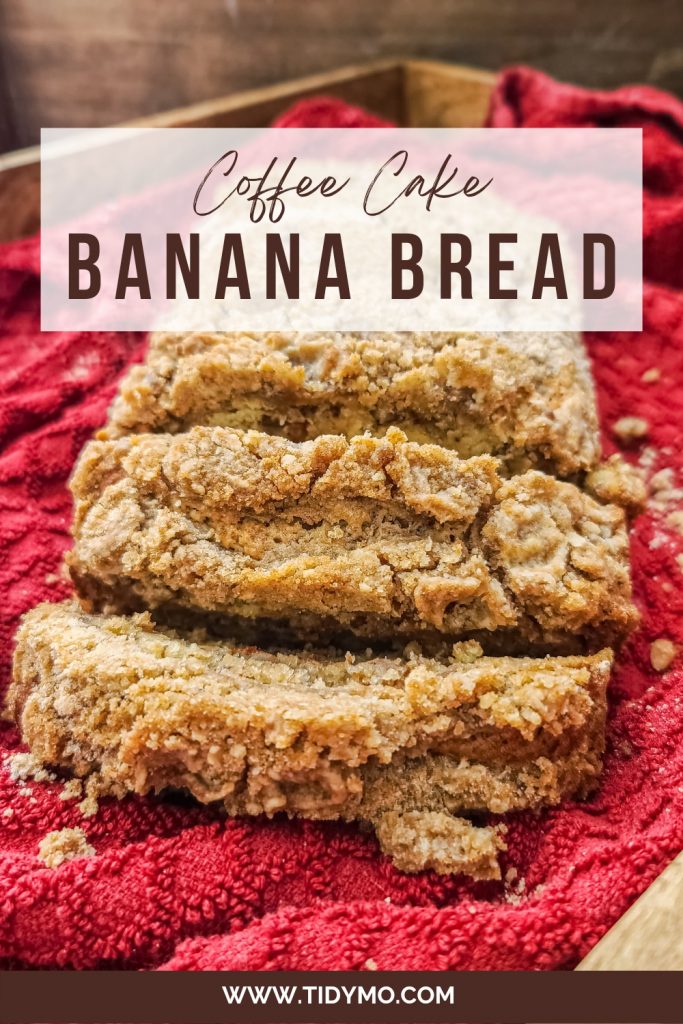 I'm thrilled to have found the perfect coffee cake banana bread recipe, and it's clear that my family feels the same way. We can't get enough of this delicious bread, and it's always gone in a flash. It's such a relief to have finally found a recipe that meets all of our criteria and that everyone loves.
Thanks to Michelle from A Latte Food, I now have the go-to recipe for the best coffee cake banana bread around. I've tried so many different recipes in the past, but they always seemed to fall short in one way or another. However, this one has exceeded all of our expectations and has quickly become a family favorite.
As a result, I always make sure to double the recipe when I make this bread because it disappears so quickly. It's a good thing I do, too, because it's always gone within minutes of coming out of the oven. I'm so glad to have found this recipe and to be able to share it with my family and friends. It's sure to be a staple in our household for years to come.
Freezer friendly
One of the best things about this coffee cake banana bread recipe is that it's freezer-friendly. If you make a double batch, you'll end up with extra loaves that you can freeze for quick and easy meals down the line. Just wrap the cooled loaves tightly in plastic wrap and then store them in a freezer-safe bag or container. Then, when you're ready to enjoy, simply thaw the loaf at room temperature or microwave it for a few seconds to soften it up. It's the perfect solution for busy mornings or impromptu gatherings.
So next time you make this coffee cake banana bread, don't be afraid to make extra. You'll thank yourself later when you have a tasty treat waiting for you in the freezer. It's just one more reason why this recipe is such a hit!

As a blogger, I may earn a small commission for any purchases made through the affiliate links on this site. I want to make it clear that your support means a lot to me and helps keep this blog running. Please note that using these links will not add any extra cost to your purchase. I have included them for your convenience, and I appreciate your support in using them.
Ingredients for Coffee Cake Banana Bread: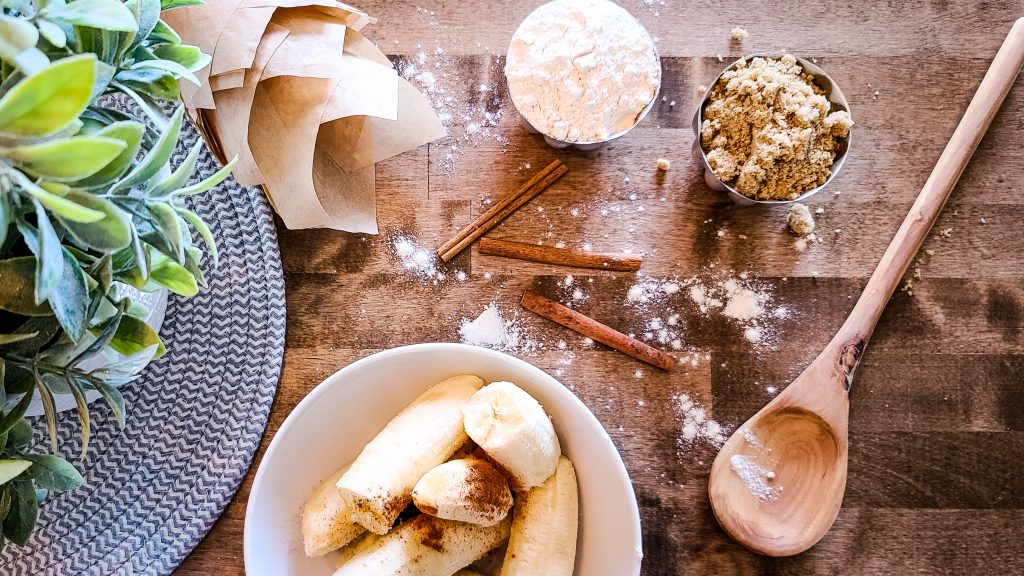 Coffee Cake Banana bread
bananas (the riper the better)
brown sugar
vanilla extract
ground cinnamon
butter softened to room temperature
sugar
eggs
all-purpose flour
baking soda
salt
sour cream or greek yogurt
sliced almonds
Crumb topping
ground cinnamon
flour
brown sugar
butter (cold)
What you need for this recipe
How to make the best coffee cake banana bread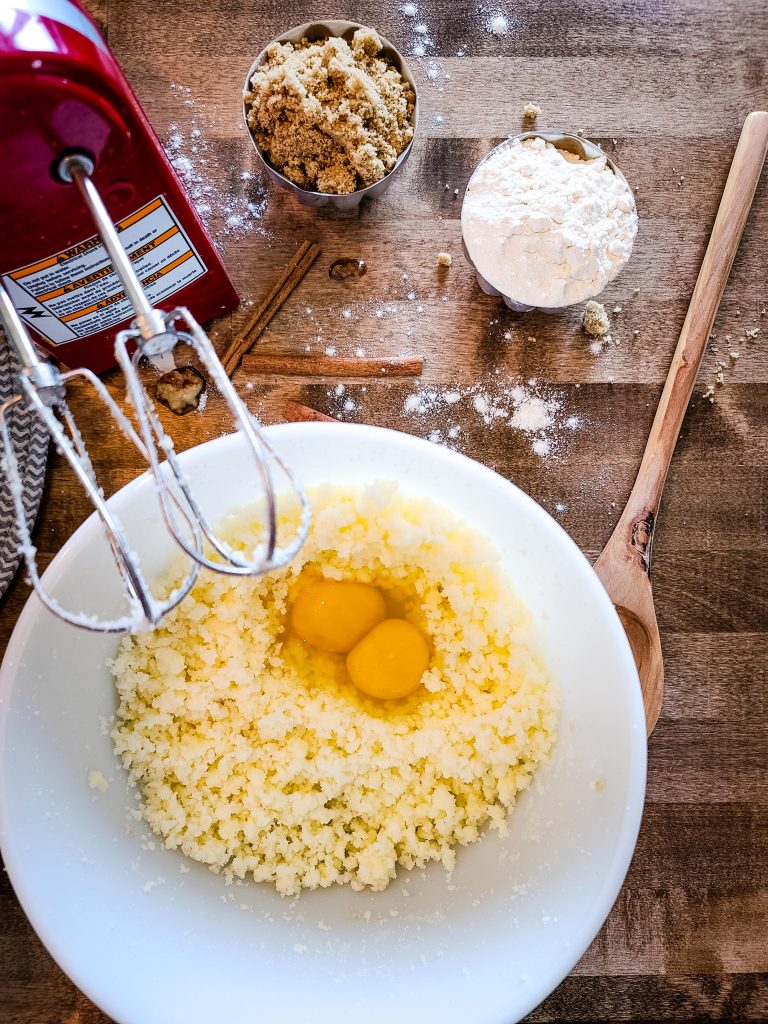 Step 1: Preheat oven to 350
First, set your oven to the proper temperature. For this recipe, you will need to set your oven to 350°F (180°C).
Allow the oven to preheat. It's important to allow your oven to fully preheat before you start baking. This will ensure that the temperature inside the oven is consistent, which is essential for baking. Depending on your oven, it may take anywhere from 5 to 15 minutes for it to fully preheat.
Step 2: Grease bread pans
Next, gather your materials. You will need two 8×4 inch bread pans and either butter or a non-stick cooking spray.
Then grease the bread pans. Using your preferred method, grease the bottom and sides of both bread pans. If you are using butter, use a small brush to evenly coat the pans, or use your fingers to rub the butter into the pans. If you are using a cooking spray, simply spray the pans evenly. Make sure to coat the pans thoroughly, especially the corners, to ensure that your bread comes out easily.
Step 3: Mash bananas
Then gather your ingredients. You will need 4 overripe bananas, 2 Tbs brown sugar, 3/4 teaspoon ground cinnamon, and 1 1/2 teaspoon vanilla extract. You will also need a small bowl and a fork to mash the bananas.
Peel and mash the bananas. Place the bananas in the small bowl and mash them until they are smooth and free of lumps. The more overripe the bananas are, the easier they will be to mash.
Add the brown sugar, cinnamon, and vanilla extract. Once the bananas are fully mashed, add the brown sugar, cinnamon, and vanilla extract to the bowl. Mix everything together until the ingredients are well combined. You should have a thick, smooth mixture that is evenly flavored and speckled with brown sugar.
Set the mixture aside.
Step 4: Cream butter and sugar
Gather your ingredients. You will need 1 cup unsalted butter (at room temperature), 1 1/2 cups granulated sugar, and a large bowl. You will also need a stand mixer or a hand mixer and the appropriate attachments.
Cream the butter and sugar together. Place the butter and sugar in the large bowl and beat them together on medium speed until the mixture is light and fluffy. This will take about 3-5 minutes. If you are using a stand mixer, use the paddle attachment. If you are using a hand mixer, use the beaters.
Scrape down the sides of the bowl. As you mix, the ingredients may start to climb up the sides of the bowl. To ensure that everything is well combined, use a rubber spatula to scrape down the sides of the bowl every few minutes. This will also help to prevent any dry ingredients from getting stuck in the corners of the bowl.
Continue beating until the mixture is light and fluffy. Keep mixing until the butter and sugar are fully incorporated and the mixture is light and fluffy. It should be pale in color and have a creamy, smooth texture.
Step 5: Add in eggs
Then, gradually add in the eggs and continue to mix.
Step 6: Add in dry ingredients
Using a hand sifter, if available, slowly sift in the flour, baking soda, and salt. Mix until the dry ingredients are evenly distributed and the batter is smooth.
Step 7: Add in almonds and sour cream
Next fold in the sliced almonds and sour cream or Greek yogurt, making sure not to overmix. The almonds should remain in larger pieces for a nice texture. You can also use other types of nuts, such as chopped walnuts or pecans, if desired.
Step 8: Add in the mashed banana mixture
Finally, gently fold in the mashed banana mixture until it is evenly distributed and no streaks remain. Mix until everything is well combined.
Step 9: Divide into 2 bread pans
Portion out the banana bread batter evenly between the two pre-buttered and floured pans. Use a spatula to level the surface and create an even layer of batter in each pan.
Step 10: Set aside
Set aside your bread pans while you make the top crumb topping.
Crumb topping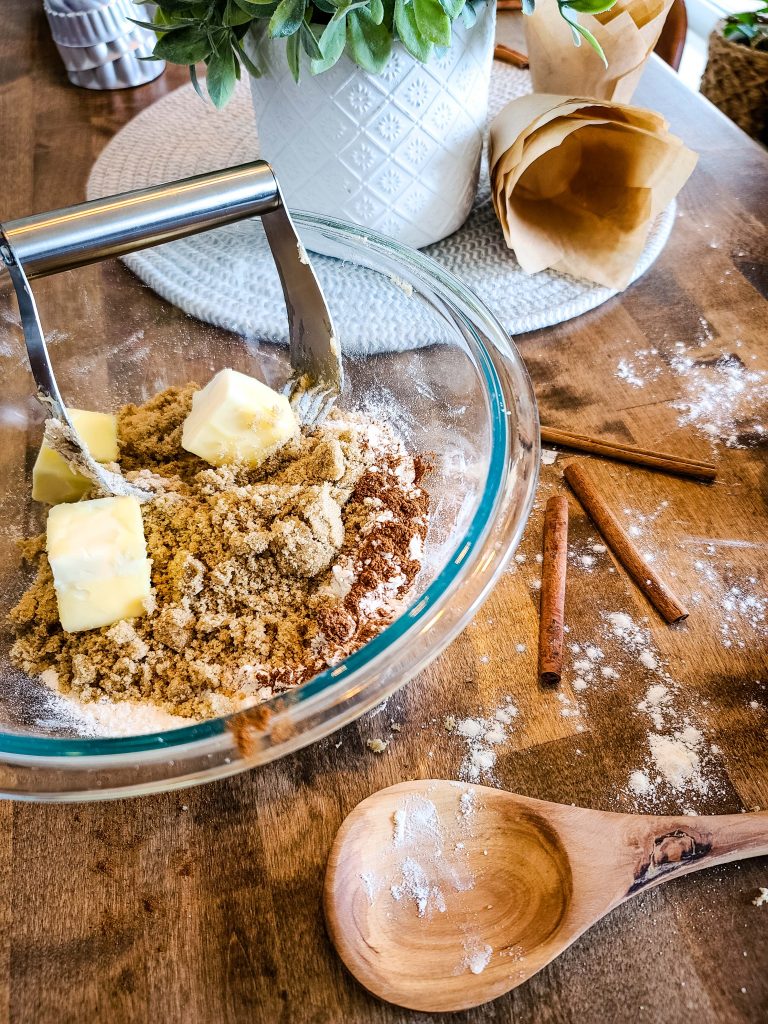 Step 1: Combine dry ingredients
In a mixing bowl, combine the flour, brown sugar, and ground cinnamon and mix until evenly distributed and well combined.
Step 2. Add in cold butter
Add diced cold butter to the flour mixture.
Step 3: Mix with a pastry cutter
Use a pastry cutter to break up the butter into the mixture until it forms small, pea-sized crumbs. The crumbs should be the consistency of wet sand. If using your hands, rub the butter and flour mixture between your fingers to break up the butter and make small crumbs.
Step 4: Evenly top each bread mixture
Finally, take the chilled crumb topping mixture and evenly distribute it over the surface of each banana bread pan, using half of the crumb topping for each pan. Use your hands or a spoon to gently press the crumb topping onto the surface of the batter. The crumb topping should be an even layer over the top of the banana bread.
Step 5: Bake
Place both pans in the center rack of the preheated oven and bake for approximately 40-45 minutes or until a toothpick or cake tester inserted in the center of the bread comes out clean with a few crumbs attached. Do not overbake as it will result in dry bread.
Additionally, it's worth mentioning that this bread also freezes well. Let it cool completely after baking, slice it, and store in a freezer-safe bag. When ready to eat, simply reheat in the microwave or toaster oven.
Hope you enjoy this coffee cake banana bread recipe!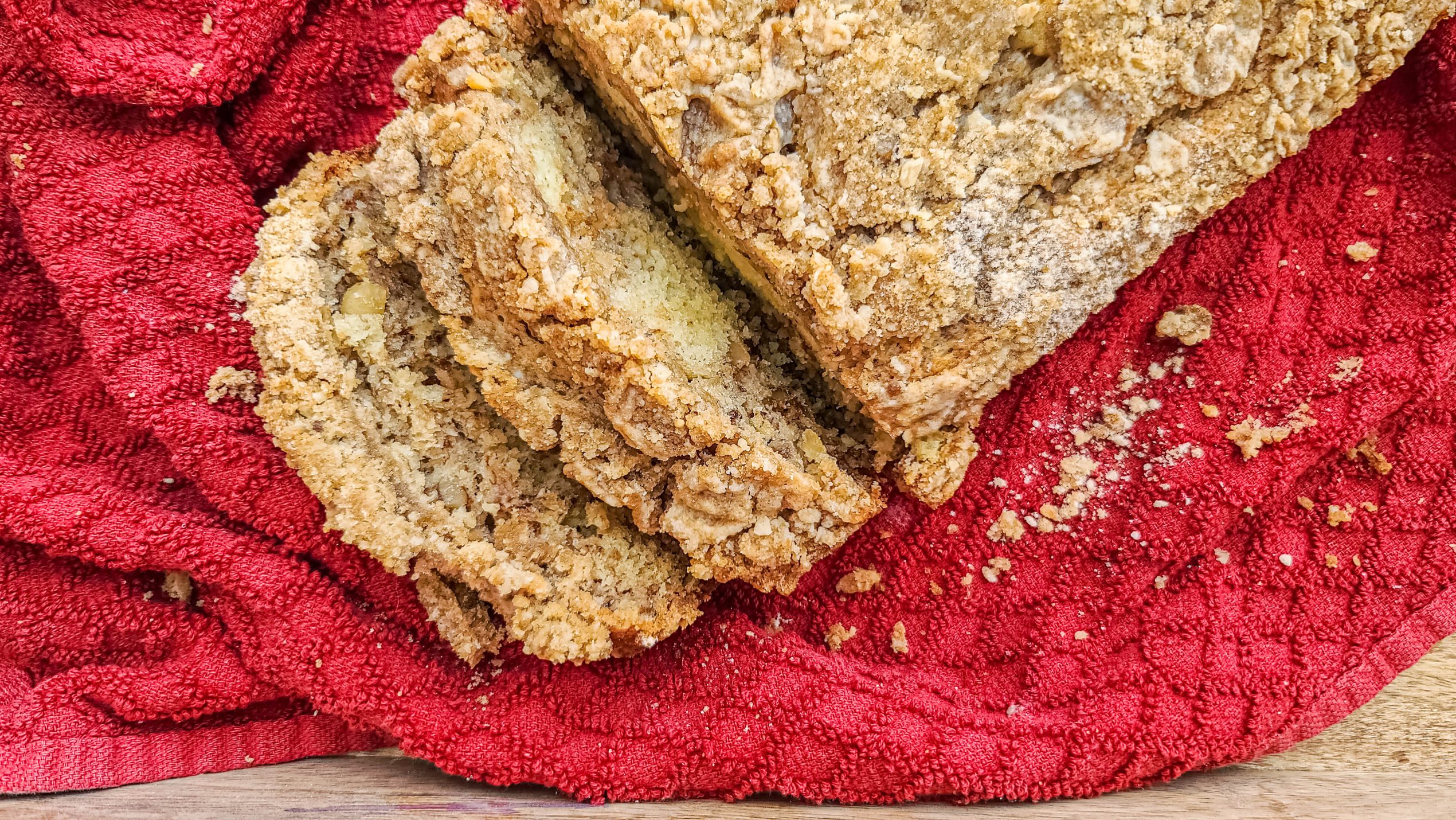 Ingredients
Banana bread
4

large bananas

(the riper the better)

2

Tablespoons

brown sugar

1 1/2

teaspoons

vanilla extract

3/4

teaspoon

ground cinnamon

1/2

cup

butter

softened to room temperature

1

cup

sugar

2

eggs

2

cups

all purpose flour

1

teaspoon

baking soda

1/4

teaspoons

salt

2 1/2

Tablespoons

sour cream

or greek yogurt

1/2

cup

sliced almonds
Crumb topping
1

teaspoon

cinnamon

1

cup

flour

1

cup

brown sugar

8

Tablespoons

butter

cold
Instructions
Grease two 8 X 4 baking pans using butter or your favorite spray.

In a small bowl, mash bananas, brown sugar, vanilla extract, and ground cinnamon.

In a large bowl, cream butter and sugar together until light and fluffy using a hand blender.

Add in eggs and beat until mixed.

To the wet ingredients; sift in the flour, baking soda, and salt.

Mix until just combined. Add in sour cream and sliced almonds and mix again.

Pour in mashed bananas, and mix until combined.
Crumb topping
Combine cinnamon, flour, and brown sugar. Cut in butter with a pastry cutter, and mix until the topping looks like coarse crumbs. Sprinkle coating evenly over the batter in both pans.

Bake for about 40-45 minutes or until a cake tester comes out clean with just a few moist crumbs stuck to it.

Allow the loaves of bread to cool for 10 minutes. Move to a wire cooling rack.
Tried this recipe?
Mention @tidymo and let me know what you think!
Looking for more recipe ideas? Make sure to check out a few of my favorite recipes below!
Instant Pot Loaded Baked Potato Soup (Coming Soon)
Don't forget to subscribe to our newsletter for more delicious and easy-to-follow recipes delivered directly to your inbox!
XO,
Morgan