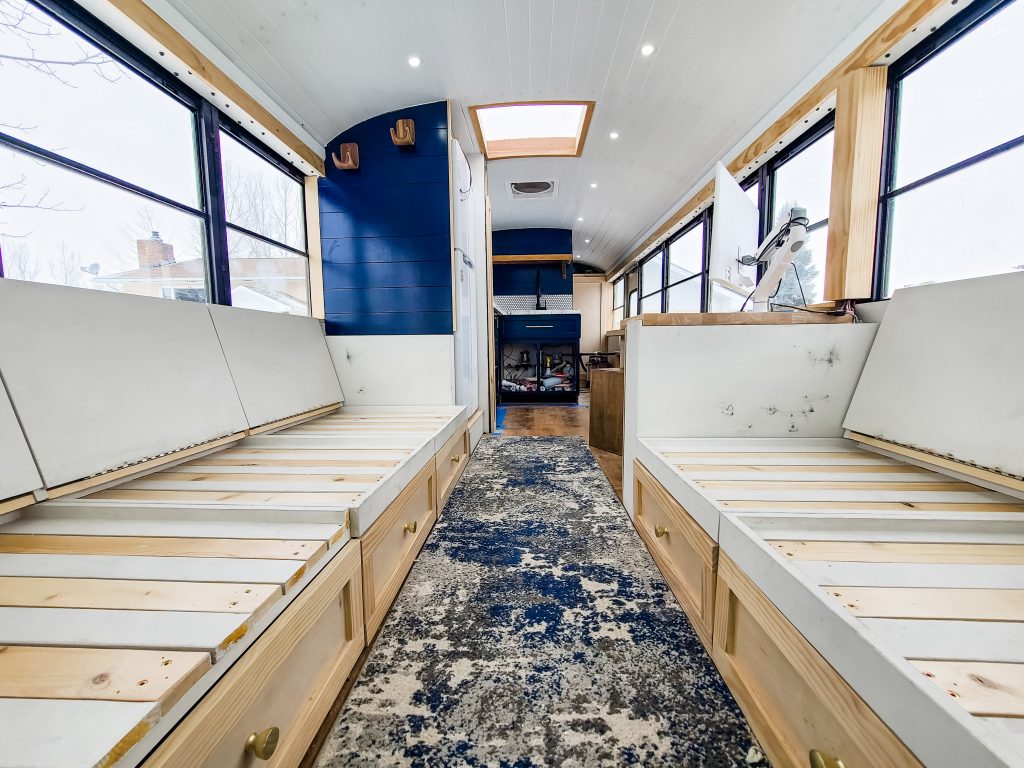 If you would have asked me when we first bought our bus back in April how long until it would be done, I would have told you it would be road-ready in just a couple of months 😉 Yet, somehow here we are just passing month nine of our school bus conversion and still working hard. As many know, back in April on my birthday, my husband informed me that he wanted to buy a school bus to convert into an RV…..from New Mexico. The very next day, he traveled down to New Mexico! Then, that same day he purchased the school bus and began the drive back to Montana. Missed the "why a school bus"? Click here for the full story!
What it looked like at month eight
So as a reminder, this is what our bus looked like after eight months of work. If you saw the post on where we were at month eight of our school bus conversion build, then you know that by that point, the bus was really starting to take shape and look more like a home than simply a shell. Eight months of consistency and hard work had put us in a position where we had a lot of projects done; including most of the big jobs. But if you want a more detailed look at what we had done by that point, here is the post.
Where we are at now
We have definitely hit the point in our school bus conversion where a lot of big changes are happening daily. After about month eight is when we started seeing more and more projects getting finished and checked off the to-do list. This is even more true after hitting our nine-month mark. I felt like back at month eight, that we were getting close. Yet, now looking around, this feels even more true. Hitting the road is starting to feel like more and more of a reality!
What has been fun is that we are finally at the point that we can start to visualize the finished look as well as start to plan and execute some of the finishing touch work! In addition, my husband has been able to start working from the bus because of what we have finished. This has been great for not only testing out the bus wi-fi, but to have a quiet workplace 🙂
Because we are at the point where our to-do list is shorter, I'll list what is left to do before we hit the road! Although in all honesty, seeing this list still makes me panic 🙂 We are still working our way through our to-do list which began with over 100 to-dos 🙂 And that wasn't even 100% complete! Thankfully this last month we have been able to tackle a large portion of those to-do items and then some! Here is a rough idea of what bigger jobs are still left.
Entryway:
finish the stairs
make shoe storage
Living room:
install the projector and projector screen
Kitchen:
the shelf above the sink
cabinet doors for under the sink
Bathroom:
install bathroom sink
finish the wall built-ins
Bunk beds:
install curtain rods
make boxes for the usb ports for each bunk
Bedroom:
make fold-down desk
make lid for built in cubby
Roof:
install latches on foldable railings
attach cedar planks to side of deck
Sewing:
curtains for the emergency exits
While this list is obviously far from 100 to-do's; these are the priorities. In order to make sure that we get on the road; we've broken our list down into two parts. The first list needs to be done before we leave. The second consists of the updates or finishing touches that would make the bus "done" but won't happen now.
What's been good
Handy hubby: Things are happening! We now are at the point we can check completed items off the list and it feels great!
Mama bear: Jobs are finally getting finished instead of always partially done!!! Plus it feels like the closer we get to finishing the more the kids can be involved in the process. It's been fun to see them chipping in. Of course, the more they can help with tasks, the quicker (some:) things move along. But in addition to that side, also seeing their sense of pride that they feel in the bus, as a result, has been fun to watch.
What's been hard
Handy hubby: It's never done. We are so close and yet so far at the same time. Finding balance between everything has been difficult.
Mama bear: It still never ends!!! This bus build has been a second, third and fourth job, and yet it never ends! We keep thinking we are so close, almost there. Then life and the bus laugh at us and we have to push out our take-off date once again 🙂
When will it be done?
WHO KNOWS!!! Haha! In all serious though….we have no idea. As I sit here typing this out, I look around and see that so much has happened in the last 10 days since our official 9 months of the bus conversion. Things are really starting to move quickly because, at this point when we pick a task, we get to 100% finish it. This means that jobs are being checked off the list instead of simply being "almost done."
We are at a place in the build where we could technically leave tomorrow. But at the same time, we are so close to being "done" that is it really worth leaving with items still on our to-do list? Or better to take care of them and leave with jobs finished? I still haven't decided haha! What would you do?
Thanks for following along on this crazy adventure of ours! Questions for us? Drop them in the comments below!
XO,
Morgan