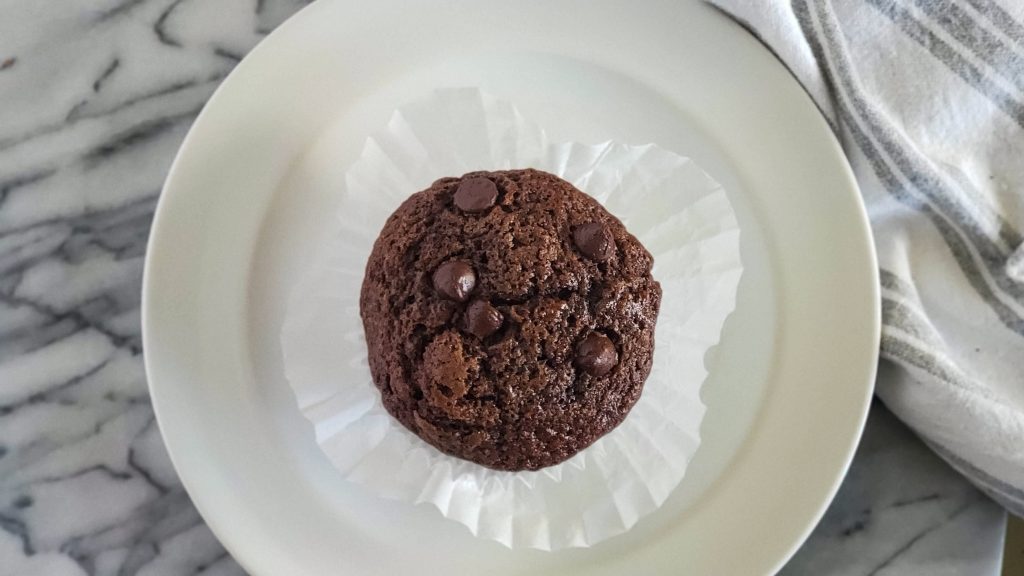 I am always on the lookout for new breakfast and snack ideas to add to my go-to list that are kid and family approved! I was so excited when I came across this recipe from My Baking Addiction! With all the yummy fresh zucchini I've been getting from my neighbors garden this fall, I've been on the hunt for great recipes to make sure I use up those zucchinis! I'm a huge fan of easy breakfasts that are both healthy and tasty as well as kid-approved! So if you need a delicious recipe for zucchini muffins, then you need to try the chocolate version of this muffin recipe because they make the perfect breakfast or snack!
Muffins make mornings easy!
Muffins are one of my go-to's for a quick and easy breakfast item. In fact, we have Muffin Monday's in our house! However, in full disclosure I definitely do not have time to whip out a batch of muffins in the mornings in time to get my family fed and out the door during the school year 😉 However, can I let you in on a little secret? What I love about muffins for breakfast, is that they are a great recipe to make a large batch of, and then freeze! This allows you to quickly pull them out, heat them up, and you have a yummy breakfast ready to go within seconds and no kitchen mess 😉
So make a couple of batches during those times that you have the baking urge and fill your freezer! For a last-minute breakfast, pull them out and microwave for a few seconds to thaw. If you are good at planning ahead and remembering ( I am not ;), pull out and place in the fridge overnight to thaw. The next morning, pop them in your toaster oven and breakfast is ready to go 🙂 Another favorite muffin in our house is this morning glory muffin recipe which is another great one for sneaking in that extra serving of vegetables!
Chocolate zucchini muffin recipe
Fall is that time of year that all the goodies from the spring plantings in a garden get to be harvested! For us, that means an abundant amount of fresh zucchini! My neighbors garden has gone crazy on the zucchini this year and so we have gotten almost more than we know what to do with!
With so many zucchinis, I've been testing recipes and these have been the top favorites in our household! Zucchinis are the perfect addition to many recipes providing a simple flavor that allows them to seamlessly blend in with muffin and bread recipes! They also naturally keep baked goods moist without the necessity of adding other ingredients! So big or small, grab those zucchinis and let's get those muffins in the oven and then your belly!
As a blogger, I may earn a small commission for any purchases made through the affiliate links on this site. I want to make it clear that your support means a lot to me and helps keep this blog running. Please note that using these links will not add any extra cost to your purchase. I have included them for your convenience, and I appreciate your support in using them.
What you need: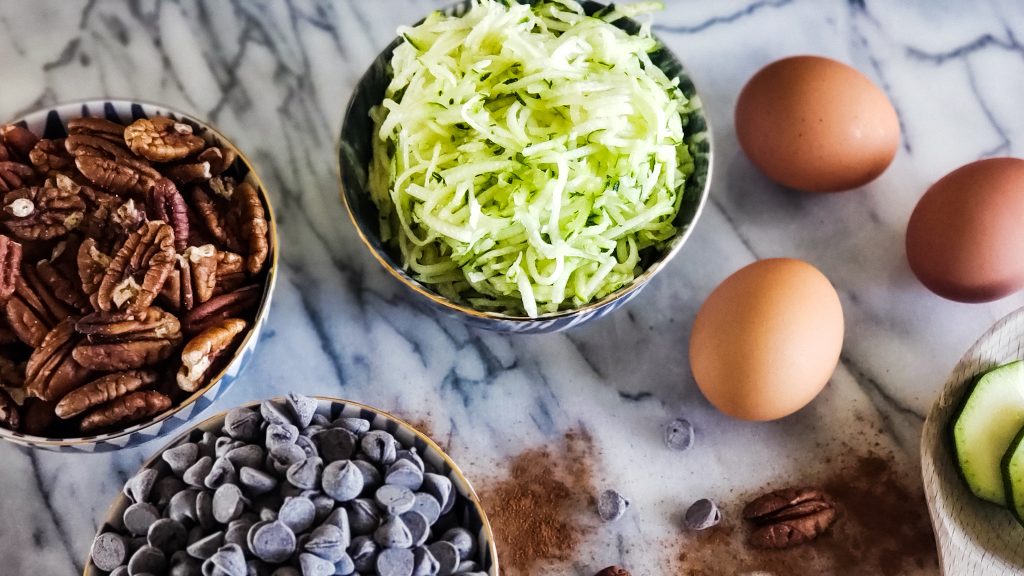 1 1/2 cup granulated sugar
1/2 cup packed light brown sugar
1 cup of vegetable oil
3 large eggs
2 teaspoons pure vanilla extract
2 1/2 cups all-purpose flour
1/2 cup unsweetened cocoa powder (I used Hershey's Special Dark)
1 teaspoon salt
1 teaspoon baking soda
1 teaspoon ground cinnamon
2 cups finely grated zucchini
1 cup semisweet chocolate chips

Directions:
Step 1: Preheat oven to 350 °F
Preheat oven to 350°F (176°C). While the oven is preheating, either spray your muffin pan or line it with cupcake liners. I like to use these reusable muffin pan liners to avoid the need to use nonstick spray. This recipe makes 16 muffins, so prepare a second muffin pan in the same manner.
Step 2: Grate your zucchini
Hands down the easiest way to grate these are by using a kitchen appliance like this Ninja food processor. I can't tell you how quick this processor made grating the zucchini! It allowed me to double/triple the batch and have several zucchinis grated within a matter of seconds.
Step 3: Use your mixer
In a large bowl with an electric mixer, beat together the sugars, oil, eggs, and vanilla until thoroughly combined.
Step 4: Wisk your dry ingredients
In a medium bowl, whisk together the flour, cocoa powder, salt, baking soda, and cinnamon.
Step 5: Combine dry ingredients into sugar mixture
Gradually add the dry ingredients into the sugar mixture and mix until just combined.
Step 6: Add zucchini and chocolate chips
Fold in zucchini until it is evenly distributed into the batter. Stir in semisweet chocolate chips.
Step 7: Fill muffin tins
Use a large cookie scoop like this one (about 3 tablespoons) to distribute batter amongst the prepared muffin wrappers. I am a huge fan of these cookie scoops. They are so easy to use and help keep the mess to a minimum. I use them for cookies, filling muffin tins and even for these amazing authentic Brazilian cheese bread balls!
Step 8: Top with chocolate chips
If desired, sprinkle milk chocolate chips onto the top of each muffin. This was my kid's favorite part…so just keep that in mind when you are deciding whether or not to skip this step.
Step 9: Bake
Bake in preheated oven for 18-22 minutes. Use a toothpick to determine when the muffins are done. You want it to come out clean but make sure not overcook so that you keep them moist!
Step 10: Cool
When the muffins are done, remove the muffin pans and allow them to cool for about 20 minutes on top of a cooling rack. After cooling, remove the muffins from the pan and place directly onto the cooling rack to finish cooling completely. Then get ready to enjoy!
Make-ahead tip: Muffins stay soft, fresh, and moist at room temperature for up to 5 days using good airtight containers like these. Stored properly in Ziplock freezer bags, these muffins will freeze well for up to 2 months. If you are more organized than me, then pull out of the freezer and thaw overnight in the refrigerator and heat up before enjoying it. Otherwise grab them the morning of, toss them in the microwave to thaw and then either enjoy as is warm and soft or pop in the toaster oven to get the perfect crunchy outside!
Other breakfast food ideas
Chocolate chip zucchini bread
I love a recipe that is consistently good! If I take the time and make the mess…all I have to say is that it better turn out 🙂 This chocolate zucchini muffin recipe is sure to be a hit in your house as well! If you are looking for more great breakfast ideas to get you out of the cereal rut and get you out the door and to school on time, then check out this post on my top 10 favorite breakfast ideas! One of our favorites in our house is this authentic Brazilian acai smoothie bowl! With the recipe from a Brazilian (aka handy hubby), it is as close to what you would get on the beaches of Brazil 🙂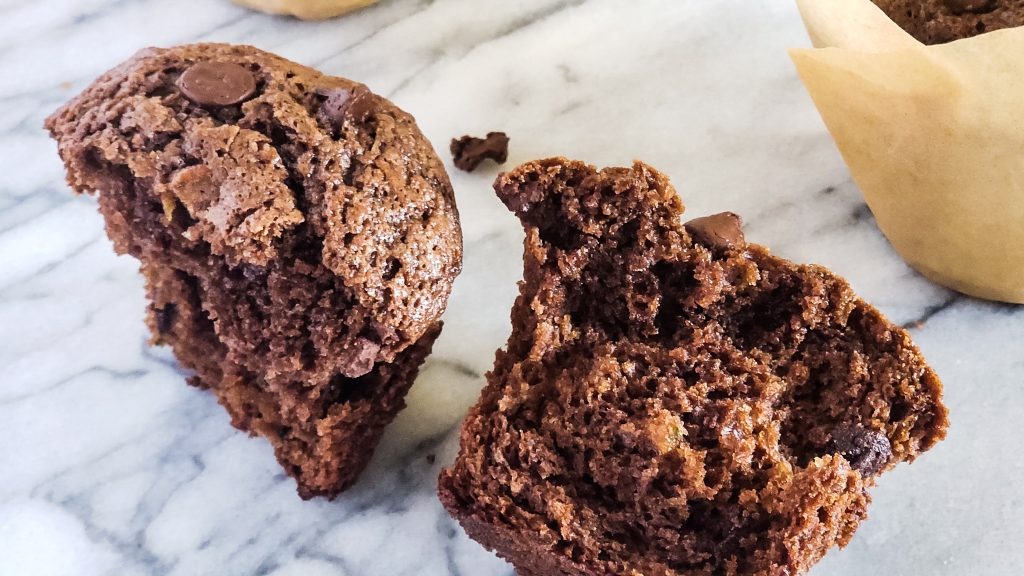 I hope you enjoy this recipe as much as we do! What are your favorite recipes for zucchini? I'm always on the lookout for new yummy recipes to add to our family cookbook 🙂
XO,
Morgan