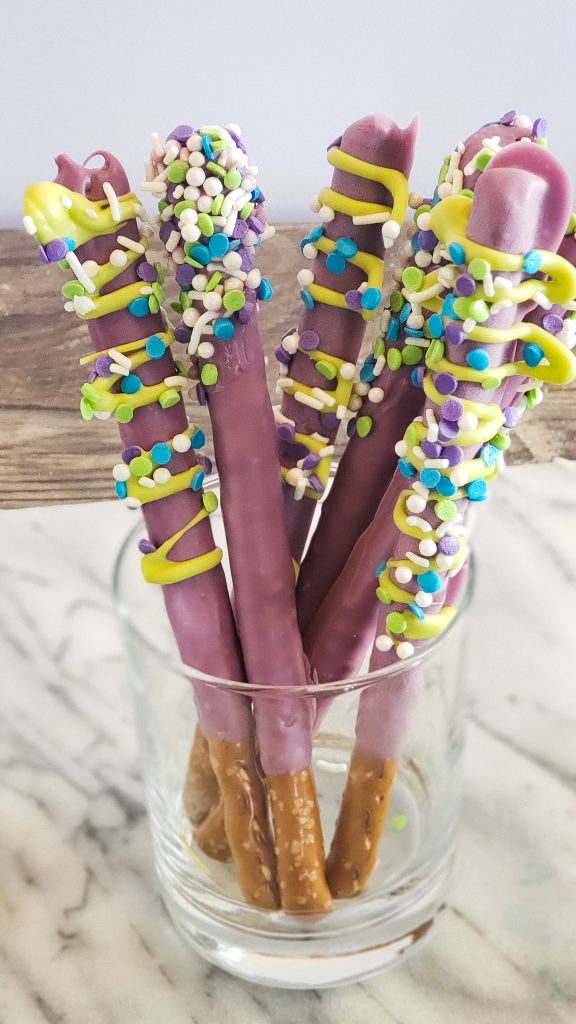 Chocolate-dipped pretzels are the perfect blend of sweet and salty, making them a tasty treat for any occasion. Whether you're looking for a quick snack to bring to school, a festive holiday gift, or party snacks for a themed birthday party, these three-ingredient treats are easy to customize to fit your needs. With Wilton candy melts available in every color of the rainbow, you can create a rainbow drizzle as we did for our daughter's unicorn birthday party, or choose your favorite sprinkles for a fun pop of color. Keep reading for the simple instructions on how to make your own batch of chocolate-dipped pretzel rods.
Buy the complete shopping list for this recipe here
As a blogger, I may earn a small commission for any purchases made through the affiliate links on this site. I want to make it clear that your support means a lot to me and helps keep this blog running. Please note that using these links will not add any extra cost to your purchase. I have included them for your convenience, and I appreciate your support in using them.
What you need: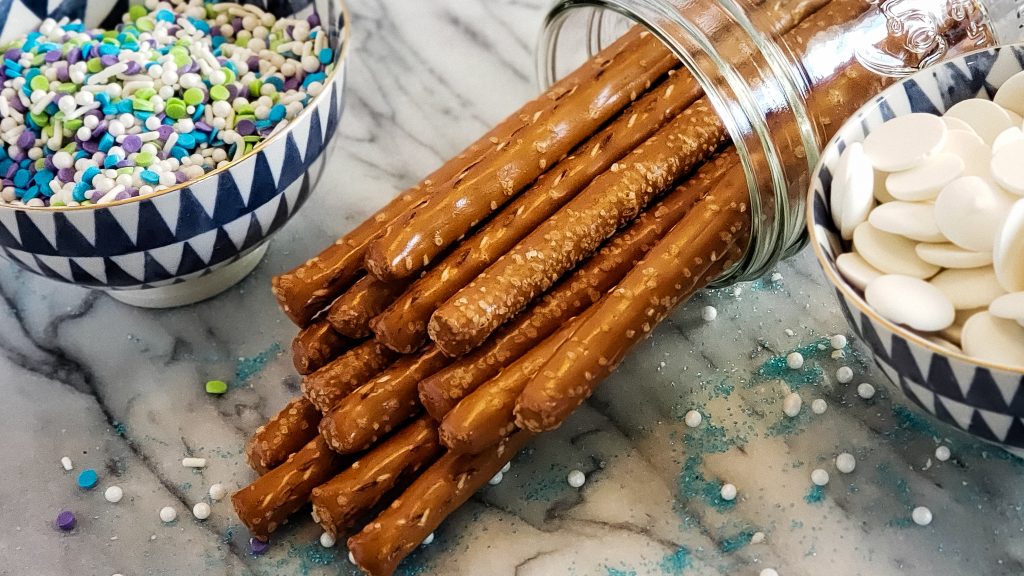 Pretzels
Candy Melts
Sprinkles
Parchment paper
Candy piping bag for drizzling
Bowl for melting chocolate candy melts
Directions:
Step 1 – Melt the chocolate
To begin, melt your base coat of chocolate candy melts according to the package instructions. The microwave is a quick and easy way to melt the chocolate, but be sure to stir it every 30 seconds until it is fully melted. Avoid overcooking the chocolate, as it can become difficult to work with and may dry with a whitish tint. As you heat the chocolate, it may not appear fully melted at first, but stirring will help it reach the perfect creamy consistency. Now you're ready to coat your pretzel rods with the melted chocolate.
Step 2 – Coat the pretzel
To coat the pretzel rods with chocolate, the easiest method is to use a spoon to pour the melted chocolate over the pretzel. Start by filling the spoon with chocolate and pouring it over the pretzel, leaving about a 3″ section clear. Rotate the pretzel as you pour the chocolate to ensure that all sides are coated. Once the pretzel is fully covered, carefully shake it over the bowl to allow any excess chocolate to drip off. Another option is to dip the pretzel into a tall glass of melted chocolate, but keep in mind that you will need more chocolate if you want to cover most of the pretzels using this method.
Step 3 – Lay on a cookie sheet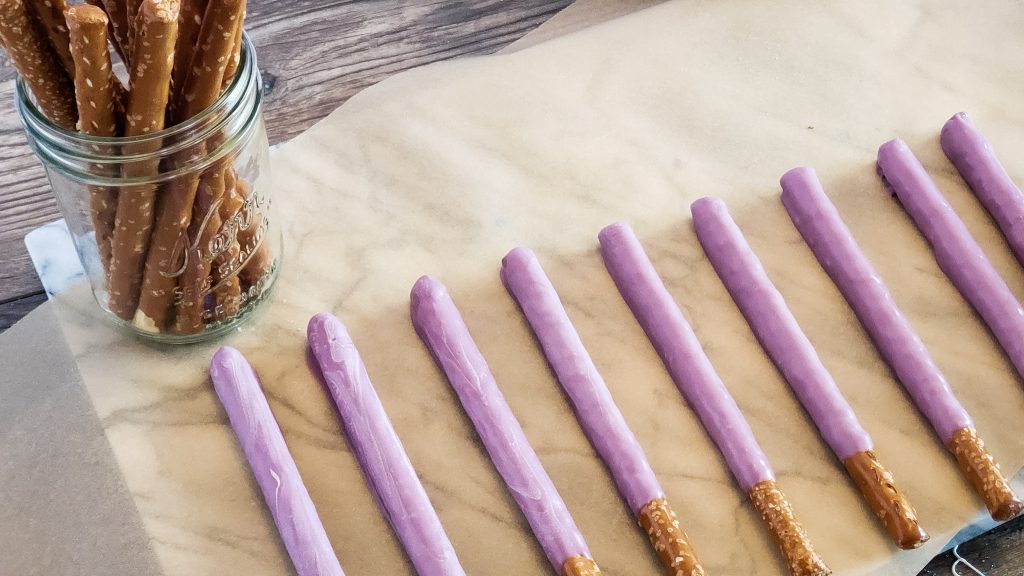 Once you have coated the pretzel rods with chocolate, arrange them on a parchment paper-lined cookie sheet, leaving about 1.5″ between each pretzel. This will give you plenty of space to decorate each pretzel individually.
Step 4 – Sprinkles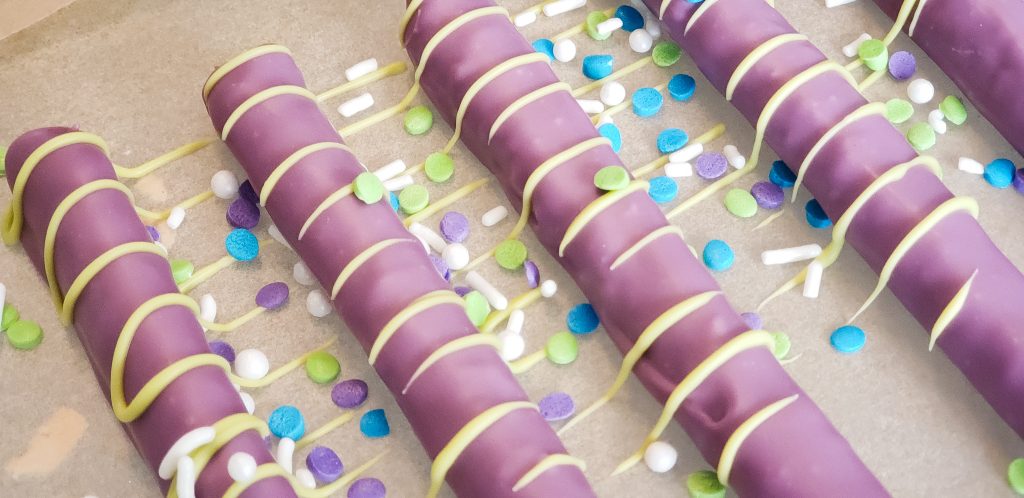 If you are using a drizzle method to decorate your pretzel rods, you can skip this step and allow the base coat to dry before proceeding. However, if you want to add sprinkles to your pretzels, you'll want to do so while the chocolate is still wet. Use a spoon or your fingers to sprinkle the sprinkles over the wet chocolate. If you wait too long to add the sprinkles, the chocolate will harden and the sprinkles will not stick. If this happens, your best option is to move on to a drizzle decoration method.
I usually do 1 pretzel at a time. Dip, sprinkle, dry, and repeat.
Step 6 – Drizzle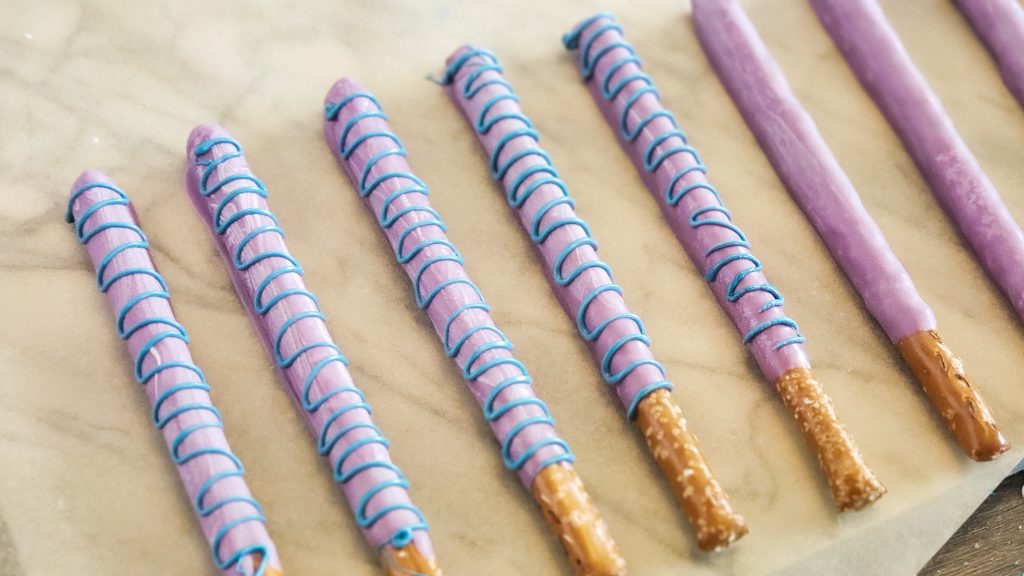 Choose colors:
When it comes to decorating your chocolate-dipped pretzels, the options are endless! You can choose any colors you like for your drizzle, or even mix and match to create a colorful display. For example, you could go with a rainbow drizzle as we did for our daughter's unicorn-themed birthday party, or opt for a mix of sprinkles and specific colors like we did for a mermaid-themed birthday party with purple, blue, and green drizzle. Get creative and have fun with it!
Melt colors one at a time:
When it comes to creating a drizzle effect with your chocolate-dipped pretzels, it's important to melt each color of candy melts separately. This allows you to easily control the amount of chocolate you use for each drizzle and create a clean, distinct look. Simply melt each color of candy melts in a small microwavable safe dish, one at a time.
Drizzle one color at a time:
Once you have melted your candy melts in a small microwavable safe dish, it's time to start drizzling! To make this process easier, pour the melted candy melts into a disposable candy piping bag like this one. This will give you more control over the flow of chocolate and allow you to create precise drizzle patterns on your pretzel rods. Simply hold the piping bag over the pretzel and gently squeeze to release the chocolate in a thin, even stream.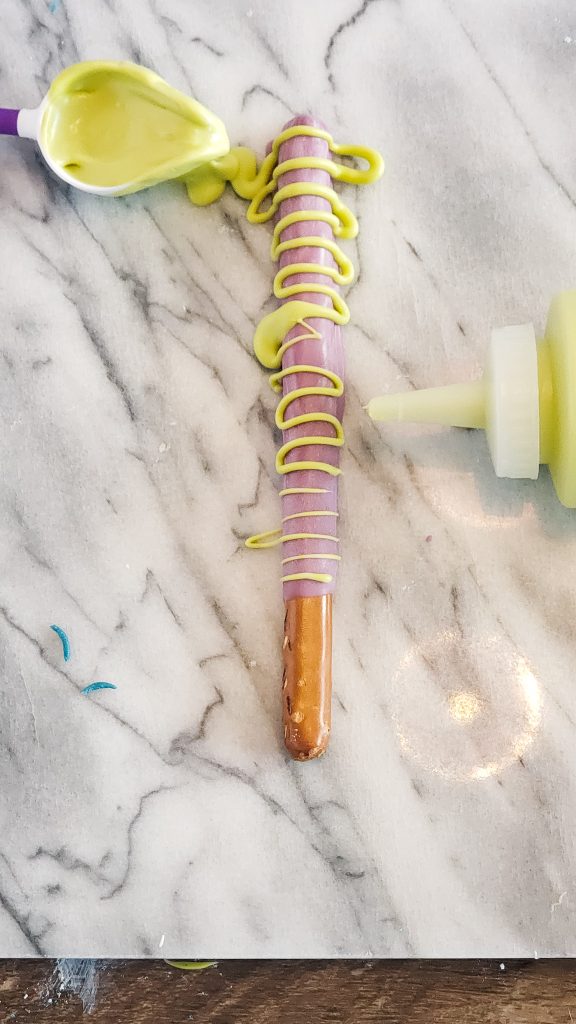 Drizzling tips and tricks:
There are a few different ways you can drizzle chocolate on your pretzel rods, and it's all a matter of personal preference. Some people prefer to use a drizzle spoon, while others find it easier to use a plastic squeeze bottle. You can also try using a disposable candy piping bag for more control over the flow of chocolate. As you experiment with different methods, keep in mind that the goal is to create a thin, even stream of chocolate. Don't worry if your drizzle doesn't look perfect – it's all part of the fun and experimentation! And remember, you don't need to be a professional cook or baker to make delicious treats – anyone can do it with a little practice and patience.
The spoon is easy to use and clean. However, I wasn't able to get the desired drizzle with it. It could be due to my technique or how I melted the chocolate. If I were able to achieve the desired results, the spoon would have been my top choice.
The squeeze bottle was effective. I heated up the chocolate inside the bottle. However, cleaning these bottles is a huge hassle. I have four bottles filled with dried chocolate on my kitchen counter that I haven't been able to clean. Overall these bottles are just frustrating!
That leaves the piping bag. I would choose this for its ability to create a thin drizzle and for ease of cleanup – just throw it in the garbage!
Then, repeat Step 6 with each color you will use. Feel free to be creative adding multiple colored drizzles or whatever looks best to you!
Step 7 – Dry
After decorating your treats with sprinkles or chocolate drizzles, you'll need to let them dry until the chocolate is hard and dry to the touch. This is the final step.
Allow enough time for the chocolate to dry completely on the parchment paper.
Step 8 – Store
After the chocolate-dipped pretzel rods have dried, remove any excess chocolate and store them in an airtight container. I like using a container like this because it allows me to make these treats up to a week ahead of time and they stay fresh. This can help reduce stress and last-minute treat making.
To store the pretzel rods, place a sheet of parchment paper at the bottom of the container, then lay down a row of pretzel rods. Cover them with another piece of parchment paper and repeat the process until all of the pretzels are stored or the container is full.
All done!
And that's it! You should now have a batch of delicious chocolate-dipped pretzel treats for a birthday celebration. If you're looking for more ideas for birthday party treats, check out this post on my favorite treats to use for a fun party or this recipe for salty and sweet birthday party popcorn.
Don't forget to share a photo of your chocolate-dipped pretzel rods in the comments below. I'd love to see your creations!
XO,
Morgan