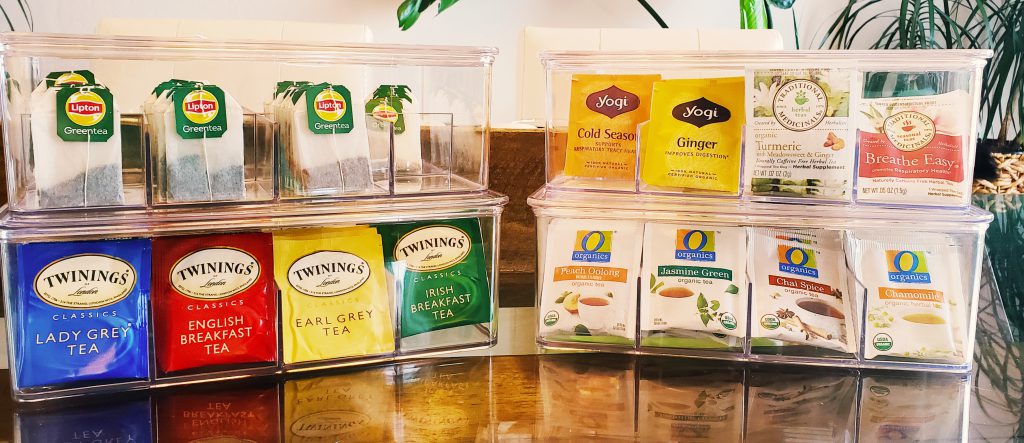 How many times have you offered tea to someone; whether a member of your family or a guest as something to drink? But maybe in the back of your head you are hoping they say "no thanks", because heaven forbid if they say yes and ask what options you have; game over. Because that requires opening the cupboard and pulling out every box that is shoved in there 🙂 Sound familiar?
It's April 1st, which for whatever reason is always the time of year I start my spring purging and cleaning! So while I love decorative projects, I also love these quick and easy organizational projects that simplify and make day to day life easier.
Clear + Stack-able tea box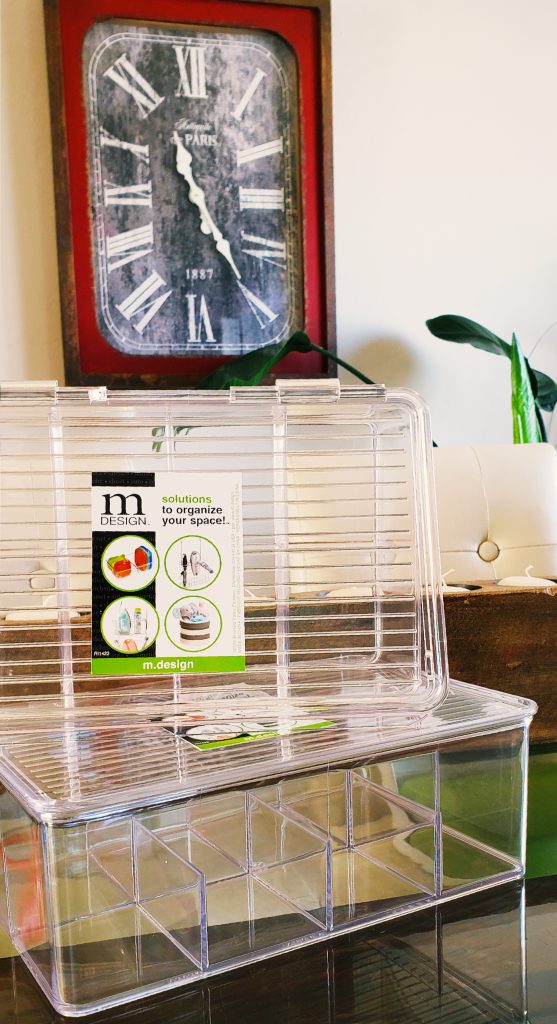 So, I've found the perfect product to organize all your tea bags, eliminate the boxes and allow you to quickly know what you have! Let me introduce you to your newest solution to tea bag clutter, a clear, stackable tea box with a lid!
Go with Clear
I don't know about you, but I was tired of pulling out every box stacked in the cupboard to see what I had. Or opening a box to grab a tea bag only to find out, it was empty. So I popped over to Amazon to do some searching for the best solution.
Following Mari Kondo's method, I knew I was looking for something clear and plastic. I wanted to be able to see what I had in there with a just a quick glance. This made it easy to know when I was running low on a tea so I could quickly add it to my list for the next time. Because lets face it, otherwise, I would never remember that when I went to the store next 😉
I also knew I wanted plastic because if it got dirty, it was quick and easy to throw in the dishwasher. We all know that simplicity makes everything better!
Look for Stack-able
The second requirement of my search was something that had a lid. When it comes to organizing and taking advantage of your space; it all comes down to vertical storage. I needed something that could be stacked to make the most of the cupboard space.
What I love about these boxes is that they have a hinged lid which helps keep the inside clean and free of dust or spills 🙂 But, the lids also made it simple to stack them on top one another in the cupboards.
The option to stack in addition to being clear plastic make these a winner in my book! They made the most use of my space, could easily fit all my tea bags, and they made it easy to see what I had 🙂
Getting Started
As a blogger, I may earn a small commission for any purchases made through the affiliate links on this site. I want to make it clear that your support means a lot to me and helps keep this blog running. Please note that using these links will not add any extra cost to your purchase. I have included them for your convenience, and I appreciate your support in using them.
So lets get your tea under control! Hop on over to Amazon and order these boxes! You will love them! Plus they will show up at your door in just a few days 😉 Can you tell I love anything that doesn't require me loading up the kids and running and errand ?!?!
They do come as a pack of two. Depending on how many tea bags you have, I did end up going with the pack of 4 and used them all.
Organizing your tea cupboard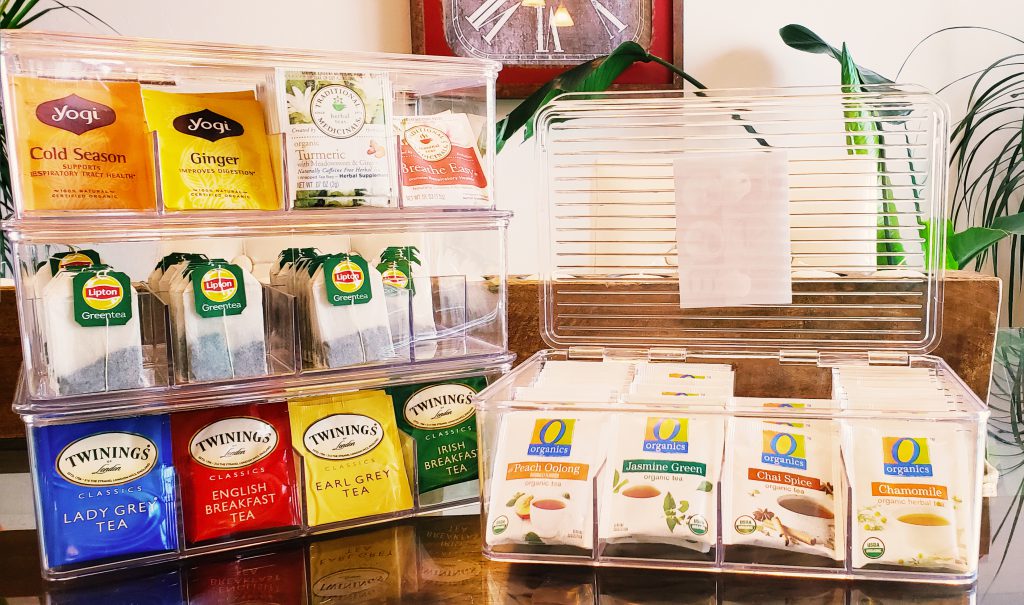 So now that the brown box has shown up on your doorstep, so let's get your tea bags under control in just five minutes! Grab that box, get it unpacked, and let's do this!
1 / Empty your tea cupboard. I love Mari Kondo's method for organizing. I tend to use her method every time I tackle an organizational project. Following this method helps me to do it right the first time and then it's done! So start by emptying out every single tea box out of your cupboard to see exactly what you have.
2 / Empty your tea boxes. Pull out all your tea bags and lay them out on a large surface where you can easily see everything such as your kitchen table. This is a great time to discard any that maybe you've had just a little too long 😉
3/ Separate them. Group all like teas together. This is how I chose to group my teas
4 / Fill your boxes. Now that you have all your tea bags grouped and organized, time to fill those boxes!
5 / Return the boxes back to your tea cupboard. Organize the boxes so that they are easy to see and get to. You want it to be easy to grab a box and pull it out.
That's it! Told you it was simple 🙂 Now its time to sit back and admire your work. No more pulling out 15 different boxes before you find what you are looking for 🙂
Versatile uses
I think my favorite thing about these clear boxes is that they are so versatile! For this quick organizational project, I used them to better organize my tea boxes. But, they could easilly be used for separating creamers, sugar, salt and pepper packets, instant coffee packets etc.
They also can be used in other places than just the kitchen. Think organizing small items in your camper for camping, your medicine cabinet, under your bathroom sink, kids barrets and hair bands etc. The list could go on and on!
These are a super versatile option to organize small items throughout your house! Quick and easy. That's what these are all about and I love them for that!
Post a photo below and let us know what you used them to organize!
XO,
Morgan