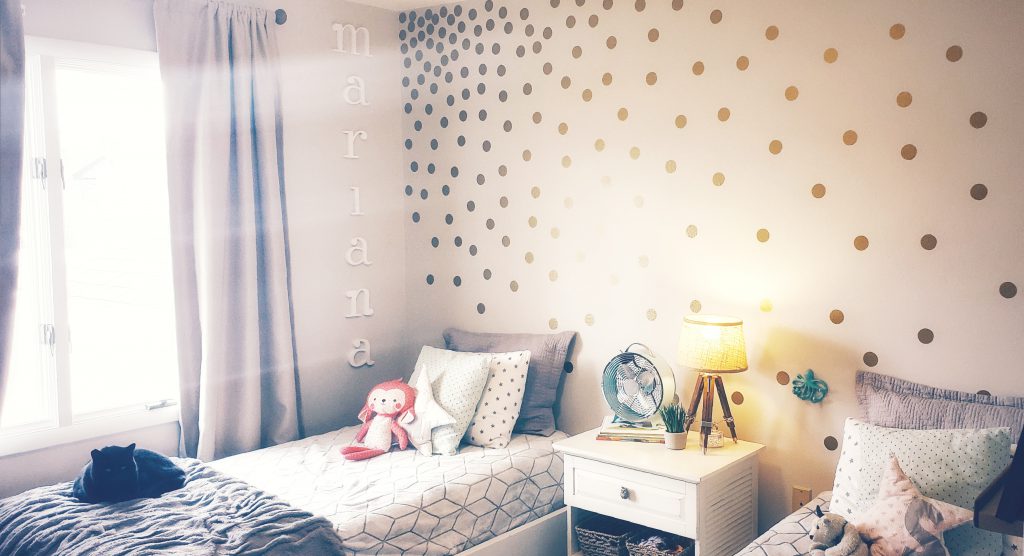 Before we even closed on our current house, I had compiled a variety of ideas from Pinterest, to a board with ideas for kids bedrooms. With four kiddos, and just a three bedroom home, we've had to get creative with room sharing that not only was functional but looked just right 🙂 Lucky I have a handy hubby that can fullfill my Pinterest wish list 🙂
Classic + timeless style
I've always loved kids bedrooms that are cute, and fun, but not Paw Patrol or Barbie. I love a classic kids bedroom….think Pottery Barn style; that can grow with them as they get bigger with minor updates as they age and their interests change.
So along these lines, I knew that I wanted to paint the rooms the same color as the rest of our house to create a easy flow. With small bedrooms, I wanted a color that was warm but that didn't make it feel smaller like the hot pink or purple colors my girls would have wanted to paint it if given the choice 😉
But I knew there would have to compromise; especially since my oldest daughter is not a fan of our house color 🙂 She thinks it is "boring and dull" in her words. If she had her way, our house would be rainbow colors to make it fun and inviting. Sorry kiddo. When you are an adult and the one paying, you can do whatever you want 😉
Why go with neutral walls
What I love about this color, is that it provides a clean, blank canvas throughout the house. This allows me to bring in colors and textures to create the feel I am going for. Don't know about you, but I painted our entire house, and it is a JOB. So if I decide to make changes in the future, regardless the room, I would rather switch up the rugs, light fixtures, or the decor, then have to paint a room again.
Although I stuck to my guns (for now:) on the wall color, they are my little girls, and I want their room to feel special and fun to them as well. So when I found these vinyl wall decals I was so excited! These decals are the perfect solution to personalize a childs room!
As a blogger, I may earn a small commission for any purchases made through the affiliate links on this site. I want to make it clear that your support means a lot to me and helps keep this blog running. Please note that using these links will not add any extra cost to your purchase. I have included them for your convenience, and I appreciate your support in using them.
Why vinyl decals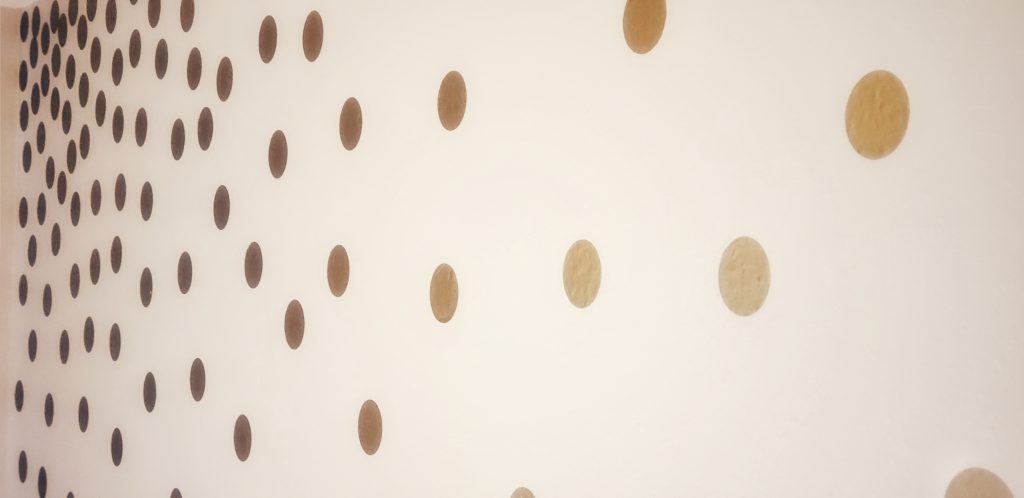 Easy
If you are looking for a update that is quick and easy, then choose vinyl! They come on a large sheet, you peel off like you would a sticker and put on the wall! Yes it's that easy! No tarps, stencils or paint= almost no clean up! Plus when it's easy enough that your kiddos can help you put it up, you know it's good!
My girls actually loved helping me apply these gold metallic dot vinyls in their room. They felt apart of the process, and like they got to decorate the room. It was a fun and easy room update to do together!
Safe on walls
Hello! Easy + safe on the walls= WIN!
I spent so much time painting this house, the last thing I want is to fill the walls with holes (whoops, a little too late on that one 😉 )and pull off paint from hanging something. So the fact that you can put them up, and as your kiddos interests or decor changes, you don't have to worry about damaging the walls makes this a perfect way to customize your kiddo's room!
Easy to remove
Again, a must! I love an update that as I change my mind on what I'm wanting or the room changes and I need to move something, I can do so easily!
The girls and I put these polka dots up in their room the day after we moved in. I wanted their room to feel comfortable and to help make the transition easier. AKA, I wanted them to sleep 🙂
So I made it a priority to set up their room before the rest of the house. Well, at that point, handy hubby hadn't made their custom beds yet. So their mattresses were on the floor when we put up their vinyl decor. This meant that when we did get the beds done and in their room, I wanted to move some of the dots rather than have them covered.
Yes, with many large vinyls, you may not be able to do this. But I didn't have an issue carefully removing a few of these 2″ dots and re-locating them to another spot on the wall 🙂
Two years later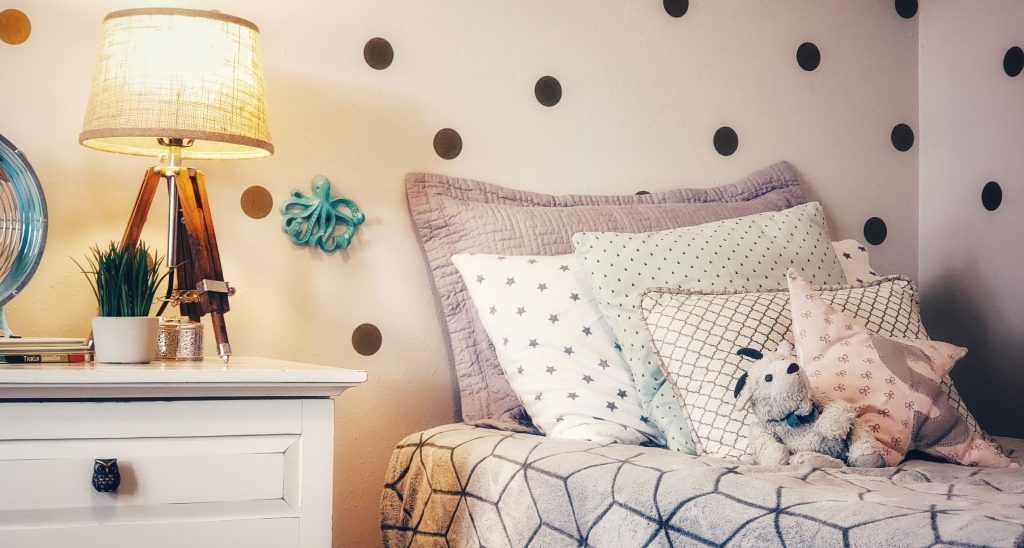 We have now been in this house for about two years. I was worried about the kids, mainly my 4-year-old playing with them at bedtime and peeling them off. She never has. I think because I included them in the process of putting them up, the girls felt a sense of ownership and pride in how it looked. Therefore they wanted to take care of it and keep it looking pretty.
Plus they have held up really well! Not one has started to peel up at the edge, even with the extreme temperatures we get in Montana or the humidifier we leave going all winter.
So I would say these are a win! There are so many styles for both boys and girls. You can find them anywhere, but I got mine off Amazon because they have more options. Plus I actually did read some of the reviews and looked at the star ratings 🙂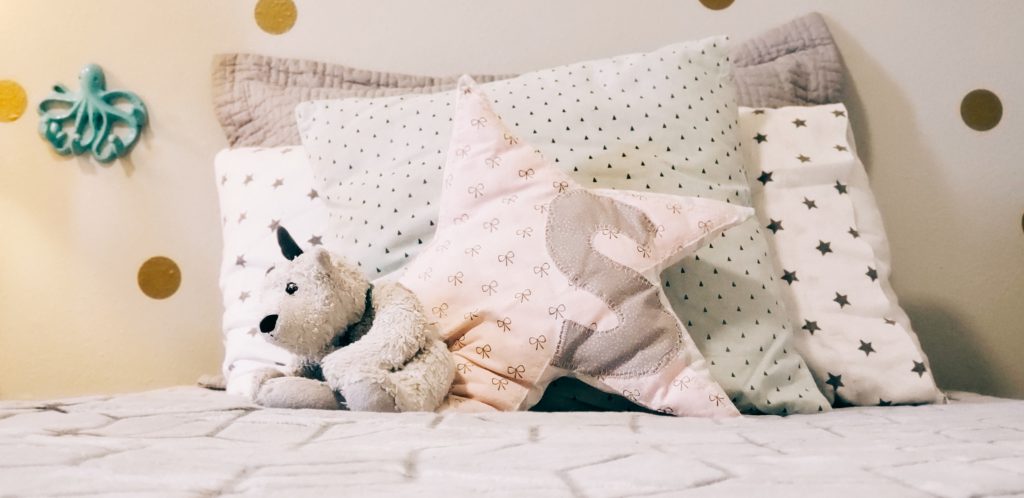 What quick and easy updates have you used in your kids bedrooms? Share with us below 🙂
Happy updating!
XO,
Morgan