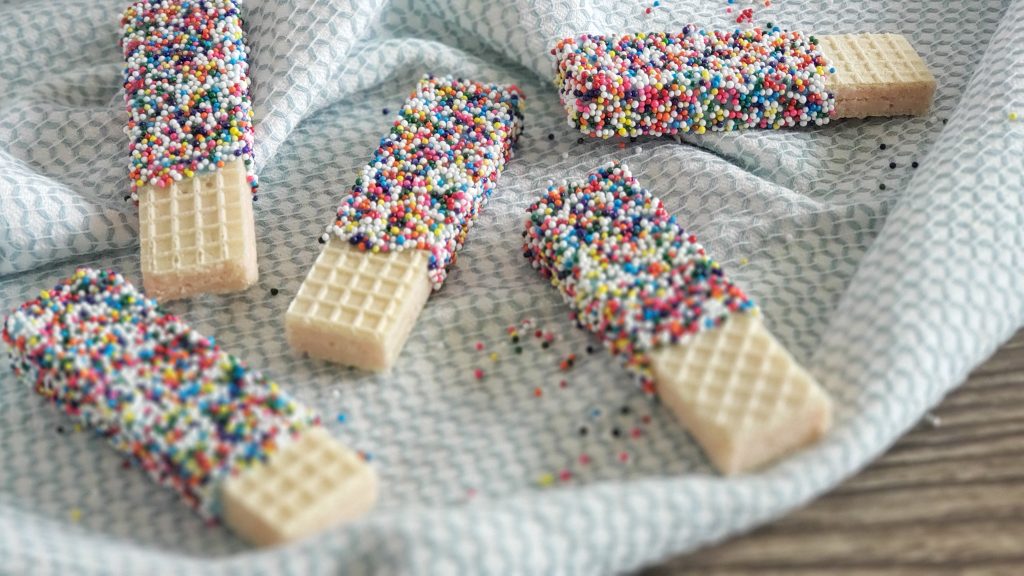 These chocolate coated and sprinkle dipped cookies are the perfect sweet treat! Whether you are looking for a quick and easy school snack idea, pretty treats to give as gifts, or the perfect treat for a birthday party that is pretty and yummy, then you need to try these!
I've tried it all when it comes to needing some sort of treat. Every time I run into the same problem; most recipes require making the morning of, or at most the night before in order to be fresh.
I'm not sure about you, but for me, that means late nights or rushed mornings in order to get something made in time. That's not even counting the disaster of a kitchen waiting for you when you come back after rushing to finish in time 🙂
So these cookies are the perfect solution! They are an easy, quick, pretty treat! Plus they can be made a week ahead of time!!! I've made them as birthday treats for my daughter to bring to school, a unicorn-themed birthday party and I'm getting ready to make them soon for my girl's mermaid birthday party 🙂
So whatever your needs are, make sure you give these a try and let me know what you think! And for more yummy treat recipes or birthday party ideas and tips, be sure to subscribe to be the first to hear!
I have included these affiliate links for your shopping convenience.  I understand that you have lots of options when you shop.  When you choose to shop using these links, it doesn't cost you anything, helps support our blog and I appreciate it!
What you need: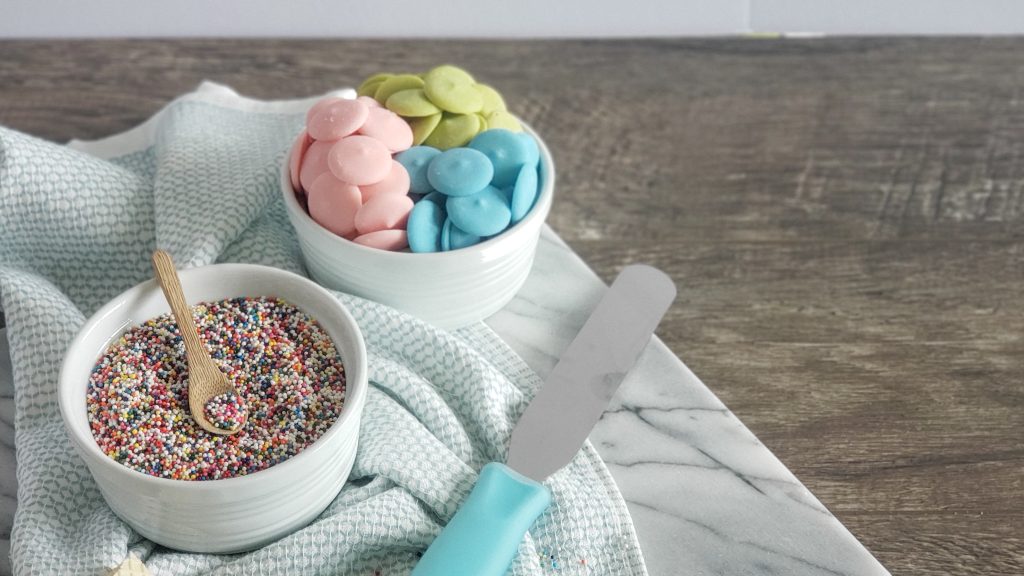 Wafer cookies
Candy Melts
Nonpareil Sprinkles
Parchment paper
Straight frosting spatula
Directions:
Step 1 – Get set up!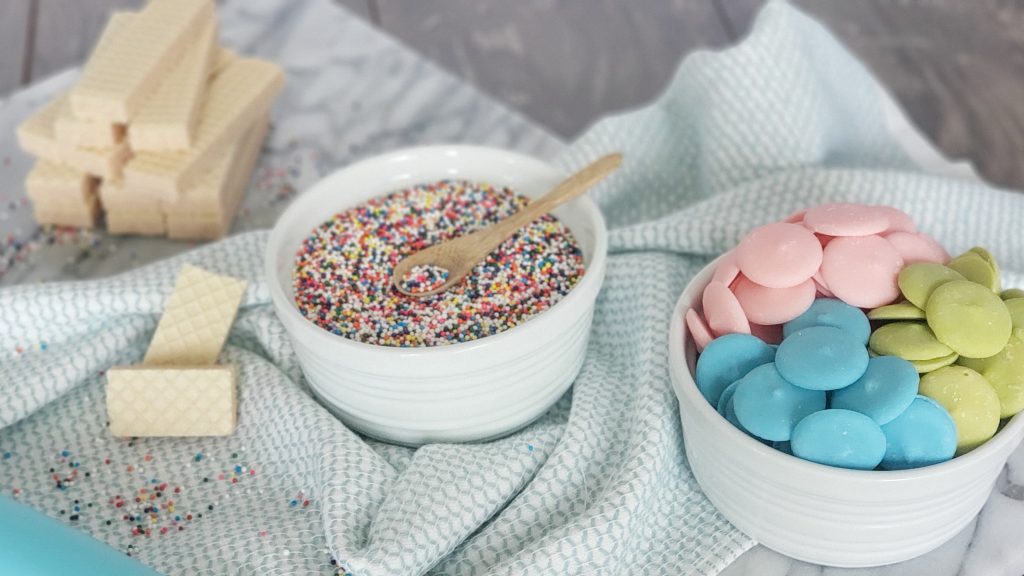 In order to end up with pretty looking cookies, this step is the most important!
The chocolate sets quickly, and if that happens, your sprinkles won't stick.
On a large work area, arrange a bowl with your chocolate melts (and frosting spatula), a large soup-sized bowl with your sprinkles (and a spoon), and several large sheets of wax paper.
Do one cookie start to finish and you will end up with gorgeous and yummy treats!
Step 2 – Melt the chocolate
Take your base coat color and following the directions on the package, melt the chocolate. My favorite candy melt color to use for the base is white. It allows any color of sprinkles to pop! I always use this Wilton brand because they melt evenly, and they come in so many different colors!
I find it to be easiest and quickest to use the microwave to melt the chocolate candy melts. I do 30-second intervals at a time until the chocolate is melted.
Make sure you stir in between intervals because often even if the chocolate doesn't appear fully melted, as soon as you stir, the remaining melts will melt! You don't want to over-cook the chocolate as it will make it harder to work with.
Step 3 – Coat the wafer cookie in chocolate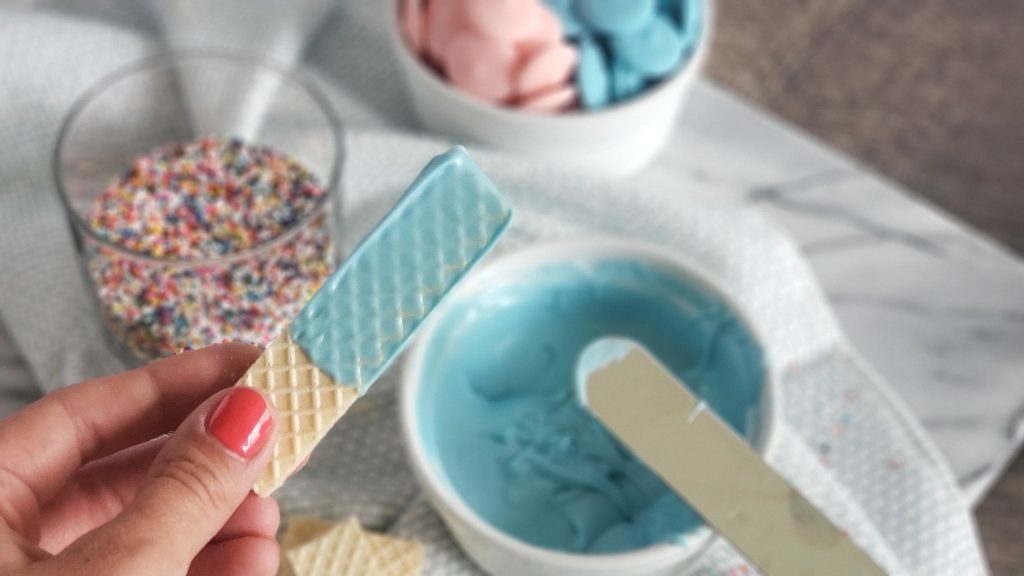 Leaving the chocolate candy melts in the bowl you melted them in, get ready to work fast!
Using a straight frosting spatula like this, hold the cookie over the chocolate bowl and spread a layer of chocolate up about 2/3 of the wafer cookie. Don't worry about being neat at this point. Right now your focus is covering all the parts that you will want to be covered in sprinkles with the chocolate.
Make sure not to forget the end of the cookie!!!
Using the spatula, lightly remove the excess chocolate from the cookie. By the time you finish with the spatula, you want to have a thin layer of chocolate coating.
Step 4 : Add the nonpareil sprinkles
The chocolate layer will dry quickly and so you want to work with one cookie at a time.
As soon as you have covered part of the cookie with a chocolate layer, time to add the sprinkles!
I love using these nonpareil sprinkles because they are colorful and fun! Plus they went perfectly with this unicorn birthday party 🙂 But you could choose any sprinkles you want.
I would suggest sticking with nonpareil type sprinkles because the mini balls easily cover all the chocolate area and don't leave bare areas as other sprinkle types may. However, check out all the other color options they have here!
Holding the cookie over your sprinkle bowl, use a spoon full of sprinkles and pour over one side at a time. Keep refilling the spoon in between sides. This will completely cover the chocolate layer and the excess will fall back into the bowl.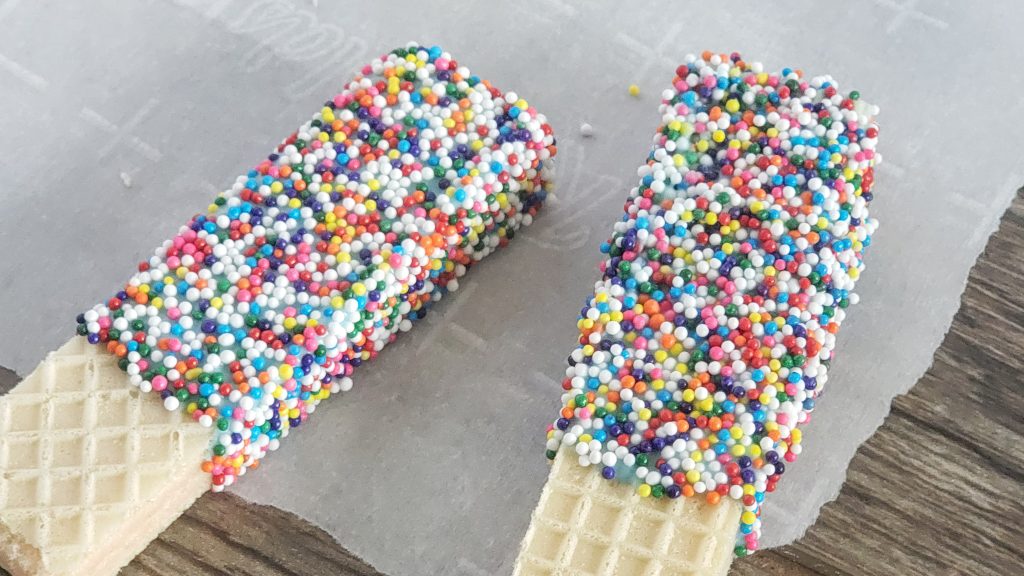 LEARN FROM ME! Do NOT dip the cookie in the sprinkles. Instead of a thin and neat layer of sprinkles, you will be left with a bulky and clumpy looking cookie like the cookie on the right! See the difference?
Step 5 : Let dry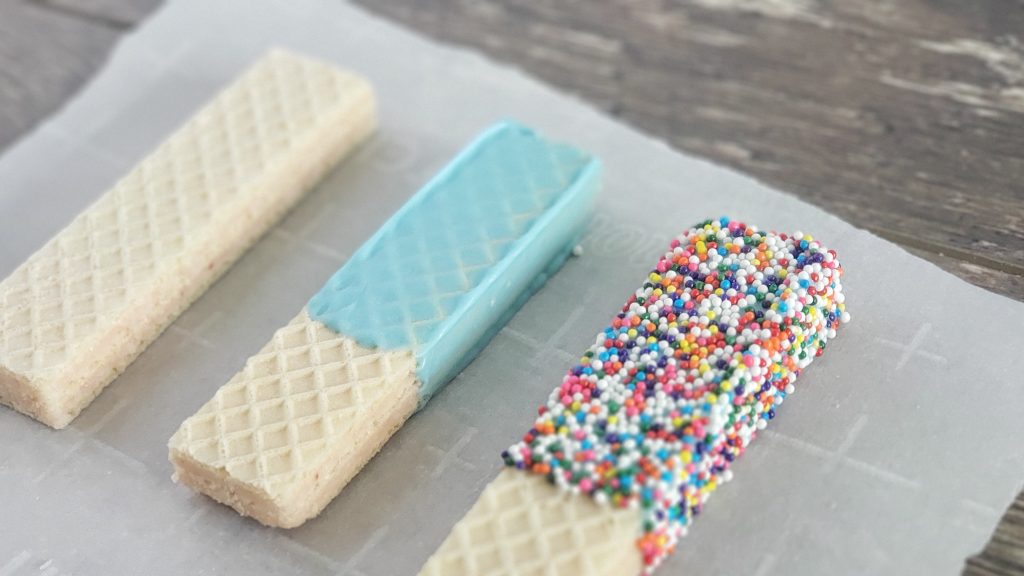 After you have covered the cookie in sprinkles, let it dry! Arrange on the sheet of wax paper in rows and allow to dry completely!
Step 6 : Store
The best part about these cookies, they can be made at least a week ahead of time!!!
Just make sure that they are completely dry before you place them in an airtight container.
At the bottom of the container, lay a layer of wax paper. Top with a layer of cookies, place another layer of wax paper and repeat until the container is full!
That's it!
See I told you that was easy?!?!
I have tried so many different treats, and no matter the occasion, I keep coming back to these! They are simple to make, can be made ahead of time, require no skill in the kitchen….but most importantly they are delicious!
I've narrowed down my list of snacks I use for parties so that I can throw a birthday party with less stress, and these are a hit every time! They are always the first snack to be gone and I always have kids asking for more 😉
Mama win 🙂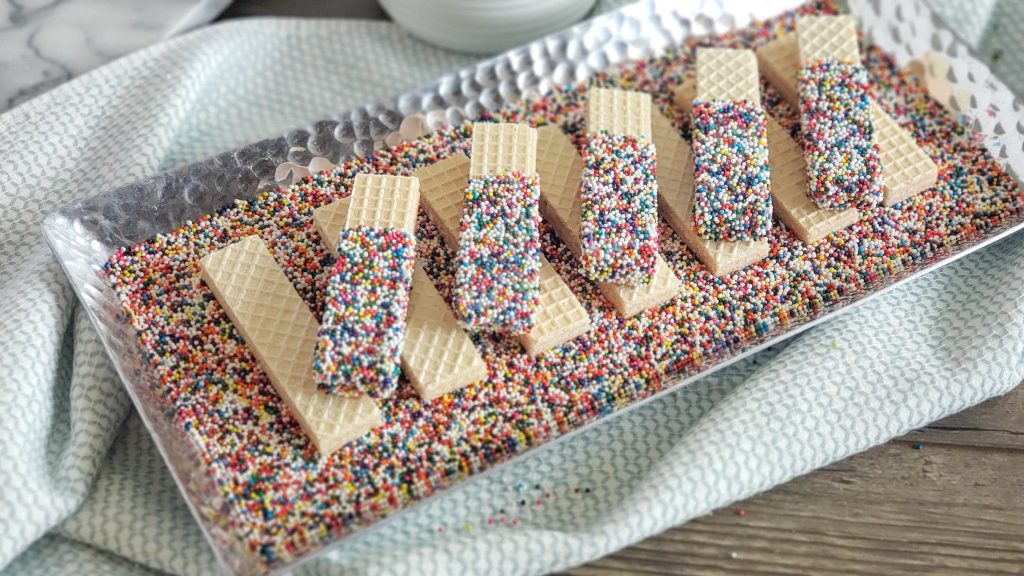 I hope you and your kiddos enjoy these as much as we do! Make sure to share your photo of the ones you use with us in the comments below so we can see your pretty sprinkles 😉
XO,
Morgan