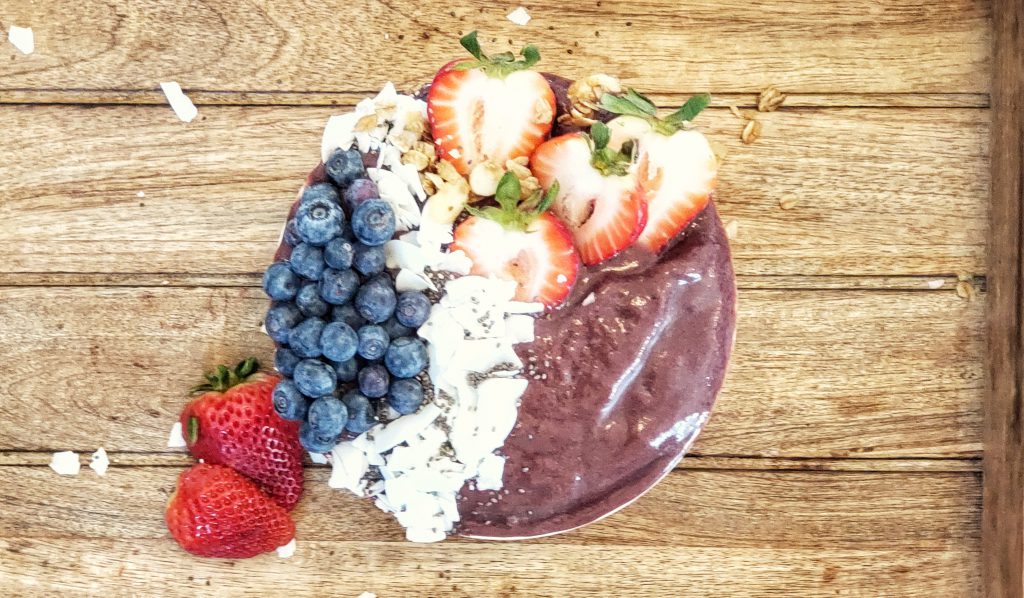 I am so excited to share this delicious and authentic acai recipe with you!
Before traveling to Brazil, I had never tried acai before. In fact, I hadn't even heard of it! Now, we eat it every single day. And it is good enough that I get messages weekly asking me for the recipe. So I decided it would be worth sharing here so that everyone can enjoy it 🙂
Upon arriving in Rio de Janeiro, along with the yummy pão de queijo (Brazilian cheese bread) that I fell in love with; someone introduced me to this refreshing "smoothie." And I couldn't get enough of it! 🙂 I can't tell you how many of my daily meals came from a combinatin of these two foods.
Pão de queijo are small cheesy bread bites, and best eaten warm. On the other hand, acai is the most refreshing and filling snack or meal.
Acai in Brazil
In Brazil, you would find it sold at what I would call our version of coffee shops. These locations are filled with coconut water, food and every fresh fruit juice imaginable in addition to acai.
Walking by, you will find the locals sitting down to have a drink with friends, or grabbing a quick drink and bite on their way to work in the morning. Because it is a quick and healthy option, my brother in law visits a similar place to this daily in order to grab an acai on his way to work:) Think of it as healthy fast food.
My love of acai began on the streets of Copacabana during the Rio International Cello Encounter. Then, it later moved to a little corner in Ipanema right down the street from my apartment. This was my daily breakfast or lunch stop after the beach. Finally, it has continued to a little hut on the beach in Barra da Tijuca.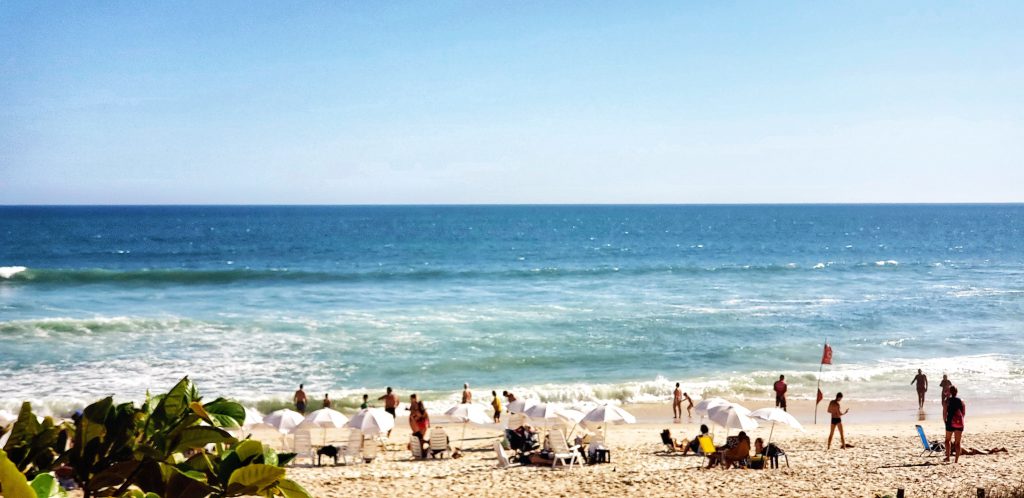 Guaravita
This hut was my favorite for fresh coconut water, drunken straight from the coconut and acai. Interestingly enough, what sticks out in my mind from this 9-year-old memory the most is the fascinating owner. He was sixty-something year old, very fit and an avid surfer. His work "uniform" was a pair of swim trunks and no shirt. So one minute he would be was serving us acai. Then the next thing you know, he was off with his surfboard to catch the waves. But his acai, it was the best and worth it every time.
A cold, creamy, smooth mixture served in a large glass with a napkin stuck to the bottom of the glass from all the condensation, and acai that was overflowing. Sticking out of the acai were always two cookie straws. And if you wanted, a tiny condiment cup of granola accompanied it to sprinkle on top and be eaten with a spoon.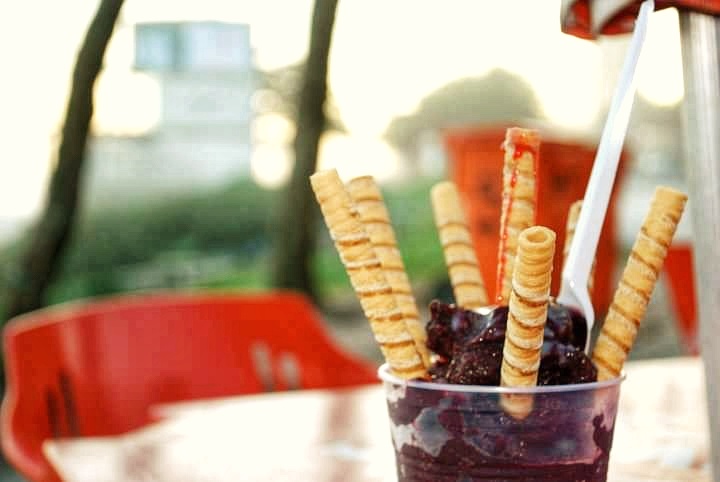 Sounds good doesn't it !?! 🙂 It is. It's delicious.
In fact, it's so good that my kids ask for it for breakfast every morning. Even if they are given the option of ice cream or acai, they often will choose the latter. Yes, it's that good 🙂 But the best part, it is extremely healthy for you!
What is it?
Açaí (AH-SIGH-EE) is a Brazilian super-fruit that is packed full of health benefits. As a result, it is rapidly becoming popular throughout the world. This redish-purple berry is about an inch long and grows on Açaí palm trees deep within the Amazon Rainforest in Brazil.
There are variations on Acai everywhere in the United States. Many restaurants have acai bowls, coffee shops and juice businesses have acai smoothies. Costco even has pre-packaged jugs of "acai". So although it may be prevalant, if you are looking for a taste of authentic Brazilian acai, then you want to try this recipe 🙂
How to eat it
More popularly eaten in the form of a bowl, the Açaí berry pulp is blended into a thick, creamy, cold mixture, topped with granola and a variety of fresh sliced fruits. This is my super easy homeade granola recipe that we love for topping our acai.
As a snack or a meal, Açaí bowls are as filling as a meal and as healthy as you can get. So whether you choose to mix it with other fruits for a smoothie, or eat it like the local Brazilians do; I hope you enjoy!
As a blogger, I may earn a small commission for any purchases made through the affiliate links on this site. I want to make it clear that your support means a lot to me and helps keep this blog running. Please note that using these links will not add any extra cost to your purchase. I have included them for your convenience, and I appreciate your support in using them.
What you need: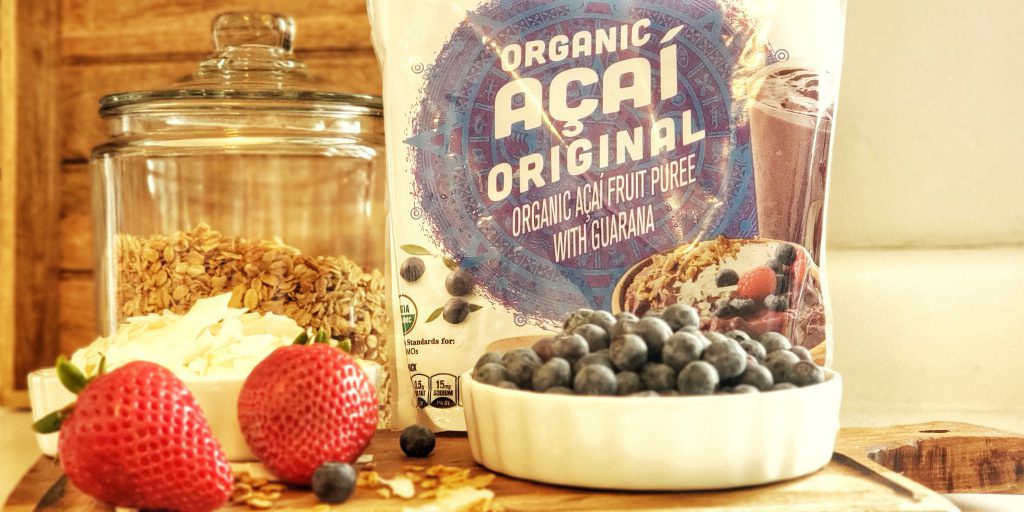 Acai bowl:
1 serving
Frozen Acai pulp (choose a pulp that is sweetened with guarana, and you won't need to sweeten it)
1 banana (if you are using frozen bananas, omit the ice cubes)
1/4 cup of water
5 ice cubs
Toppings: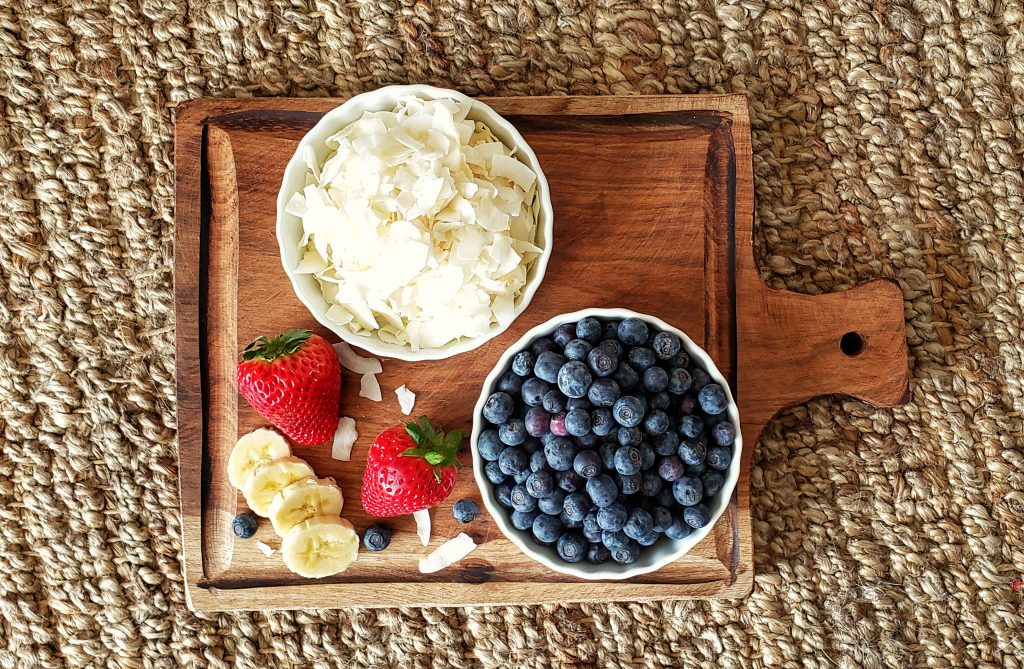 Directions:
Step 1 – Soften packets under warm running water
Run your two individual packets (4 come in a bag) under warm water for 5 seconds

Step 2 – Break up packets before opening
Using your hands, break the packets into smaller chunks. This makes it easier for the blender to do its job 😉
Step 3 – Add ingredients to the blender
Cut open the packets and place in your blender with the banana, ice cubes and 1/4 cup of water
Step 4 – Blend
Blend everything until the Acai chunks are gone and the texture is creamy. Although any blender will work, you will notice a huge difference if you use a higher quality blender like a Ninja or a Vitamix.
I have the Ninja which I love because it has the power to break up large chunks of frozen foods. Plus, it also comes with an individual blending cup attachment as well as a Cuisinart processor type attachment. It does it all 🙂
You want it thick. So if the blender isn't breaking up the acai well, try using this tool to help mix the chunks up (while the blender is off :). After moving around the chunks with this spatula, try blending again. If needed add a TINY bit of water at a time.

Step 4 – Enjoy!
Pour into a bowl and get ready to enjoy it!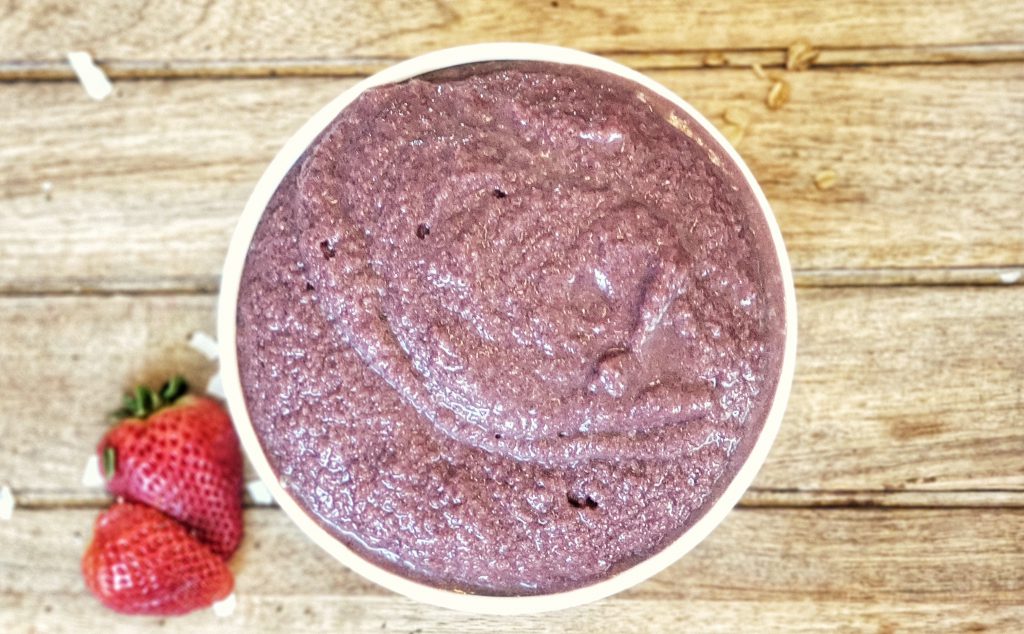 See, isn't that simple? Now it is ready to add your favorite toppings. I love it with granola, strawberries, blueberries, coconut flakes and chia seeds.
What is your favorite way to eat acai?
XO,
Morgan