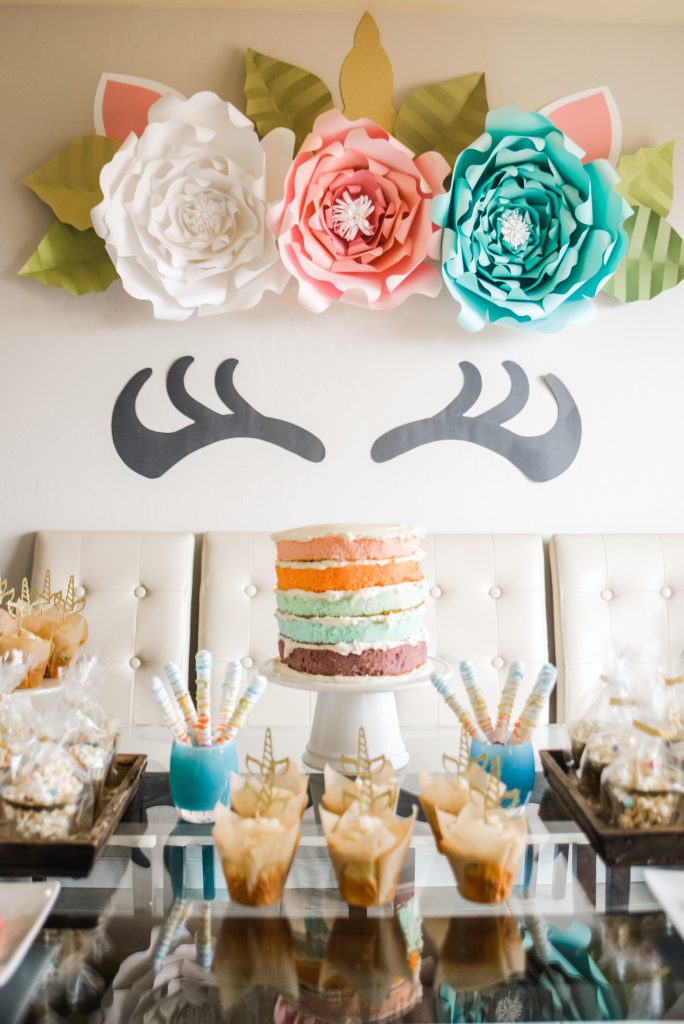 I LOVE birthdays!
Twenty-some-odd years later, and I still can vividly remember my birthdays growing up. My parents did so much to make it a special day for both my sister and me. So many little details that combined, made lasting memories that I have taken to use with my kids now.
I can remember walking through the doorway covered in paper streamers, into the kitchen for birthday breakfast. A fabric banner with my name that my mom made was always hung, the table set with special dishes, flowers and my favorite part, my birthday breakfast cereal.
Birthday breakfast cereal tradition
We never got sweet cereal. NEVER! But once a year, we got to go to the grocery store with my mom and choose any box we wanted. Our birthday morning, we would come down to the kitchen to find it there 🙂 The best part, we could have as many bowls as we wanted that one day!
It was the little details and thoughts throughout the day that stood out and made us feel so special and loved. It truly was "our" day and a feeling that I love to re-create now for my family.
Birthday month
With my three girls all having their birthdays within a month and a half of each other, I've had a lot of fun planning their parties each year. Some years I do more than others. Other years, I literally pull a party out of my behind days before 🙂 But regardless of how much planning or work that goes into it, the little gestures, thoughts, and traditions have made each birthday a special day for our kiddos.
I've spent the last six years honing in on what works and what doesn't for kids parties. What gets eaten, and what ends up in the garbage. I've "perfected" a mix of Amazon party mama, and Pinterest mama 🙂 I hope these ideas can help you with your next party and remove some of the guesswork and stress and instead make it a fun and memorable event; regardless of what type of party mama you want to be 🙂
Food
Less is more
When it comes to birthday food, simplify it. Less is truly more. As soon as I choose a theme for the party, I create a Pinterest board and start pinning any and all pins that relate to the theme that I love. Food included. There are so many cute ideas I've done over the years. And guess what? 80% ends up not getting eaten.
Here have been the top hits with birthday snacks! They all get eaten leaving me with less cleanup!
Small cake– For whatever reason, kids have almost never eaten the cakes. Keep it small or go with cupcakes. Although my friend made me this unicorn cake topper and isn't it the cutest?!?!?
Cupcakes- The cupcakes have always been a bigger hit than the cake. Make it simple. Go with a box cake mix that is easy. To make it look fancy and fun, order these tulip baking liners and top with a fun unicorn cupcake topper! Easy, quick and they look great!
Fruit cups- I take 8 oz plastic cups with lids and fill with cut up fruit. This seemed to be a perfect size. Kids eat everything and food isn't wasted! Instead of putting a straw through the hole in the lid, I use a colorful plastic fork that matches the color of the party. This allows me to make them the day before, store in the fridge and pull out the morning of. Plus the lids on the forks help to keep drips from getting on little hands and clothes 😉
Party popcorn- I love this recipe for making party popcorn! You can mix in a variety of add ons that go along with your party colors. I used these clear plastic and gold 9 oz cups, placed them inside these cellophane bags, and closed them up! To close the cellophane bags at the top, I used the same gold washi tape I used on the water bottles, but it didn't hold very well or stay closed. I would use the twist ties that come with the bags next time.
Chocolate dipped cookies- The kids LOVED these chocolate-dipped cookies rolled in sprinkles! They were gone within the first hour! So simple, pretty and good! I made them several days before and stored them in airtight containers to pull out the morning of. I used these Wilton Candy Melts to dip the cookies in. They come in a variety of colors! For the unicorn birthday, I used white candy melts and then these colored ball sprinkles.
Chocolate dipped pretzel rods- These were another huge hit! I bought pretzel rods, rolled them in melted chocolate (here is the link for the chocolate I used), and then drizzled different colors on top once it dried. I like using the Wilton Candy Melts because of all the color options they come in! Again, easy to make ahead of time!
If I were to keep it simple, I stick with these main treats. I'll change up the colors I use depending on what the party theme is. But if I take the time to make something, I want it gone 🙂 Sometimes depending on the time of day of the party, I want more food to offset all the sweet. In that case, I usually order one pizza (cut the slices in half) and have a bucket of individual servings of bags of chips.
Drinks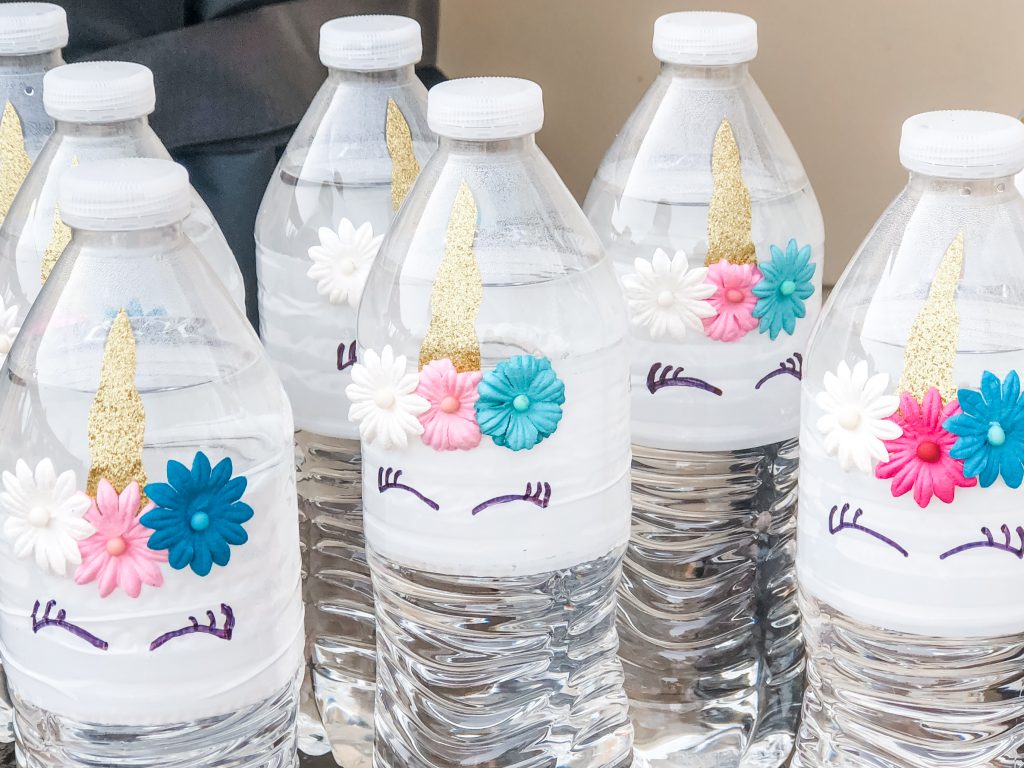 When it comes to kids, go with bottles or cups with lids/straws. My new favorite is using individual water bottles for water. Then I use a large drink dispenser to make one flavored drink like lemonade for the kids or ice tea for the adults. I spent the money seven years ago to buy two large drink dispensers; they have been worth every single penny! I use them all the time!
If you use plastic cups for drinks, make sure to write kids names on the cups as they grab it so they don't misplace their cup and end up getting multiple. Helps control the waste 😉
Unicorn water bottles
White duct tape
Gold washi tape (for the horn)
Hot glue gun (to glue flowers to the bottle)
Black sharpie to make the eyelashes
Decorations
Unicorn birthday party decorations
The decorations are so fun for birthdays! What I like to do is one birthday table. I make a backdrop for this main table and then maybe a few decorations outside or at the front door. There are so many ideas on Pinterest ranging in how much work. This helps to keep it fun, provides a great backdrop for birthday photos and easy.
I loved this backdrop for the unicorn birthday! I used a tutorial from Pinterest to make these paper flowers out of scrapbook paper and they turned out great! Plus they will be great to pull out for another party/theme. In fact, we used these for a baby shower backdrop a few weeks after this party!
For the leaves, horn and ears, I also used scrap booking paper that I had in my craft room. The eyelashes I used a large sheet of black construction paper (11 x 14).
I then have certain "props" stored in bins in my garage to pull from. I reuse a lot of these, year after year. This makes it quick and easy to pull a party together. I love always having some element of greenery such as faux topiaries. The green helps to make the fun birthday colors stand out. I also have a variety of trays, wood, and white, that I pull from to display the birthday snacks. These few standard items help keep it simple and easy to put a party together.
Entertainment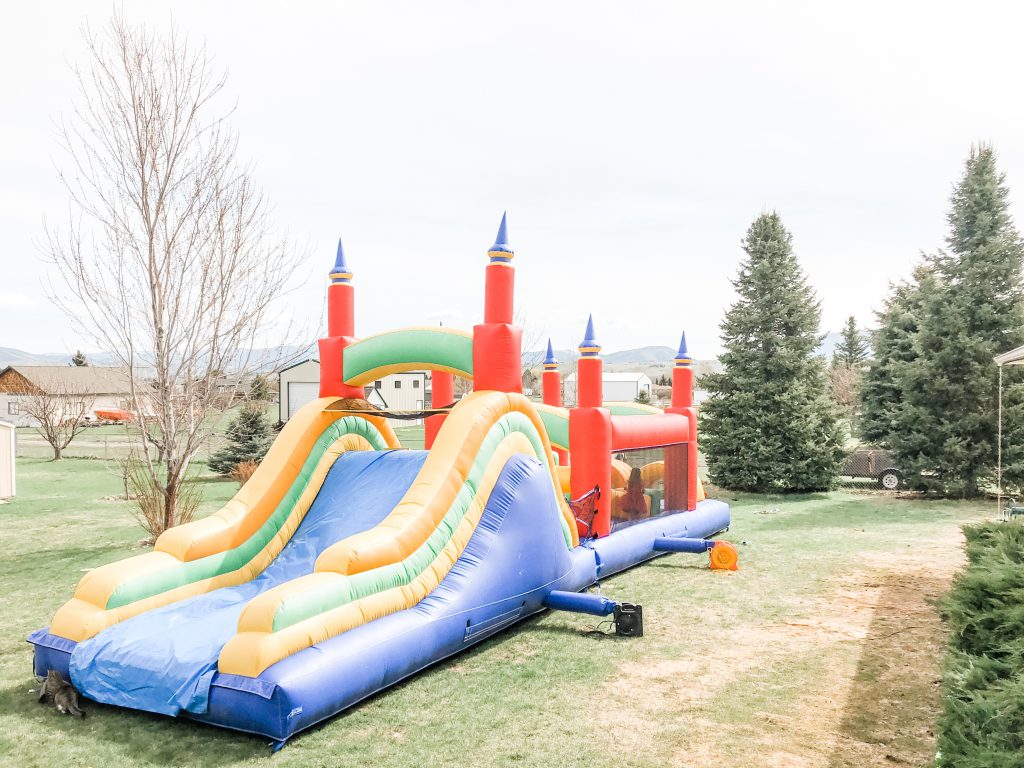 Here is the thing. There are so many options when it comes to entertainment at a birthday party. I've had parties where I make all sorts of activities, set up crafts or I've even made outdoor games. Guess what….the kids maybe used them for a total of 10 minutes.
My new favorite is renting a bouncy house. We have a place in town that rents them inexpensively, and it is the best! It allows me to have the parties at my house which makes it easy to set up/take down. BUT, it keeps the kids out of my house!!!!! The kids are playing the entire time, there is no bickering over whos turn it is and they have a blast! Plus, I always have it delivered and set up a few hours before the party. This allows my kids to be out playing on it, out of my way, so that I can set up quickly!
Perfecting the process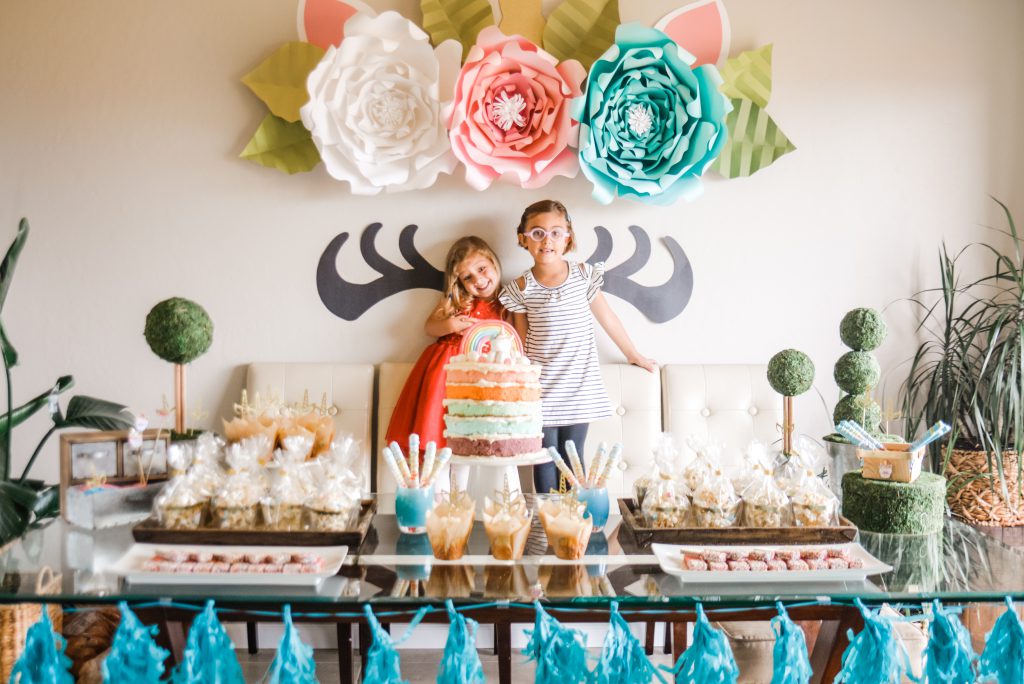 I'm sure I'll get the process even more honed in as the years pass, but as of now, this is the best method I have found in order to create a fun, memorable yet easy birthday party.
Do my kids need this in order to feel special and have a special birthday? No of course not! In all reality, I love crafting and projects. I enjoy doing these small projects with them 🙂
This unicorn birthday was their idea and we had fun working on it together. From planning and making the treats to working on the decorations together 😉 Good news for those that crafting isn't your cup of tea, most of these ideas I used can be found on Amazon or Etsy 🙂
What are your tips and tricks for throwing a kids birthday party? Would love to hear!
XO,
Morgan