Over the last six years, I've done it all when it comes to throwing a kids birthday party. Some, I've gone full out Pinterest mom and planned for months in advance. While others I've literally pulled out of my behind days before with the help of Target and Amazon Prime. Others are a healthy mix of the two 🙂
Through a lot of trial and error, I've found (what I consider to be) the perfect "recipe" for throwing a kids birthday party without the stress!
My favorite tip is purchasing the main reusable items and storing them in labeled, clear plastic bins. It saves so much time and money in the long run because you can go "shopping in your garage" for what you need. It is the perfect way to reduce the stress that can surround birthday parties and instead put the emphasis on what matters, the memories and enjoying the day!
Birthday party list
This is my "list" that I use for every party. As time and energy allow, I may add to certain areas of this. However, this is my base that I always do, and it has been amazing! I hope this helps you as well!
As a blogger, I may earn a small commission for any purchases made through the affiliate links on this site. I want to make it clear that your support means a lot to me and helps keep this blog running. Please note that using these links will not add any extra cost to your purchase. I have included them for your convenience, and I appreciate your support in using them.
Food
Keep it simple! I can't tell you how many times I've overestimated what I needed, or how much and what types of food kids would eat. Six years later, I've finally found the list of what works. Easy to make and prepare ahead of time, these are the perfect treats to go along with your child's party!
Cake or cupcakes
In all honesty, for whatever reason, almost no one eats the cake. (Unless it's is this rainbow unicorn cake that the kids fought over and it was completely gone)!
Here is what I do:
A small cake with a fun topper- I like to make the cake and then buy some sort of topper matching my theme. (P.S.- it's a kids party, they won't know the difference if you use a box mix! And it will save you time and headache 🙂 )
Cupcakes- I usually do one cupcake per child coming plus an extra 4-6 in case someone drops theirs or a sibling shows up. These tulip cupcake wrappers are the perfect way to make your cupcakes look amazing! (Especially if you aren't a great baker….ME hahaha).
Tulip cupcake liners- These tulip cupcake liners make even the worst baker look like a professional! They come in three colors!
Frosting bags/tips for decorating the top- These reusable bags/ decorative tips are perfect for frosting cupcakes in a variety of designs!
Disposable bamboo style square plates- Coming in a variety of sizes, these palm leaf plates are a fun/economic alternative to standard colored birthday plates!
Biodegradable wooden utensils- At a minimum, you'll want forks for eating cake. These wooden disposable utensils are a great alternative to disposable plastic tableware!
Birthday party popcorn
This party popcorn is an absolute guaranteed hit! A perfect mix of salty and sweet with pops of fun colors, the kids went crazy for this! I was able to make this the day before, and it actually doesn't take long!
Here is what I used for the popcorn bags:
Small container for the popcorn- I used these 9 oz plastic cups and they were perfect. They come in a variety of designs and colors. Of if you are looking for a box style, I also use these small paper popcorn boxes that are really cute! They also come in a variety of colors to coordinate with any party theme!
Cellophane bags- These clear cellophane bags are perfect for placing the popcorn cups in! Coming in various sizes, they are versatile and allow you to make this treat ahead of time and set aside while keeping it from drying out.
I did use leftover gold sparkle washi tape that I had to close the bag. Learn from my mistake! Don't use washi tape!!! It didn't hold well at all, and by the next morning, the bags were all open. I would use some sort of colorful string like this or the twist ties that will come with the bag.
Chocolate dipped cookies with sprinkles
You will not be able to make too many of these. If I could only do one party treat, it would be these! The kids absolutely LOVED them! Make a couple of days ahead of time, and store in an airtight container with layers of wax paper in between. Oh, and keep out of sight of your hubby or kids or you'll arrive at the party day to an empty container; yes they are that good!
Here is what I used to make these:
Wafer cookies- These wafer cookies come in three flavors/colors; vanilla, strawberry, and chocolate. Pick what works with your theme colors.
Buy extra than what you think you will use! These cookies are very fragile and so when you open the package, there will be multiple that will be better to let your kids snack on or decorate themselves 🙂
Candy melts- These Wilton candy melts are so great! They come in every color of the rainbow so you can match them to your color theme! I chose to go with white chocolate melts since there was enough color from the ball sprinkles.
Rainbow nonpareils sprinkle- These colorful ball sprinkles are the perfect final touch to these cookies.
For detailed directions on how to make these yummy treats, read the full instructions here!
Fruit cups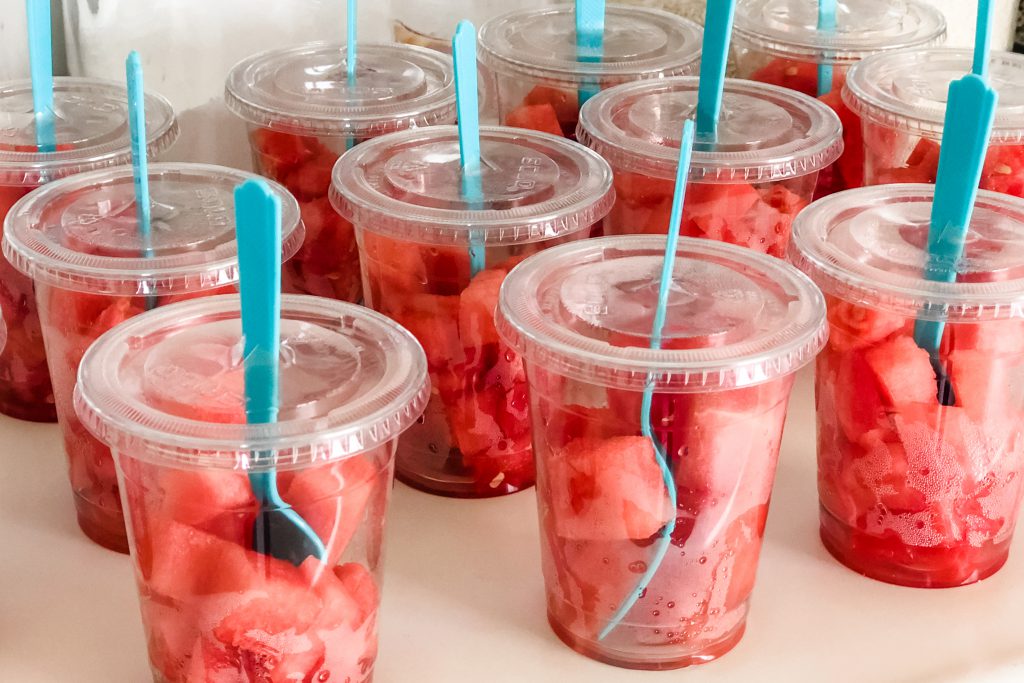 Hands down the easiest way to do fruit for a party. By preserving the fruit, you are saving yourself a ton of mess, time and waste. Does anyone else have kids with eyes bigger than their stomach? Plates get filled too high, and the excess ends up in the trash. These were the perfect solution. I cut up the fruit the day before, filled the cups and stored them in the fridge. What didn't get used, I kept as snacks for my kids after the party.
I didn't spend time during the party helping kids serve, they were able to be self-sufficient, and I didn't waste food! These are a win for any type of fruit for a party!
Here is what I used:
12 oz plastic cups with lids- These 12 oz plastic cups were a perfect size. Kids were able to finish the entire cup and most didn't come back for a second cup since there were other options for snacks.
Forks- I love using a fork to put through the straw hole of the lid. Makes it easy for kids to eat and creates less mess. You can choose from a variety of colors of plastic forks or I also love these biodegradable wood ones!
Individual chip bags
Need I say more? Kids love chips. A necessity no. Sometimes I do this, sometimes I don't. But it's nice to have a salty option to balance out the sweet. Skip the big bag, and just do individual bags. The party pack is perfect to have an option for everyone, and you will end up with fewer chips on the ground!
Maybe you're wondering where the "substantial or healthy" food options are. In all honesty, I've stopped spending the time and money on those. When it comes to a birthday party, most kids are going to go for the treats. The special items that they may not eat very often. I've done parties with the cutest veggie cups, yogurt and this amazing homemade granola recipe I use, party sandwiches, etc etc. I've tried it all. It never gets eaten.
Instead, I now plan the parties at a time where it won't be a meal and instead I'm just providing snacks. Maybe I'll order a pizza. But I've found that kids want special items. I'm not their mom, so for one day a year, I'm going to be the "fun" parent that doesn't ask their kids to finish their veggies 😉
Drinks
Homemade lemonade
This is the absolute easiest recipe and tastes so much better than the can or jug! If you are looking for the best homemade lemonade recipe, then try this one!
Here is what I use:
Individual water bottles
Normally I'm all about conserving and less waste. I figure one time a year it's ok to deviate from that rule. Individual bottles, portions etc make everything easier and help the party to run smoother = less stress!
I like to get these plastic water bottles and put a label around them matching my theme. I either use a printout or I take colored duct tape and wrap it 😉
Here is what I use:
Plastic water bottles
Theme labels- So many options out there to match your theme!
Colored duct tape- If you don't have water bottle labels, I use colored or patterned duct tape!
Metal beverage tub- Here is the thing. I use these for everything. It makes it easy to pull out whenever I need it and honestly it gets used more than you would think. It is perfect for placing all those water bottles or juice boxes! I like this galvanized beverage tub if you like that galvanized metal look, or for a different look, I like this white metal beverage tub.
Brazilian ice tea
This is the optional item. If it will be just kids, I skip this. Usually, I have some parents chose to stay. In which case, I like to have another option. This is the best iced tea! Only slightly sweet and really refreshing!
Decorations
Latex balloons
Balloons are the simplest and cheapest way to decorate! From creating balloon flowers to colorful balloon garlands or to making a jaw-dropping balloon arch….these are a must.
Inflate extra and leave on the ground for kids to play with! Cheap and fun entertainment!
Here is what you need:
Electric balloon inflating machine- You'll only blow them up with your mouth one time 😉 For less than $20, you can get this electric balloon pump and you can save yourself a lot of time and breaths 🙂
Latex balloons- order these latex balloons in whatever color matches your theme!
Happy Birthday banner
The very first birthday party I had, I made a happy birthday banner. Every year, regardless of the theme, it comes out. Not only is it a fun decoration for the party but also for the actual birthday!
Cake table decor
My focus is always on the cake table. I create a backdrop for the table, decorate the table with the treats, greenery, and other small themed items. That way it is one large area that is festive and fun.
By focusing on one area to decorate, you will eliminate the wandering decoration trap. You know, where you start decorating in the kitchen, move to the stairs, to the front porch…and before you know it, you have a lot of partially decorated areas 🙂
Main cake table
Instead, start with one main table. Beforehand make a list of all the places you would love to decorate and with what. List out in order of priority. If you finish with everything for the table and have time, begin moving down that list. Otherwise, oh well! You will have one beautifully decorated table and honestly, no one but you will notice the spots you didn't get to 🙂 This will help to lessen the stress and being overwhelmed.9
Here is what I use:
(I've chosen to purchase these once, and keep them in clear, labeled bins in my garage. That way I have them for every time and it makes it quick and easy to set up/decorate a table!)
Cake stands- I love using white porcelain cake stands for decorating a table! They go with anything!
Greenery such as faux topiaries – Some sort of greenery, both tall and shorter arranged on the table will make all the theme colors pop! I like this boxwood topiary tree and this faux mini ball topiary tree!
Porcelain platters- These white porcelain platters are my favorite! I arrange them on the front of the table to display the chocolate dipped cookies, cupcakes or other small treats/decor. They make the table look organized and highlight your yummy treats 🙂
Small decorative items- This is the fun part! Choose little items that tie into the birthday theme and arrange them around the cake stands, greenery, and trays!
Hopefully, these ideas are helpful to you! If you are looking for more birthday party theme ideas check out my other posts! Let me know what else would be helpful and I'll do my best to get it posted!
Happy party planning!
XO,
Morgan