I know, I know. If you are anything like me, or like the crazy summer weather we have had here in Montana, summer feels like it literally just started a week ago. So the idea of even thinking ahead to fall doesn't interest me in the least right now. However, as much as I try and avoid it, ignore the Christmas decorations in Joanns or the enormous inflatable snowman that I saw in front of a local car dealership today (Yes, it's July!), I know that avoidance will come back to bite me in the butt and cause undue stress. But no worries, I've done the searching for you to help you quickly take care of the fall back to school essentials so you can jump right back into enjoying your summer! Here is my top list of back to school essentials that will help you and your family to stay organized and make life simpler!
If you want to avoid a store run and have all the items shipped straight to you, here is a complete list from this post! Place the order and have your box full of supplies arrive at your door in just a few days!
Buy them here.
As a blogger, I may earn a small commission for any purchases made through the affiliate links on this site. I want to make it clear that your support means a lot to me and helps keep this blog running. Please note that using these links will not add any extra cost to your purchase. I have included them for your convenience, and I appreciate your support in using them.
Omie lunch box
Bento lunch boxes are the new thing it seems like. The ability to pack a lunch with multiple options all in one container with a hinged lid and divided sections to keep food separate. Say goodbye to multiple individual containers and lost lids.
This Omie lunch box is hands down my favorite find; in fact, I've ordered one for all my kids. The Omie lunch box has become my favorite because not only does it offer adjustable compartments, it also has a thermos insert making the lunch options endless!
Whether your kid likes cold lunches or wants last nights leftovers for lunch, this lunch box is versatile and built to last; making it perfect!
Bentgo Lunch Box
There is a reason these compartmentalized lunch boxes are such a big deal, they are leak-proof and they make meal prep and lunch planning easier and quicker!
Elementary school to adult, you can find these in a variety of styles and colors perfect for anyone! Plus they are durable and built to last!
Scratch off lunchbox notes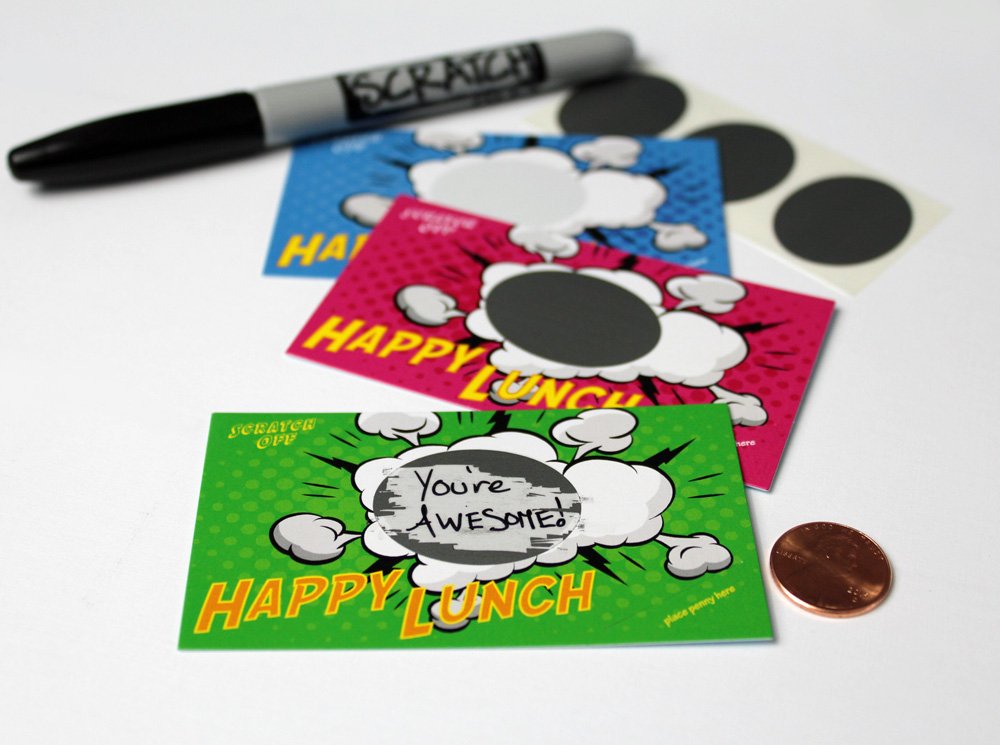 If you are anything like me, you love the idea of lunchbox notes, but in the crazy reality of the school year, this idea never quite makes it to actually happening. Here is a simple solution!
These ready to go, customizable lunch box notes are a fun way to brighten up your kiddos day when they open that lunch box! Doesn't matter if you have a Kindergartener on their first day of school, or a Senior in high school; your kids will get that contagious grin when they find these at lunch time 🙂
Wet / Drybags
Parents….I don't think I need to explain this one too much. It's so simple that it is brilliant! How many times have you gotten a backpack back that everything has gotten soggy or smelly because of one, single item? That one item creates an extra load of laundry, extra cleaning time and simply put, creates a whole lot of extra work.
Throw one of these Wet Dry bags into your kiddos backpack for when that day comes (which guaranteed it will). Whether it's your Kindergartener having an accident, that snack time milk spilling all over their clothes or giving your older kids a place to put their smelly, sweaty gym clothes to bring home to wash on Friday.
These reusable Wet Dry bags come in a variety of designs and colors. Two pockets allow you to separate your wet and dry items and help keep life simple and reduce the amount of work 😉
Headphones
In this day and age of technology, most schools beginning in Kindergarten require headphones labeled with your child's name. While older kids may be allowed to use earbuds, for your younger child, you'll need to grab a pair of headphones like these.
I like that these ones are inexpensive, durable and have kid's audio control yet adult quality audio! But my favorite part, it has the ability to add a second jack into the headphones and allow a second headphone to share audio without the use of an audio splitter! Not a deal-breaker, however a nice added bonus for that time that you least expect it and need it 🙂
I wish I had thought of this when I traveled alone with all my girls to Brazil last year! It would have saved me a ton of headache and made the flight simpler! So whether headphones are on your back to school list, or you are headed on a trip, grab a pair of these!
Backpacks
If there is a single item that gets put through the wringer the most; this would be it. From all the books, supplies and random items that need to get crammed in by those little hands, to the daily wear and tear; a quality backpack is a must!
Yes, I know how tempting it is to get the cute, fun design that your kiddo loves. Trust me, my girls are the same! However, the first time a chocolate bar gets mashed into the bottom and you have to wash it out, or you realize that those flimsy straps are not making it any easier for your kiddos little body to carry every day, and you end up carrying for them, you'll wish you had stuck to your guns on this one.
Honestly, I haven't tried all that are out there. However, I found this eco-friendly option that addresses all the typical parent concerns and based on all the great reviews, It's what I'm going to try this year for my kids. It is designed to fit their bodies just right, all while feeling "just right" as it is made from recycled bottles! Plus now through August 14th, you get a free lunch box with purchase! Who doesn't love a freebie 😉
Only buy solid color socks
Want the quickest way to eliminate the mismatched socks that somehow disappear after every wash leaving you with a basket full of lone socks? Solve that and cut down on your laundry time by keeping it simple! Use a single, solid color sock for each member of your family! It will make matching those socks quick and easy!
I have one kiddo in solid white socks like these and then a separate solid color for each other kid in my house. Makes laundry separating easy and quick!
Not able to tie shoes, no problem!
When kids learn to tie their shoes differs with every child. I have a kiddo going into 2nd grade who still doesn't know how to tie her shoes. She's too busy wanting to play and build her legos 🙂
So while that is a skill that we will definitely be working on, in the meantime I love these options for alternatives!
They allow kids to use any lace-up shoe and quickly and easily transform it into a slip-on shoe. Making any shoe a possibility!
I love the colors and simplicity of these silicone laces. Or the practicality of these elastic no tie shoelaces. What I love about both is the practicality, the fact that kids who are unable to tie their own shoes yet are no longer limited to just velcro shoes and all the fun color options!
Labeler
Two great ways I've found for doing this. The majority of my kid's items that I need to label with their names, I use a labeler like this. But the practicality of this labeler goes far beyond just school items! This labeler is great for organizing items in your home or garage as well! So will definitely get a lot of use 🙂
However, for water bottles, I found these great silicone customizable name bands that are awesome! Slip them around your kiddo's water bottle and there will never be a question who it belongs to 🙂 Especially if your school is like ours where you will find half of the class has the same water bottle from Costco or Target 🙂
Water bottle
So many options. Yet, most schools ask that each child have a water bottle for the school year to leave at school. Save yourself the hassle of a soaked backpack and contents and 1. get a non-leak water bottle and 2. get this wet-dry bag to keep items dried!
This water bottle has to be my favorite kid's water bottle! Why? It was designed and made with kids in mind. The powder coat finish makes it easy for kids to grip because of the fancy technology that keeps condensation from building up and therefore reduces the chances of being dropped. Or the fact that it keeps hot drinks hot for up to six hours, and beverages cold for up to 24!!!
Knot Genie Detangling Hairbrush
I can't even begin to tell you how many hairbrushes we have gone through in hopes of finding "the one" that didn't result in my kiddos crying every morning. My middle daughter's hair is so hard to brush that she literally runs away from me every single time I need to brush it. Which let's be honest, having 4 kids usually ends in me throwing it in a ponytail to brush later.
So I was super excited to find this one that a fellow parent recommended to me! What makes this one different than all the others? One major thing; the tri-level bristles don't have balls on the ends to catch knotty hair! The different levels of the straight bristles work on different parts of the hair allowing you to easily brush and detangle any hair type without the pain!
Responsibility chart
Part of the beauty of summer is the relaxed schedule and extra playtime. Then school starts and the crazy busy schedules hit full force. Utilizing some sort of responsibility chart will help immensely. It will provide your kids with a visual on what they need to do on a daily basis without requiring you asking something 15 times….win-win!
This is the one that I use! It looks great in the house and my kids love the interactive aspect of moving the magnets when they complete a task!
Baby Roo 3 in 1 washable silky crayons
Don't let the name fool you, these are definitely not just for babies! In fact, my 11-year-old son LOVES these! The 3 in 1 combines the effects of crayon, pastel, and watercolor all into a single stick!
Plus they are safe for the skin. Which is the perfect way to do face painting or go along with a Halloween costume! Talk about a double-duty item!
So instead of grabbing the standard coloring utensils for the next school project, try something fun with these silky crayons!
What else?
Being a mama of 4, I completely have "mama brain." Maybe you can relate 😉 Therefore I can pretty much guarantee you that I am forgetting something! So make sure to subscribe in order to be the first to hear when I have the 3 am "ah-ha" moment of what it was I forgot to share:)
What are your favorite items for back to school to make life simpler? Would love to hear!
XO,
Morgan