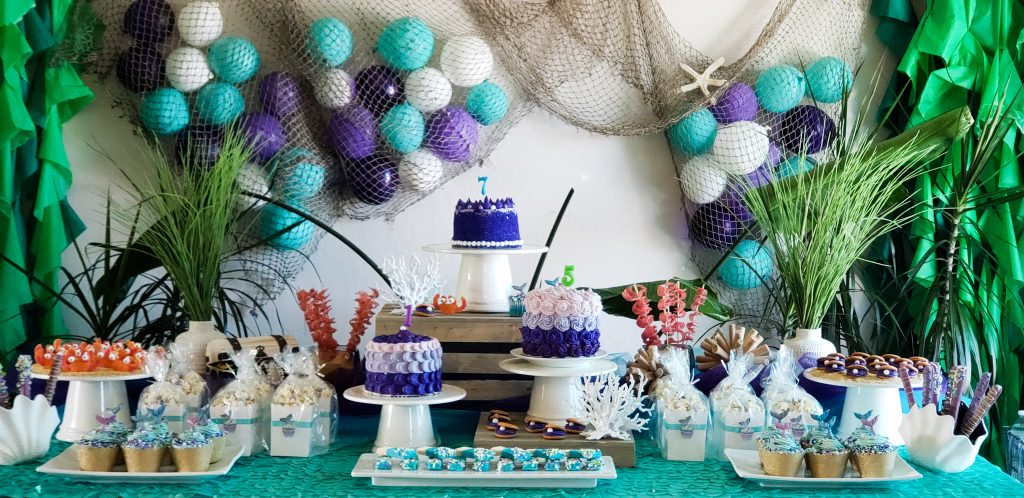 Last year, the girl's request was a unicorn birthday party. So this year, with all three girls birthdays within a little over a month of each other, we sat down to browse Pinterest and find the perfect theme for this years birthday party. They instantly were drawn to the fun colors and the magical aspect of under the sea mermaids as a theme for their birthday party!
Every year while the theme changes, my system of throwing their birthday party stays the same. You can read more about what I have found works right here! Basing their birthday parties around these key points have resulted in a fun and relaxing birthday party! In fact, I'd dare to say that the adults often enjoy as much as the kids 😉
If you want to avoid a store run and have all the items shipped straight to you, here is the complete list of what is needed to complete this project! Place the order and have your box full of goodies arrive at your door in just a few days!
Get everything you need for a Mermaid under the sea birthday party here!
As a blogger, I may earn a small commission for any purchases made through the affiliate links on this site. I want to make it clear that your support means a lot to me and helps keep this blog running. Please note that using these links will not add any extra cost to your purchase. I have included them for your convenience, and I appreciate your support in using them.
Entertainment
The only entertainment we ever do is some sort of bouncy house. I could go on and on about how this has changed my party planning and has lessened the stress!
For this year's mermaid under the ocean party, we chose to stick with the water theme and use a waterslide. To say it was a hit was an understatement. The kids jumped on it from the second that they arrived until the second they left. I actually had to drag kids off in order to sing "Happy Birthday" and have cake they were having so much fun! Adults even ended up staying for the party and using it; it was that fun 😉
Because we had some younger guests coming since we were also celebrating my 1 yr olds Birthday, we also chose to have a small inflatable kiddie pool as a second water option. It provided the perfect alternative!
Food
You can read my full list on the top 8 snack options for an under the sea mermaid birthday party here. These easy treats were a hit and were so fun to make! With some able to be made days in advance, and others needing to be made closer to the party day, this was the perfect mix! It reduced the stress of food preparation and instead made it fun 🙂
Decorations
The decorations for this mermaid under the sea birthday party were my absolute favorite!
Birthday table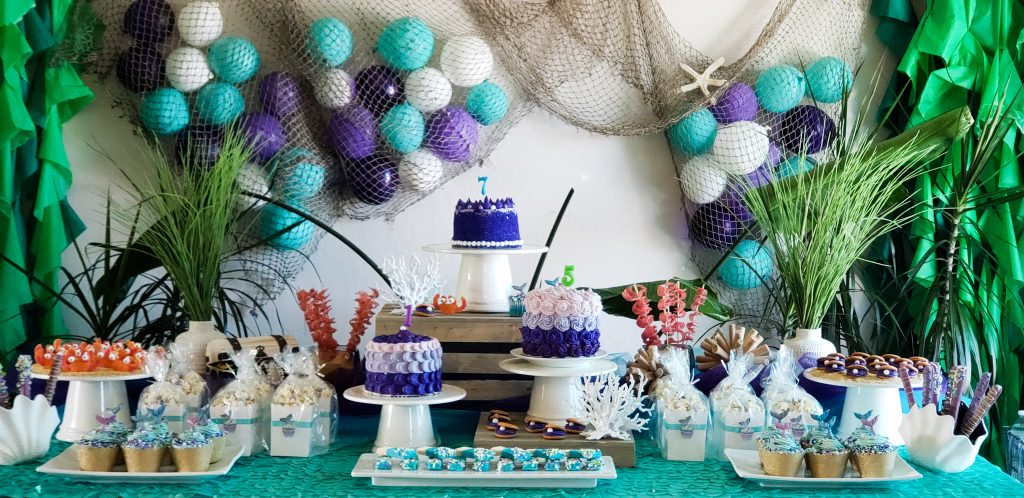 Water table cloth- The flowy fabric of this "ocean" fabric is what "made the entire table" in my opinion. You could make the table decoration as simple or as intricate as you want, and the table cloth would still make it look spectacular! If you are looking for a similar look ready to go, you could buy this table cloth. Or, do it on the cheaper side as I did, grab your Joann's coupons and find a fabric like this!
Vary the height of your table – Using crates, cake stands or other items, vary the height of your table. You can get creative with this. Then, look around your house and see what items you have that would add interest in height and be perfect for a birthday prop to be placed on, or even party snacks!

One of my favorites is to use cake stands like these. I have a set that I re-use every year. It makes setting up birthday tables or for any occasion simple and easy!
Use greenery- Just like decorating your house, using an element of greenery will make everything on your table pop. You could use topiary plants like these or I grabbed some fake plants that I use as decor in my house that reminded me of ocean plants.
Use platters- Again, I invested one time in a set of white ceramic platters like these. I use them every single year for birthday parties as well as throughout the year for various occasions. They are the perfect way to display food or treats at the front of the table.
Add your mermaid and under the sea decor- Add little pops of under the sea or mermaid decor to the table where it may look empty or like something is missing, and your birthday table is complete!
Birthday table wall decor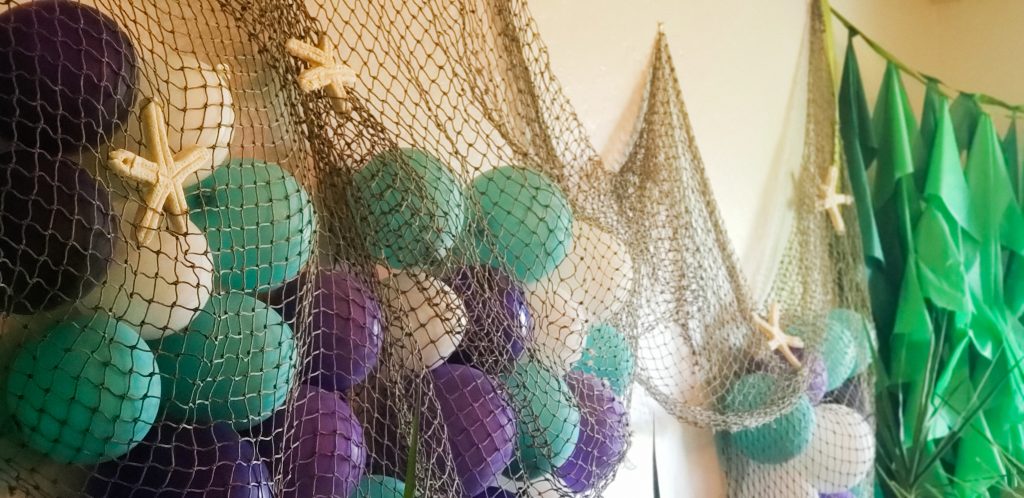 Since the table and table cloth were both so busy, I chose to keep this simple. I wanted it to compliment the table instead of distracting from it.
I used a simple fishnet like this one for on the wall. Then, using these 3M hooks, I attached it to create a natural look on the wall. Just like the other items I save and reuse, make sure to keep these once you take down your decorations! Next time you will be ready to go and only need to buy the replacement sticky tabs!
My girls were my little helpers and helped me partially blow up the balloons that I would use in the net. I love this package of multi-colored balloons that are perfect for a mermaid under the sea theme! If you are going to be blowing up a ton of balloons to full size, or simply want to do it faster; then you want this electric balloon pump! I use it for every party and it makes it so quick to make a balloon arch, or simply decorate with balloons 🙂
To finish it off, we had a fun craft evening and made these salt dough sea stars to hang on the net.
Mermaid under the sea decoration details
Coral reefs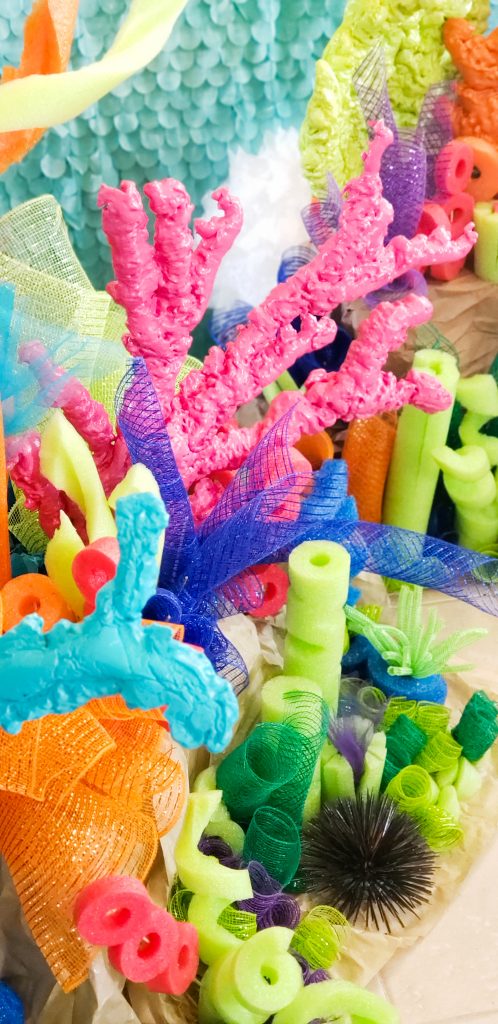 These three coral reefs were the most time-consuming part of this party. A base constructed of leftover Amazon boxes I had been saving created the bottom for the coral reefs. Next, I re-used the brown paper that is often stuffed around whatever is shipped in your Amazon box. This I used to cover the boxes and create a more natural "rock" look.
Then, using a variety of items that I had in my craft room, I grabbed my glue gun, wire and wire cutters and went to work!
Finally, you are ready to start constructing the coral reef! Starting with a base of one or two huge corals that we made using this tutorial and then adding on from there really made the process easier.




Seaweed banners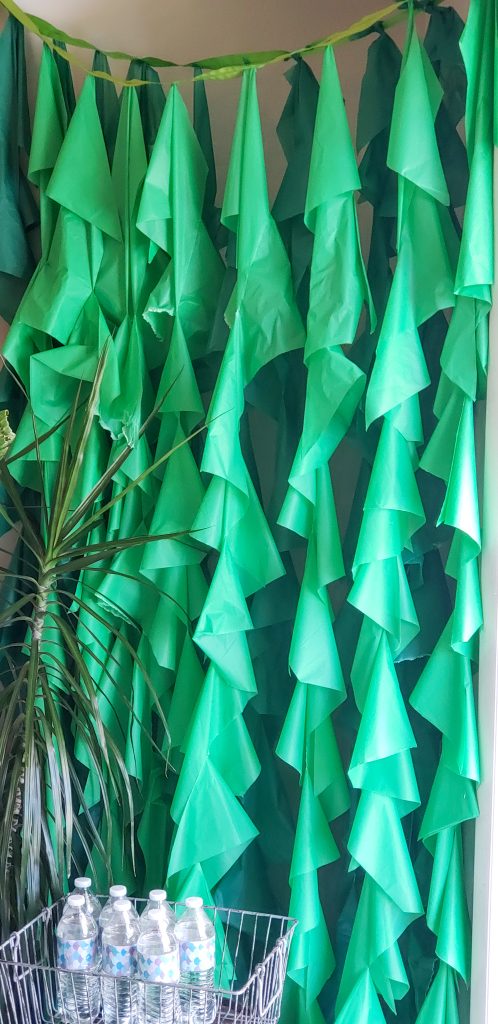 I looked everywhere for ways to create an under the sea like feel for the party! Then, I came across these seaweed banners and they turned out so neat! Plus they were really easy to make! All it took was these plastic table cloths and some green ribbon to create these perfect seaweed banners.












Jellyfish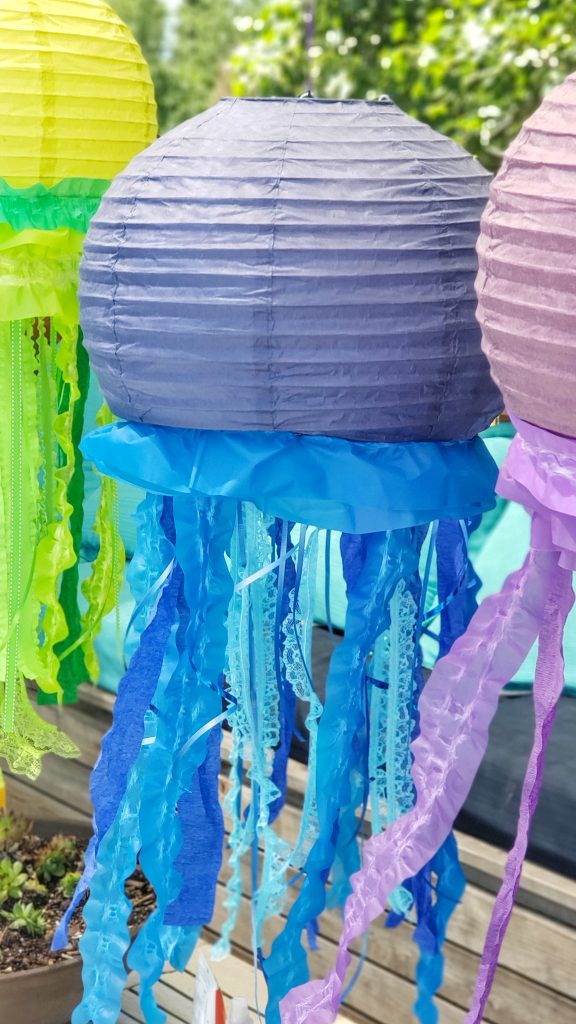 I love a good upcycle project! These lanterns I had leftover from my oldest daughter's Rio movie birthday party and found them in the depths of my parent's basement 😉 But you can also find them in any color here. Add some ribbons and extras, and you have these awesome jellyfish decorations to hang up!
For the full tutorial on how to make these, check out this post.








Under the sea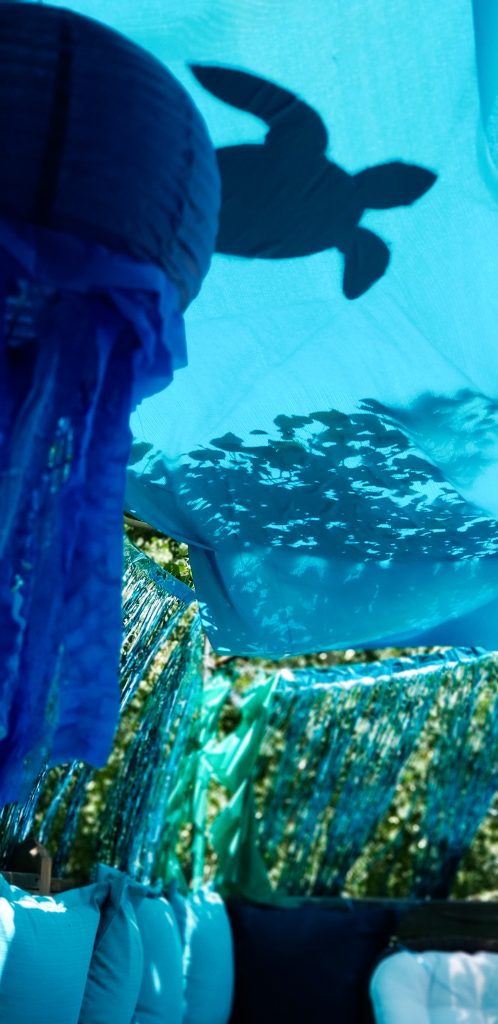 I knew that I wanted to create an under the sea feel. These few items from Amazon helped me quickly achieve that!
First, I got these water banners that I strung together mixed in with the seaweed banners I made. Then I got a roll of this blue plastic. It's basically is the same as the different colored plastic table cloths that you can get. However, this one comes in a large roll making it more versatile and able to easily cover more space. I hung this from the sunshade I have over my deck draped to create the look and feel of the ocean.
For a fun detail, I made sea turtles out of cardboard and spray painted them black. Then, I placed them above the draped blue plastic to make it feel like you were underwater when you walked in. The DIY jellyfish were the perfect addition to create this underwater feel.




The final look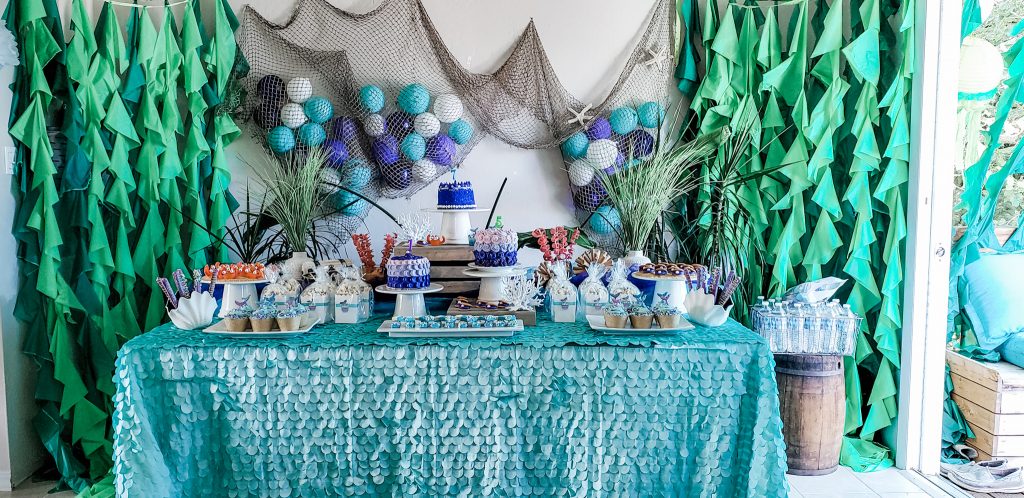 I hope this gives you some ideas for your upcoming under the sea or mermaid birthday party! What decorations do you love to use for birthday parties? Would love to see your photos!
Happy party planning!
XO,
Morgan