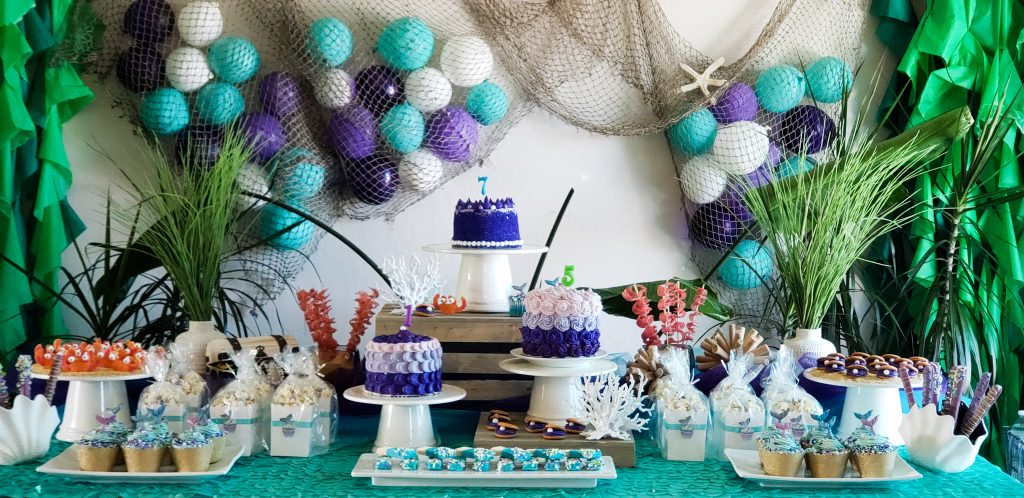 Each year I love throwing a festive birthday party for my kids full of fun decorations, yummy food and of course a good time! This years theme of a mermaid under the sea birthday was no different! These are my top 8 favorite mermaid under the sea birthday party treat ideas for a fun-filled party!
I've worked on perfecting the process on how to achieve and throw a fun kids birthday without all the stress. You can read more about my tips and tricks here! So I followed all of those, and once again ended up with a party full of fun! Plus…..the party ended and I was left with only a dirty kitchen 🙂 No other part of my house was touched 😉 Curious yet?!? 🙂
The perfect snacks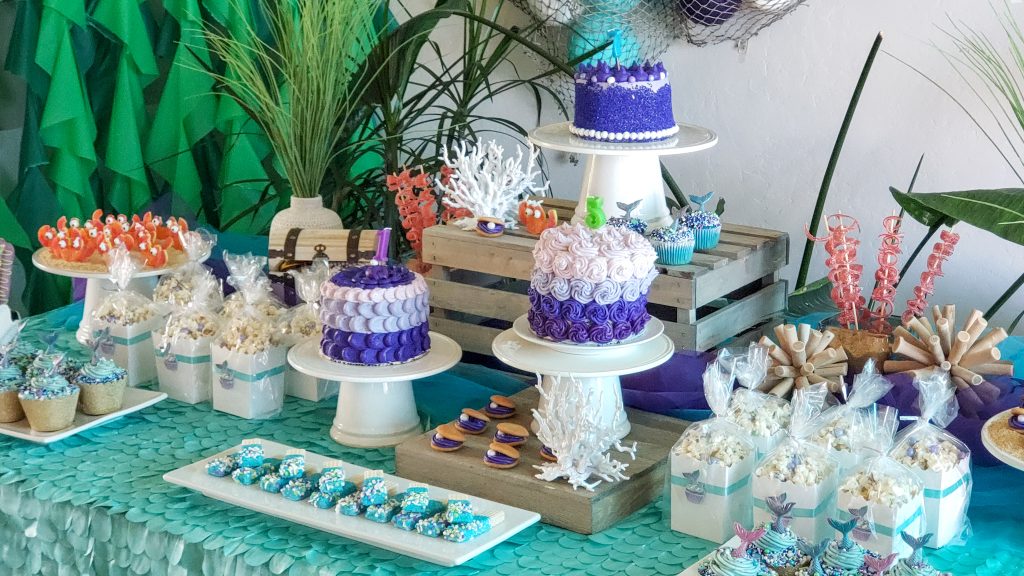 But, back to the yummy part! These are the best easy and cute snacks that are perfect for your mermaid or ocean themed birthday party! In fact, they are so good that I was left with zero leftovers. ZERO! (Less waste and even better, LESS CLEANUP 🙂 In addition, with many that could be made ahead of time, it makes it easy to pull off these fun birthday foods without the last minute stress!
Here are my favorite 8 snacks for your mermaid under the sea themed birthday party!
As a blogger, I may earn a small commission for any purchases made through the affiliate links on this site. I want to make it clear that your support means a lot to me and helps keep this blog running. Please note that using these links will not add any extra cost to your purchase. I have included them for your convenience, and I appreciate your support in using them.
The best 8 birthday party snacks
Mermaid Cupcakes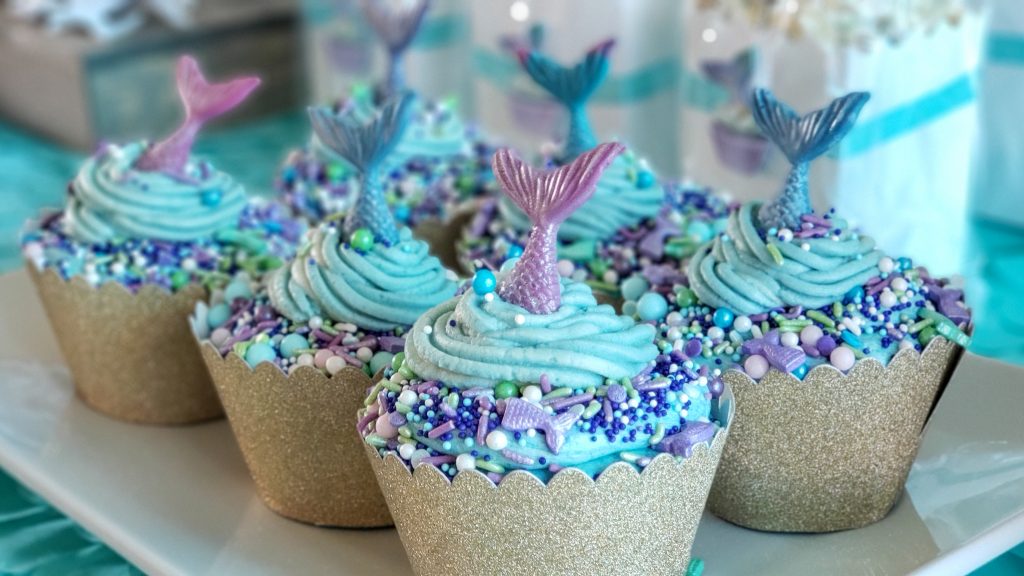 Batter from the box to keep it simple, top with your favorite frosting and these cute mermaid sprinkles! Finally, finish off with this easy to make chocolate mermaid fin!
Chocolate dipped wafer cookies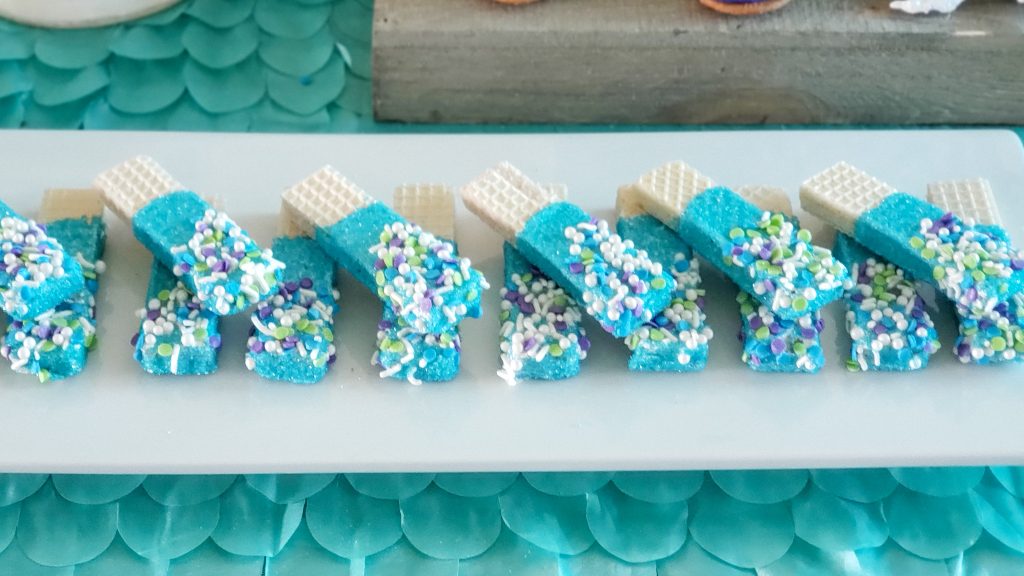 These are an easy go-to cookie! I love using them for every birthday party! Simply a wafer cookie dipped in chocolate decorated with your favorite sprinkles! For the easy how-to, hop on over to this post!
Mermaid birthday popcorn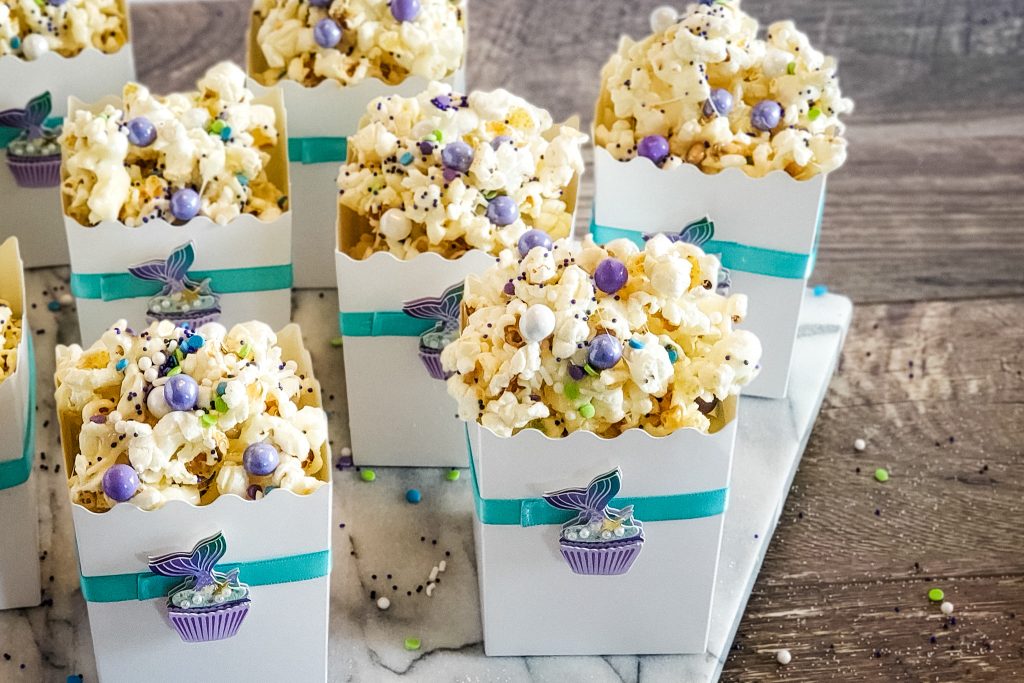 This birthday party popcorn is the perfect mix of salty and sweet! I love making this and putting it in individual portions for kids to grab and go! No matter your party theme, this recipe is easy to customize creating the perfect birthday treat!
Chocolate dipped pretzels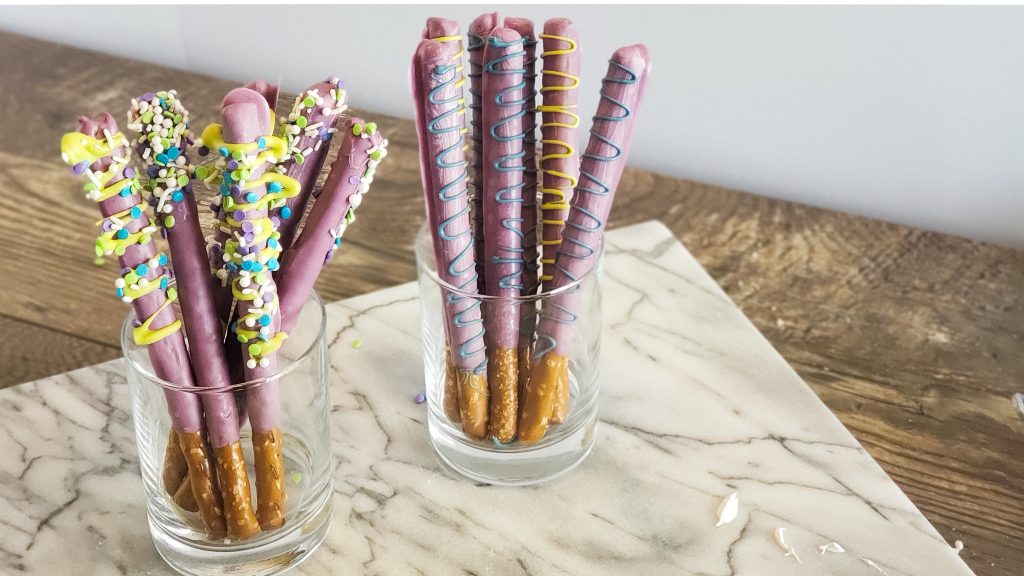 Similar to the birthday popcorn, these pretzels are the perfect combination of salty and sweet! They are so good, store well and can be customized for any birthday party! For the easy to follow instructions, hop on over to this post!
Clam Cookies
These are so fun and easy! All you need is three things; Nilla wafer cookies, frosting and these edible white pearl candy Each cookie literally takes just seconds to make!
Candy crabs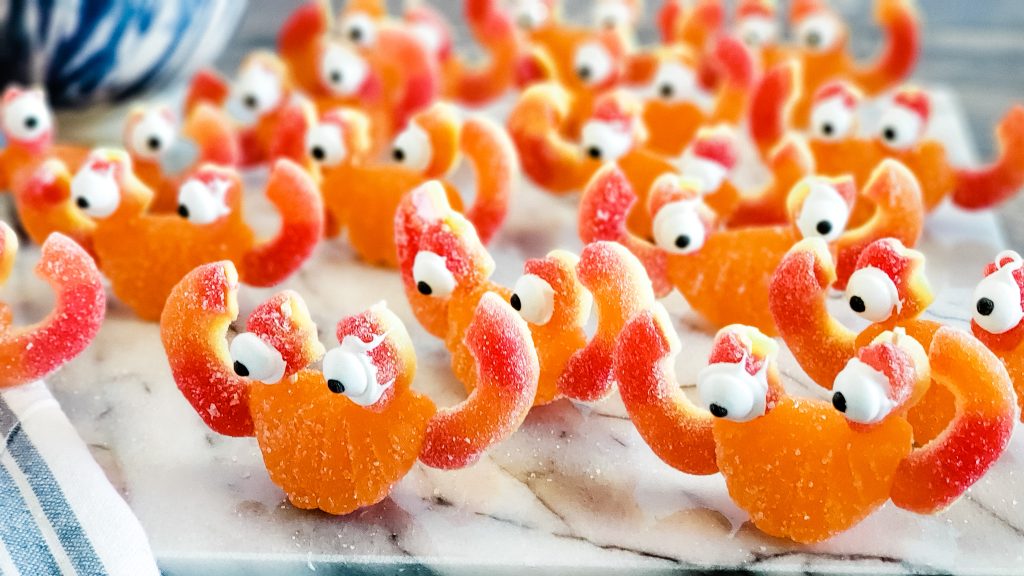 These colorful candy crabs are so easy to make, that the kids even loved helping me with these! They are the perfect gummy treat! For the easy how-to, hop on over to this post!
Watermelon cups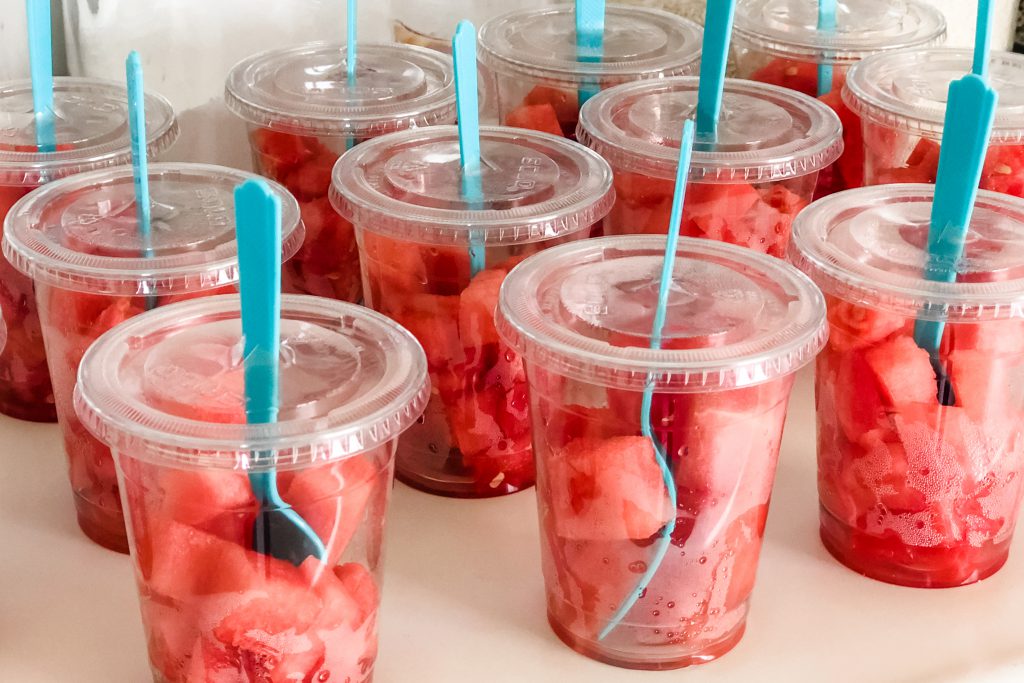 This is the only way I serve fruit at parties. I cut the watermelon into cubes the day before. Next, I place a plastic fork that coordinates with the colors of the birthday party in the middle of the cup. I fill up the cup with my watermelon around the fork. When the cup is about 3/4 full, I slide the lid over the end of the fork and lock it in place.
These are my favorite sized cups to use for fruit! They provide individual portions ready to go, and help to reduce the sticky messes or spills that come along with kids serving themselves!
Chips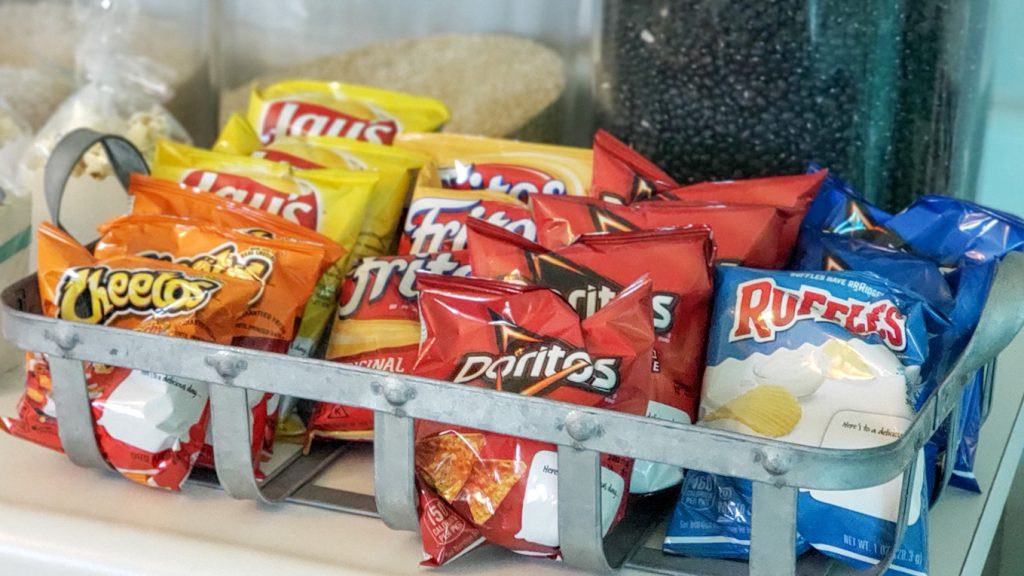 With all the sweet, a little bit of salty is in need! My favorite for parties is using the individually packaged party packs of chips! Something for everyone, and again, no spills or smashed chip crumbs on your floor! They grab and go 🙂
So what about the "real" food
If you are looking at this list wondering where the actual "food" is, you're right. It's missing from my go-to party list and here is why.
Choose your party time wisely
I throw parties at "snack times" only. For example, instead of having a party from 11-1, or 12-2 which is right at lunchtime; try 1-3 or 2-4. By sticking with these times, kids will have already eaten lunch and the "good food." That way, I get to be the fun mom and provide the yummy snacks as a special treat for after their actual meal.
Avoid birthday party food waste
Let's be honest. The majority of healthy food gets wasted unless you have adults coming to the party. The few times in the beginning that I provided healthy options like veggies, mini sandwiches, hot dogs, yogurt and granola, etc.; It NEVER GOT EATEN!
Why the healthy food doesn't get eaten
Here is my take on why this happens. Birthday parties are fun and special for kids. It is a time where they are surrounded by a group of their friends and are playing hard.
Take a moment and think of your own kid. Would they really go for the same food they eat at home? Or are they going to go for what is special and different than the norm? My kids absolutely love hummus and veggies. However, in a party situation, if you were to place anything healthy next to the junk or treats that I never have in my house, they will go with the later every time!
Most kids are similar I would dare to say. So as a result, the treats and junk food get eaten. Then at the end, you will be left with almost all the food options still sitting on the platters. Which I don't know about you, but I'm not about to save it. Double dipping, kids sneezing, not washing their hands every time after the bathroom and then touching food or dried out cheese from sitting out for a couple of hours? No thanks 🙂
Avoid the expense
It gets expensive: healthy, good food is not cheap and I don't like wasting food as well. So to spend the money on something that in all reality the kids don't want anyway? I try to avoid that extra expense. I'd rather provide the special birthday treats and let the kids eat their meals at home 😉
I hope these give you some good ideas for great mermaid birthday party snacks and treats! I can pretty much promise you that you make these and those kids will clean your table and leave you with very little cleanup 🙂
What are some of your favorite snacks that are always a hit for birthday parties? I would love to know!
Happy party planning!
XO,
Morgan