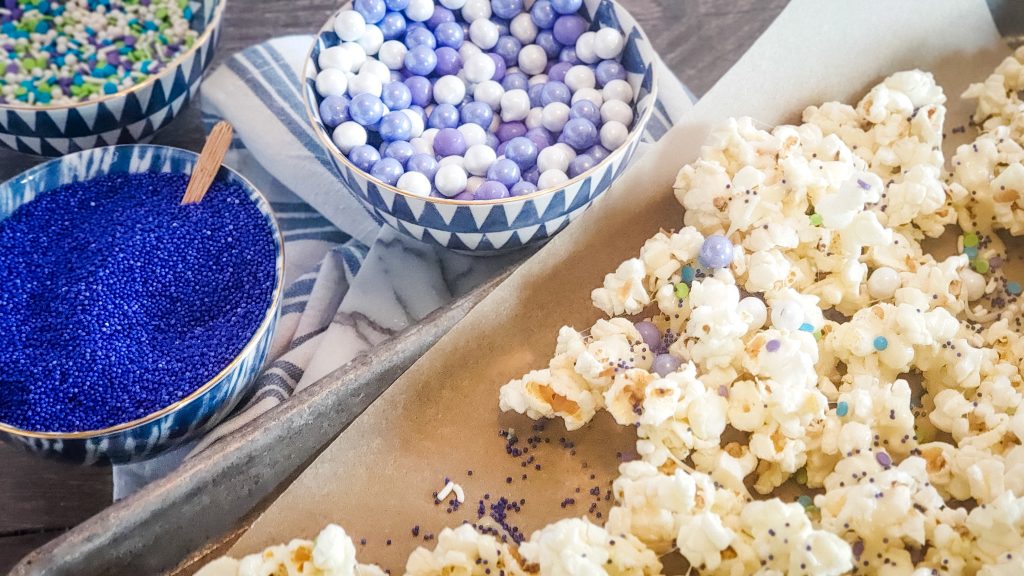 If you are looking for the perfect birthday party snack for your next party, then you have found it! This easy birthday treat is the perfect mix of salty and sweet! Mix in your favorite toppings that coordinate with your party colors, and you are ready to go! So if you need a birthday party snack that can be made ahead of time, doesn't make a huge mess with kiddos eating it, looks amazing and will be the hit amongst all the kids; then keep reading to see how easy it is to make this birthday party popcorn!
Easy birthday party popcorn
I found this yummy popcorn recipe from Two Sisters blog that I used when I threw this fun unicorn birthday party for my girls! I didn't have all of her suggested ingredients for the toppings, but I was able to switch up the sweet toppings using what I found and it worked great! The taste of the popcorn was so good that these were the first treats to be gone at the birthday party!
So when I was planning the girl's mermaid birthday party this year, I knew that I needed to have this birthday party popcorn again! Once again, I kept the base recipe the same and customized the sweet toppings! This allows the taste to remain constant every time you make it. But by changing the toppings, this birthday party popcorn can be easily customized for any birthday party!
If you want to avoid a store run and have all the items shipped straight to you, here is the complete list of what is needed to complete this project! Place the order and have your box full of goodies arrive at your door in just a few days!
Buy the complete shopping list for this recipe here
As a blogger, I may earn a small commission for any purchases made through the affiliate links on this site. I want to make it clear that your support means a lot to me and helps keep this blog running. Please note that using these links will not add any extra cost to your purchase. I have included them for your convenience, and I appreciate your support in using them.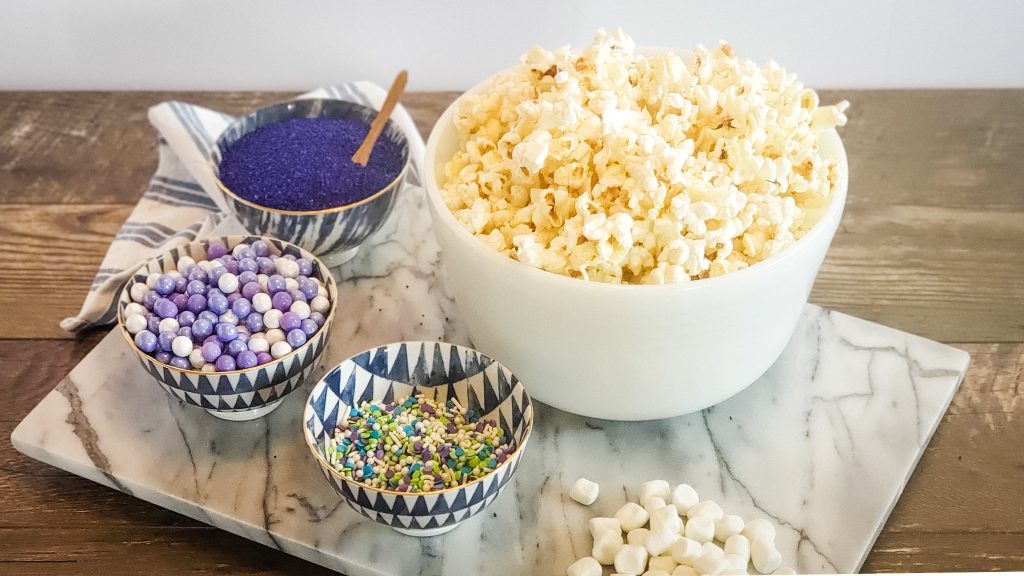 What you need:
10 cups of popcorn (kernels removed)
3 cups of mini marshmallows
3 Tablespoons of butter
salt
sprinkles
cookie sheets
parchment paper
popcorn boxes or 9 oz cups
cellophane bags
Directions:
Step 1 – Pop your popcorn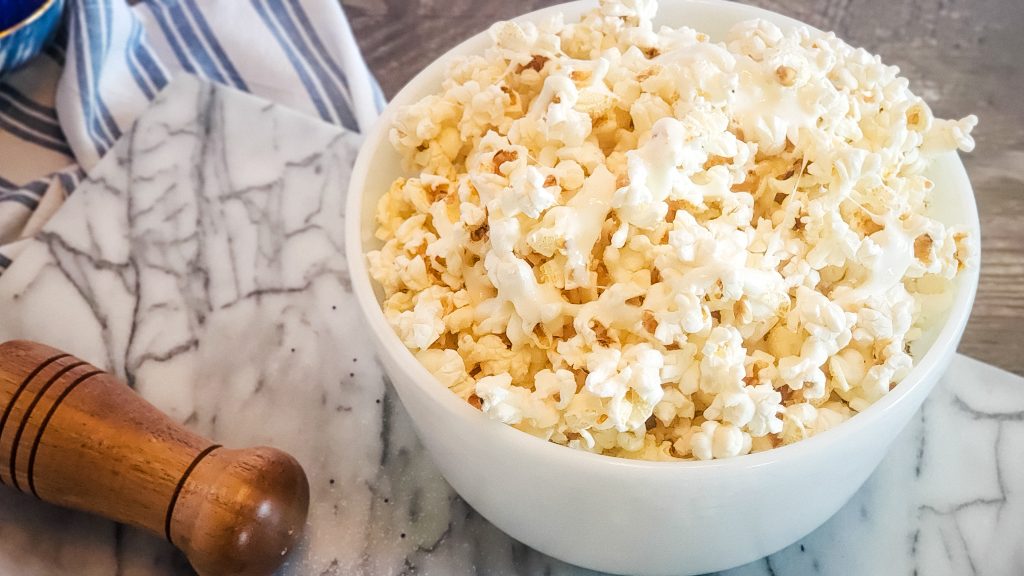 You will need 10 cups of popcorn for about 8-10 individual servings. This is such a party favorite every time that I always double this recipe to end up with enough!
Pop your popcorn using whatever method you normally use. To keep life simple, I use microwavable popcorn. It takes about 4-5 bags of microwave popcorn to double this recipe.
Salt your popcorn liberally as soon as you remove it from popping. This helps give it the perfect combination of salty and sweet; almost like kettle corn!
Step 2 – Melt butter and marshmallows
In a large pan on your stove top over medium to medium-high heat, melt your butter and marshmallows. This step is just like making Rice Krispie treats. Make sure to stir often so that the mixture doesn't burn.
Step 3 – Mix popcorn and marshmallow mixture
Make sure to set some of the mixture aside for the next step! I leave a little in the bottom of the pan, on the stove with the burner off so that it stays warm but doesn't continue to cook.
The easiest way I have found to do this is by using a huge cooking pot and using layers. Start with a layer of popcorn (about 5″ or so that you'll be able to mix easily). Drizzle some of the marshmallow mixture over the popcorn and then using a large spoon, gently fold over the popcorn to mix everything. You want to try and lightly coat all the popcorn without breaking the popcorn kernels
Continue adding popcorn and the marshmallow mixture until you are out of popcorn and left with a little of the mixture for the next step still.
Step 4 – Lay out popcorn on cookie sheets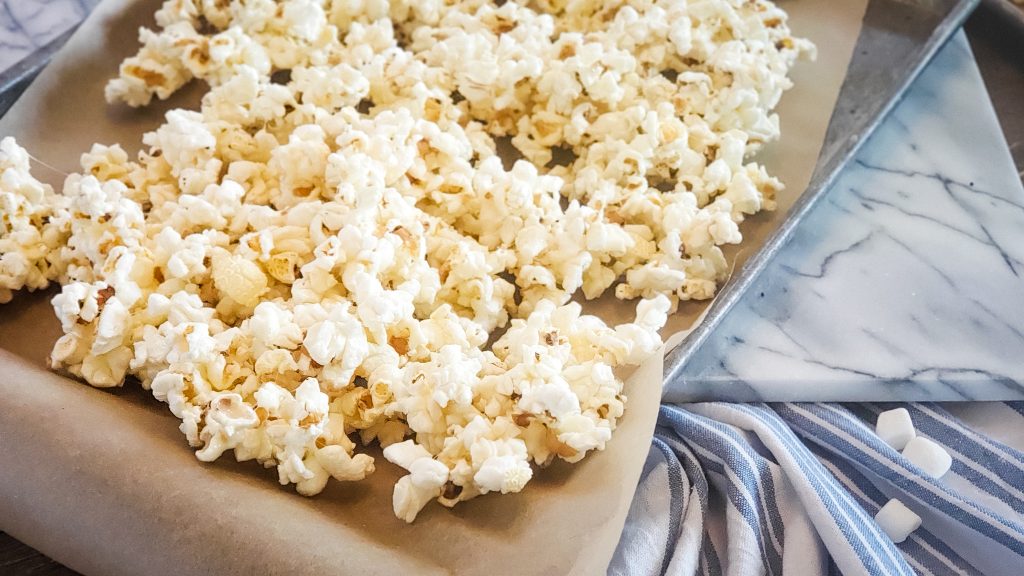 Have a couple of cookie sheets lined with parchment paper so the popcorn doesn't stick to the cookie sheet. For doubling this recipe, I use two large cookie sheets. The parchment paper will help to make clean up quick and easy! And who doesn't love that combo 😉
Step 5 – Add your toppings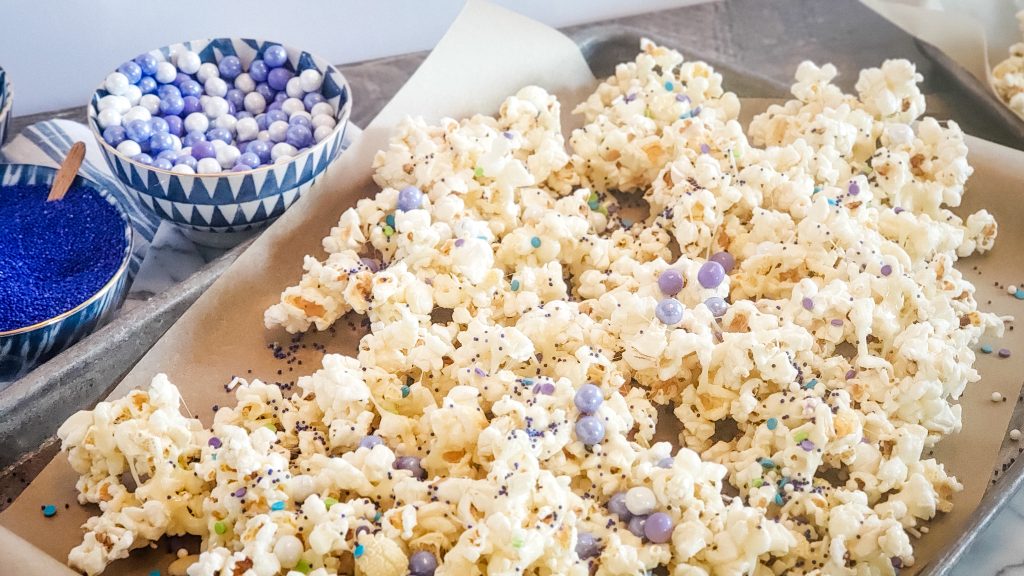 You will want to work quickly with this step. Otherwise, the sprinkles and other toppings will have nothing to stick to!
I would suggest doing one pan at a time.
Using the marshmallow mixture that you set aside earlier, drizzle about half of what you have left over one pan of popcorn. Working quickly, take your desired toppings and sprinkle over the popcorn.
The mixture you just drizzled will hold the toppings on the popcorn. If you don't have enough of the mixture, no worries! Just whip up an extra batch of the marshmallow and butter mixture to use for the topping. Don't worry about covering every piece of popcorn this time! This is purely for helping some of the toppings adhere to the popcorn.
These are my favorite toppings to use: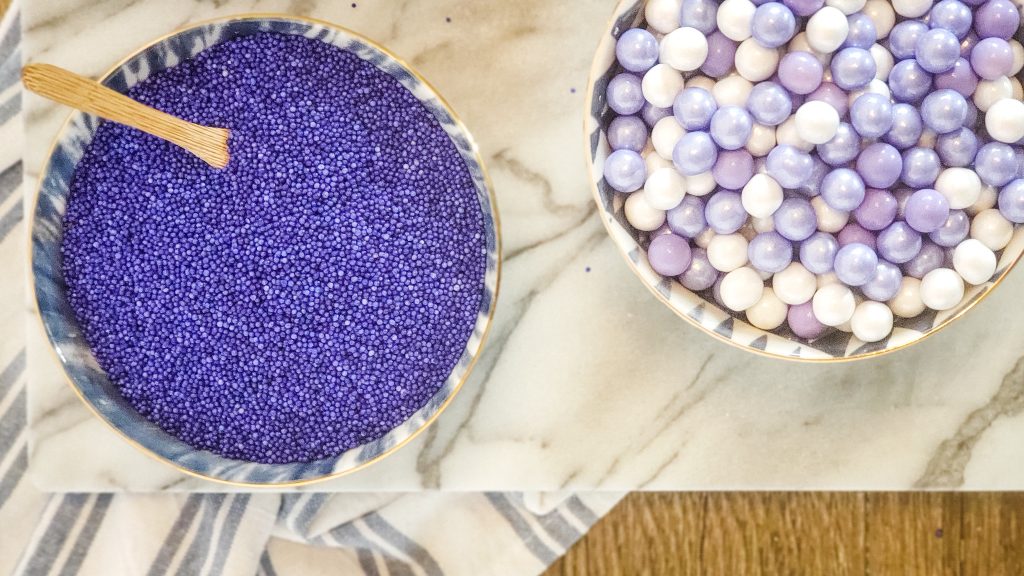 These styles come in a variety of colors making it easy to customize this recipe to fit whatever party theme!
Quins (these are basically confetti sprinkles in fun shapes!)
M & M's
Lucky Charms marshmallows
Step 6 – Put into individual servings
Popcorn boxes

Plastic cups
One of my favorite parts of this is that it can be made a day or two in advance keeping the day of your party simple and stress-free.
Choose your favorite small plastic cups like these 9 oz plastic ones or these small popcorn boxes that come in a variety of colors. Then place inside of a cellophane bag and use the twist tie to close!
If you want to use popcorn boxes, they come in so many colors and styles to match your theme! If you choose white as I did, make sure to add a pop of color or interest using ribbon, stickers, etc. Otherwise, check out all the other options that they have ready to go here!
That's it! In a little over an hour from start to finish in cute individual servings, you are left with the perfect birthday party treat! If you are looking for more ideas on birthday party treats, check out my kid's favorites, these chocolate dipped cookies or my list of favorite birthday party treats!
Make sure to post a picture of your yummy birthday party popcorn below for us to see 😉
XO,
Morgan