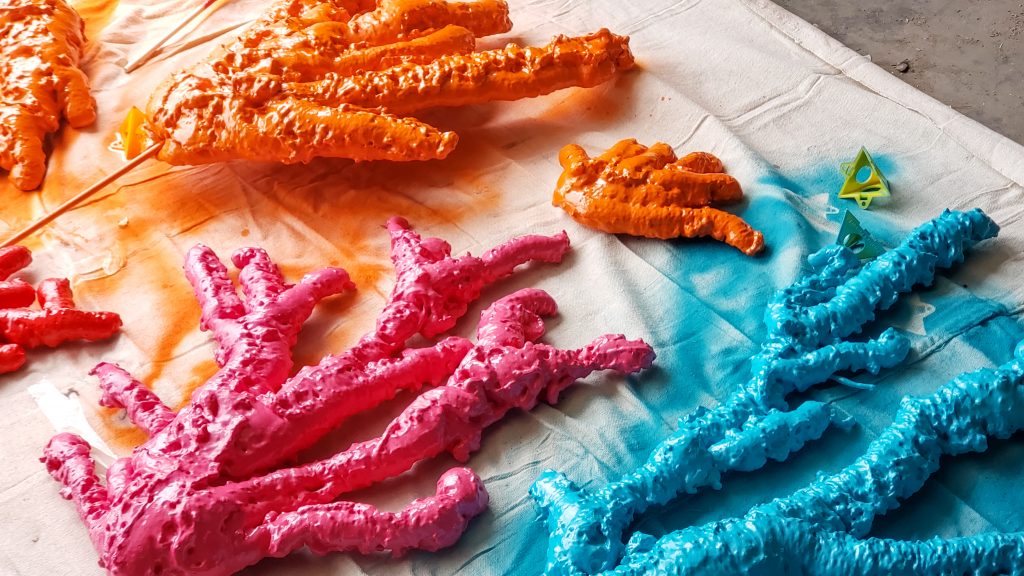 I love crafting! And so making decorations for the kid's parties is something that is fun for me! Plus, my kids have gotten to the age that they love to help me! This easy DIY coral project is simple; taking just a few steps it will allow you to transform any area into a magical undersea space creating fun and lasting memories!
These corals are the perfect statement decoration pieces. Customize the size and color to whatever fits your needs! We are getting ready for a mermaid birthday party for the girls. I plan on incorporating a few of these corals into these DIY coral reefs. Some of them, we will also display along with the main cake table as well as at the entrance to the party to welcome all our little mermaids and mermen 😉
If you want to avoid a store run and have all the items shipped straight to you, here is the complete list of what is needed to complete this project! Place the order and have your box full of goodies arrive at your door in just a few days!
Buy the complete shopping list for this DIY project here
I have included these affiliate links for your shopping convenience.  I understand that you have lots of options when you shop.  When you choose to shop using these links, it doesn't cost you anything, helps support our blog and I appreciate it!
What you need: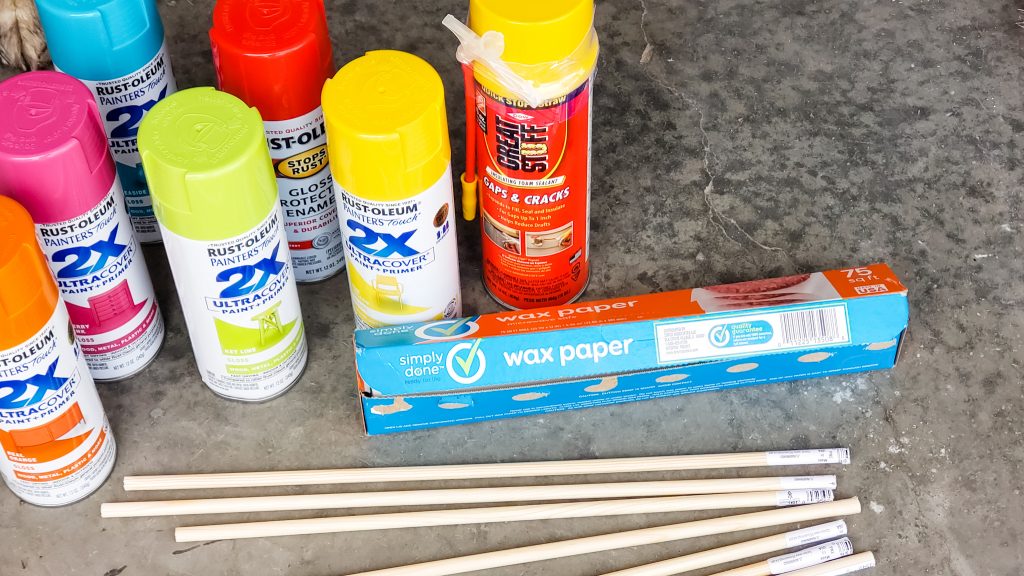 Wax paper
5/16″ dowels- cut into 16″ pieces
Rustoleum spray paint
Painters Tarp
Directions: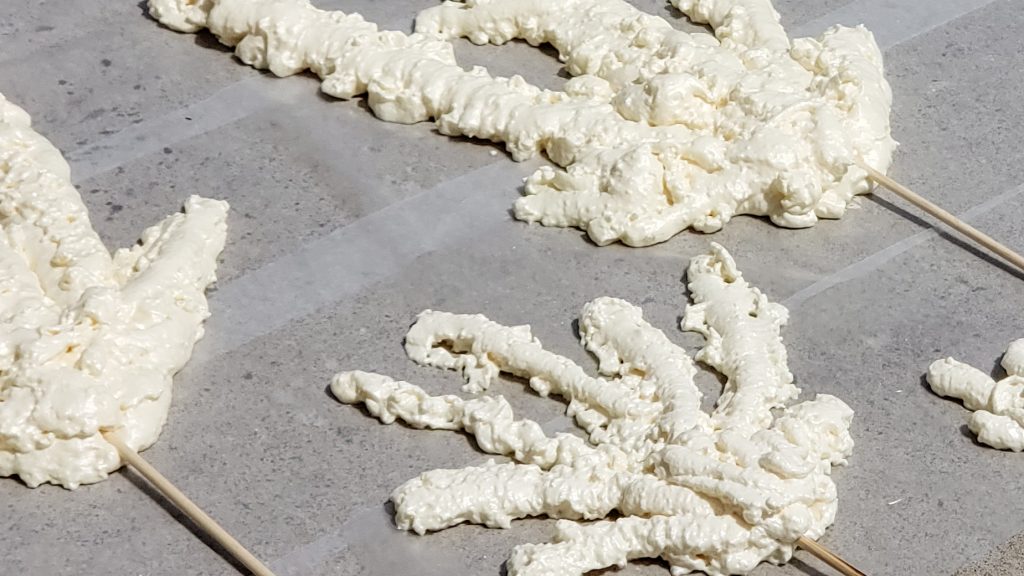 Step 1: Arrange wax paper
In a large, open space with good ventilation, lay several long strips of wax paper slightly overlapping each other. Make sure it is big enough for all the corals you want to make.
Step 2: Spray your Great Stuff
Following the directions on the can, get ready to use the "Great Stuff". Remember that this is expanding foam. So make it a little smaller than what you want the final look to be as it will continue to grow a little after you spray it.
Step 3: Insert dowel
The dowel is going to be what allows you to display these upright, regardless of where you plan on using them. Gently lay the dowel towards the bottom of the coral, but barely press down. You don't want the dowel to go all the way to the wax paper.
Cover any exposed dowel with more of the Great Stuff.
Step 4: Spray with spray paint
Make sure before you follow this step, that you allow the coral to dry completely according to directions on the can. I chose to wait overnight before spray painting.
If I were to do this again, I would remove them from the wax paper when they were dry to the touch and allow the coral to finish drying overnight upright. I left mine on the wax paper overnight and it was hard to peel off the wax paper the next morning.
I created a spray paint station. Using a large tarp to protect my driveway, I placed all the coral on the tarp with ample space in between. I use these painters pyramids so that I could spray both the back and front at the same time. They helped this project to go a lot faster!
Start with spraying a thin coat on the back of the coral. After you have sprayed the back off all of them, go back, flip them all over and place on top of the painters pyramids. You're then ready to spray the front.
I chose to do two coats. This gave me a chance to cover the spots and crevasses that I missed the first time around.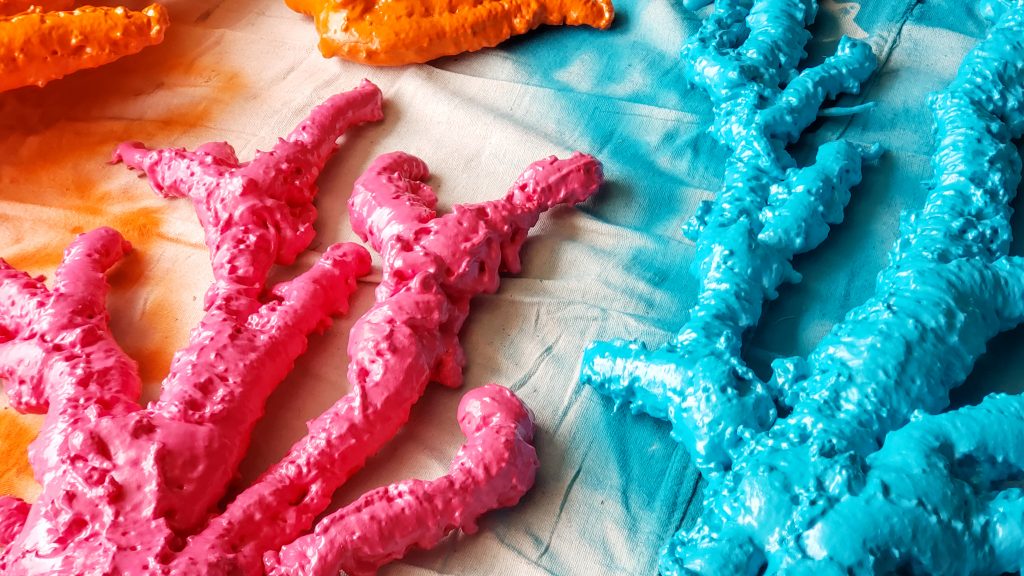 That's it!
Simple, colorful and fun; these are the perfect easy DIY decor! For tips on how to throw a kids birthday party without all the stress, make sure to take a look here! Or if you need ideas for the perfect party drinks that are easy and the kids will love, check out my favorite homemade lemonade recipe or this Brazilian ice tea recipe!
Happy party planning!
XO,
Morgan