Maybe you have been searching Pinterest for a while now preparing to host Thanksgiving, or maybe you like to wait until the last minute 🙂 Either way, I've got you covered with this complete list of tips for hosting Thanksgiving this year. With it just around the corner, now is the perfect time to start planning ahead and make it an unforgettable day! A holiday that for many means both the start of the holiday season, as well as a day that requires that pair of pants in your closet with the stretchy waistband 🙂 So whether you celebrate Thanksgiving with friends, family, or a mixture of the two; you won't want to miss these 28 easy hacks for hosting Thanksgiving this year!!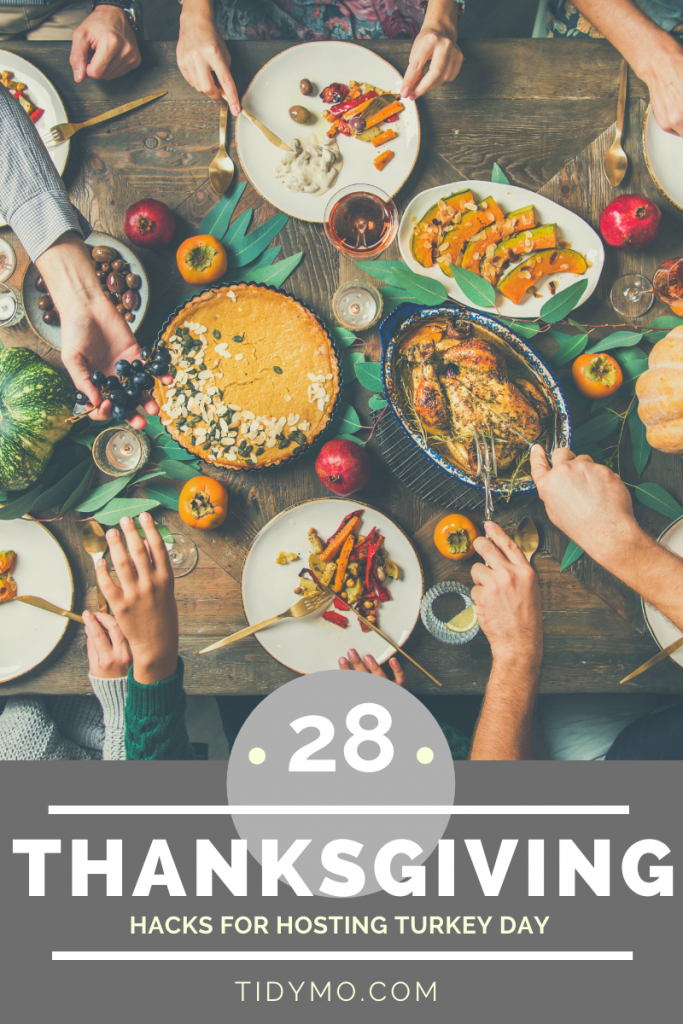 As a blogger, I may earn a small commission for any purchases made through the affiliate links on this site. I want to make it clear that your support means a lot to me and helps keep this blog running. Please note that using these links will not add any extra cost to your purchase. I have included them for your convenience, and I appreciate your support in using them.
1. Clean out your freezer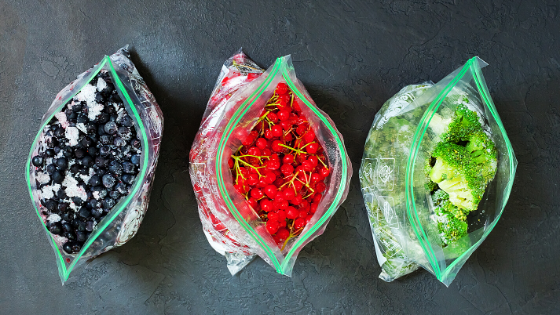 With just a few weeks until Thanksgiving, now is the time to hop on this! Take inventory of what is in your freezer. Start planning meals around what you currently have frozen and discard what is too old to use. Thanksgiving is well known for lots of leftovers, and you will want to have space to not only freeze leftovers but also prep items for the Thanksgiving Day ahead of time!
2. Plan ahead- make lists
This is huge; plan ahead now. Start making all your lists and hang them on your fridge, or create a list on your phone so you have easy access and can quickly add things as they pop into your head. Be thinking, meals, guests, what you are out of and need to replenish, what kitchen items you need more of.
3. Choose your menu
Start searching Pinterest, cookbooks and family recipes for your favorite recipes you want to incorporate for Thanksgiving. Make a running list and store it somewhere easy to access and make necessary changes as they come up.
Once you have your recipes, make a paper copy and set aside! Keep reading for a tip to ease the cooking and recipe reading part of Thanksgiving:)
4. Choose some recipes that don't require an oven
A major flaw of most Thanksgiving mishaps is the number of recipes that require the oven and result in a lack of space and time.
Make sure when you are planning out the recipes that you choose several that don't require the oven.
But to help you utilize that prime oven space, take a look at these inexpensive oven tier racks that will allow you to fit more in your oven at a time!
5. Print out recipes and tape them at eye level on kitchen cabinets
Anyone else always trying to squeeze their laptop or cookbook onto a countertop already overflowing with food prep? I know I do!
So when I ran across this idea I knew it was genius! Free up that valuable counter space by printing out and making photocopies of all your recipes and hanging them on your upper cabinets!
Easy to read, they won't get covered in food splatter, and gain extra prep space!
6. Use your Instant Pot!
You probably know by now that I swear by the Instapot! It is a multi-weekly kitchen appliance that simplifies my life! If you haven't hopped on that bandwagon, read why you need to give it a try here!
In addition to simplifying daily life, it also will help simplify the craziness of Thanksgiving prep and cooking!
Instant Pot recipes will free up valuable space in your oven and on your stovetop. Check out Pinterest for some easy Thanksgiving Instant Pot dishes! I'm using mine to make the best mashed potatoes ever!
7. Do you have what you need?
Read all the recipes you picked CAREFULLY to make sure you have the equipment you need. A big enough roasting pan? Rack for that pan? Food processor?
The last thing you will want is to get to the day before and realize you don't have the appliances or tools to finish a recipe.
8. Hosting a crowd? Cook 2 small turkeys!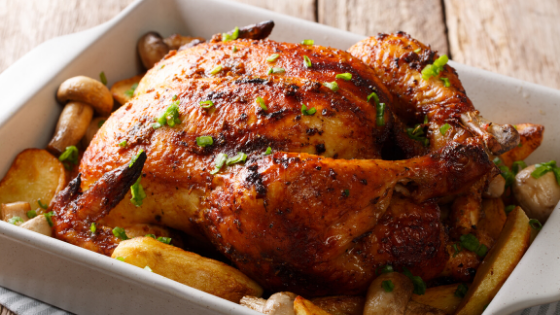 Ever gotten to Thanksgiving Day morning to find your massive turkey is still frozen solid? We definitely have 😉
Save defrosting time, stress and space and instead of cooking one huge turkey, cook several small ones! Or if you are going potluck style, have someone else make the second turkey! You'll have two great recipes to choose from 🙂
9. Go Potluck style!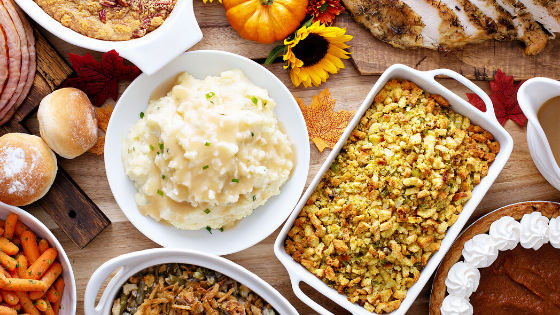 I love this idea! A fun way to try new dishes and reduce the work and stress of trying to do it all.
Whether you are having a friend or family holiday, go potluck! Save both time and work and spread the items around! Assign categories to your guests and let them pick their favorite dish to share!
10. Buy it, don't bake it
Maybe you've already taken advantage of this one. A simple idea, but one that will allow you to focus on what is really important for Thanksgiving, family, friends and enjoying the people you are thankful for in your life.
Choose a couple of items that you can buy instead of baking. Not all dishes need to be homemade on Thanksgiving in order to be delicious. Think items such as pies, bread, and rolls.
Find a favorite bakery, arrange it on your own serving dish and enjoy! No one will even know 😉
11. Split your grocery shopping into two strategic trips:
Since you have your running lists, now is the time to break those lists up and split your grocery shopping into two trips.
Do the first trip a week before Thanksgiving (before supermarkets get crowded) for nonperishables- canned items, flour and sugar, spices, paper towels, foil; anything on your list that doesn't need to be super fresh.
Make a second smaller and easier trip a few days before Thanksgiving to just pick up final items like salad greens, fruit, milk, cream etc.
Or…save yourself time, the crowds and impulse purchases. Take advantage of Instacart! You fill your cart online and within an hour, they will hand-deliver to your door! I can't tell you how much I love taking advantage of this!
In full disclosure, Instacart does markup item prices. However, if you sign up for their free 2-week trial, you will get free delivery! For us, that markup is well worth the time, money in gas, impulse purchases and extra food bought to satisfy those kids in your shopping cart that you will save.
Use code: MARAUJO13912C to save $10 on your first order! Regardless if you will continue using their service, the ease of it around the holidays is so worth it!
12. Rent your table linens, flatware, and tableware from a Rent-all store!
Say goodbye to deciding who gets to take over the Thanksgiving cleanup!
Check out your local party rental store! If they have a policy where items can be returned dirty, then this is a no brainer! Rent all those items and ELIMINATE Thanksgiving cleanup!
13. Go disposable!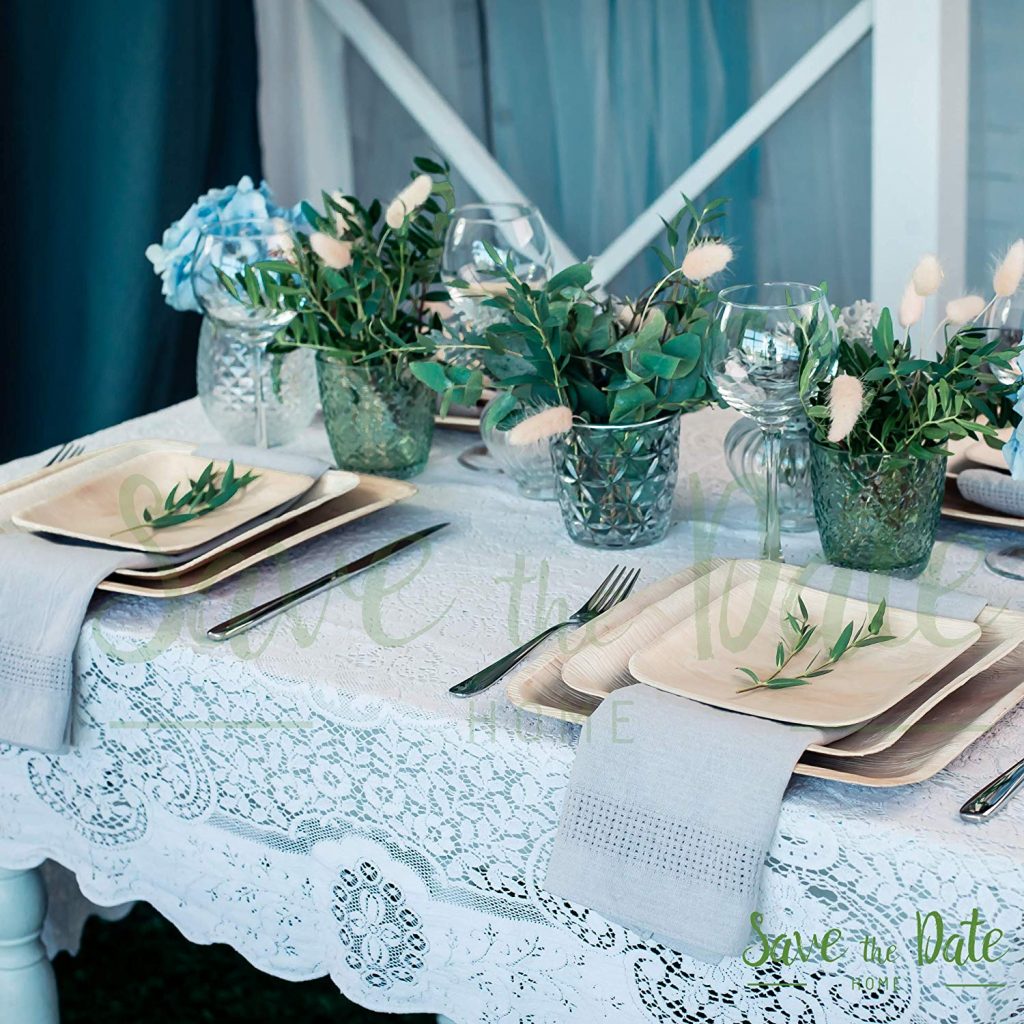 I do love the look of decorative Thanksgiving tables and beautiful place settings. However, if your focus is more on time with everyone and the place settings aren't a priority for you, check out disposable options on Amazon!
You will save loads of time washing dishes by using disposable plates. Worried about the environment? Take a look at these 100% compostable bamboo plates instead of plastic.
These not only look a lot better than typical plastic/paper disposable plates, but they will make cleanup a breeze! Want to save even more cleanup? Take a look at this compostable cutlery!
14. Cook in what you will serve in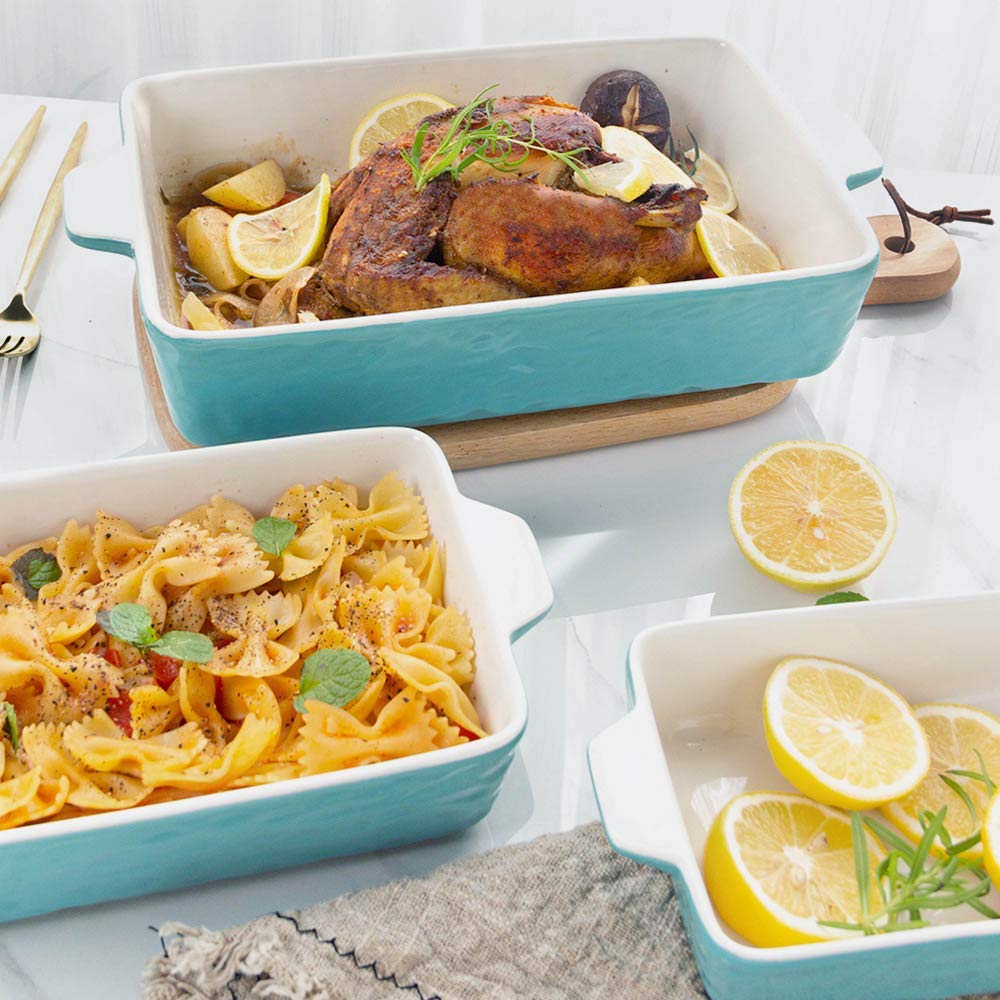 Save time transferring food into serving bowls as well as tons of time washing dishes later, by investing in some good bakeware that can go from oven to table to the refrigerator! I love this 3 piece set!
Cook in square and rectangle pans so you can fit more dishes in the oven at a time!
15. Designate your serving plates and utensils
Take the time the day before Thanksgiving to put out serving dishes where you will want them. Put labels inside each dish of what food will go inside, and set out the night before Thanksgiving. This makes the day more organized since you will know exactly what goes where, and people will be able to quickly chip in and help with serving!
16. Make a large batch of drinks
To make refreshments easy on Thanksgiving, come up with large batches of several drinks! Make them ahead of time, it will make the day of simple!
I love making this amazing homemade lemonade recipe as well as fruit infused water in large batches to fill my drink dispensers for any type of gathering. Then I use a tub to keep any cans or bottles chilled and ready to grab!
17. Prepare dishes ahead of time!
Go through your recipes and take advantage of any recipes that can be made ahead of time. Either early and then frozen, or even made a day or two before to be stored in the fridge.
18. Make your pies and freeze them unbaked.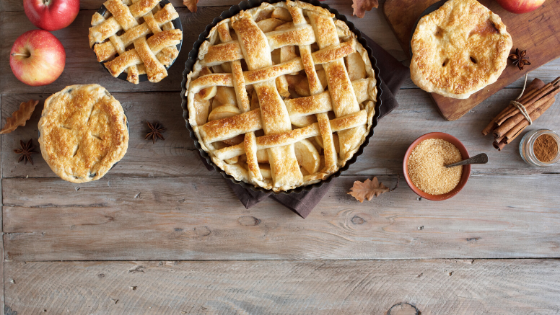 Pies are an easy one to make ahead of time! Freeze them unbaked, then pull them out to bake right before Thanksgiving! You'll be left with a homemade pie that tastes fresh without the stress of making it last minute along with all the other recipes!
19. Use a paper plate as a hand-mixer splash guard
This is a great hack to keep food from splattering as you are mixing ingredients with a hand mixer!
20. Prep veggies early
Wash, trim and chop your veggies the day before and then store in the fridge. I have several sets of these rectangular glass Tupperware sets that I use on a weekly basis for food prep. They are fridge, freezer, and oven safe and perfect for Thanksgiving prep!
Stick with only square/rectangular Tupperware as it will fit better in your fridge allowing you to fit more food 😉
21. Prep mashed potatoes day before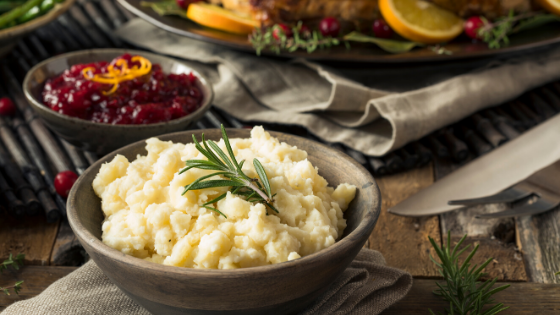 Get the mashed potato prep done the day before: you can peel, cut, and soak them overnight in the fridge.
I love using the Instant Pot for mashed potatoes!
22. Rinse potatoes quickly in the dishwasher
Want the quickest way to clean potatoes? Skip the scrubbing! Throw them in the top rack of your dishwasher, run on the rinse cycle and you are ready to go! This frees up valuable time to work on another part of the food prep.
23. Move your prepped frozen stuff from the freezer to the fridge to thaw
Don't forget the food you prepped and froze ahead of time! Take out of the freezer the day before Thanksgiving to thaw.
24. Cook stuffing in muffin tins
I love this idea! A great way to cook stuffing for easy serving and delicious, crispy edges!
25. Use a thermos as a gravy warmer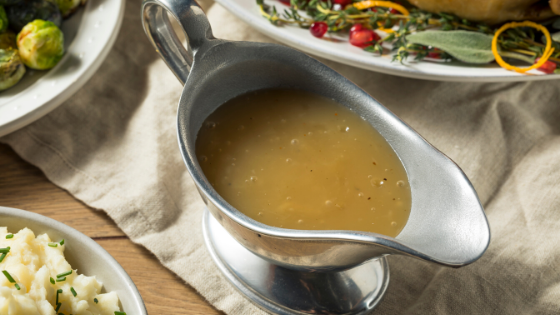 Free up space on the stovetop! After making your gravy, store it in a thermos to keep it warm until time to eat! Then simply transfer to a serving dish and you are ready to enjoy!
26. Set up a drink station
Make serving drinks simple and easy for Thanksgiving! Using a large drink dispenser like these will simplify people grabbing drinks and being able to quickly help themselves! And a large galvanized tub such as this one is great to fill with ice and place all your drinks! By keeping all your refreshments in one place, it will allow everyone to easily help themselves!
27. Make a kids table
Cover the kid's table with kraft paper and set out crayons to keep them entertained! A fun way for them to decorate their table as well as provide easy clean up after dinner!
28. Remember it is THANKSGIVING, not STRESSGIVING!
Probably most important, let go of the desire for perfection and instead find ways to laugh at the mishaps and enjoy the day with those you care about!
If you are relaxed and follow these hacks for hosting Thanksgiving, you will be well on your way to being well prepared and enjoying your holiday!
Hopefully, these suggestions have given you a few good ideas to help simplify your Thanksgiving! What are your favorite Thanksgiving Day tips and tricks? Make sure to share it below in the comments!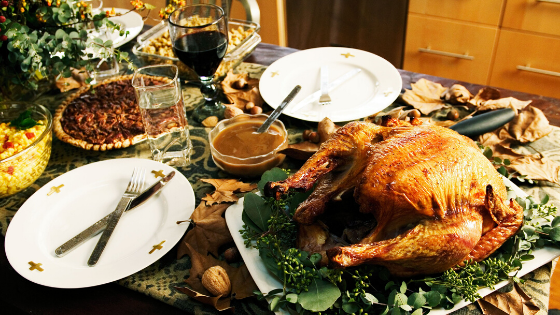 XO,
Morgan