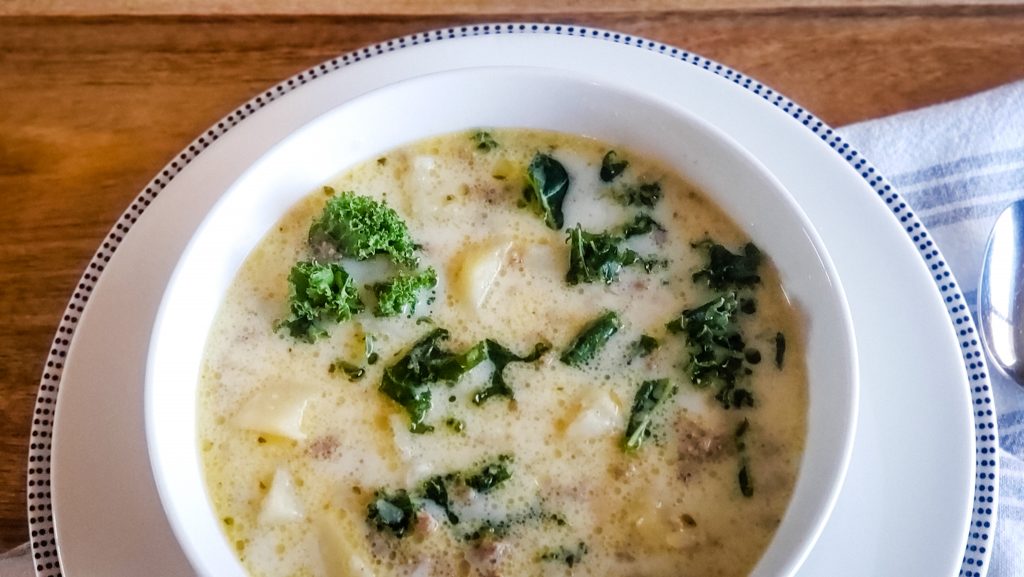 Instant Pot Zuppa Toscana Soup is an easy and delicious dinner your whole family will love. Takes just minutes to prep and you end up with a hearty soup perfect for those cooler days!
I'll be completely honest; until recently I wasn't that excited about cooking. With the consistent mama struggle of trying to find a balance between work, health, kids, animals, home duties and my marriage; I couldn't find the energy or the desire to cook. Especially the thought of taking time to try new recipes just to hear my kids whining about not wanting "eat that". As a result, I ended up in a cooking rut for a long time. I found myself constantly making the same meals that no one wanted.
Online grocery delivery
Then, I stumbled across grocery delivery. It has been a game-changer for our family. Sunday mornings we decide on what meals we want for the week. By we, I mean we let the kids each choose a meal they would like to have that week (within reason right:). Next, I go through our freezer/cupboards to see what we already have. Based on that, and whatever other essentials we are getting low on, I create our grocery order online.
Within a couple of hours, I have groceries delivered to my front door. No loading kids into the car, no impulse purchases, and a lot of saved time.
If this sounds like something you need, click on this link to save $10 on your first order!
Code: MARAUJO13912C
Soup Sunday
Then, while I'm waiting on my groceries, I take advantage of the time I saved and make soup!
Some of our favorites so far have been Instant Pot minestrone soup, the best chili ever and a new favorite; Instant Pot Zuppa Toscana!
Instant Pot soup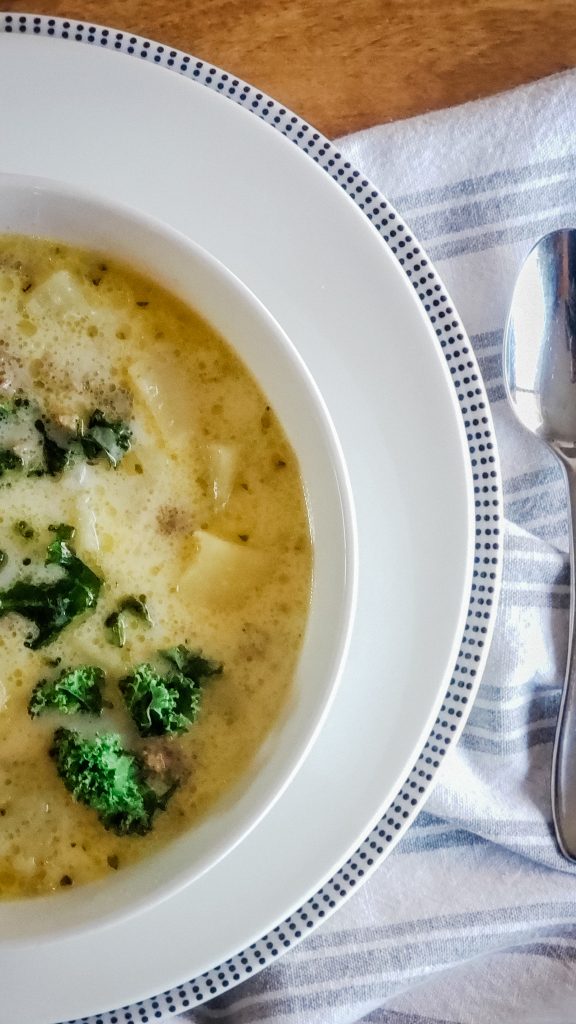 Soup is one of my favorite ways to use the Instant Pot!
the recipe only requires a few minutes of prep
it's on the table in just 20 minutes
the flavor is SO good with just a few ingredients!
This is a great go-to dinner recipe for when you don't have much time to cook. It's quick, easy and yummy! And it's kiddo approved 🙂

I love to pair this with pão de queijo- Brazilian cheese bread! This simple recipe just requires three ingredients that are easy to find here in the United States!







Grab the recipe here: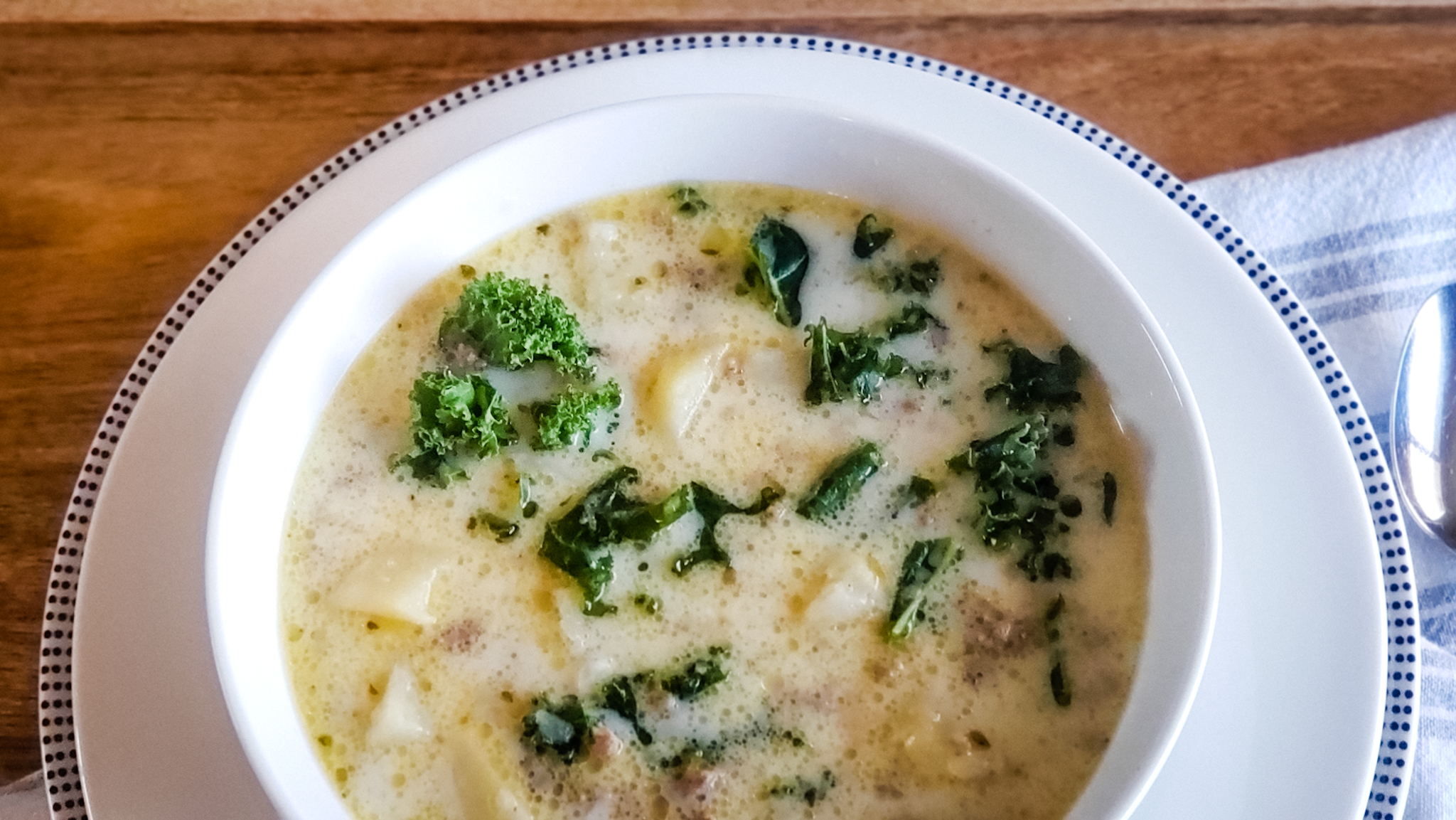 Ingredients
1

Tablespoon

extra virgin olive oil

1

pound

mild or spicy Italian ground sausage

1

medium onion,

chopped

3

cloves

garlic,

minced

4

cups

potatoes,

peeled and chopped

32

ounces

vegetable stock

½

teaspoon

oregano

1

teaspoon

salt

pepper to taste

½

cup

heavy cream

2

cups

kale,

chopped
Toppings
chopped kale

cooked bacon bits

(optional)
Instructions
Sauté the sausage: Set Instant Pot to saute. Add olive oil and let it heat up. Once the olive oil is hot, add the ground sausage and brown until no longer pink, about 3 minutes.

Sauté the onions and garlic: Once you have browned the sausage, add in the chopped onions and minced garlic until onions are clear, about another 3 minutes. (make sure you scrape all the browned bits from the bottom of the pot). HINT: a really quick and easy way to do this is throw in a splash of white wine. Then use a wooden spoon to scrape the bottom!

Add remaining ingredients: Switch off the Instant Pot. Add potatoes, vegetable stock, and oregano and season with salt and pepper. Stir everything.

Pressure cook: Close the Instant Pot and set valve to sealing. Choose "pressure cook" (or "manual" if your pot doesn't have the "pressure cook" option) and cook for 10 minutes.

Quick-release: After cooking time is up, turn the valve from sealing to releasing and allow the steam to do a quick release.

Add cream and kale: Switch off Instant Pot and let it cool down for a few seconds. Stir in cream and most of the chopped kale. I like to save some to put on top with bacon bits when I'm serving. Stir everything and serve warm.
FREEZER INSTRUCTIONS
This soup recipe will save well. Make sure to omit the cream and kale before freezing. Add these two ingredients to the soup when you reheat it before serving.

My favorite way to freeze soups is by filling Ziploc gallon freezer bags with an even number of servings. Remove as much air as possible before sealing off the bag. Lay flat to freeze and the soup will:

1. Thaw quicker

2. Allow you to fit more frozen food in your freezer!
Tried this recipe?
Mention @tidymo and let me know what you think!
Leave a comment and let me know what you think or share your favorite Instant Pot soup recipes!
XO,
Morgan