Instant Pot Creamy Tortellini, Spinach, and Chicken Soup is a creamy tomato-based soup with bites of tender chicken, cheesy tortellini and fresh, bright green spinach. This one-pot recipe is sure to be a crowd-pleaser; including with your little ones! Enjoy!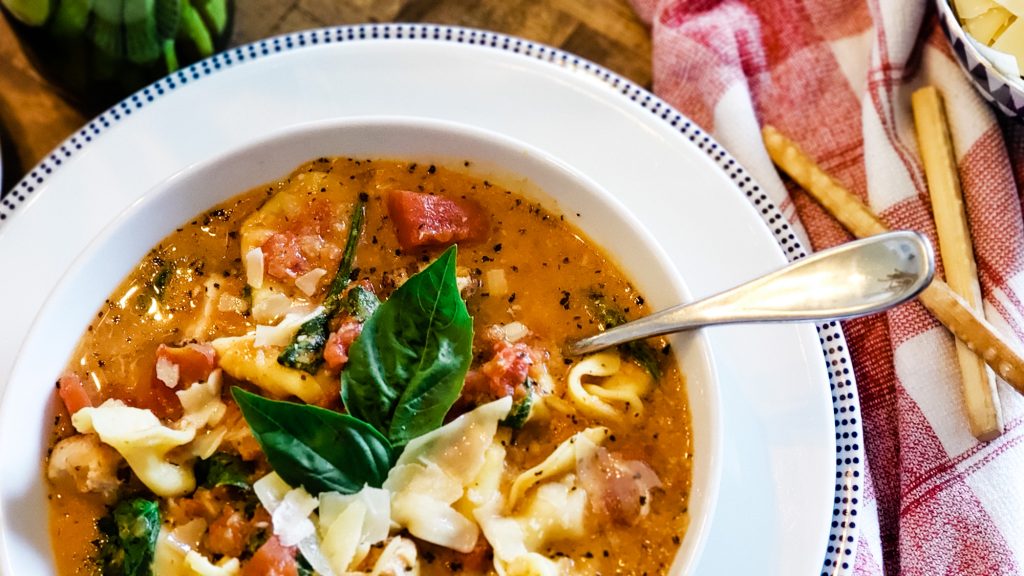 Growing up, tortellini soup was always a favorite in our family. The warm, flavorful broth, cheesy tortellini, and bits of spinach made it so comforting. Now as a parent, I'm happy to pass on this tradition to my own family. Seeing my kids enjoy this Chicken Tortellini Soup and even ask for more is a win for me!
But as much as I love tradition, I also love finding ways to make things quicker and easier. That's where the Instant Pot comes in! This handy appliance has completely revolutionized cooking in our household. If you're still on the fence about getting one, check out, here is to see why I'm in love with it. Along with my trusty Sous Vide machine, and Instacart, cooking has become a lot more enjoyable for me!
Soup Sunday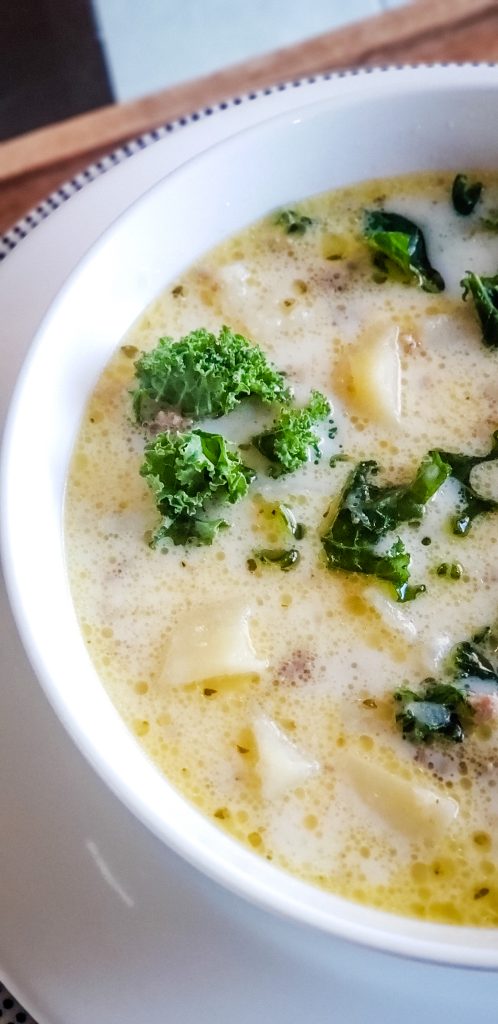 If you're looking for a quick and easy meal that can help you use up leftover ingredients, Soup Sunday is the way to go. It's a great tradition that our family loves!
We have several go-to soup recipes that are always a hit, like this Zuppa Toscana, this Minestrone soup and literally the best chili recipe ever! They're easy to make and always delicious!
Now, whenever we try a new soup recipe, I ask my family if they think it's "blog-worthy." When I got an animated shout of "yes!" for this Creamy Chicken Tortellini Soup, I knew I had to share it with you all!
Creamy Chicken Tortellini Soup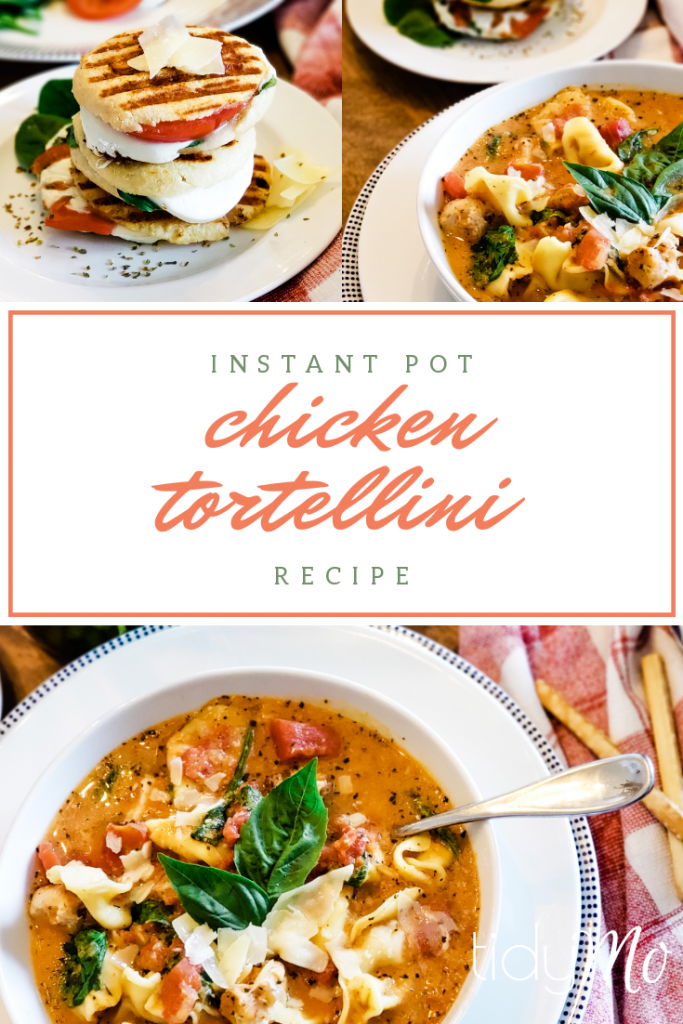 This creamy chicken tortellini soup is a hit with all of my kids, except for my 19-month-old who's too busy to sit down for a meal 🙂 One of my favorite things about this recipe is how customizable it is. You can easily leave out or substitute any ingredients based on your family's preferences. For example, if you're looking for a vegetarian version, simply omit the chicken. Personally, I love the flavor of this soup with or without the chicken, so you'll have to try both ways to see which one you prefer! And don't be afraid to experiment with different toppings or serving options.
This soup pairs perfectly with crusty bread, Brazilian cheese bread, or even a margarita panini.
Ingredients for this recipe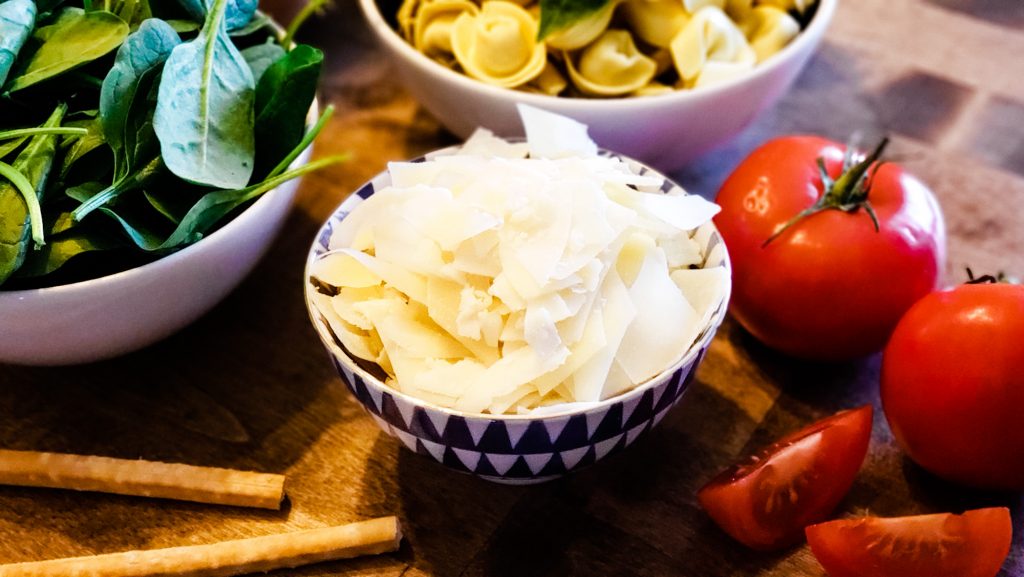 olive oil
yellow onion
garlic
dried basil
tomato paste
chicken broth
petite diced tomatoes, with juices
chicken (I used pre-cooked chicken to make it simple, but you can substitute raw!)
salt
pepper
fresh cheese tortellini (or you can use frozen)
spinach (you can also use kale if you prefer)
Parmesan cheese
whole milk
What you need for this recipe:
Instant Pot
food processor
How to make chicken tortellini soup in the Instant Pot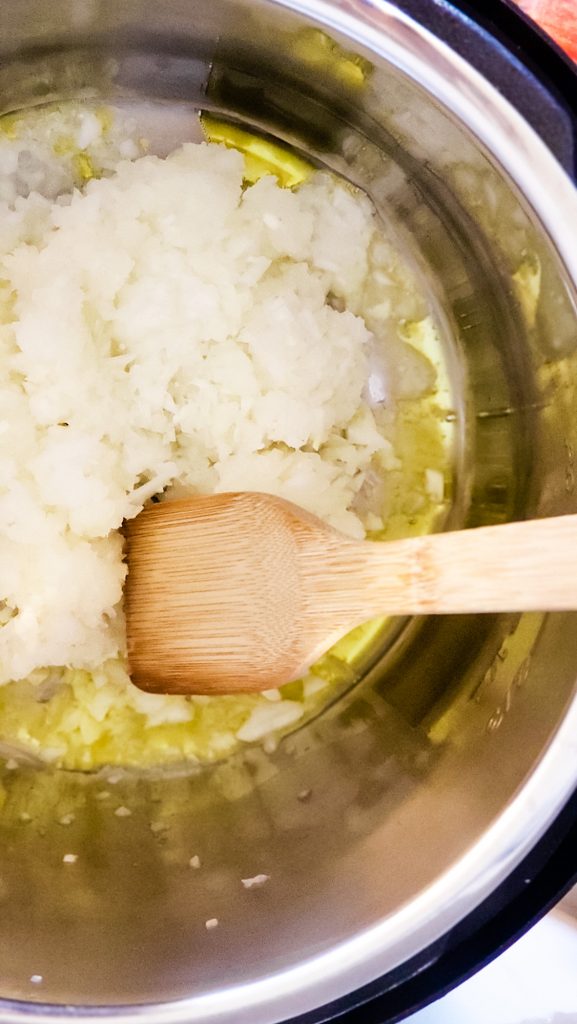 Important notes before starting
Heads up: Before we dive into the instructions there are two main parts of this recipe that you can adjust.
Frozen tortellini- If you're using frozen tortellini, adjust the cooking time from 6 to 10 minutes and add the tortellini at the end with the other ingredients in step 9.
Fresh chicken- If you're using raw chicken, add it with the other ingredients during step 5 instead of waiting until the end.
Step 1: Prep the onion and garlic
Hands down my favorite way to do this is by using this Ninja food processor! One base with a variety of attachments such as a blender, grader etc. makes onion chopping, quick, easy, and almost tearless 😉
Step 2: Heat the oil in the Instant Pot
First, set your Instant Pot to sauté mode. Once it's heated, add the oil to the pot and wait for it to become hot.
To test if the oil is hot enough, drop in a small piece of garlic. If the oil sizzles around the garlic, it's ready. Remove the garlic before proceeding.
Step 3: Sauté the onions and garlic
Now, add the chopped onions and garlic to the Instant Pot. Use a wooden spatula to stir the ingredients until the onions become translucent and are fully cooked.
Step 4: Deglaze the Instant Pot
Deglazing the Instant Pot is a crucial step in ensuring the success of your recipe. It involves removing any bits of food that may have burned or stuck to the bottom of the pot to prevent the "burn" error message from appearing during cooking. Not doing so could result in a lot of hassle later on.
There are two ways to deglaze the Instant Pot:
Liquid: To deglaze the Instant Pot, you need to remove any food bits that may be stuck to the bottom of the pot. You can do this by adding a little liquid to the pot and using a flattened wooden spoon to scrape the bottom until it's clean.
Wine: Alternatively, you can use white wine to deglaze the pot. Keep an inexpensive bottle of white wine handy for this purpose. The alcohol in the wine makes it very effective at cleaning the bottom of the pot.
Step 5: Add ingredients
Now that your Instant Pot is clean, it's time to add the ingredients. Add the basil, chicken broth, tortellini, tomatoes, salt, and pepper. If you're using raw chicken, add it in now.
It's important to avoid adding tomato paste first, as it can burn and cause a "burn" notice during cooking. Instead, start by adding the liquids first.
Step 6: Pressure cook
Set the Instant Pot to "pressure cook" (or "manual," depending on your model). Adjust the time to 6 minutes if you're using cooked chicken. If using raw chicken, adjust the time to 10 minutes.
Step 7: Prepare chicken
If using pre-cooked chicken, cut it into small pieces while the soup is cooking in the Instant Pot.
If you prefer to use raw chicken, skip this step and add the raw chicken in Step 5. Make sure to cut the chicken into small, bite-sized pieces before adding it to the Instant Pot.
Step 8: Quick release the pressure
When the cooking time is up, carefully turn the steam release valve from sealing to venting to quickly release the pressure. Wait until the steam has completely stopped coming out of the pot before opening the lid.
Step 9: Add the remaining ingredients
After the pressure has been released, remove the lid and add in the pre-cooked chicken chunks, grated Parmesan cheese, fresh spinach, and milk. If you are using frozen tortellini, this is also the time to add it to the pot. Mix everything well and replace the lid.
Be sure to stir everything well to ensure that the cheese is melted and evenly distributed.
Step 10: Let the soup simmer
After adding the chicken, Parmesan cheese, spinach, and milk, let the soup simmer with the lid on for 5 minutes. This will allow the flavors to meld together, and the chicken and tortellini to heat up.
Step 11: Serve and enjoy!
Using a ladle, carefully serve the soup into bowls. Garnish with extra Parmesan cheese, if desired. Enjoy your delicious homemade Instant Pot tortellini soup!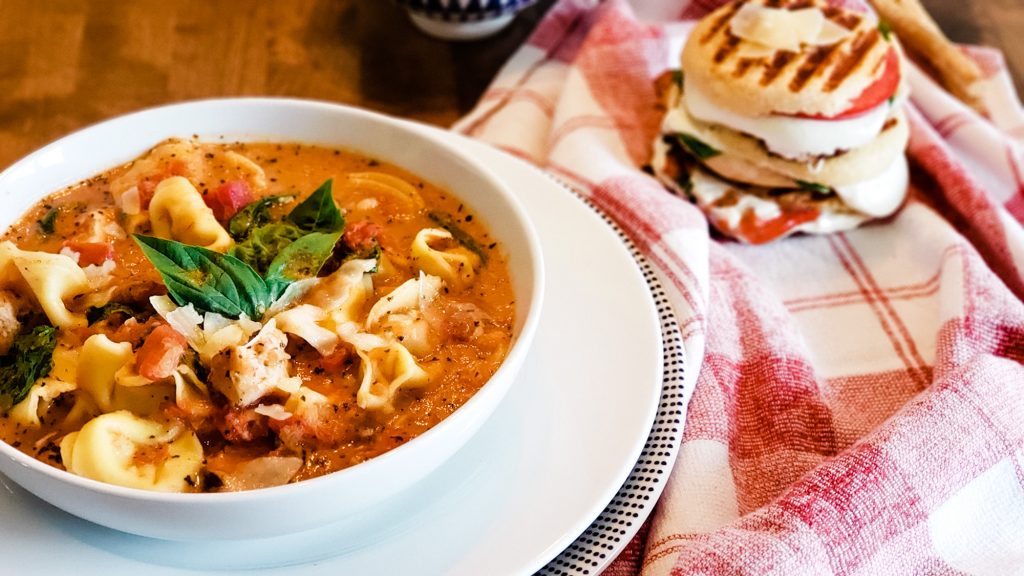 As a blogger, I may earn a small commission for any purchases made through the affiliate links on this site. I want to make it clear that your support means a lot to me and helps keep this blog running. Please note that using these links will not add any extra cost to your purchase. I have included them for your convenience, and I appreciate your support in using them.
Equipment
Pressure cooker

Ninja Food-Processor/Blender Kitchen System
Ingredients
2

teaspoons

olive oil

1

medium

yellow onion

diced

2

cloves

garlic

minced

1

Tablespoon

dried basil

2

Tablespoons

tomato paste

4

cups

chicken broth

2 (14.5 oz)

cans

petite diced tomatoes

with juices

1 1/2

pounds

boneless, skinless chicken breasts*

*I use pre-cooked chicken

1/2

teaspoon

salt

1/2

teaspoon

pepper

4

cups

fresh cheese tortellini

*for frozen tortellini up cook time to 10 minutes

3

cups

packed spinach

fresh

1/2

cup

Parmesan cheese

1

cup

whole milk
Instructions
Chop onions and garlic: Throw your onion and garlic in the food processor and chop them up!

Heat oil: Add in the oil to the Instant Pot and heat up.

Sauté the onions and garlic: Once the oil is hot, add the onions and garlic. Cook until onions are clear.

Deglaze the bottom of Instant Pot: Using a flat spatula scrape the bottom of the pot so that no pieces of food are stuck to the bottom.

Add-in: Add in the basil, chicken broth, tortellini, tomatoes, tomato paste, salt, and pepper.

Pressure cook: Turn the Instant Pot to Pressure cook and cook for 6 minutes.

Cut chicken: While the soup is cooking, cut up the chicken into bite sizes pieces and set aside.

Quick-release: After cooking time is up, turn the valve from sealing to releasing and allow the steam to do a quick release.

Add-in: Once the pressure has released from the pot and you can remove the lid, add in the chicken chunks, Parmesan cheese, spinach, and milk. Then replace the lid and let sit.

Let sit: With the lid on, let the soup sit for 5 minutes in order to heat up the pre-cooked chicken.

Serve: Once the chicken is warmed through, ladle the soup into bowls and serve!
Tried this recipe?
Mention @tidymo and let me know what you think!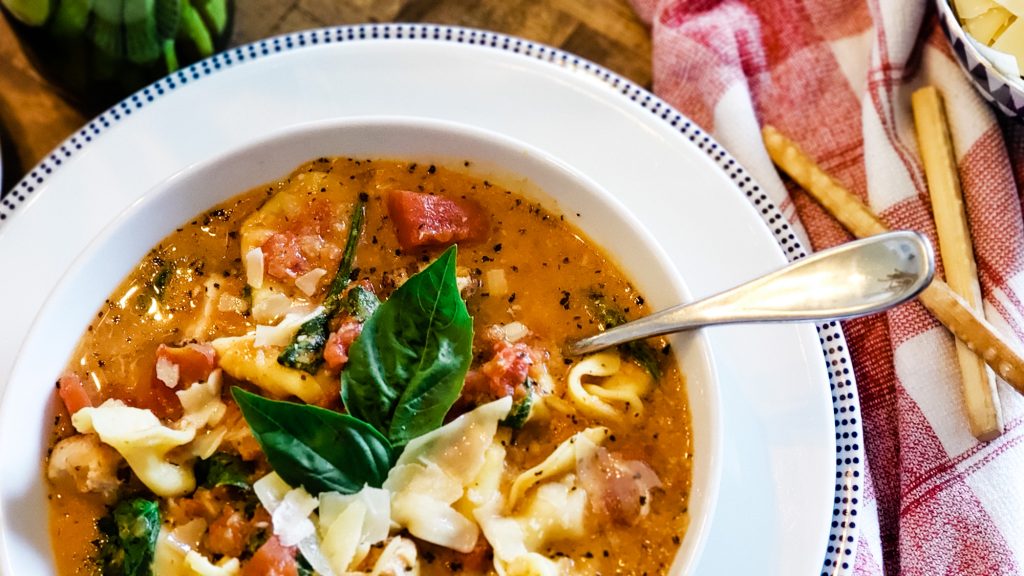 Looking for more recipe ideas? Make sure to check out a few of my favorite recipes below!
Instant Pot Loaded Baked Potato Soup (Coming Soon)
Don't forget to subscribe to our newsletter for more delicious and easy-to-follow recipes delivered directly to your inbox!
XO,
Morgan